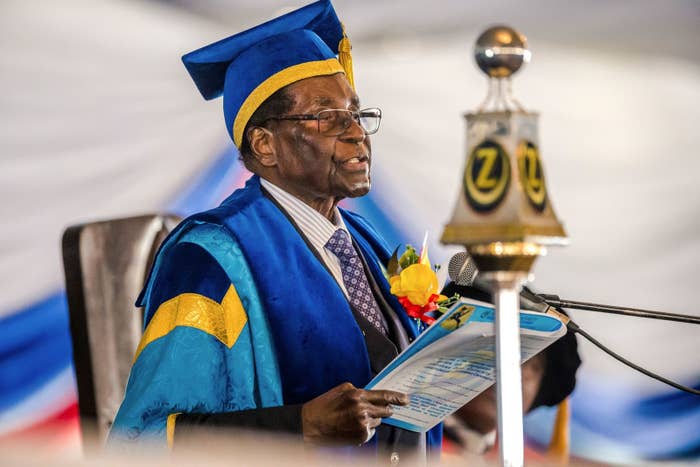 Zimbabwean President Robert Mugabe, who fought for the country's liberation and ruled for 37 years, has officially stepped down after facing mounting pressure from his own party.
His impeachment process — started today by his own party, ZANU-PF, and backed by the opposition — was interrupted when the speaker of the house announced that parliament had received Mugabe's letter of resignation.
According to local media reports, Mugabe sent a letter of resignation to the legislature, which the speaker read during the session on Tuesday.
"My decision to resign is voluntary on my part and arises from my concern for the welfare of the people in Zimbabwe and my desire to ensure a smooth, peaceful, and nonviolent transfer of power ... Kindly give public notice of my resignation as soon as possible as required by the constitution," the letter said.
Mugabe's resignation came more than a day after the deadline imposed by ZANU-PF leaders, who had threatened to begin the impeachment process if he had not stepped down from his position by Monday at noon.
The 93-year-old leader's resignation was met with widespread celebration. The speaker's announcement was nearly drowned out by roars of applause from people inside parliament, and people took to the streets dancing and singing in jubilation.
"Everything will be fixed now. No corruption. More jobs. That's how people see Mugabe['s resignation]," said Nonsikelelo Maphosa as she celebrated in the business district in the southwestern city of Bulawayo.
Others, like Tinashe Sithole, acknowledged in the midst of their celebration that there was still much to be done before Zimbabweans could expect to see significant changes in the country.

"He had dashed people's hopes but it's clear they think things will be fixed just like that," he said.
The push to remove Mugabe from power intensified earlier this month after he abruptly fired his vice president, Emmerson Mnangagwa, and dismissed him from ZANU-PF. The move sparked a rare response from a top military commander, who warned Mugabe that armed forces would intervene if he continued his purge.

On Nov. 14, the military essentially took control of the country, interrupting a state-run broadcast to announce that the army had placed Mugabe under house arrest. Military officials were careful not to call the intervention a coup, and said they were only arresting criminals around the former president.
Last week, tens of thousands of Zimbabweans flooded the streets demanding that Mugabe step down. While several were still skeptical as to whether or not the 93-year-old — who led the country to independence from the UK in 1980 — would willingly step down, the march itself was jubilant as citizens cheered on the military for intervening.
Leading ZANU-PF members on Sunday voted to reinstate Mnangagwa to the party and to oust Mugabe. The former president then shocked everyone when, in his highly anticipated address to the nation that night, he still did not resign.
"We cannot be guided by bitterness or vengefulness, both of which would not make us any better," he said Sunday night, adding that the country "must learn to forgive and resolve contradictions, real or perceived, in a comradely Zimbabwean spirit."
Despite celebrations of Mugabe's departure, questions still loom over the country as Zimbabweans must next grapple with the possibility of military leadership, or that of Mnangagwa, nicknamed "the Crocodile," who had worked alongside Mugabe since their early days as freedom fighters.
Zimbabwe's presidential elections are scheduled to take place in March 2018.
A reporter in Bulawayo, whose name has been withheld for their safety due to the current security situation, contributed to this report.