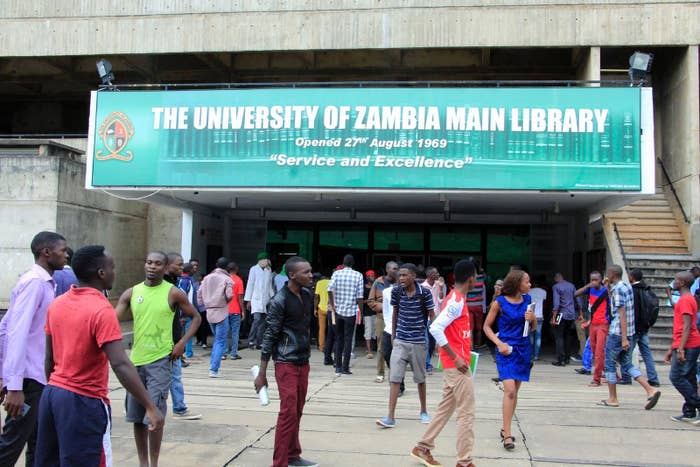 NAIROBI — A university library has apologized to women students after an unofficial flyer circulated on campus telling them not to dress "half naked" because it would distract their male classmates.

The notice — which appeared to have been posted across the University of Zambia's campus on Monday — called out women who "dress half naked as they use the library, a situation which is disturbing the male students."
"We therefore advise the female students to dress modestly as you use university facilities. Modest is the way to go!" the flyer read.

People criticized the policy on Twitter, saying that it unfairly placed the burden on women to not bother men.
But a library staffer at the University of Zambia — the oldest and largest university in the Southern African country — confirmed to BuzzFeed News on the phone that the announcement is fake.

"Nooo, it isn't an official notice!" the staffer said. "It didn't come from management. We don't know who wrote that."
University librarian Christine Kanyengo issued a statement on Tuesday debunking the flyer, saying "we are a space that promotes access to all our library materials to people from all walks of life."
She went on to note that the "University of Zambia is a SECULAR institution built on the principles of diversity and cherishes academic freedom," adding that the school has no dress code and that the library "will not tolerate old discredited misogynist views in our space."

Thandiwe Nhliziyo, a second-year demography student at the university, told BuzzFeed News that a lot of students were outraged by the initial flyer.
"They were very upset. We don't even dress up to go to the library, so we were wondering why people were complaining," the 21-year-old said.
Nhliziyo said she was relieved to know the "half naked" line wasn't real. She and the library employee both said they now believe it was posted as a joke.
"I'm just glad that it was a prank because I was feeling kind of oppressed. Like, why are they telling me how to dress to go to the library? I can go to class like this, but I can't go the library?"
She said that regardless of what students wear to the library, everyone "should be doing what they're supposed to do, not paying attention to what people are wearing when they're supposed to be studying."