For the past seven years, the United Nations has recognized March 25 as the International Day of Remembrance of the Victims of Slavery and the Transatlantic Slave Trade.
For this year's ceremony, U.N. Secretary General Ban Ki-moon announced the unveiling of a memorial created to honor the history of the transatlantic slave trade, and draw attention to modern day equivalents of human rights violations.
The sculpture, which is titled The Arc of Return, was designed by Haitian architect Rodney Leon. It features a woman of African descent lying on her back in a small, triangular marble space that represents the trading of slaves between Europe, the western coast of Africa, and the Americas.
Beneath the figure, the phrase "Remember the Legacy" is etched in stone.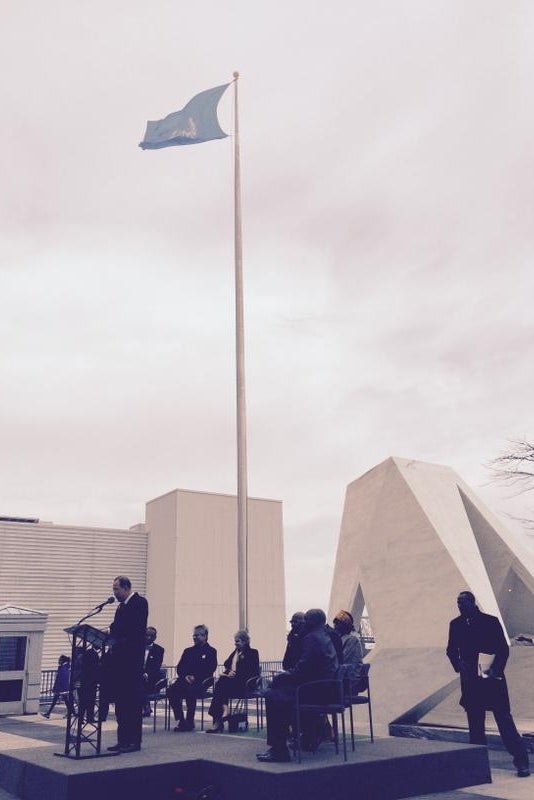 Secretary General Ban Ki-moon, at left, addresses the crowd at the ceremony for the International Day of Remembrance of the Victims of Slavery and the Transatlantic Slave Trade. At right, a look at the sculpture.
At a ceremony held this afternoon, Ban explained that the purpose of the memorial was to serve as a reminder of the historical atrocities inflicted upon others' human rights.
"This poignant and powerful memorial helps us to acknowledge the collective tragedy that befell millions of people. It encourages us to consider the historical legacy of slavery and, above all, it ensures that we never forget," he said.
The theme of this year's day of remembrance is Women and Slavery, and Ban drew attention to the plight of black women.
"Today, let us also honor women of African descent," he said. "One third of those sold as slaves from Africa were female. In addition to enduring the harsh conditions of forced labour as slaves, they experienced extreme forms of discrimination and exploitation as a result of their gender."
Calling the transatlantic slave trade a "stain on human history," Secretary Ban said he hopes that "The Ark of Return will also serve as a call to action against the many contemporary manifestations of slavery, from human trafficking and sexual enslavement to debt bondage."