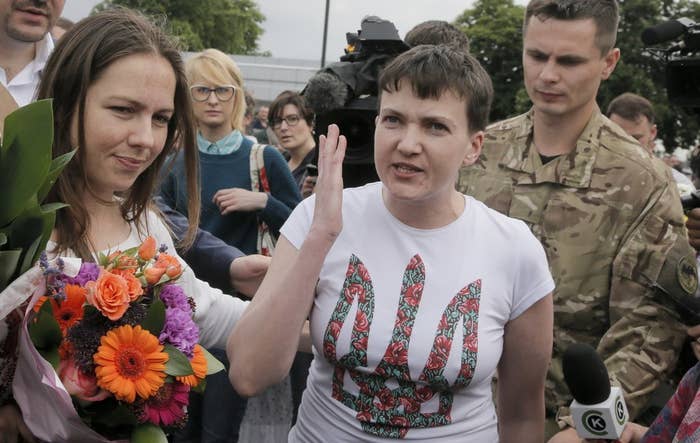 A Ukrainian pilot convicted of murdering two Russian journalists in 2014 was released from Russian captivity on Wednesday and flown back to Ukraine. Leaders from both countries agreed to her return in exchange for that of two Russian servicemen who had been in Ukrainian custody.
Nadia Savchenko — Ukraine's first female air force pilot, who had been found guilty of killing two Russian journalists with mortars — landed at Borispol Airport in Kiev around 3:30 p.m. local time, representatives for Ukrainian President Petro Poroshenko and Russian President Vladimir Putin confirmed to the Associated Press. The Russian leader issued Savchenko a pardon at 2:20 p.m. local time.
Savchenko gave a short speech outside the airport, Ukrainian broadcasting station Ukrinform reported.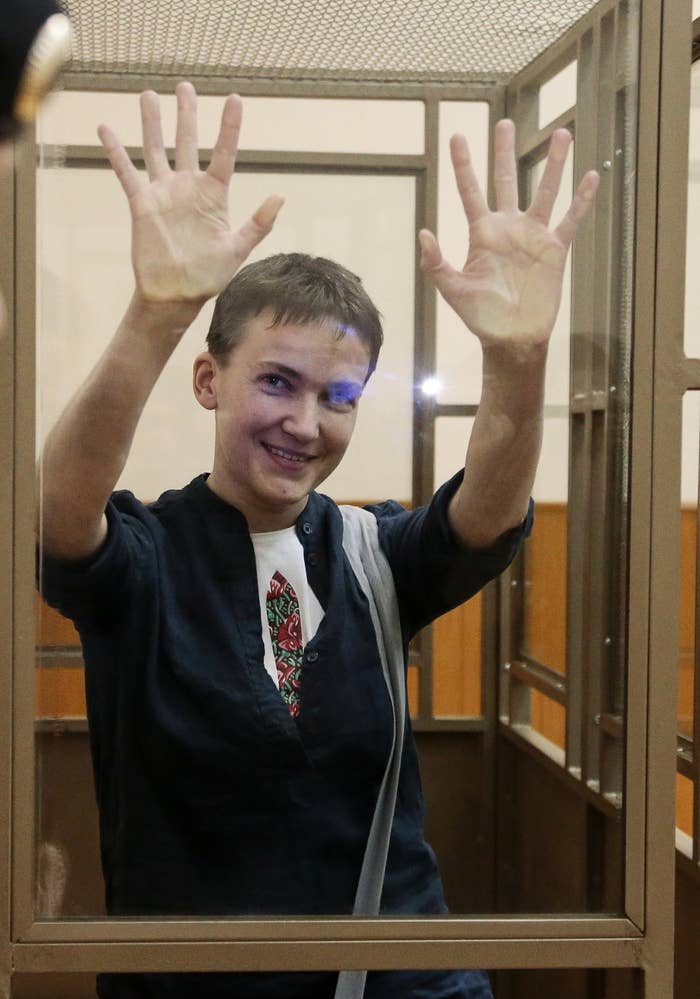 "All heroes of Ukraine should not die! It is convenient when heroes are dead, and it's bad when they are alive," she said.
"I want to ask all mothers for forgiveness whose children are in captivity, and I am free," she added. "I want to tell you that I can't bring the dead back, but I am already ready to lay my life for Ukraine on the battlefield again."
In June 2014, Savchenko, who had been fighting pro-Russia rebel forces, was captured and later accused of playing a hand in the murder of two Russian reporters in eastern Ukraine.
Russian authorities argued that she deliberately aimed mortars at them, and also charged her with illegally crossing the border into Russia seeking refugee status.
Savchenko maintained throughout her trial and imprisonment that she had not entered the country illegally, but had rather been captured by the same pro-Russia rebel forces she had been fighting.
Russian media prematurely reported her guilty verdict in March this year.
The 35-year-old has became a celebrated figure in her home country. She was elected to parliament from jail in January 2015; two months later, Poroshenko named her a Hero of Ukraine.
At one point during her captivity in Russia, Savchenko went on an 83-day hunger strike.
Ukrainian Prime Minister Volodymyr Groysman posted a short statement on Facebook following Savchenko's release.
"[Nadia] back in Ukraine!" he wrote. "Sincere congratulations and happy together with the whole country."