President-elect Donald Trump said Wednesday that he has sought advice from President Barack Obama regarding his cabinet appointments, and that the outgoing leader has approved of at least one of his choices.
"I have asked him what he would think of this one and that one," Trump told NBC's Matt Lauer on the Today show. "I've asked him what he thinks are the biggest problems of the country, what are some of the greatest assets going forward. We have a very good dialogue."
When asked if there was a case in which Trump followed Obama's advice with a specific cabinet recommendation, the president-elect said, "Yes, I take his recommendations very seriously and there are some people that I will be appointing, and in one case, have appointed where he thought very highly of that person."

Trump said that while he had not met Obama before their White House meeting on Nov. 10, "I do like him. I love getting his ideas."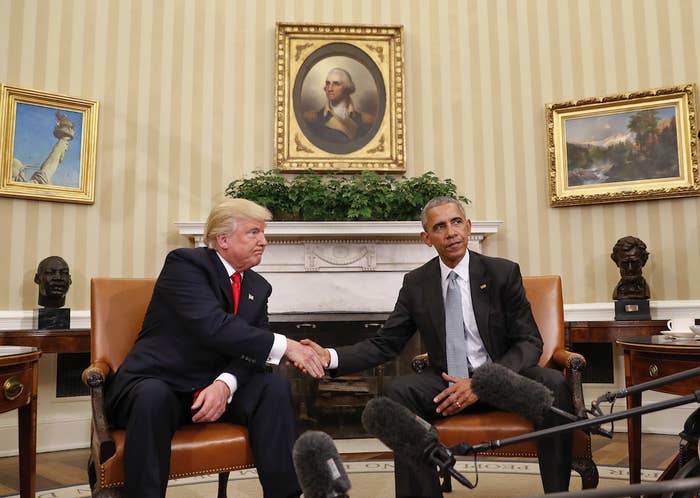 The president-elect said that he was still mulling over whom to offer the secretary of state position, but said Wednesday that Mitt Romney was still under serious consideration.
"I've spoken to him a lot," Trump said. "We've come a long way together. We had some tremendous difficulty together and now I think we've come a long way."
Trump insisted that his continued conversation with Romney is "not about revenge, it's about what's good for the country."
He also addressed concerns over his Tuesday tweet calling for the government to cancel its multibillion dollar contract with Boeing for new Air Force One planes.
Trump reiterated that he thinks "the planes are too expensive," but said that he'd met with the head of the company and that they were going to negotiate prices.
He denied posting the tweet to punish the Boeing CEO for comments he made criticizing Trump's trade policies.

In the interview, Trump also said that he had sold all his stocks in June to avoid a conflict of interest as president.
"I don't think it's appropriate for me to be owning stocks when I'm making deals for this country that maybe will affect one company positively, and one company negatively," he said.
Trump's staff only told reporters on Tuesday that he had sold his stocks — and he has still not released his tax returns, which would provide a clearer picture of his financial holdings.
Asked about his use of Twitter, and how he had previously said he would aim to be more restrained on the social media platform, Trump said he believed he had, in fact, been more disciplined.
"I think I am very restrained," he said.
When pressed about the feuds in which he has engaged on Twitter — his targets have ranged from the New York Times to the cast of Hamilton — Trump said that with 40 million combined followers on Facebook and Twitter, "I can get it out much more honestly than dealing with dishonest reporters."
Trump took an extra dig at SNL, calling the skits "terrible" and questioning how much longer the show would be on air.
He called Alec Baldwin's portrayal of him "mean-spirited" and "very biased."
Trump appeared on the Today show after earning the title of Person of the Year from TIME magazine.
Watch the full interview here: