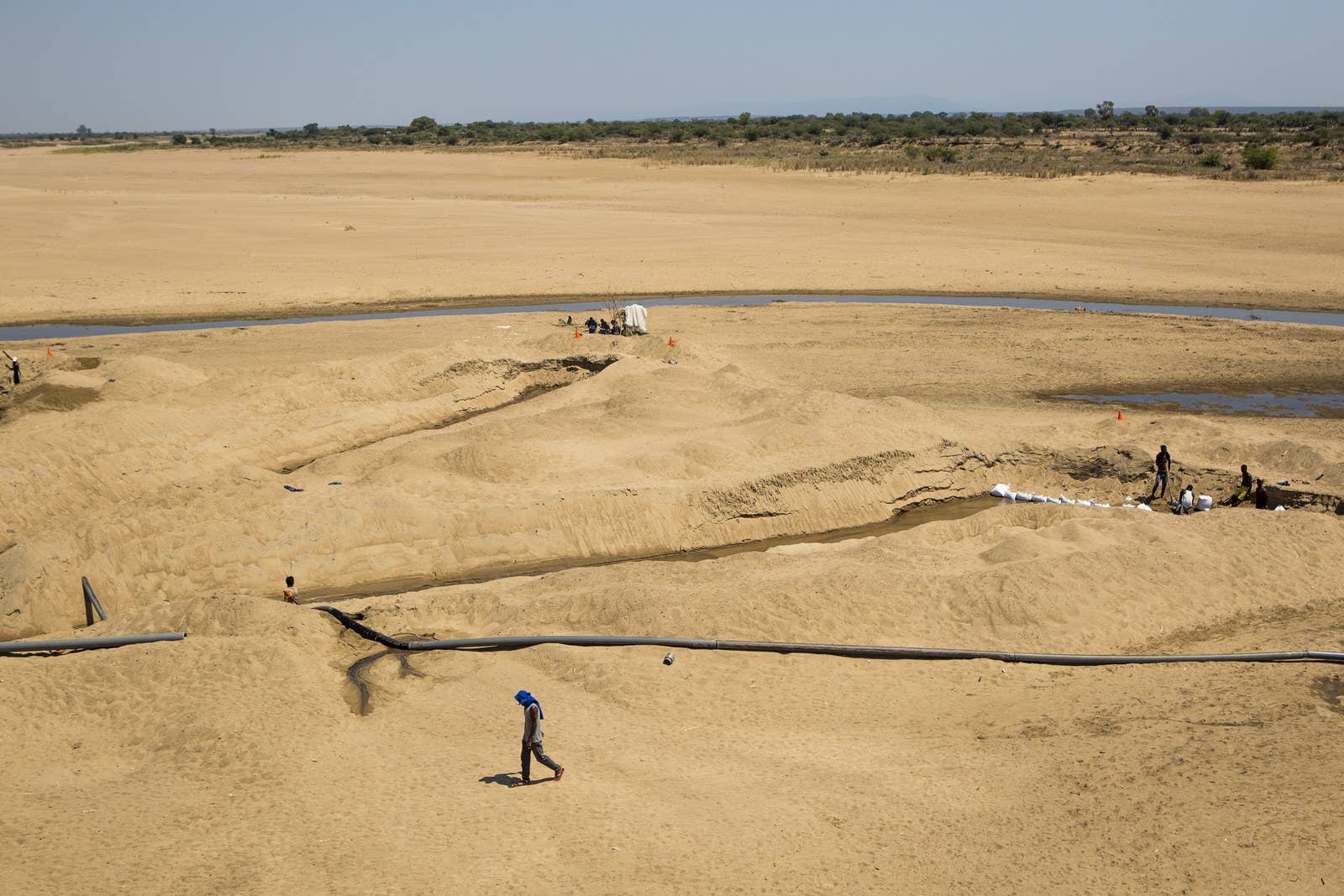 AMBOASARY SUD, Madagascar — Nineteen-year-old Masy had been up since 2 a.m. — that's when she and her family set out from their village in southern Madagascar called Ovototry to bathe, collect water, and buy goods at a market near the Mandrare River.

The river is the village's lifeblood and people from all over the southern region of Amboasary Sud come to its shores every day. Children screamed as they chased each other around the water's edge; older men and women slapped soapy clothes against the rocks to wash them; teenagers clustered in the shade, their heads pressed together in whispery gossip.
The Mandrare was once so vast a bridge had to be built over it so cars could pass. When BuzzFeed News visited the river as part of trip organized by UNICEF in order to visit the remote area, it was so dry that when people stood in the deepest part, the water hardly reached their knees.
Dry seasons normally don't phase people from Madagascar, known as Malagasy, but a drought that began two years ago has reduced rivers like the Mandrare to glorified puddles, resulting in failed crops and severe acute malnutrition. The massive island country off the coast of Mozambique in the Indian Ocean faces a conundrum unlike that of any other African country: It is so poor that a humanitarian crisis like a water shortage is enough to rattle a resource-thin government to its core, yet it rarely faces the kinds of calamities, like civil war, that normally spur the international community into action. And even when natural disasters do strike, there is no chance of people crossing borders as refugees, often rendering it a self-contained crisis that becomes easy to ignore. Malagasy farmers and aid workers alike are concerned that things will only get worse with time as climate change continues to shift the weather patterns that they've depended on for centuries.
Masy comes from a long line of farmers, who couldn't afford to keep sending her to school past the age of 12. The drought wreaking havoc on the region has left them with little to harvest, and even less to eat or drink. These days Masy (it's common in her village for people to not use last names) sells eggs to people who travel to the river from other villages, but usually finds that her customers are struggling just as much as her family is and can't afford them.
On the days they can't make it to the river, her family spends anywhere between 800 and 2,000 Malagasy ariary (25 to 62 cents) for a 20-liter can of water — a steep price in a country where 92% of the population lives on less than $2 a day.
Masy said her community gets help from a couple of local and international NGOs that provide cash assistance programs, but nothing more. She raised her arm to shield her face from the harsh sun overhead, sparkly green nails glinting in the light. "The government doesn't do anything for us," she said.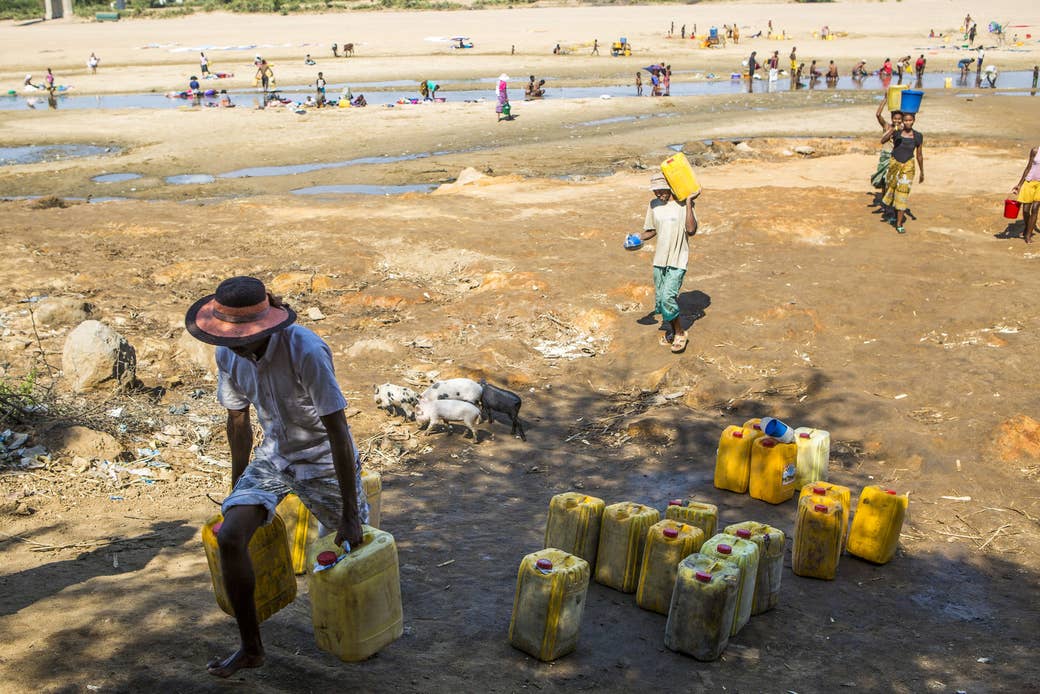 Madagascar is an outcast — geographically, linguistically, and politically, it stands apart in its corner of Africa. Even pneumonic plague's spread to the capital last year was met with mild concern, because the chance of the viral disease jumping from the island to other countries was low. And apart from a coup in 2009 that left at least 100 people dead, Madagascar has managed to avoid the kind of civil unrest or terrorism that has stricken many other countries and grabbed the international community's attention — like in Somalia, Nigeria, the Democratic Republic of Congo, South Sudan, and Libya.

As a result, Malagasy people have largely been left to fend for themselves when disaster strikes, apart from the efforts of local and international NGOs based there. El Niño — the warming of the western Pacific Ocean that occurs every few years — often curbs the amount of rain African countries receive, but its effects have begun to worsen in recent years.
"The rainy season in Amboasary Sud used to last between October and March, but in the past two years it has stalled until December and ended early in February," Masy's uncle, Vonjy Raij Jean Louis, told BuzzFeed News when we visited in November.
Jean Benoît Manhes, the deputy representative for UNICEF in Madagascar, told BuzzFeed News that while other countries in southern Africa were hit by drought last year, Madagascar's poor infrastructure, bad roads, and under-sourced health centers make climate-related emergencies that much more difficult to respond to.

Not helping matters was the slow response from Madagascar's government.
"The government initially denied that El Niño was worse than normal this year," he said, adding that its reluctance to accept that disaster had struck presented a challenge for organizations like UNICEF when it came to securing funding from international donors. But even in the absence of an immediate crisis, Madagascar ranks low on the list of countries that receive financial assistance. In 2015, the country received the smallest amount of foreign aid in the world after Nepal, Guinea, and North Korea, a representative of the World Bank told BuzzFeed News.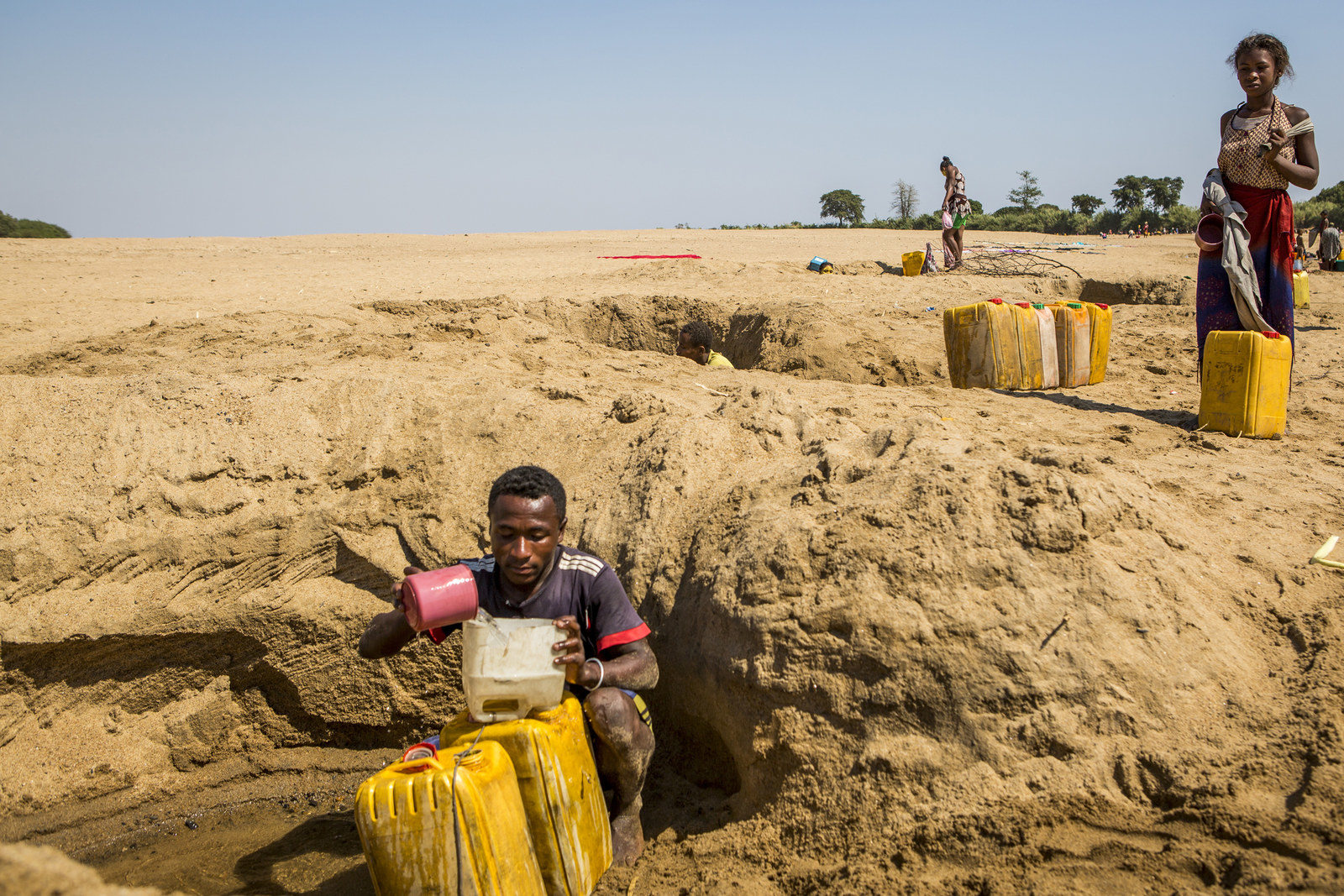 Norohasina Rakotoarison, who heads the health and environment department within the Ministry of Public Health, told BuzzFeed News in an email in January that she agreed the drought throughout the south was "alarming." When asked how she would respond to people like Masy, who have lost faith in the government to help them, Rakotoarison said that due to the extreme level of poverty in the southern region, "people tend to wait for permanent government assistance, but the government does not have the means to offer continuous help."
Once the government did finally acknowledge the problem, they started up a long-term, solar-powered extraction project to transport water from the Mandrare River into rural villages via underground pipes, further draining the river until the next rains but eliminating the need to walk for hours to collect its water. But even the government's own employees working on the project admitted that the response had come too late.
Patrick Rakotoarison, a civil engineer for the Ministry of Water and Sanitation in Madagascar, had been working on the water extraction project for a month and a half when he spoke to BuzzFeed News in November. "Water in the south is not a priority for the government," he said when asked why his office didn't begin responding to the drought until two years after it had begun.
There were other logistical issues, added Olivier Rajernerson, the conductor leading the project, like how construction of a crucial part of the structure couldn't begin until solar panels from France were delivered.
In the meantime, Malagasy people from Amboasary Sud were left to fend for themselves as the situation worsened.
One of the primary effects of the drought has been a steep rise of severe acute malnutrition among the children of the south. It's an issue deeply familiar to Dr. Paubert Magnirisoa Vily, who works at an Intensive and Educational Nutrition Recovery Center in a larger city about 20 miles west of Amboasary Sud called Ambovombe.

"Usually the children come in because they have malaria or a cough," Dr. Vily said, and it's usually through those treatments that she notices they are malnourished.
"There's no nutritional diversity because of the drought, which is a form of malnutrition many people don't immediately consider," she added.
She spoke to BuzzFeed News while tending to 3-year-old Manatana, whose mother Hoasie had brought him to the clinic four days prior.
Hoasie told BuzzFeed News that she had only been able to feed her son cassava because it was all farmers in the area could manage to grow. She became concerned about Manatana when he would stop eating after two spoonfuls of food. Soon after, she noticed his face and genitals begin to swell, a symptom Dr. Vily said is a sign of a protein deficiency. Manatana's malnutrition stunted his growth, too; Dr. Vily said that his physical size was akin to that of a 9-month-old baby.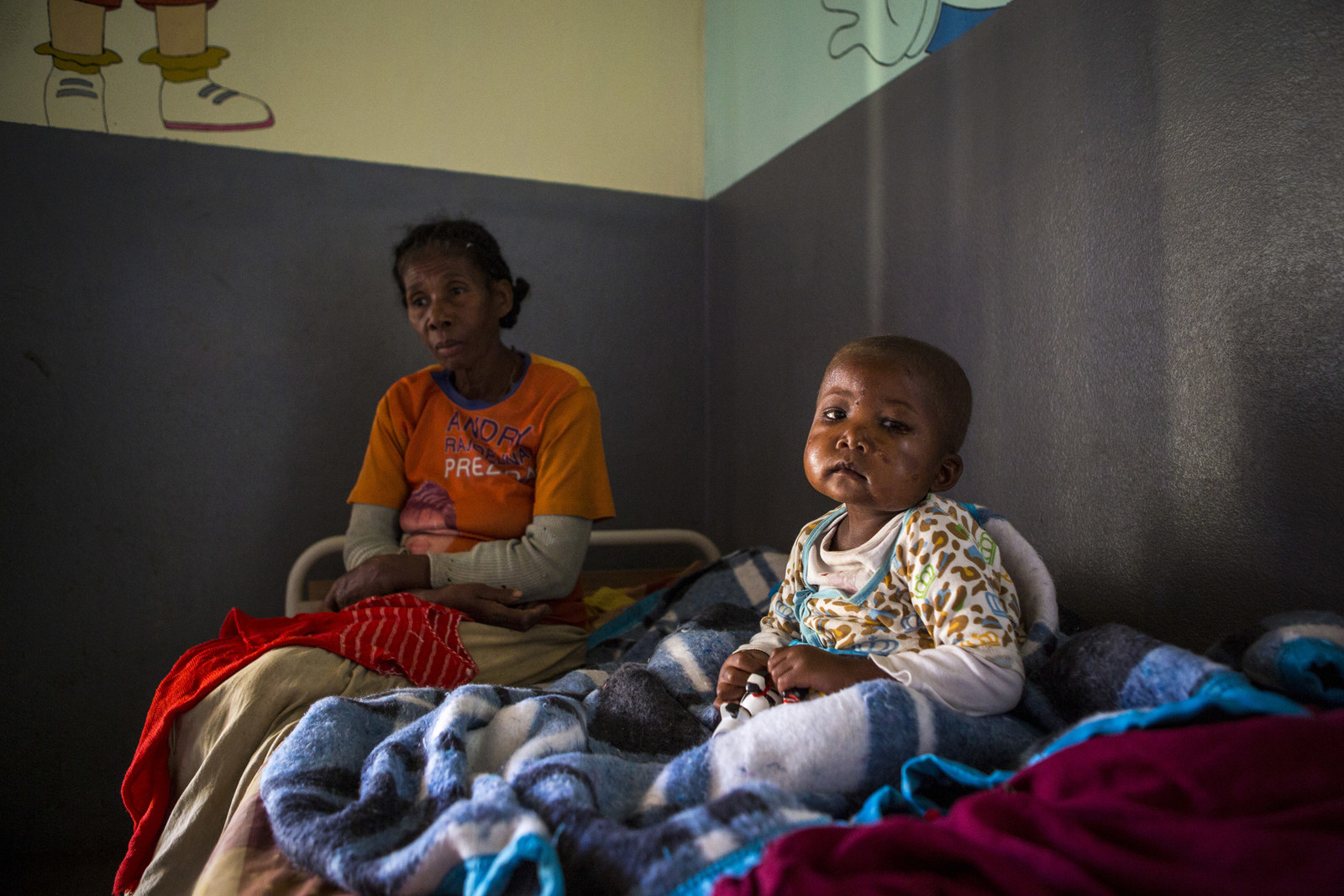 After a few days of treating him with nutritional milk, Dr. Vily and the nurse assisting her, Rocheella Fabiello, noted improvements.

"Yesterday I was very sad. He didn't talk. When I touched him, he didn't move," Fabiello said. "Now he's responsive."
It's common for families in Madagascar to have between 8 and 10 children, who are expected to help farm their land when they're older. But when the drought hits, the number of mouths to feed combined with failing crops becomes a heavy burden for farmers who are also mothers.
Haova Marie Jeanne, who lives in the village of Sampona, normally makes a living growing sweet potatoes and cassava, but hasn't been able to harvest anything for months. She, a mother of eight, travels up to six hours to collect water, often carrying her 3-month-old baby on her back.
"People are suffering," she said. "I just want the rain to come."
The long-term impact of these changes could cause permanent shifts to the communities in and around Amboasary Sud.
Daniel Silva, a spokesperson for the International Organization for Migration, told BuzzFeed News last week that the IOM conducted research on 20 of the 51 villages in southern Madagascar in July and December 2017. They found that out of a half million people in the region, 29,718 people had migrated outside of their villages. Of those, half attributed their move to the drought. Silva called this a considerably high rate, given the low likelihood that the numbers of people leaving would be replaced. Some villages have lost up to 30% of their population.
UNICEF representative for Madagascar Elke Wisch told BuzzFeed News in November that she and her team were struggling to figure out how to put a low-risk country high on the priority list even as climate-related issues and humanitarian crises intensify on the continent.
"Everybody knows that there's a problem in South Sudan. Everybody knows that there's a crisis in Somalia. Here in Madagascar, you have all these silent situations," she said. "Since the world has signed up for Millennium Development Goals and Sustainable Development Goals, one would assume that the countries that feature on the top or lowest five [lists for humanitarian crises] would get attention and money, but that hasn't happened. That's what I find mind-boggling."