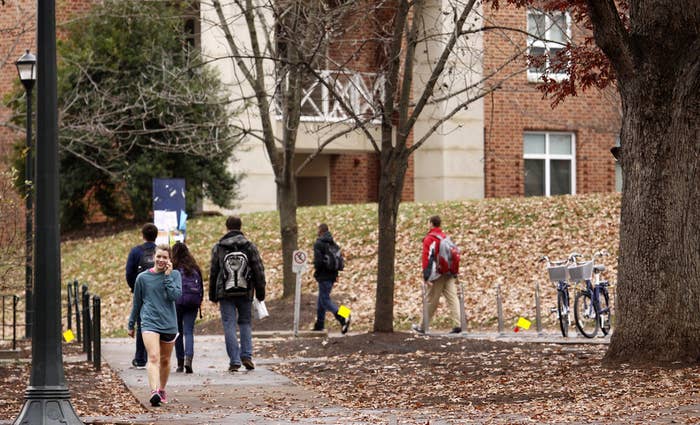 A court report filed earlier this week in a lawsuit between a University of Virginia administrator and Rolling Stone in light of its retracted story about campus rape reveals a slew of text messages that suggests the accuser, known only as Jackie, may have invented an alter ego named Haven Monahan and fabricated the rape story in order to win over someone she had a crush on.
Based on the conversations, attorneys representing UVA associate dean Nicole Eramo argue in the suit, "All available evidence states that 'Haven Monahan' was a fake suitor created by Jackie in a strange bid to earn the affectations of a student named Ryan Duffin that Jackie was romantically interested in."
The court report, filed Wednesday, Jan. 6, includes five selections of conversations between Jackie and Duffin (with whom she had a possible romantic interest), and Duffin and Monahan. Selected correspondences between Jackie and Duffin took place both before and after her alleged assault on Sept. 28, 2012.
In the conversations leading up to her alleged attack on Sept. 4, Jackie told Duffin that a UVA student named Haven Monahan had developed an interest in her.
She told Duffin she found Monahan "creepy," and appeared to express a desire to distance herself from him.

Monahan — whose existence as a UVA student has been disproven — and Duffin texted about Jackie. Duffin initially presented himself as a female student named "Brianna" and flirted with Monahan to redirect his attention away from Jackie.

Throughout their conversations, with Duffin posing as "Brianna," Monahan told Duffin repeatedly about his attraction to Jackie and his desire to date her.

Duffin chatted with Jackie throughout his messages to Monahan. Sometimes, she would instruct Duffin on what to say in character as "Brianna." (In this conversation, Duffin asks Jackie how to respond to Monahan asking how "Brianna" knew his phone number.)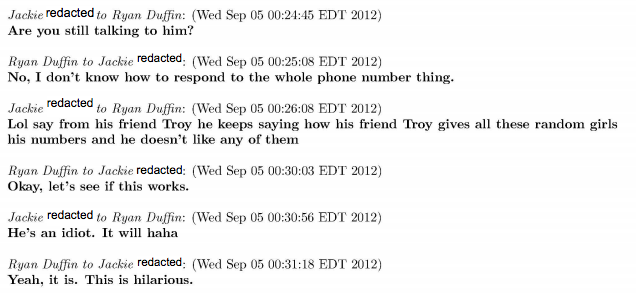 On Sept. 13, 2012, Duffin revealed his identity to Monahan.

But he continued their correspondence, trying to dissuade Monahan from pursuing Jackie.
After Jackie alleged she was forced to perform oral sex on five men on Sept. 28, 2012, she reached out to Duffin and a few other friends for help.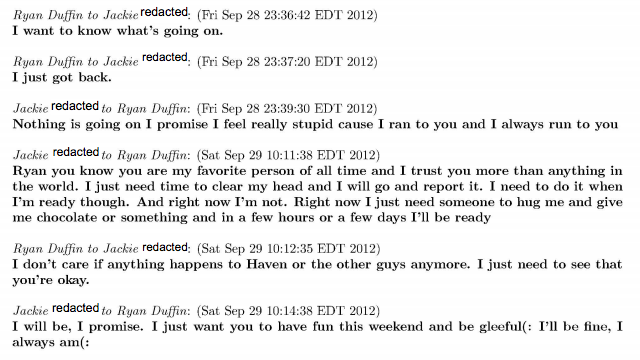 On Oct. 7, 2012, Jackie got angry with Duffin for questioning her account of the rape, pointing out that the name Haven Monahan did not appear in the UVA student directory.

The court documents also show Duffin and Jackie's correspondence in December 2014, a month after Rolling Stone published "A Rape on Campus," which chronicled her story. He apologized for not taking her alleged 2012 attack more seriously.

But he also asked Jackie again about the name Haven Monahan, and why she told him in 2012 that she was on a date with him when it was later proven he was not a UVA student.
In a text message, Jackie replied that the person's last name was Monahan, and that his "first name was Jake or john [sic] or something."
Police investigations revealed that no such gang rape had taken place, and Rolling Stone retracted and apologized for its mistakes in reporting the story.
Duffin spoke with the Washington Post on Friday about the whole scandal.
"Had any of us been contacted it never would have blown up like this," he said.
CORRECTION
Duffin and Jackie corresponded after the publishing of "A Rape on Campus." An earlier version of this article misstated the date.