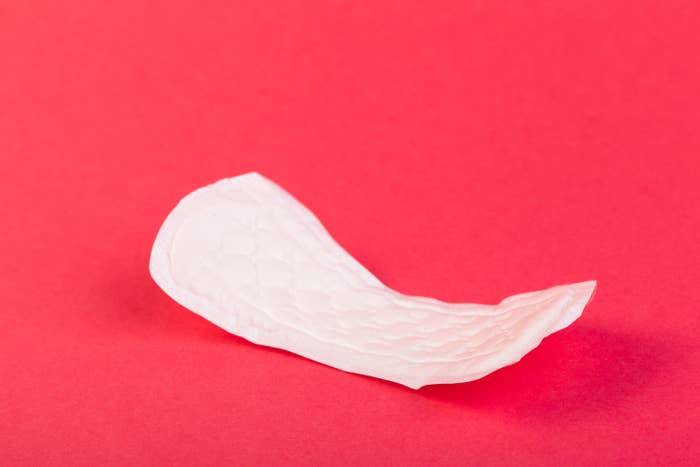 A high school student in Kenya killed herself last week after her teacher shamed her for bleeding through her school uniform when she was on her period. Now parents and lawmakers are demanding answers.
Local newspaper the Daily Nation reported that on Sept. 6, a 14-year-old girl started her period for the first time in the middle of the school day in Bomet County, located about 150 miles northwest of the capital, Nairobi. The girl was completely caught off guard and didn't have a pad, according to the Nation, causing her to later bleed through her uniform.
Despite Kenya's Basic Education Act of 2017, which mandates that pads be distributed to girls in public schools across the country, some institutions have been skipped over. This has forced many girls who can't otherwise afford them to stay home from school.
According to the girl's mother, Beatrice Koech, when she was unable to focus on her studies, her woman teacher berated her for staining her school clothes with menstrual blood.
Koech told the Nation that her daughter's teacher called her "dirty" and kicked her out of class.
"She had nothing to use as a pad," Koech told the newspaper. "When the blood stained her clothes, she was told to leave the classroom and stand outside."
The girl walked home and told her mom what had happened. Later that day, she killed herself. Konoin Sub-County Police Commander Alex Shikondi told the Nation that officers took her body to a nearby hospital. BuzzFeed News has reached out to the local police for comment.
The difficulty that women and girls face in accessing the products they need for their periods isn't limited to students at school. Earlier this year, a tampon shortage hit Nairobi, partly as a result of a recall by Kotex after some of the tampons had been found to leave pieces of cotton inside women's bodies.
As news of the student's death spread on social media, Kenyans began to discuss the grave consequences of menstruation-shaming.
A few people have changed their Twitter profile photos to red to honor her life.
A group of parents whose children attend the girl's school protested Tuesday after learning that the police had been stalling on their investigation, demanding that her teacher be brought in to authorities for questioning. According to local reports, police fired tear gas at the demonstrators and arrested five of them. The school was subsequently closed for the day and students were sent home.

The following day, several women members of Parliament occupied the Ministry of Education to urge further investigation into the incident.
On Thursday, the police launched a formal investigation into the girl's death, and education officials have begun to interview students and teachers as part of the inquiry.

The circumstances surrounding the teenager's suicide — her lack of access to materials needed to manage her period, and the fact that she was shamed for having one in the first place — ring all too familiar for organizations focused on improving menstrual wellness for girls.
An organization called One Dollar for Life, which makes and distributes reusable pads to girls across Kenya, has ramped up its outreach in light of the girl's death last week. Program manager Brenda Birrell told BuzzFeed News via email that the group plans to hand out 1,000 reusable pad kits — which also contain information about self-defense, female biology, and feminine hygiene — over the next two months.
Megan White Mukuria is the founder of the ZanaAfrica Foundation, which gives girls pads and educates them about reproductive health in order to empower them. She told BuzzFeed News on the phone from Nairobi that reproductive health should not be addressed in a vacuum, because it affects other areas of a girl's life.
"I think it's really important to raise awareness that menstrual health is such an intersectional issue. Mental health is linked to it," she said, citing a 2006 World Health Organization study that found that self-harm is the second leading cause of death, after maternal mortality, for girls between the ages of 15 and 19.
Mukuria also pointed out that while she understood the criticisms aimed at the girl's teacher, it was important to consider that the woman might have been affected by the same sort of shaming she directed toward her student.
"What must she be going through in her life to have that be her reaction?" she asked. "The reality for a lot of women can be very difficult. [Maybe] her cup has not been filled, and her rights have not been taught to her."
The National Suicide Prevention Lifeline is 1-800-273-8255. Other international suicide helplines can be found at befrienders.org.