A Swedish woman has provoked the wrath of Kenyan Twitter with an Instagram post where she wrote that a girl from a poorer area of Nairobi would end up having a child with a man she didn't know, and becoming a sex worker to support her family.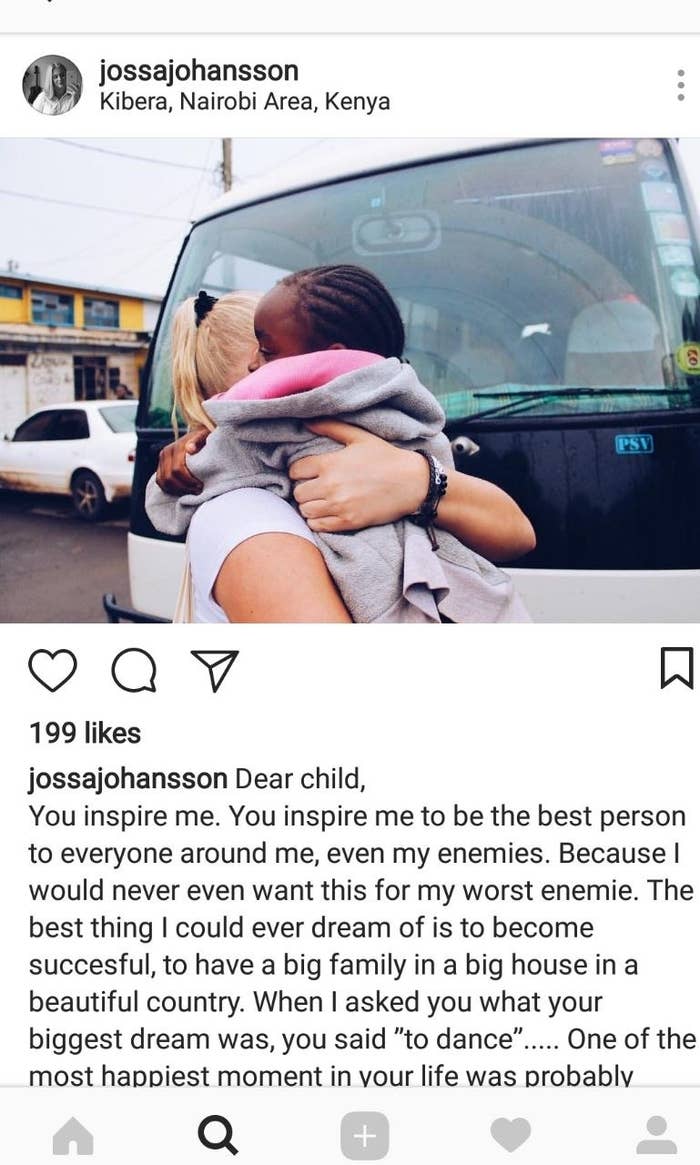 Instagram user @jossajohansson, whose full name is Josephine Johansson according to Kenyan news site Nairobi News, recently uploaded a photo of herself hugging a young girl in Kibera, one of Nairobi's informal settlements. The caption reads like a letter, and begins:
Dear Child,
You inspire me. You inspire me to be the best person to everyone around me, even my enemies. Because I would never even want this for my worst enemie [sic]. The best thing I could ever dream of is to become succesful, to have a big family in a big house in a beautiful country. When I asked you what your biggest dream was, you said "to dance" …..
Johansson continued, writing about how unlikely it was that she would meet the girl again. Then she said:
In two years you are going to meet a grown up man that you have never met before, you two are going to have a child, and then if you are lucky he's gonna stay with you, but he will probably leave you alone with your child in your small house made of mud and tree's [sic]. You will probably sell your body to someone else to earn money for your child.
Johansson ended her caption by writing to the child, "I just want you to know that there is hope, there is. Dreaming could be your saviour, dreaming could keep you alive. Dear child, keep safe."
People caught hold of Johansson's Instagram post and began to call her out for it.
Another person critiqued the need many people feel to document their good deeds on social media.
They said her post was an example of "slum tourism," and brought it to the attention of Kenya's cabinet secretary for tourism and wildlife.
One person reported Johansson's post to Instagram, but was told she had not violated community guidelines.
Others said that her post played into the "white savior" narrative associated with aid work in Africa.
Following the backlash, Johansson edited the caption with an attempt at an apology.