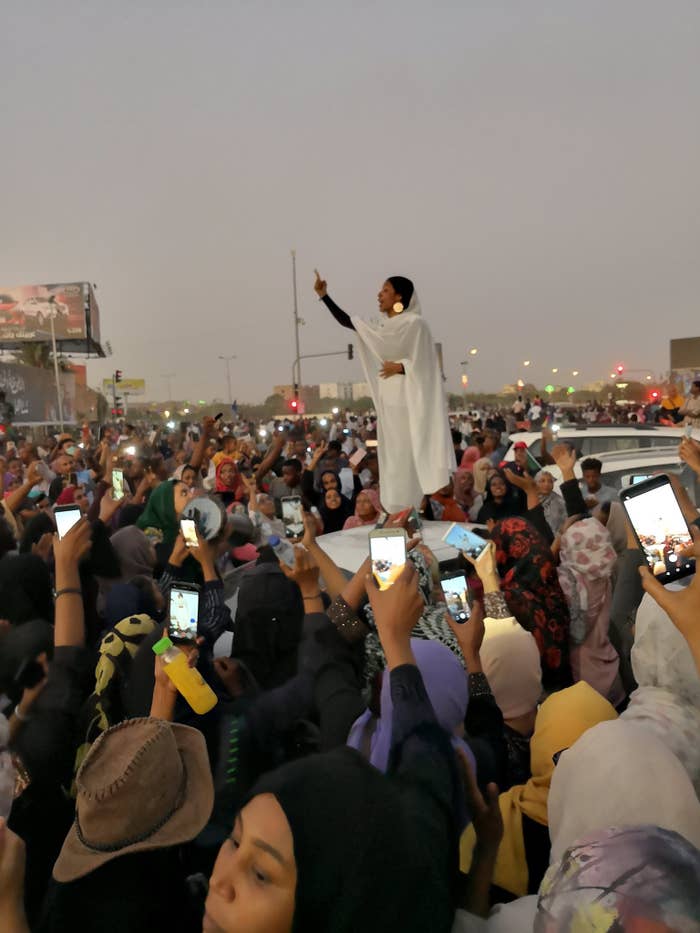 NAIROBI — A photo of a young Sudanese woman passionately leading chants in a nationwide anti-government protest has gone viral, and has already become an iconic image of the powerful role that women are playing in the movement.
On Monday evening, as thousands of people took to the streets in the capital of Khartoum demanding that President Omar al-Bashir step down, local photographer Lana Haroun captured 22-year-old Alaa Salah standing on top of a car above a sea of people with her arm raised in the air, finger pointed toward the sky. Dozens of people surrounding her can be seen recording her with their phones.
The image quickly went viral as people tweeted the image, praising Sudanese women for taking charge in the demonstrations. Some claimed that the photo of Salah belonged in history books.

Some are comparing Salah to the Statue of Liberty.

Salah, in her first statement to the media since her photo went viral, told BuzzFeed News in a WhatsApp message that she is currently studying engineering and architecture at Sudan International University in Khartoum.

Hind Makki, an interfaith educator and blogger, pointed out on Twitter that the details in Salah's clothing make the photograph even more powerful. She said that the white garment and gold moon-shaped earrings Salah wore pay homage to working women; her dress is a "callback" to the clothing worn by Sudanese women from earlier generations who also fought for the end of dictatorial rule.
Ahmed Awad, a friend and classmate of Salah's, also attended Monday's protest and posted videos of her leading chants late into the night, criticizing the government for killing people in the name of religion.

Awad said that in his conversations with Salah before the demonstration, she told him that "she wanted to overthrow the regime because the situation is unbearable for Sudanese people."

Protests that began in December over the cost of bread tripling and cashless ATMs quickly morphed into a nationwide movement of demonstrators calling for al-Bashir, who has ruled the country since 1989, to step down.
State security forces have responded to the protests with what human rights advocates call excessive force. At least eight people have been killed between April 6 and 8 in violence related to the protests, and hundreds of others have been teargassed, beaten in the streets, and thrown in jail without being charged. Women specifically have reported instances of sexual harassment and threats of rape. But women have been at the forefront of the protests, with some estimates saying as many as 70% of the people who've taken to the streets have been women.
The government has also issued a social media shutdown in response to the growing protests, but the ban has not stopped Sudanese women from harnessing their collective power online for the benefit of the movement. As the demonstrations grew, thousands of them transformed Facebook groups once used to discuss their crushes into an unofficial intelligence tool now used to expose state security officers who had been caught abusing protesters.
Awad told BuzzFeed News that he felt proud of the way Salah took charge during the protests.
"My best friend is strong," he said.
CORRECTION
Lana Haroun's name was misspelled in an earlier version of this post.