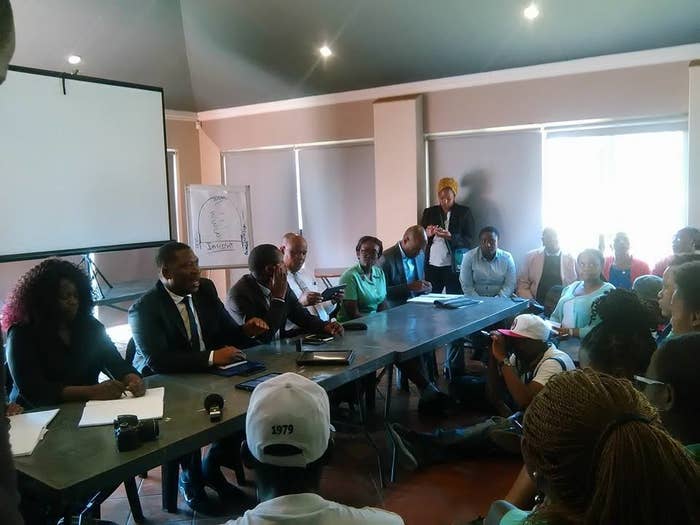 A top education official in South Africa detailed a raft of discriminatory practices at a respected girls high school on Tuesday — including black students being called monkeys — one day after black women led a protest against school officials saying hair must be straightened and not styled in dreadlocks.
Panyaza Lesufi, the head of education in a South African province, also on Tuesday suspended all written rules concerning women's hair at Pretoria High School for Girls and launched an investigation into racist incidents there.
Lesufi said in a statement posted to the Gauteng Department of Education Facebook page that he visited the school on Monday, spoke with the administration, student demonstrators, and the students' parents. He then released a summary of their concerns.
Though the school's Code of Conduct does not say women have to straighten their hair — and actually permits dreadlocks — students told Lesufi that they are ridiculed when they wear "black hairstyles."
Lesufi wrote that, "learners feel that they are not allowed to wear Black hairstyles, such as Afro. Specifically, the school policy limits the length of the hairstyle, and this is arbitrarily interpreted by the educators. The learners feel that educators use abusive and demeaning language when they address them regarding their hairstyles.
"For instance," he added, "some educators tell them they look like monkeys, or have nests on their heads."
Students also described other verbal abuse. Lesufi recounted an incident "a white learner told a black learner she does not need a pencil but should rather use her finger since it was black enough."
Other white students have complained about learning "kaffir" music — a derogatory term for a black African — in class when the teacher taught them an African folk song.
Students also told Lesufi they were forbidden from speaking in African languages on campus, "yet other learners are allowed to express themselves in Afrikaans" — a language brought to South African by the Dutch, Lesufi wrote. South Africa has 11 official languages.
When girls raised their concerns with school administrators, Lesufi said, they were told to "get over it" or "toughen up."
Lesufi ordered an independent audit of the Pretoria High School for Girls "to investigate all the claims of racism." He also mandated a review of the school's Code of Conduct.
The independent investigation is scheduled to last three weeks. On Twitter, Lesufi called the student demonstrators an inspiration.
"The learners' unqualified right to quality basic education must be ensured at all times. Teaching and learning must occur in a conducive and safe environment. To that end lessons must continue uninterrupted," he wrote.

Read the full statement here.