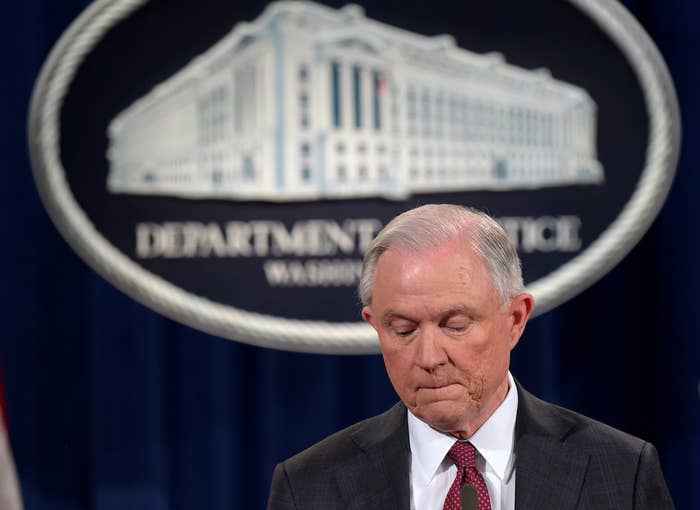 Attorney General Jeff Sessions announced Thursday he would recuse himself from any federal investigation into the 2016 US presidential election, including a current probe into Russian interference, following revelations of false claims he made during his January senate confirmation hearing about meeting with Russians.
"During the course of the last several weeks, I have met with the relevant senior career department officials to discuss whether I should recuse myself from any matters arising from the campaigns for president of the United States," Sessions said in a statement. "Having concluded those matters today, I have decided to recuse myself from any existing or future investigations of any matters related in any way to the campaign for president of the United States."
Sessions said the Acting Deputy Attorney General, Dana Boente, would act in his place.

"This announcement should not be interpreted as confirmation of the existence of any investigation or suggestive of the scope of any such investigation," Sessions added.
At a press conference at the Department of Justice, Sessions told reporters he had been meeting with staff for days to discuss whether he should recuse himself.
"In the end, I have followed the right procedure, just as I promised the [Senate] committee I would," he said.
It was revealed Wednesday night that while Sessions testified at his Senate confirmation hearing that he did not have contact with Russians during the campaign, he in fact did — twice. The Washington Post, which broke the news, reported that Sessions had personally communicated with Russian Ambassador Sergey Kislyak, including once in September in his own Senate office.
Sessions said the meetings did not touch on the 2016 campaign. "We talked a little bit about terrorism, as I recall," he told reporters. "Somehow the subject of Ukraine came up."
Democrats and Republicans in Congress had earlier called for Sessions to no longer participate in federal investigations into the election — or step down altogether — for not revealing the contacts.

"I've said that whenever it's appropriate, I will recuse myself," Sessions said earlier Thursday morning. "There's no doubt about that."
Sessions announcement of his recusal came just hours after President Donald Trump told reporters in Virginia he "wasn't aware" of Sessions' contact with Kislyak, but maintained that he had "total" confidence in his attorney general.

When asked whether he thought Sessions should recuse himself from the investigation, Trump said, "I don't think so."
Later Thursday, the president released a statement following Sessions' decision to recuse himself.
"Jeff Sessions is an honest man," Trump's statement said. "He did not say anything wrong. He could have stated his response more accurately, but it was clearly not intentional. This whole narrative is a way of saving face for Democrats losing an election that everyone thought they were supposed to win. The Democrats are overplaying their hand. They lost the election and now, they have lost their grip on reality. The real story is all of the illegal leaks of classified and other information. It is a total witch hunt!"
Sessions spoke to Fox News' "Tucker Carlson Tonight" Thursday, and said that his conversation with the Russian ambassador was "legitimate," but has been "hyped beyond reason," which is "unfair". He went on to say that his involvement in the campaign is ultimately what led him to decide to recuse himself from any investigations regarding Russian interference during the election.
"The reason I believed I should recuse myself is because I was involved in the campaign to a degree I think it would have been perceived is that I wouldn't be objective in participating in an investigation that might involve the campaign," Sessions said.
In a statement on Thursday morning, White House deputy press secretary Sarah Huckabee Sanders called the issue "the latest attack against the Trump administration by partisan Democrats" — even though Republicans were also among those calling for Sessions to be held to account.

She said Sessions only met with the ambassador in his capacity as a serving member of the Senate Armed Services Committee. However, the Washington Post contacted all 26 members of the committee and found Sessions was the only senator to meet with Moscow's envoy in 2016.
Huckabee Sanders added that it was "no surprise Senator Al Franken is pushing this story immediately following President Trump's successful address to the nation."
It was Franken who on Jan. 10 asked Sessions what he would do if he learned that anyone affiliated with the Trump campaign had been in contact with Russian officials during the election.
During that hearing, Sessions claimed that he was "not aware of any of those activities."
"I have been called a surrogate at a time or two in that campaign, and I did not have communications with the Russians," he added.
When asked Thursday on CNN if he thought Sessions had lied during his confirmation hearing, Franken said, "I would say at the very least this was extremely misleading."

"He should have said, 'I met with the Russian ambassador a couple times, but we didn't discuss the campaign.' But then his office shouldn't come out with an explanation saying he talked with the Russian ambassador but doesn't remember what they talked about," Franken added.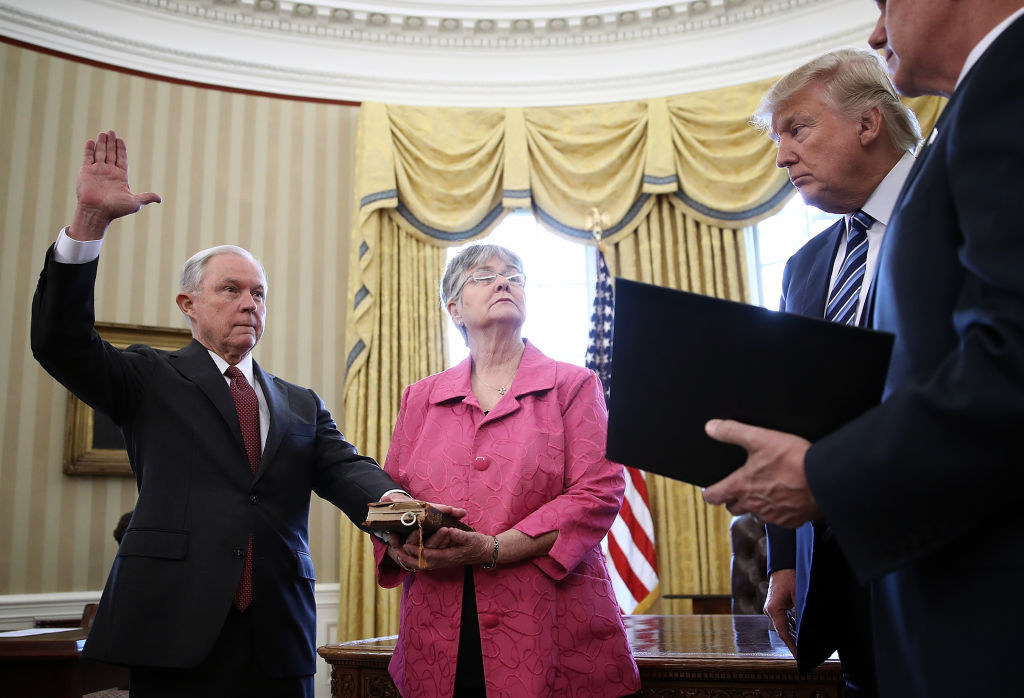 Sessions first responded to the revelations in a defiant statement on Wednesday night: "I never met with any Russian officials to discuss issues of the campaign. I have no idea what this allegation is about. It is false."
But members of Congress continued to react to the news on Thursday, including top Republicans.

Rep. Jason Chaffetz, the Republican chairman of the House Oversight Committee, tweeted that Sessions should "clarify his testimony and recuse himself."
GOP Majority Leader Kevin McCarthy told MSNBC he didn't see anything "serious" about Sessions' recollection of his meeting with the Russian ambassador, but maintained that he should clarify what the meetings were and why he had them.

"I just think for any investigation going forward, you want to make sure everybody trusts the investigation," he said.
When asked directly if that objective would require Sessions' recusal, McCarthy said, "I think it'd be easier at that standpoint, yes."
Speaking later on Fox News, however, McCarthy denied calling on Sessions to recuse himself.
"I was asked on Morning Joe if he needs to recuse himself as going forward," he told Fox & Friends. "As you just heard, Attorney General Sessions said he would rescue himself going forward — appropriate, and that's all my answer was. It's amazing how people spin things so quickly."
Senate Minority Leader Chuck Schumer on Thursday called on Sessions to resign, saying the Justice Department needs to appoint a special prosecutor to continue the investigation.
"The information reported last night makes it clear beyond a shadow of a doubt that Attorney General Sessions cannot possibly lead an investigation into Russian interference or come anywhere near it," Schumer said. "With these revelations, he may very well become the subject of it.
"Because the Department of Justice should be above reproach, for the good of the country, Attorney General Sessions should resign."
House Minority Leader Nancy Pelosi said during a news conference on Thursday that Sessions should resign, accusing him of lying under oath.
"The fact that the attorney general, the top cop in our country, lied under oath to the American people is grounds for him to resign," she said. "He has proved that he is unqualified and unfit to serve in that position of trust."
House Speaker Paul Ryan, however, told reporters that he didn't "see any purpose or reason" for Sessions to recuse himself.
"I think he answered that question this morning, which is if he himself is the subject of an investigation, of course he would. But if he's not, I don't see any purpose or reason to doing this," Ryan said.
"I think Democrats are lighting their hair on fire to get you to cover this story to keep repeating the same story," he told reporters. "I think they're trying to get this coverage going and there's nothing new we've seen here."
By Thursday afternoon, all Democrats on the House Judiciary Committee had called for a criminal investigation into Sessions.
In a letter to FBI Director James Comey and US Attorney for DC Channing Phillips, they wrote: "Efforts by Attorney General Sessions to assert that his testimony was not false or even misleading because he met with the Russian Ambassador in his capacity as a Senator, rather than a campaign representative, appear to be disingenuous at best as the questions put to him did not in any way ask if the meeting was campaign related."
Russian Foreign Ministry spokesperson Maria Zakharova appeared frustrated when CNN asked about the allegations against Sessions and his communication with Kislyak.
"Mr. Kislyak is a well-known, a world-class diplomat who was a deputy minister of foreign affairs in Russia, who has communicated with his American colleagues through decades on different fields," she said. "And CNN accused him [of] being a Russian spy? Recruiting — Oh, my God. Come on. Stop spreading lies and false news."
There's precedent for Sessions' decision to recuse himself. Former Attorney General Eric Holder recused at least twice when he led the Justice Department.
Holder stepped aside from an investigation into the department's probe of leaks that involved subpoenaing the telephone records of Associated Press journalists, since he was interviewed by the FBI about it. Early in his tenure, Holder also recused from any involvement in deciding whether the Justice Department should charge former professional baseball player Roger Clemens with lying to Congress about using steroids. Clemens, who had been represented by Holder's former law firm, was charged and ultimately acquitted.
Former attorney general John Ashcroft also recused from the investigation into who might have disclosed the identity of a CIA operative to the press.
Under a succession order that President Trump signed on Feb. 9, if the attorney general is no longer able to perform his duties, another Justice Department official steps in as acting attorney general. Here's where it gets tricky: no official who is serving in an acting capacity can be the acting attorney general — they have to have been confirmed by the Senate. No other top-level Justice Department officials have been confirmed yet under the Trump administration, which means the lawyers serving in acting capacities now couldn't take over for Sessions.
The succession list then shifts to US attorneys. Trump, in the Feb. 9 order, designated the US attorney for the Eastern District of Virginia, to be first in line. That job is held by Dana Boente, who was confirmed by the Senate and also is presently serving as the acting deputy attorney general.