Sepp Blatter Tells Russian Media FIFA Scandal "Has Nothing To Do With Criminal Activity"
The FIFA president, currently on suspension by the ethics committee, alleged to Russian news agency TASS that the investigation stems from a long-standing vendetta against him by Michel Platini.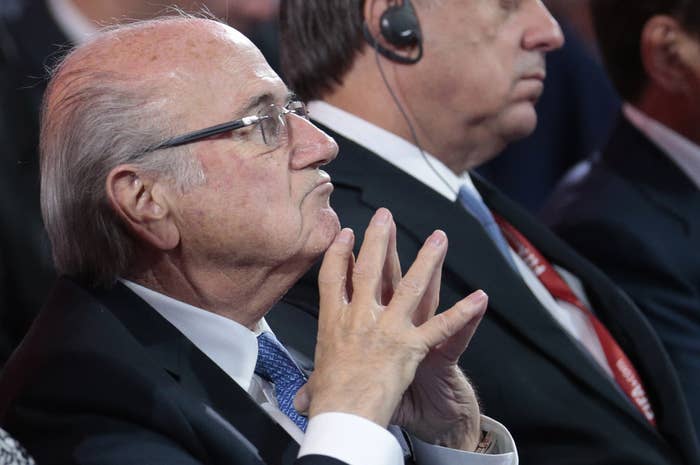 In an extensive Q&A with TASS, a Russian news agency, FIFA president Joseph "Sepp" Blatter shared his opinions on the current state of the FIFA administration. He maintained that the scandal was spurred largely by years of accumulating animosity between him and Union of European Football Associations (UEFA) president Michel Platini.
"I think this crisis, and this is also the idea of my lawyers, has nothing to do with any criminal activity," Blatter said. "So it was by perception."
The tension between Blatter and Platini appears to have begun in 2010, when FIFA began deliberating over who would host the 2018 and 2022 World Cup tournaments.
Blatter told TASS that it had been previously decided that the 2018 World Cup would be held in Russia and the next one would be held in America, but Blatter allegedly intervened and submitted a nomination for Qatar to host in 2022. The move, he said, "has changed all pattern."
Blatter and Platini are currently on suspension from FIFA for 90 days, an announcement made by the FIFA ethics committee on Oct. 8, while the soccer governing body conducts investigations into allegations of corruption.
The FIFA president called the suspensions "total nonsense," adding that he was not given the opportunity to respond to the call for his temporary departure.
"This is not justice," he said. "I put these people into the office, where they are now in the ethics committee, and they don't even have the courage to listen to the secretary general, Platini, or me."
Blatter maintained that while the "football has never been so good as now," the leadership of FIFA is in crisis.
He told TASS that FIFA needs more parity between governing regions, pointing out that Europe has three vice presidents even though Africa has more member associations. He also believes that "we should give more access to women in the executive committee."
When asked if he had any advice for the future FIFA president, Blatter said, "Don't forget that FIFA is the most valuable institution in the world."
"Football is connecting people," he added. "It makes bridges. This is football and this we cannot abandon."
Meanwhile Tuesday, the AP reported that seven candidates put their names in the running to be the next president of FIFA. The candidates are Prince Ali bin al-Hussein, Gianni Infantino, Tokyo Sexwale, Musa Bility, Jerome Champagne, Sheikh Salman bin Ibrahim al-Khalifa, and Michel Platini, whose nomination is pending since he's been suspended.
A breakdown of the candidates shows that three are from Europe, two from Africa, and two from Asia. A three-man election panel will first vet the candidates and will then announce next month which have been "officially accepted," according to the AP.
Read the full Blatter interview with TASS here.