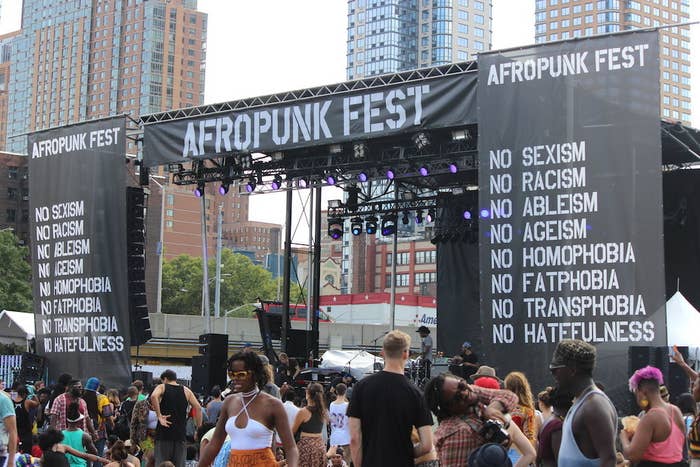 By 5 p.m. on Saturday at the 11th annual AfroPunk music festival, a majority of the attendees were catching their second wind. The afternoon at the renowned Brooklyn event was studded with electric performances by Lion Babe and SZA, up-and-coming artists that fit perfectly into the event's alternative aesthetic.
It was time, now, to refuel with fancy French fries and craft beer, to find a space within Commodore Barry Park with a signal strong enough to support Instagram uploads. Ms. Lauryn Hill was scheduled to take the stage at 7:15 p.m., and Grace Jones would go on an hour later.
Activism Row was an area within the festival grounds that allowed different advocacy groups to table and appeal to concertgoers on issues ranging from gentrification to public health. Around 5 p.m., the space had a similar calm; people toured the perimeter, picking up flyers and free plantain chips and signing up for newsletters.
Then the chants began.
The small entrance to Activism Row was overtaken by a sea of signs printed in clear, black letters on a white background that read "I stand for trans rights" and "I stand for more than just marriage."
The crowd of about 50 people gathered near an empty tent that had been reserved for Black Lives Matter. Black and brown arms adorned with shimmering bracelets continued to clutch their signs; fingers tipped with intricate nail art curled into fists as they recited lines by Assata Shakur.
Micky Bradford brought a megaphone to her lips as she called for an end to white supremacy and transphobia, and urged people to include black trans lives in their activism for racial justice.
"What are you going to do today to support black trans women?" she asked.
The intersection of punk and protest was on full display at AfroPunk. This year's gathering marked a significant one for those who organize around black trans justice, as they collaborated for the first time with AfroPunk officials to create an official space to advocate for change onstage.
As with many first attempts at radical change, this one was not without its conflicts, which ranged from gender policing to physical silencing as black trans organizers disrupted the festival.
But organizers from both sides of the table told BuzzFeed News that the relationship, while new and imperfect, is nonetheless crucial.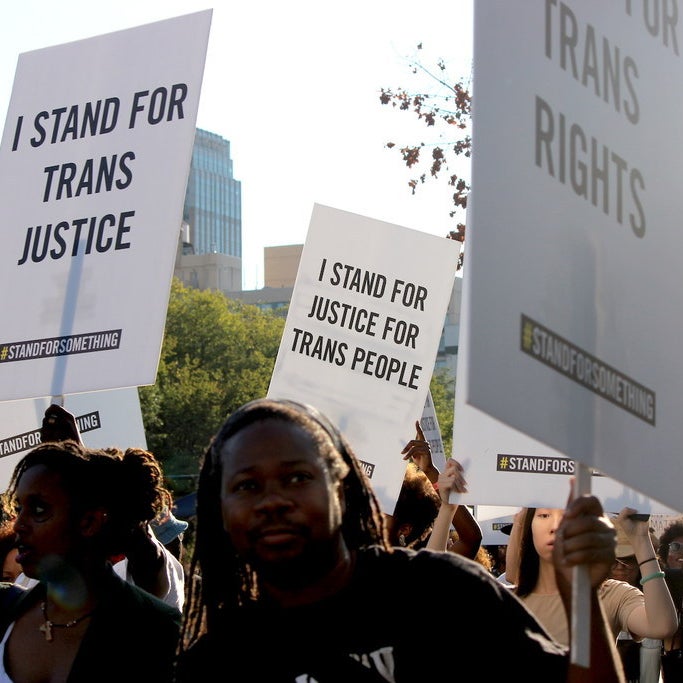 Nathan Leigh told BuzzFeed News that he joined AfroPunk five years ago. Officially, he reviews music and curates monthly mixtapes for the website, but due to his experience as an organizer, he was asked to facilitate a relationship between activists and AfroPunk this year.
He told BuzzFeed News that the decision to open up a space specifically for the advocacy of black lives was due, in part, to the fact that for the first time since its inception, AfroPunk charged for entry.
"We are deeply aware as an organization of our obligation to use our platform as much as possible to enact social good as we move towards hopefully achieving solvency," Leigh said.
"We recognized that if we were going to have ticketed admission, it really put the onus on us not just to post a couple memes on FB about Black Lives Matter, but actually try to make a statement."
Leigh was one of the primary points of contact for people like Cherno Biko, who in recent years has become a front-running champion in the trans justice movement. Biko, 24, told BuzzFeed News that she was asked to organize 500 trans organizers to show up at AfroPunk. The organization agreed to allow some individuals time on each of the three stages on Saturday to speak out about the epidemic of murders of trans women of color, and rally people into action.
Despite these efforts, Biko told BuzzFeed News that many trans demonstrators faced obstacles before they even set foot onstage.
"AfroPunk had gendered lines to separate people getting into the festival," she said. "Trans people were being misgendered. That was a huge problem."
She added that some quick thinking by a fellow activist resulted in a makeshift line specifically for trans demonstrators.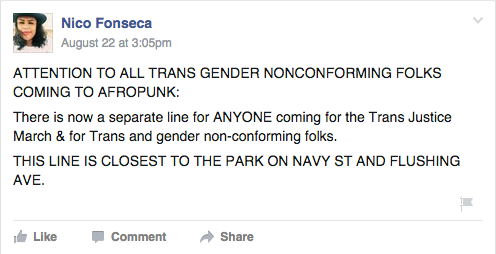 The group gathered at each stage to lead chants and speak the names of the record-breaking number of trans women of color who have been murdered this year. They also danced and sang their rendition of Janelle Monae's unswervingly political track, "Hell You Talmbout."
At one point, a series of miscommunications among AfroPunk staff led to the appearance of an attempt at silencing the activists. Biko recalled to BuzzFeed News that a stagehand attempted to physically escort her off of the main stage in the middle of an address to the crowd.
Leigh took partial responsibility for the mishap, and pointed to the incident as one of the areas of improvement for AfroPunk in its continued efforts to fuse politics with the overall festivities.
"Unfortunately it led to a feeling among activists that their time was being limited and not valued," he said. "It's really tough because organizationally, that couldn't possibly be further from the truth. However, the fact that as an organization we didn't give them their time is a really regrettable thing that happened."
The organizers were nonetheless undeterred. They regrouped inside Activist Row, and finished up their three-stage disruption with the same calls to action they began with.
Bradford, a cultural worker who flew in from Atlanta specifically for AfroPunk, told BuzzFeed News that this "do-it-yourself" mentality had roots both in trans activism and punk politics.
She acknowledged the importance of the partnership, and said that growing pains were inevitable.
"AfroPunk is like home for us, it's our family," she said. "Family may love you, but sometimes you have to teach them how to love you."
Leigh reflected on the weekend as a necessary introduction to future collaborations between AfroPunk and other organizers, and remained optimistic about the progressive steps that were made at the music festival.
"At the end of the day," he said, "we can reflect on the ways that it could have been done better. But it doesn't change the fact that there is an epidemic of murders of trans women of color. Addressing that is very urgent. It is a major problem that we're failing as a society to address."
The Black Trans Lives Matter movement will continue with a National Day of Action scheduled for Tuesday, Aug. 25.