A billboard in North Carolina that claims "Real men provide. Real women appreciate it" has sparked controversy across the country.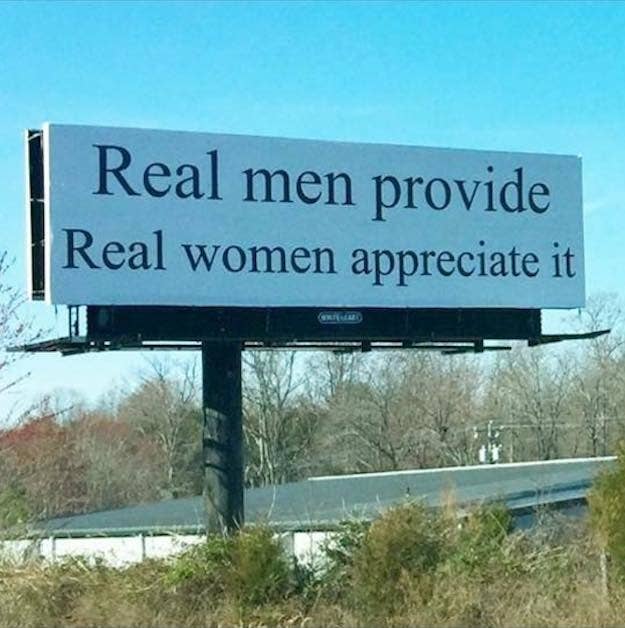 Many people have called the billboard sexist, and some have planned a demonstration this weekend.
Whiteheart Outdoor Advertising owns the billboard, which went up on Feb. 17.
The owner, Bill Whiteheart, told BuzzFeed News that he has received about 150 phone calls from people who support the sign's message and those who want it taken down.
Whiteheart added that the company that purchased the sign has asked to remain anonymous and paid around $2,000 for the billboard.
"That billboard is like a piano and if you rent it, you can strike the keys however you'd like to as long as it's not offensive or illegal," he said.
Lots of people criticized the sign because it implies that women cannot also be providers.
But others found no issue with the message.
Molly Grace, a business owner based in Winston-Salem, North Carolina, told BuzzFeed News that she was first alerted to the sign on Feb. 19 when people started calling her, asking if she'd seen it.
Grace said that while she finds the billboard frustrating, she's not surprised that it's up.
"I was very frustrated that it implied that certain types of people are left out," she said. "I was a stay-at-home mom before I was a business owner. I took offense to it because I'm a woman."
Grace has since organized a demonstration against the sign, which will take place in Winston-Salem on Sunday. She told BuzzFeed News that attendees have been encouraged to bring blank sheets to write alternative messages that will then be hung around the city.
"The thing we are protesting is the social belief and the social issue that is sexism and misogyny. It's celebrated by men and women," she said.
She said that since she established the event, she has received a fair amount of negative responses.
"It's upsetting a lot of other people. It just proves the point even more so. This billboard and what we're protesting has nothing to do with a way the family is structured," she said.
For Grace, the demonstration is less about the sign itself, and more about the ideas it represents and the people who support it. She added that she does not care which business paid to put it up in the first place, and said it was "a waste of energy" trying to find out.
She also responded to critics who have denounced the demonstration as an attack on free speech.
"This is not an attack on free speech," she said. "You can say whatever you want. We're allowed to say it's offensive."