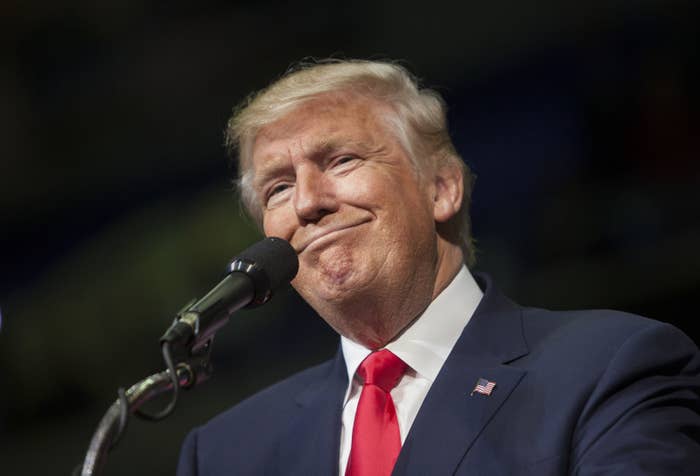 Trump surrogate Scottie Nell Hughes on Monday night said that Fifty Shades of Grey, a popular erotic romance novel published in 2011, was partly to blame for the culture that allowed for Trump's vulgar comments about women from 2005.
In an interview on CNN with Anderson Cooper and Republican political commentator Ana Navarro, Hughes cited the book when Cooper asked where society made it OK to say the things Trump said.
"Eighty million copies of Fifty Shades of Grey were sold," Hughes said, adding that Magic Mike, a film about a male stripper, was so popular that it was made into a sequel.
Nell also referred to Twilight, "the vampire trilogy," as well as Sports Illustrated and Playboy to back the argument that "sex, unfortunately, sells."
The first instance of someone blaming the novel — published six years after Trump was caught on video making lewd comments about women — cropped up on the internet moments after the footage surfaced Friday.
Twitter user @natejundt appears to have been the first to make the argument.
Less than an hour later, @Aristotrad repeated the thought, which gained more traction than the original tweet; it's been retweeted more than 250 times.
Then conservative radio host Joe Walsh tweeted this on Saturday night. It has been retweeted more than 7,000 times.
Soon, people started to create memes about the book and linked them to their criticism of women's outraged reactions.
Trump supporter Amanda Fraser told BuzzFeed News during a Trump rally on Monday that women "talk worse than men do on that aspect."
She also referenced the meme.
"I love the thing that's on Facebook that says, "If this offends women so much, who bought the 80 million copies of 50 Shades of Grey?" she said.

Some people — including Cooper during the CNN interview — have pointed out that the sexual scenes in Fifty Shades of Grey were consensual.
On Sunday, Fifty Shades author E.L. James took to Twitter to remind people that her book was a work of fiction and that she did not use the word "pussy."
When Navarro responded to Hughes' assertions on CNN, she said, "Everything you just said is 50 shades of crazy. To compare running for president to an erotic film, an erotic movie, an erotic novel is crazy."
Trump supporters have made other attempts to link Trump's comments to pop culture.
On Monday night, former Lt. Gov. of New York Betsy McCaughey called Hillary Clinton a hypocrite for her criticism of Trump because she is a fan of Beyoncé, who she said has "bad language" in her music.