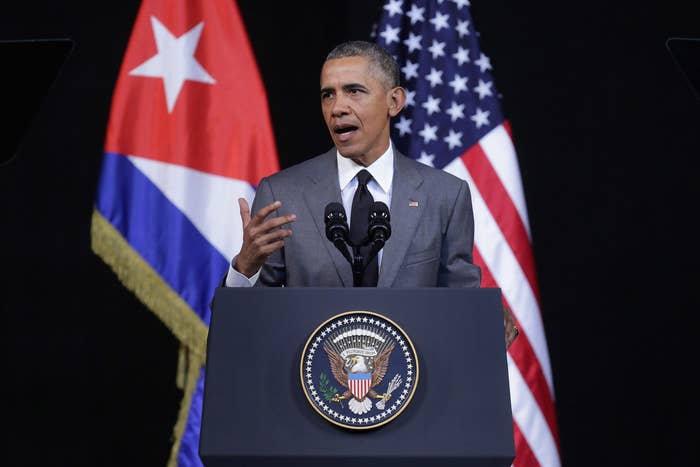 In an address to Cubans during his historic visit to the Communist nation, President Obama acknowledged both the cultural and historical similarities between the two countries and the fundamental differences in their political ideologies.
Despite the differences, Obama said, he envisioned strengthened bilateral ties and encouraged increased democratic freedoms for Cubans.
Obama, who is the first sitting president to visit the country in 88 years, opened his address with a statement on the Brussels attacks in which dozens of people died.
"We will do whatever is necessary to support our friend and ally Belgium in bringing to justice those who are responsible," he said, and reiterated his intent to "defeat the people who threaten the safety and security of people all around the world."
Pivoting back to the Cuban people, Obama likened the relationship between the island and the U.S. to "two brother who have been estranged for many years, even as we share the same blood."
He enumerated the similar backgrounds Cubans and Americans have in terms of European colonial rule and slavery, as well as their shared affinity for baseball and a commitment to providing a quality education for their children.
But Obama didn't shy away from highlighting the differences, either. He encouraged the Cuban government to allow Cubans freedom to peacefully practice different religions, criticize their government, vote democratically, and access the Internet.
"Sustainable prosperity in the 21st century depends on education, healthcare, and environmental protection," he said, "but it also depends on the free and open exchange of ideas."
He acknowledged both the sensitivity of an American president pointing out such issues, as well as the prevailing issues of racial bias and police brutality he faces at home.
"But stop and consider this fact about the American campaign," he said, referring to the presidential race.
"Two Cuban Americans are in the Republican party running against the legacy of a black man who is president, while arguing that they're the best person to beat the democratic nominee who will either be a woman or a democratic socialist," he said.
"Who would have believed that in 1959?"
Obama arrived with first family in Cuba on March 20, and has already met with Raul Castro, where the two leaders discussed bilateral and regional issues, and how Obama's visit could fortify and normalize U.S.-Cuba relations.