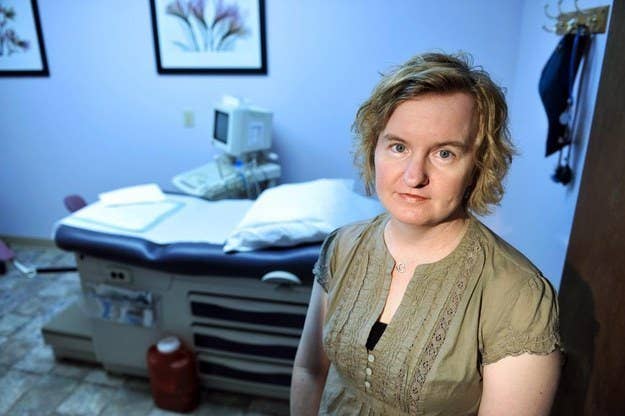 A three-year battle over reproductive rights in North Dakota suffered a blow Wednesday when the Red River Women's Clinic, the only center of its kind in the state, announced that it will no longer administer medical abortions. The statement came less than 24 hours after a state Supreme Court ruling upheld a 2011 bill that restricted such drugs. Medical abortions comprise roughly 20 percent of the 1,200 carried out annually.
Tammy Kromenaker, the clinic's director, told the Associated Press that she has advised her staff to stop prescribing mifepristone and misoprostol, FDA-approved abortion and stomach ulcer drugs, respectively, that have been available at the clinic to women pregnant for up to 63 days.
Kromenaker added that eight women had been scheduled for medical abortions this week, were informed of the new policy, and advised to seek out alternative care. Red River continues to offer surgical abortions for women who have been pregnant for as many as 16 weeks.
North Dakota's recent history is wrought with challenges to abortion access. In March 2013, Gov. Jack Dalrymple supported a law that prohibited abortions after a fetal heartbeat could be detected through a transvaginal probe. The law took effect in August, but was appealed by state attorneys in December.
The Center for Reproductive Rights, based in New York, has advocated on behalf of the Red River Women's Clinic since the 2011 ruling, and again issued a statement condemning yesterday's decision. The center's CEO, Nancy Northup, said in a press release that the "politicians pushing for these unconstitutional and downright dangerous restrictions have had only one goal in mind: prevent North Dakota women—whom already face incredible obstacles to the severely limited reproductive health care services in their state—from exercising their legal right to abortion."
Both Kromenaker and Northup have hinted at the possibility of further legal action against the court's ruling, though Kromenaker told the AP that her decision to halt medical abortions was made with her staff in mind.
"I didn't want to put any staff in jeopardy," she said.
For now, the homepage of the Red River Women's Clinic website reads: "Abortion is STILL legal in the state of North Dakota. Red River Women's Clinic is OPEN, available for appointments and LEGALLY performing abortions in the state of North Dakota."
CORRECTION: All eight women who had scheduled medical abortions at Red River Women's Clinic are technically eligible for surgical abortions. An earlier version of this post stated that this number was unclear.