Nigerian President Muhammadu Buhari's wife has accused him of suspicious hiring practices within his cabinet and said she will no longer support him if he does not improve his policies.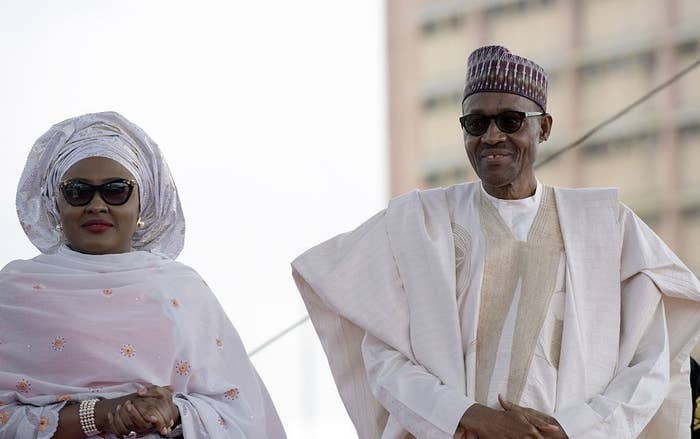 In an interview with the BBC, Aisha Buhari said that after receiving "complaints upon complaints" from people who approached her both individually and collectively, she decided to tell her husband that "things are not going the way they should, that is, when it comes to putting people in certain positions."
Aisha said of most of the people who occupy the agencies Muhammadu appoints them to: "Nobody knows them," and estimated that the president himself knew only about five out of the 50 officials he had named to high positions.
"They do not know our manifesto, our party manifesto, they don't know what we campaigned for, they're not part of us completely, they don't have a mission, they don't have a vision of our APC," she added, referring to their party, the All Progressives Congress.
"I have my own rights, you know, to say how I feel about something," Aisha said. "If it continues like this, me, I'm not going to be part of any movement again."
When asked if she had shared these views with Buhari, she said, "Yeah. He knows."
After hearing his wife's comments, the Nigerian president told the Associated Press, "I don't know which party my wife belongs to, but she belongs to my kitchen and my living room and the other room."
Muhammadu's response elicited a laugh from German chancellor Angela Merkel, who was sitting near him at the time, the AP reported.
Here's a clip of President Buhari's reaction.
Nigerians on Twitter expressed their support of Aisha's stance.
Aisha played a key role in her husband's presidential election in March 2015. According to the BBC, she galvanized women and youth voters by holding several town hall meetings during the campaign.
Since his election, Aisha continued to focus on women's empowerment and poured her efforts into securing the rescue and release of the Chibok girls who were kidnapped by Boko Haram in 2014.