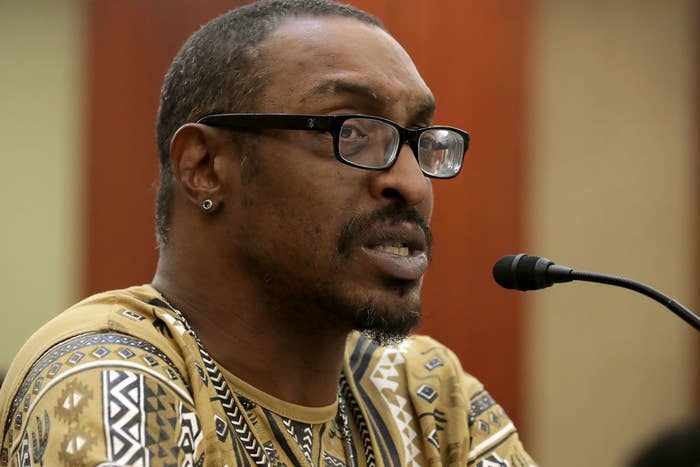 A day after making a plea to Congress to end racial and religious profiling — and one month after he was detained at an airport in Florida — Muhammad Ali Jr. was again stopped on his way to board a flight on Friday in Washington, DC, according to his lawyer.
His attorney, Chris Mancini, told BuzzFeed News that the son of the late, famed boxer was traveling back to Fort Lauderdale from Reagan National Airport Friday afternoon with his mother, Khalilah Camacho-Ali.
Mancini, who accompanied Ali Jr. and Camacho-Ali on the trip, said that after he and Camacho-Ali received their boarding passes without issue from JetBlue, Ali Jr. stepped to the counter and presented his Illinois state ID.
"The screen started flashing, and the agent said he needed to make a call," Mancini recalled.
Once the agent was on the phone with a Department of Homeland Security representative, he began to ask Ali Jr. his date of birth and social security number, Mancini said.
The agent eventually told Ali Jr. that the ID he presented was not acceptable, even though, according to Mancini, he had recently used it to travel to New York City and on his flight to DC from Florida.
It was only when Ali Jr. handed his US passport to the JetBlue agent that he received his boarding pass.
Florida Congresswoman Debbie Wasserman Schultz was on the same flight as Ali Jr., and tweeted a photo with him saying, "Religiously profiling son of 'The Greatest' will not keep us safe."
Ali Jr. and his mother had taken a trip to DC to speak before Democratic members of the House Judiciary Committee in a forum about immigration, which took place Thursday.
"I believe they were religiously and racially profiling me," Ali Jr. said during the forum of the first time he was detained on Feb. 7. "It's wrong and we're here to start this law called ERPA, it's Ending Racial Profiling Act."
"Somebody needs to turn this humanity switch on because we're not going to go back to Robert E. Lee," Khalilah Camacho-Ali said at the forum.
The Department of Homeland Security and JetBlue did not immediately respond to BuzzFeed News request for comment.