Meet The "Genius" Grant Winner Who Tackles Public Health Issues Through Photography
LaToya Ruby Frazier, one of the recipients of the 2015 MacArthur "Genius" Fellowship, will use her award to advance the conversation around labor and wellness in her Pennsylvania hometown and around the world.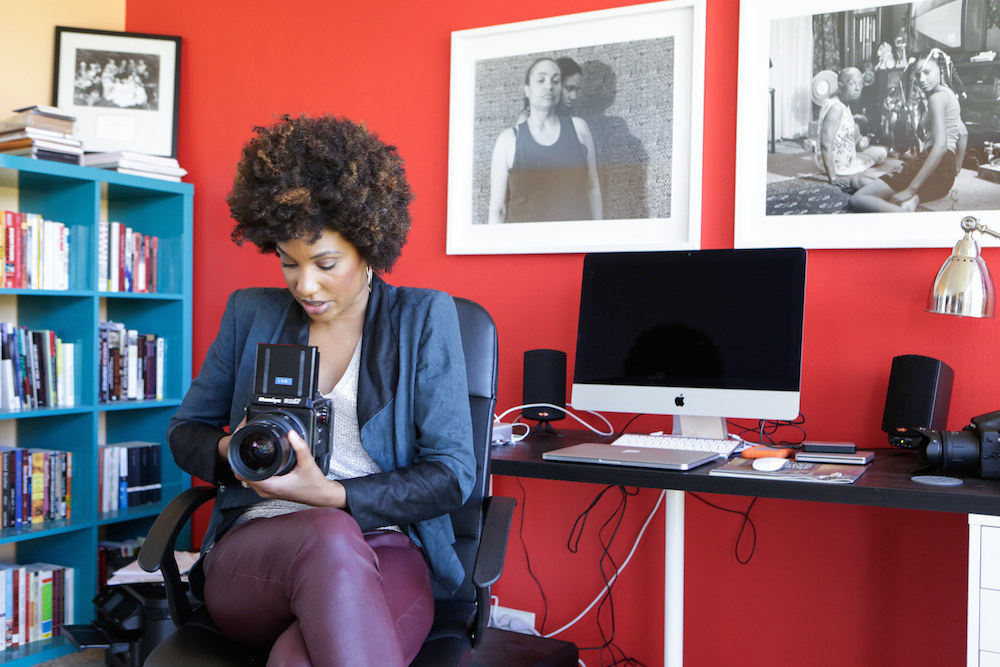 For photographer and educator LaToya Ruby Frazier, one of 24 recipients of this year's prestigious MacArthur Fellowship, reflecting on the lives of her grandparents means confronting painful realities about their hometown of Braddock, Pennsylvania. Braddock was once a thriving steel town, located about 10 miles east of Pittsburgh.
Frazier's step-great-grandfather, whom she calls Gramps, worked in a steel mill owned by Andrew Carnegie in Braddock. He developed severe arthritis from the hard labor. She saw his physical decline.
"I grew up watching Gramps go from this beautiful, regal man in these amazing tailored suits to his body crumbling," she told BuzzFeed News. "His bones felt heavy like steel itself."
Gramps died on Thanksgiving in 2004. Five years later, her grandmother died of pancreatic cancer.
Frazier told BuzzFeed News that both family members helped raise her, and explained the impact that it had on her creative outlook.
"Growing up from a youth to a teen, death was a very common experience for me," said the 33-year-old. "But the impact of that influence made me become very sensitive to our health care inequities."
The year after her grandmother died, the Braddock community learned that the town hospital, owned by the University of Pittsburgh Medical Center, was closing its doors after more than 100 years.
"There was this whole community of elders who lost jobs when the steel factories closed, who contracted life-threatening diseases because of their work there, and then their hospital got taken away," Frazier told BuzzFeed News.
Those painful realities became the basis of her photographic work.
LaToya Ruby Frazier's step-great-grandfather, whom she called Gramps, developed a severe form of arthritis from years of working in a Braddock steel mill.
She depicted Braddock's public health issues in a collection of self-portraits and family shots called "The Notion of Family," which was published into a book in 2014.
Frazier's work, which focuses on the impact of changing global industries on everyday people, has been shown all over the world including in Germany, South Korea, Turkey, and Nicaragua. She told BuzzFeed News that while her photographic focus has, until now, been on her hometown and the Midwest, the undercurrent themes of labor and public health disparities are universal.
"People in other places see themselves when they look at the conditions I'm pointing to in my own family," she said. "They feel compelled by that narrative."
The MacArthur Fellows Program is aimed at supporting "talented individuals who have shown extraordinary originality and dedication in their creative pursuits and a marked capacity for self-direction," according to its website. Each of the 24 recipients receives $625,000 over the course of the next five years to support their work. Other winners this year included playwright Lin-Manuel Miranda, and writer Ta-Nehisi Coates.
Frazier, who told BuzzFeed News that she draws inspiration from August Wilson plays, will continue to highlight the working class with her MacArthur fellowship.
"We're at a crucial moment in this society and culture where we really need to hear from communities who are marginalized," she said. "All the solutions and answers are with the poor, the elderly, the ostracized. If we listen to their voices and perspectives, we can get solutions."