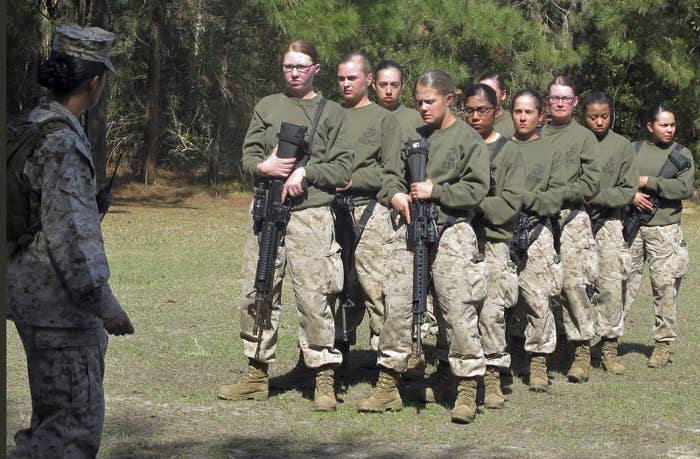 The Marine Corps is expected to drop the word "man" from 19 of its military occupational specialties (MOSs) as the result of a mandated review following the announcement at the end of last year that the military would open all combat roles to women.
The Marine Times, who first reported the story with the confirmation of an anonymous Marines official, noted that at least 19 MOSs will become more gender-neutral.
A spokesperson for the Marine Corps Manpower and Reserve Affairs office confirmed the report to BuzzFeed News but said that the announcement of the new job titles has not been released through official channels.
For about 14 titles, such as basic infantry man or infantry assault man, the word "Marine" will replace "man." In a few others, the name of the role will be edited to more accurately reflect the individual's experience; field artillery operations man will become field artillery operations chief.
Not all job titles with the word "man" will undergo a gender-neutral change, according to the unnamed official.
"Names that were not changed, like rifleman, are steeped in Marine Corps history and ethos," they told the Marine Times. "Things that were changed needed to be updated to align with other MOS names."
Other positions, like unmanned aerial vehicle specialist and manpower officer, contain the word man but, according to the Marine Times, do not describe the person doing the job, and thus will not be changed.
The Manpower and Reserve Affairs spokesperson told BuzzFeed News that an official announcement could be released in the coming days.