Man Who Fatally Shot Former NFL Player Joe McKnight Arrested For Manslaughter
Louisiana police had previously released Robert Gasser from custody after he confessed to the crime the same day of the shooting.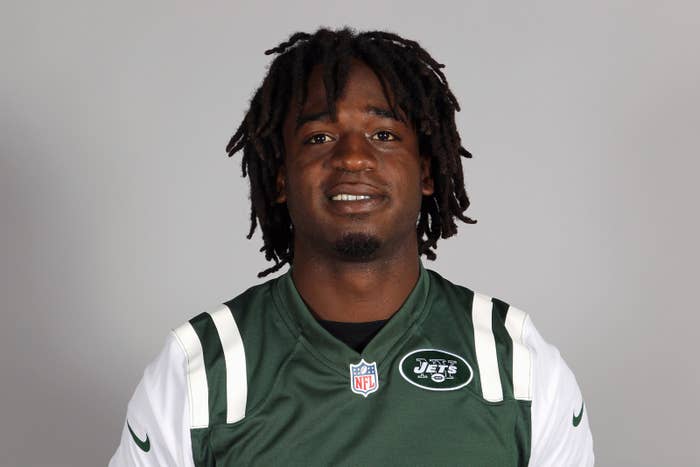 A Louisiana sheriff on Tuesday announced that the man who shot and killed former NFL player and New Orleans native Joe McKnight on Dec. 1 had been arrested and charged with manslaughter.
Robert Gasser, 54, had confessed to fatally shooting McKnight — a star running back at the University of Southern California who also played for the Kansas City Chiefs and the New York Jets — when the two were embroiled in a traffic dispute on Dec. 1 at a busy intersection in Terrytown, Louisiana.
Gasser handed over his gun to authorities when they arrived, but was released without charges the following day, prompting a protest led by the NAACP outside the sheriff's office.
Jefferson Parish Sheriff Newell Norman on Tuesday cited the state's "forward-leaning laws" that favor standing one's ground as the reason for Gasser's delayed arrest.
The comment echoed an earlier one he made last week, in which he claimed that "relative statutes" justified law enforcement in not immediately charging Gasser, despite his confession.
Norman added on Tuesday that the law "creates an obligation to make sure that we get it right."
Norman added that investigators had conducted more than 260 interviews with witnesses between Thursday afternoon and Monday evening, and had spoken with more than 70 business owners who operate in the vicinity of the crime to obtain security video.
By Monday at 5 p.m., Norman said, "we collectively came together and decided that we were prepared to draft an arrest warrant for Gasser."
The sheriff also criticized some witnesses for making false testimonies throughout the investigation. One of the earliest witnesses claimed that Gasser stood over McKnight as he shot him, while others said they heard Gasser say that he had voted for Donald Trump in the presidential elections.
He also attempted to dispel the notion that McKnight's death with racially motivated (Gasser is white).
"No racial slur uttered during the course of these events," Normal said. "One life was lost, but two people engaged in bad behavior that day."