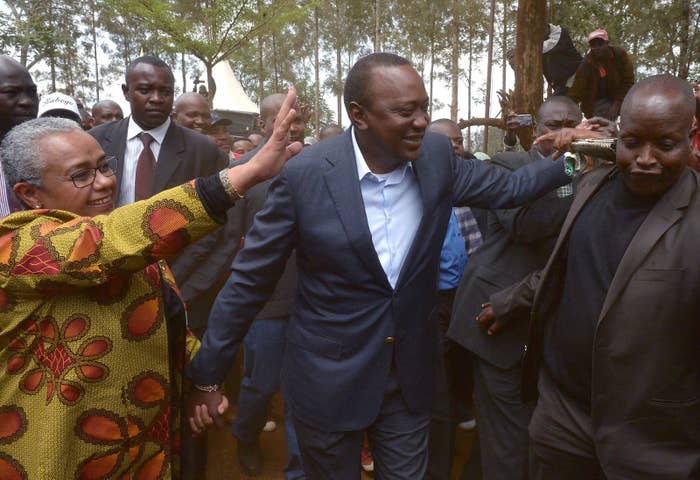 NAIROBI — Kenyan President Uhuru Kenyatta's reelection was made official on Friday after a contested, high-stakes race, giving him a final five-year term in office. The incumbent leader earned 8,203,290 million votes compared to 6,762,224 million for opposition candidate Raila Odinga, according to the country's election commission.

Kenyatta, who belongs to the Jubilee Party, is the son of Jomo Kenyatta, who served as the first president of Kenya after the country gained independence from Great Britain in 1963. The 55-year-old campaigned for his second term on promises to create jobs, improve the health care system, and make secondary school free for Kenyans.

In his victory speech, the president-elect thanked his supporters and congratulated his competition.
"To our brothers who were worthy competitors, we are not enemies," he said. "We are citizens of one republic. As with any competition, there shall always be winners, and there shall always be losers."
He also specifically acknowledged Odinga and pledged to work with him and politicians from other parties while in office.
"To my worthy competitors, especially Raila Amolo Odinga: I reach out to you, to all your supporters, to all who were elected on opposition benches," Kenyatta said, adding that he was ready to to "engage, to dialogue, to discourse together, so we can build this country of ours together."
Election day itself went relatively smoothly on Tuesday, as violence was kept to a minimum and voter frustration was limited to technical glitches involving electronic voter machines and logistical mishaps that delayed the voting schedule.
Uhuru had taken an early lead Tuesday evening when Kenya's Independent Electoral and Boundaries Commission (IEBC) began to tally the votes, but even before the official results had been announced Friday, Odinga made it clear that he would not accept them.
In a brief press conference Tuesday night, Odinga said that official polling agents had not followed official procedure when they tallying votes.
The delay between the voting and announcement of the results comes from the method Kenya uses to verify the accuracy of the election. According to the Kenyan constitution, polling agents are required to sign off on an official document called 34A, which contains details about voting results and is required to be publicized as preliminary results. The 34A forms are then collected by a smaller set of agents in charge of voter constituencies, who consolidate them into 34B forms. Those are then handed off to the head of the electoral commission, who conducts the final count and documents it onto form 34C.
Odinga has argued that the preliminary results that the electoral commission had been publicizing were not based on the 34A forms, and that they therefore lacked credibility.

"So what they are doing here is basically illegal. It's contrary to what the court did rule," he said during a Tuesday press conference.
Odinga doubled down on his stance early Wednesday morning when he tweeted that he and his party "reject the results streamed so far and demand IEBC produces Form 34As from all polling stations before any further results are announced."
Later that day, the opposition leader announced during a press conference that his party had obtained information suggesting that hackers had compromised the electoral commission's database.

"From the information in our possession, some persons gained entry into the IEBC Election Management database and assumed the role of our collective sovereign," Odinga said, adding that the hackers created errors in the commission's core server "that allowed them to turn a democratic process into a function of a formula."
Odinga went on to posit that the hackers were able to gain entry into the system by using the ID of Chris Msando, the senior official for the organization who had been found dead on July 31. Msando had been in charge of developing an improved electronic voter ID system.
Odinga said that the information about the alleged voter tampering had come from a confidential source, and pressed the electoral commission for an investigation into his claims.
Odinga's claim frustrated many of his supporters, who took to the streets in protest demanding answers to the alleged hack. While the demonstrations were largely contained in areas of the country that are known Odinga strongholds, some did descend into violence.
Shortly after Odinga's announcement, the commission said that its data had not been compromised.
Kenyatta will face a fresh set of challenges in his final term.

He had been heavily criticized throughout his presidency for his failure to grow the job market, which has resulted in staggeringly high rates of unemployment for Kenyan youth. As of 2016, 22% of Kenyans aged 15–24 years old were out of the workforce, according to a report by the World Bank. Around 80% of Kenyans are 35 years old or younger, and those aged 18–35 comprised 51% of the 19.6 million registered voters in this election.
Kenyans have also questioned Kenyatta's ability to keep the country safe. In the aftermath of the Garissa University attack in 2015, in which 148 people were killed and another 79 injured, the government revealed that its emergency response team had arrived at the school hours after the attack, and admitted that the United Kingdom had issued a warning to Kenya about a possible attack in Garissa.
The results are unlikely to end the struggle between Kenyatta and Odinga's supporters. The opposition leader's surrogates said again just before the commission made its announcement that the party would not support the results.
"The issues we raised have not been adequately addressed," former vice president Musalia Mudavadi said Friday night, calling their communication with the commission about their concerns "a PR exercise."
"Clearly, one can conclude that they were not taking our concerns seriously," he added.
Odinga is not expected to petition the results, but the country is bracing for protests in light of his defeat.
Kenyatta made a plea for peace at the end of his victory speech.
"There is no need for violence," he said. "We politicians come and go, but your neighbor is your neighbor."