Kenya's President Just Officially Won Reelection
The three-day delay in the announcement was partly a result of accusations of vote tampering by the opposition leader, Raila Odinga.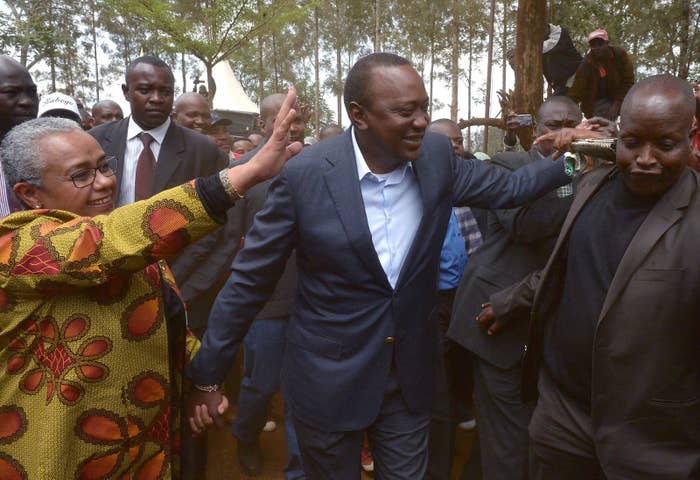 NAIROBI — Kenyan President Uhuru Kenyatta's reelection was made official on Friday after a contested, high-stakes race, giving him a final five-year term in office. The incumbent leader earned 8,203,290 million votes compared to 6,762,224 million for opposition candidate Raila Odinga, according to the country's election commission.

Kenyatta, who belongs to the Jubilee Party, is the son of Jomo Kenyatta, who served as the first president of Kenya after the country gained independence from Great Britain in 1963. The 55-year-old campaigned for his second term on promises to create jobs, improve the health care system, and make secondary school free for Kenyans.

In his victory speech, the president-elect thanked his supporters and congratulated his competition.
"To our brothers who were worthy competitors, we are not enemies," he said. "We are citizens of one republic. As with any competition, there shall always be winners, and there shall always be losers."
He also specifically acknowledged Odinga and pledged to work with him and politicians from other parties while in office.
"To my worthy competitors, especially Raila Amolo Odinga: I reach out to you, to all your supporters, to all who were elected on opposition benches," Kenyatta said, adding that he was ready to to "engage, to dialogue, to discourse together, so we can build this country of ours together."
Election day itself went relatively smoothly on Tuesday, as violence was kept to a minimum and voter frustration was limited to technical glitches involving electronic voter machines and logistical mishaps that delayed the voting schedule.
Uhuru had taken an early lead Tuesday evening when Kenya's Independent Electoral and Boundaries Commission (IEBC) began to tally the votes, but even before the official results had been announced Friday, Odinga made it clear that he would not accept them.
In a brief press conference Tuesday night, Odinga said that official polling agents had not followed official procedure when they tallying votes.
The delay between the voting and announcement of the results comes from the method Kenya uses to verify the accuracy of the election. According to the Kenyan constitution, polling agents are required to sign off on an official document called 34A, which contains details about voting results and is required to be publicized as preliminary results. The 34A forms are then collected by a smaller set of agents in charge of voter constituencies, who consolidate them into 34B forms. Those are then handed off to the head of the electoral commission, who conducts the final count and documents it onto form 34C.