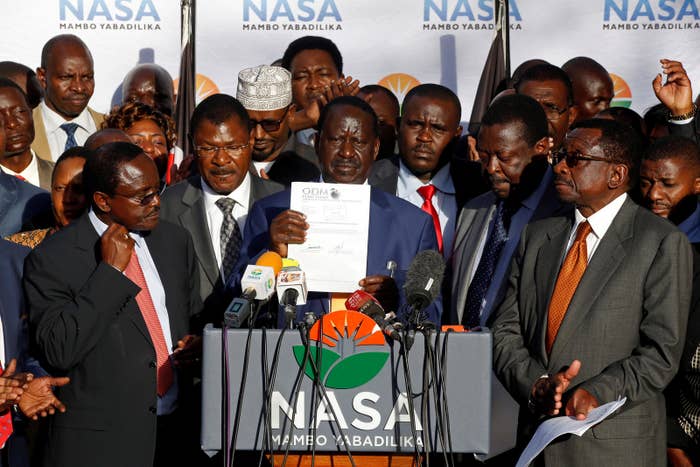 NAIROBI — The presidential candidate whose petition claiming the recent presidential elections were unfair was upheld by the Supreme Court suddenly withdrew his name from the reelection ballot on Tuesday, sending the do-over election into chaos.
Raila Odinga, the leader of the National Super Alliance party (NASA), announced in Nairobi that he and his running mate, Stephen Musyoka, would end their campaign, accusing the electoral commission of not complying with their demands that changes be made ahead of the fresh election that would ensure its fairness.
The original Aug. 8 elections, the National Super Alliance had charged soon after the results were announced in favor of President Uhuru Kenyatta, was marred with technical irregularities and hacking. The Supreme Court agreed and ordered that a new election be held, which had been set for Oct. 26.
On Sept. 5, Odinga made public his party's list of "irreducible minimums," their prerequisites for the electoral commission before they would agree to move forward with elections. The 25-item document included a comprehensive audit of elections-related technology, a change of the company that printed the ballot forms, and the replacement of all 290 elections officers.
The opposition leader said Tuesday that because their demands were not met, they would not go through with reelections.
"In a constitutional democracy, we should not be debating about a free and fair election, or compliance with court orders, or accountability for breach of public trust," Odinga said during a press conference in Nairobi. "We should have been working together to ensure that we uphold these values as they are not only our national values but are also the foundations of a credible electoral system."
Odinga lambasted the electoral commission, saying the organization "stonewalled meaningful deliberations on the necessary reforms to ensure that the elections of 26th October are free and fair." He added that the commission "has wasted valuable time engaging in public relations exercises intended to create the illusion of motion without any movement."
His announcement left Kenyans consumed by confusion.
Kenyatta won the Aug. 8 vote by a margin of 1.4 million votes over Odinga. His deputy president, William Ruto, said shortly after Odinga's announcement that he respects Odinga's choice.

"He told us the other day it is his democratic constitutional right either to run or not to run. And therefore we agree with him," Ruto said during a press conference. "If he has chosen not to run, we are ready for the elections with or without the NASA candidate on the 26th of October this year, and the people of Kenya will decide."
In a speech interwoven with Swahili and English, Kenyatta confirmed that he would remain in the race.
"Democracy is for all, and democracy is the will of the people," he said. "And no one individual can stand in the path of the progress of 45 million Kenyans. And the people of Kenya will have the right to choose and determine who their leader shall be."