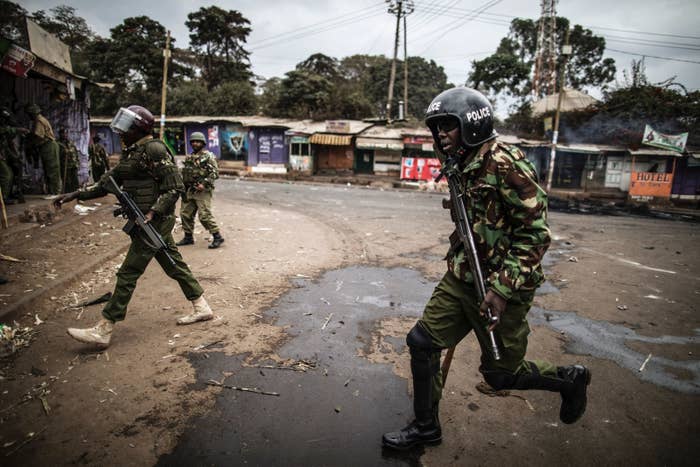 NAIROBI — The Kenya National Commission on Human Rights on Saturday accused police of using excessive force against people protesting President Uhuru Kenyatta's contested reelection, which was declared late on Friday night. Since then, 24 people have died.

Demonstrators took to the streets moments after the election announcement in areas of the country that are known strongholds for Kenyatta's opponent, Raila Odinga — Kisumu and Migori in Western Kenya, and informal settlements in Nairobi like Kibera and Mathare.
Before the results were announced, Odinga claimed that hackers had compromised the elections and called the whole process a fraud. When his supporters protested, their tire-burning and stone-throwing were met with tear gas and gunshots by law enforcement.

"We should not allow any sort of hooliganism to rule the day in the name of picketing," said Kagwiria Mbogori, chairperson of the human rights commission, known by its acronym, KNCHR.
"We are, however, concerned by a number of human rights violations that have been brought to our attention through our various human rights monitors around the country," she added.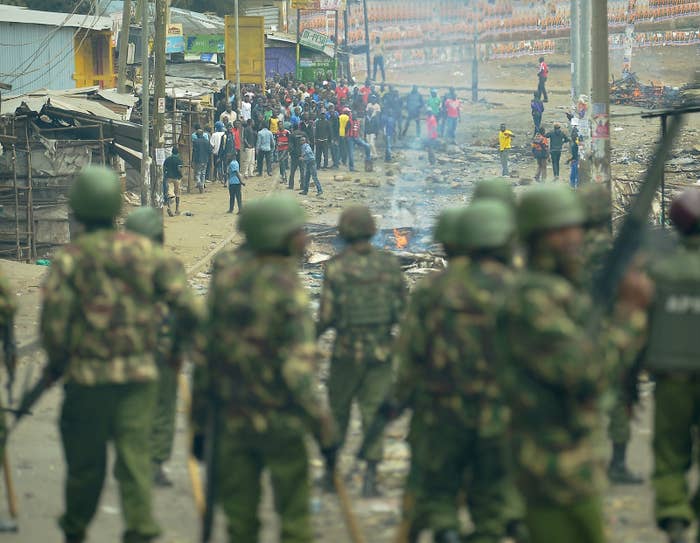 Mbogori said that police violated civilians' right to life by using excessive force against them during the demonstrations. She added that the 24 deaths on record were caused by gunshot wounds, and that the incidents had been "corroborated by family and community members who have indicated that they were killed during the protests."
Acting Cabinet Secretary for Internal Security Fred Matiangi said earlier on Saturday that the incidents taking place in the streets were not demonstrations, but unlawful gatherings intended to harm.
"Individuals or gangs that are looting shops that want to endanger lives, that are breaking into people's businesses, those are not demonstrations," he said. "And you expect the police to deal with criminals how criminals should be dealt with."
Mbogori said that contrary to the cabinet member's claims, "the security personnel deployed to quell unrest in various parts of the country have been using excessive force, which is unlawful and unacceptable."

Kenyans have worried about the unrest that might follow this year's elections. After the 2007 race, more than 1,000 people were killed and more than 500,000 were displaced by violence.
Local media have also struggled to tell the full stories of the protests.
Kenya Television Network reporter Duncan Khaemba was arrested on Saturday morning for wearing personal protection equipment while on camera. He told BuzzFeed News in a WhatsApp message that he gave police his permit to wear the gear, but they took him to jail anyway.
"I suspect the move was aimed at intimidating local media from broadcasting," he said.
Opposition leader Raila Odinga said in a CNN interview on Saturday morning that while he and his party had called upon supporters to remain calm in the election's aftermath, he could not control them.
"What is happening [is] people actually just want to see justice," he said.