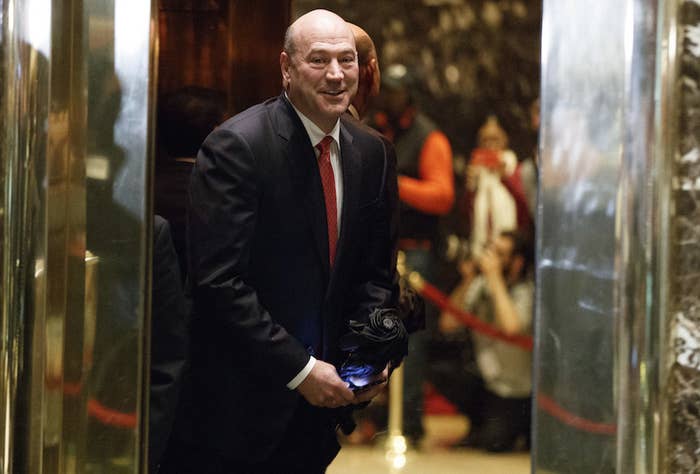 President-elect Donald Trump has picked Goldman Sachs President Gary Cohn to serve as Director of the National Economic Council.
The selection makes Cohn the third Goldman veteran to be picked for a top position in the Trump administration. Steve Mnuchin — nominted to be Secretary of the Treasury — and senior strategist Steve Bannon both worked at the investment bank.
Trump spent a considerable portion of his campaign attacking Hillary Clinton for her Wall Street connections. He also took plenty of shorts at Goldman Sachs and Wall Street elites. In May, he tried to ease concerns about having hired Mnuchin to join his campaign staff, insisting that he was not selling out.

In announcing the choice of another Goldman alumnus, Trump said Cohn's job will be to help form economic policies that "grow wages for our workers, stop the exodus of jobs overseas and create many great new opportunities for Americans who have been struggling."
Cohn said: "I share President-elect Trump's vision of making sure every American worker has a secure place in a thriving economy, and we will be completely committed to building a nation of strength, growth and prosperity."
Goldman Sachs stock has risen 33% since Trump's election, far outpacing the S&P 500, which is up 4.5% in the same period.

Cohn will not be the first Goldman Sachs executive to run the National Economic Council — Robert Rubin, who was Goldman's co-head before he joined the Clinton Administration, was the first person to lead the Council after its creation by then-President Clinton in 1993. Rubin's former co-head of the bank, Stephen Friedman, served as the Council's director early in the Bush Administration.
A registered Democrat, Cohn has made sizable financial contributions to both parties over the years, according to Politico. Most recently, he has donated more to the Republican party.
He has been a presence in Washington for years, representing the bank as it drew intense criticism from politicians and the public over its role in the financial crisis and its aftermath. When then-Majority Leader Eric Cantor lost his 2014 primary to David Brat, an anti-establishment economics professor, Cohn told Bloomberg that Cantor was a "great leader, a public servant," and that "we've all enjoyed having Eric in the Congress."
While Cohn has given few hints about his views on economic policy, he did say he admired Cantor for taking on "tough issues" and "being willing to talk about immigration."