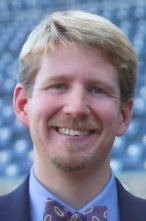 Beyoncé's legal team is asking a judge to dismiss the federal lawsuit brought by an independent filmmaker who accused the singer of lifting images from his short film for the viral trailer for Lemonade.

Matthew Fulks, a filmmaker who also works as the creative director of a TV station in Louisville, Kentucky, sued Beyoncé in federal court in June, claiming that a senior vice president at Columbia Records commissioned his short film Palinoia for a separate project in 2014, and used some of the scenes from his work in the Lemonade trailer five months later.
Beyoncé's legal team, however, has filed court papers declaring that the two works bear no "actionable similarity" — one film shows a "white man who is distressed in the wake of a failed relationship," the other shows "an African-American woman who progresses through stages of suspicion, denial, anger, and, ultimately, reconciliation in her relationship," according the court papers.
Beyoncé's film was also in the 'context of African-American culture, with a Southern Gothic feel, and has an ending that is upbeat and joyous," none of which, the lawsuit maintains, are displayed in Fulks' film.
Fulks, who also sued Sony Music, Columbia Records, and Parkwood Entertainment, claimed the two works shared many similarities by both depicting the "pain of a tumultuous breakup" that is "distinctive within the short film genre and combines carefully selected, but seemingly unrelated visuals in a rapid montage, with the recitation of a poem used as a voiceover against a distinctive audio soundtrack."

According to Fulks' complaint, "the Lemonade trailer is substantially similar to the Palinoia work, including, but not limited to: the Palinoia work's visual and auditory elements, visual and auditory sequences, themes, format, mood, setting, plot, and pace, all of which create a protectable total concept and feel."
Included in the complaint are side-by-side comparisons of still images from both videos.
The following images specifically note the visual similarities between the two.
Graffiti scenes and the camera angles used on certain characters:
Red lighting and characters' eyes being obscured: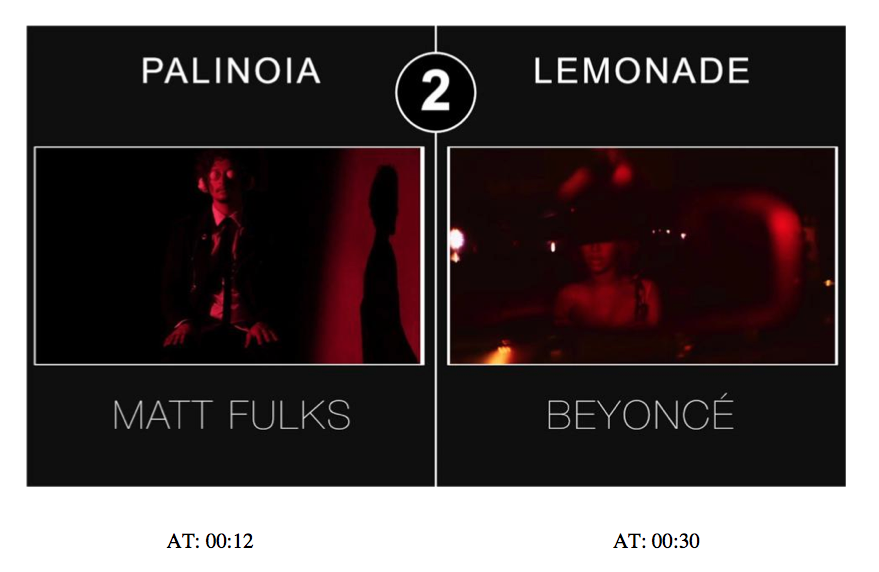 Scenes in a parking garage and stairwell: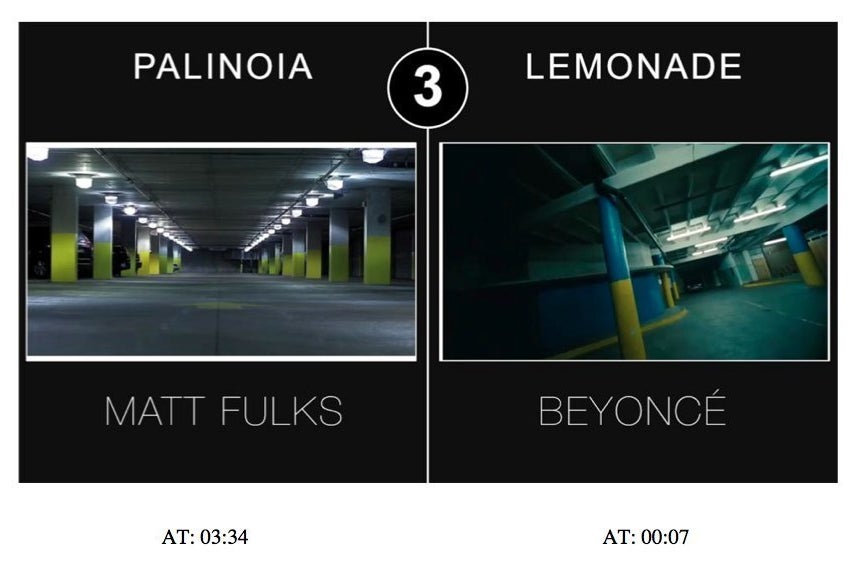 A close-up of a character's eyes shot in black and white: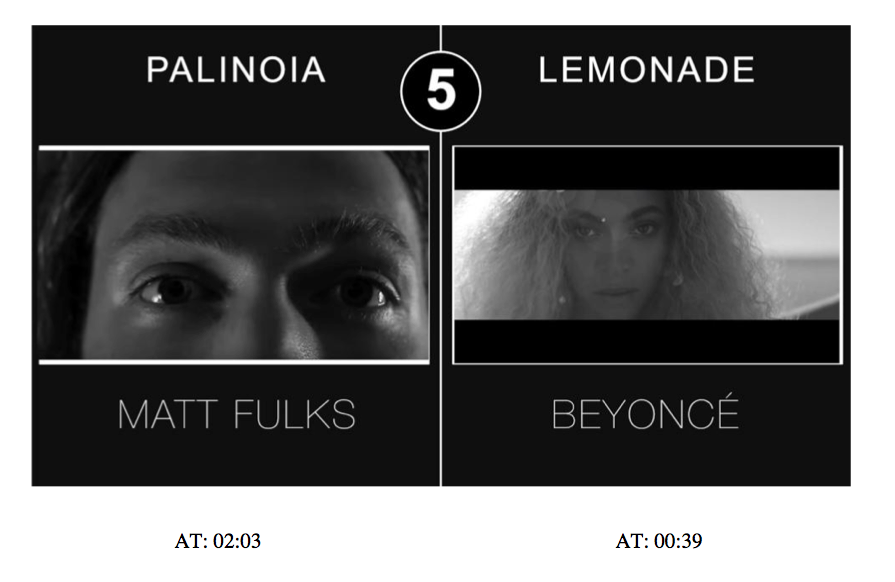 Title cards: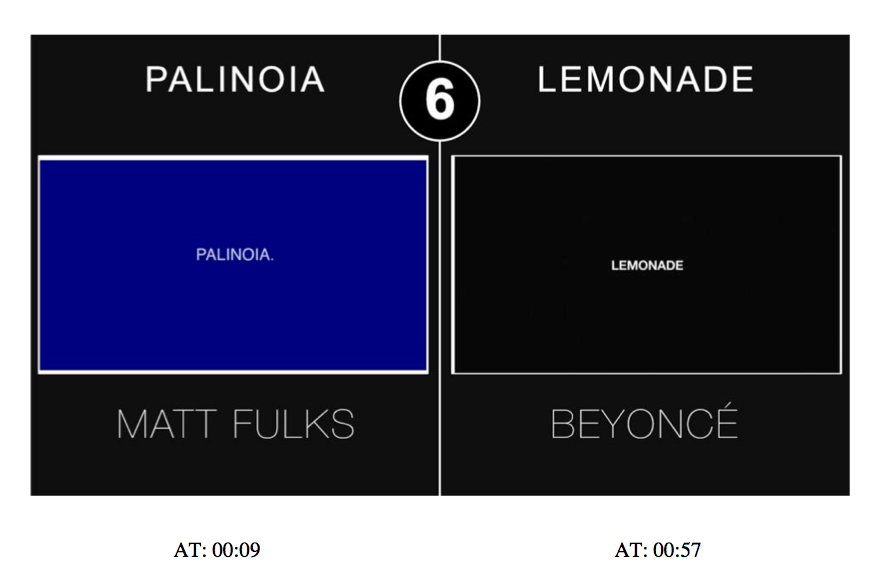 Scenes of grass: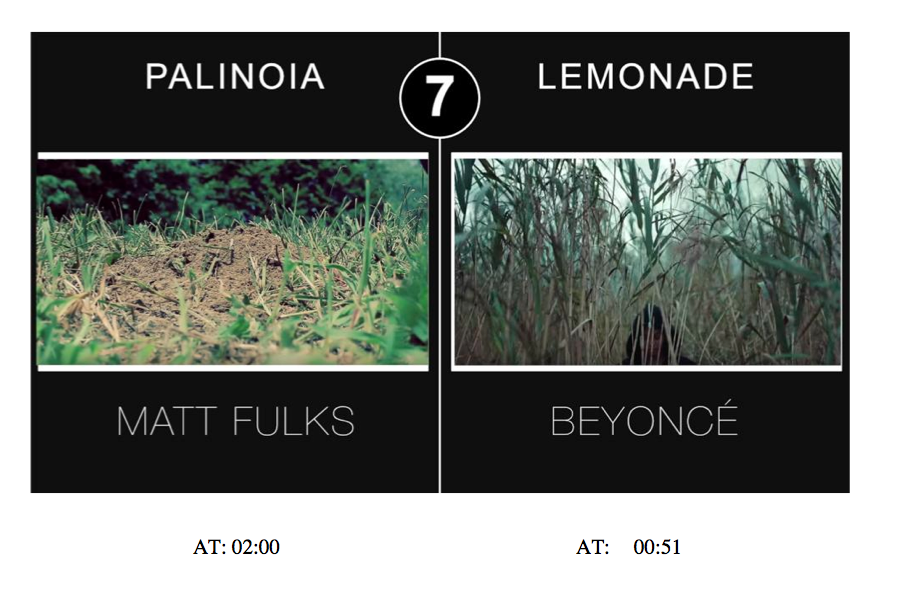 Scenes of feet walking on the street: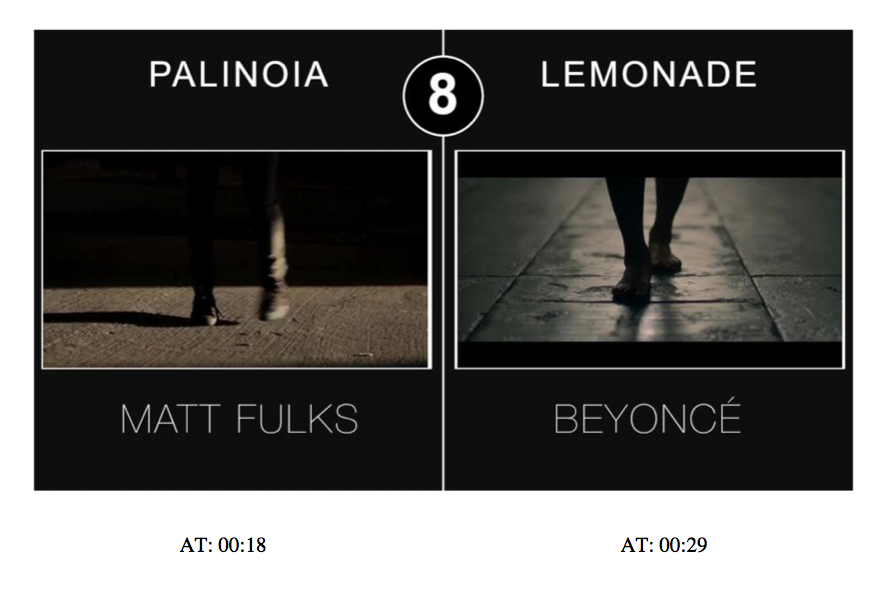 Side-lit ominous figures: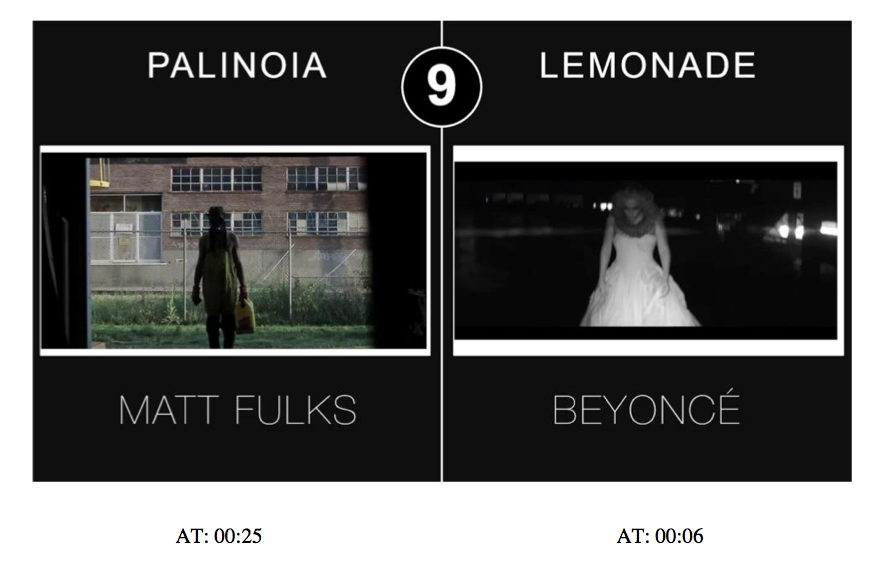 The complaint also points out similarities in audio voiceovers and auditory timing, as well as in mood, setting, and pace.
Fulks is seeking damages attributable to the copyright infringement, the complaint states.