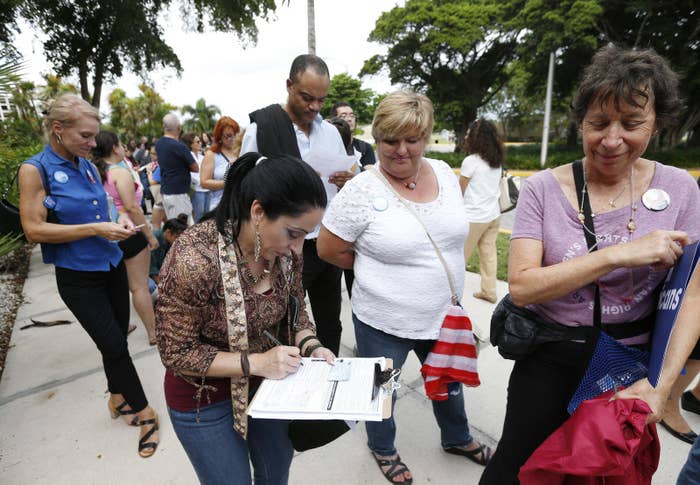 A US District judge on Wednesday extended the Florida voter registration deadline by a week because of the damage caused by Hurricane Matthew and its effect on those seeking last-minute sign-ups.
The decision comes after judge Mark Walker had already extended registration to Oct. 11 at 5 p.m, and set another hearing for Wednesday to decide whether or not to revise the deadline again. It was extended until Oct. 18.
Florida Governor Rick Scott had said repeatedly that he would not extend the deadline because people have had enough time to register, but state Democrats filed a lawsuit on Oct. 8 to reverse his decision.
They argued that it was unfair of Scott to issue vague instructions to Florida residents to evacuate their homes ahead of Hurricane Matthew, but not extend the registration deadline to accommodate for the disruption the storm could cause.
Despite Florida's status as an important battleground state ahead of the elections, Walker dismissed the idea that the decision whether or not to alter the deadline was related to the parties wanting more voters signed up in their camps.

"It has been suggested that the issue of extending the voter registration deadline is about politics. Poppycock," Walker wrote, according to CNN. "This case is about the right of aspiring eligible voters to register and to have their votes counted. Nothing could be more fundamental to our democracy."
In a statement from Gov. Scott's office, spokesperson Jackie Schutz said that his office would not appeal the decision.
"The State will follow the court's decision and discuss with the Legislature possible amendments to current law during the upcoming legislative session," she said.
Nine people have died in Florida as a result of Hurricane Matthew, a spokesperson for Gov. Scott told BuzzFeed News on Tuesday. At one point, more than 1 million people were without power in the state.