Civil Rights Groups Express Concern Over Sen. Jeff Sessions' Attorney General Nomination
"This is something that should be a concern for all Americans."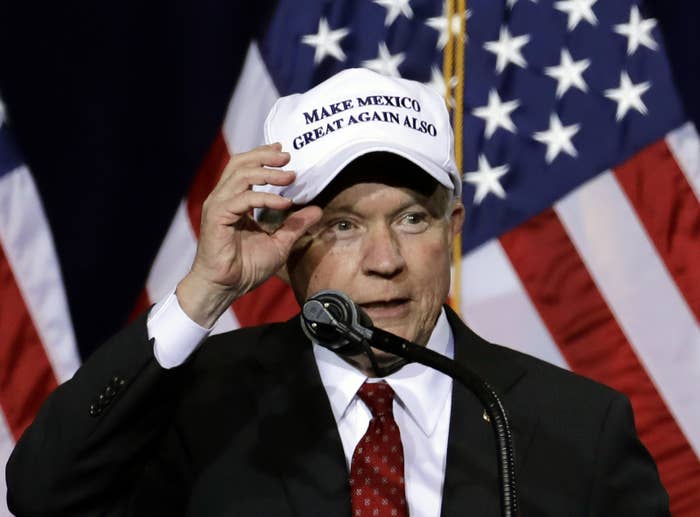 Civil rights groups on Friday expressed deep concern over President-elect Donald Trump's nomination of Sen. Jeff Sessions as attorney general.
The senator from Alabama, who has long been a Trump supporter, helped the president-elect draft an immigration plan last year and has on multiple occasions backed Trump's plan to temporarily ban Muslim immigrants from entering the country.
"Well, all I can tell you is, the public data that we have had indicate that there are quite a number of countries in that region that have sent a large number of people that have become terrorists," Sessions said on CNN in June.

Council on American-Islamic Relations National Communications Director Ibrahim Hooper told BuzzFeed News that Sessions' possible appointment "only adds to a growing list of appointments and nominations with troubling pasts and troubling histories of bigotry and intolerance."
Other appointees like Steve Bannon as chief strategist and Lt. Gen. Michael Flynn as national security adviser also "have very disturbing Islamophobic backgrounds, and backgrounds in which they've targeted other minorities, Hooper added.
"This is something that should be a concern for all Americans," he said.
In 1986, when Sessions was a state attorney in Alabama, he was nominated by former President Ronald Reagan for a federal judge position. But after people came forward during the Senate Judiciary Committee hearing alleging that Sessions had made several racist comments about civil rights organizations, the Senate voted against his appointment by a 10-8 vote.
Thomas Figures, who was at the time an assistant attorney and worked for Sessions, testified in 1986 that the state attorney had called the NAACP and the American Civil Liberties Union (ACLU) "un-American," and suggested that they were "Communist-inspired."
Benard Simelton, NAACP Alabama chapter president, told BuzzFeed News that the organization was "saddened" by news of Sessions' nomination.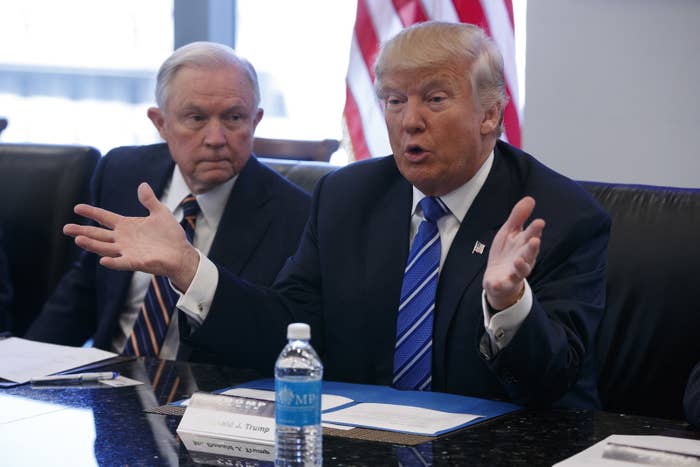 The senator's past comments about the NAACP and the ACLU were unfounded and racist, he said, noting that Sessions "alluded to the fact that the work that we were doing was only hurting us and did not help our cause."
"If you read between the lines on that, he's saying that we need to stay in our place and not raise these types of issues," Simelton added.
If Sessions accepts his nomination, the Senate — which has a Republican majority — will have to confirm his seat. Simelton doesn't think that will happen.
"This has nothing to do with his party affiliation. It has to do with his positions on civil rights and equality for all people," he said.
But several GOP senators have already said that despite their strong opposition to some of Sessions' policies on immigration and criminal justice reform, they plan to vote for him.
ACLU Executive Director Anthony Romero said in a statement that the organization would not support or oppose presidential or judicial nominations, but would instead "educate the American people and the Congress about nominees' records and past positions."
"Sen. Sessions has called the ACLU un-American and communist, assertions we flatly reject," Romero said. "His positions on LGBT rights, capital punishment, abortion rights, and presidential authority in times of war have been contested by the ACLU and other civil rights organizations."
The president of the Lawyers' Committee, a non-profit organization that provides legal services to end discrimination, said that if Sessions "is indeed the ultimate nominee put forward for this position, there will be hard questions that must be asked regarding his commitment to enforcing federal laws that concern issues such as voting rights, fair housing, and criminal justice among other issues."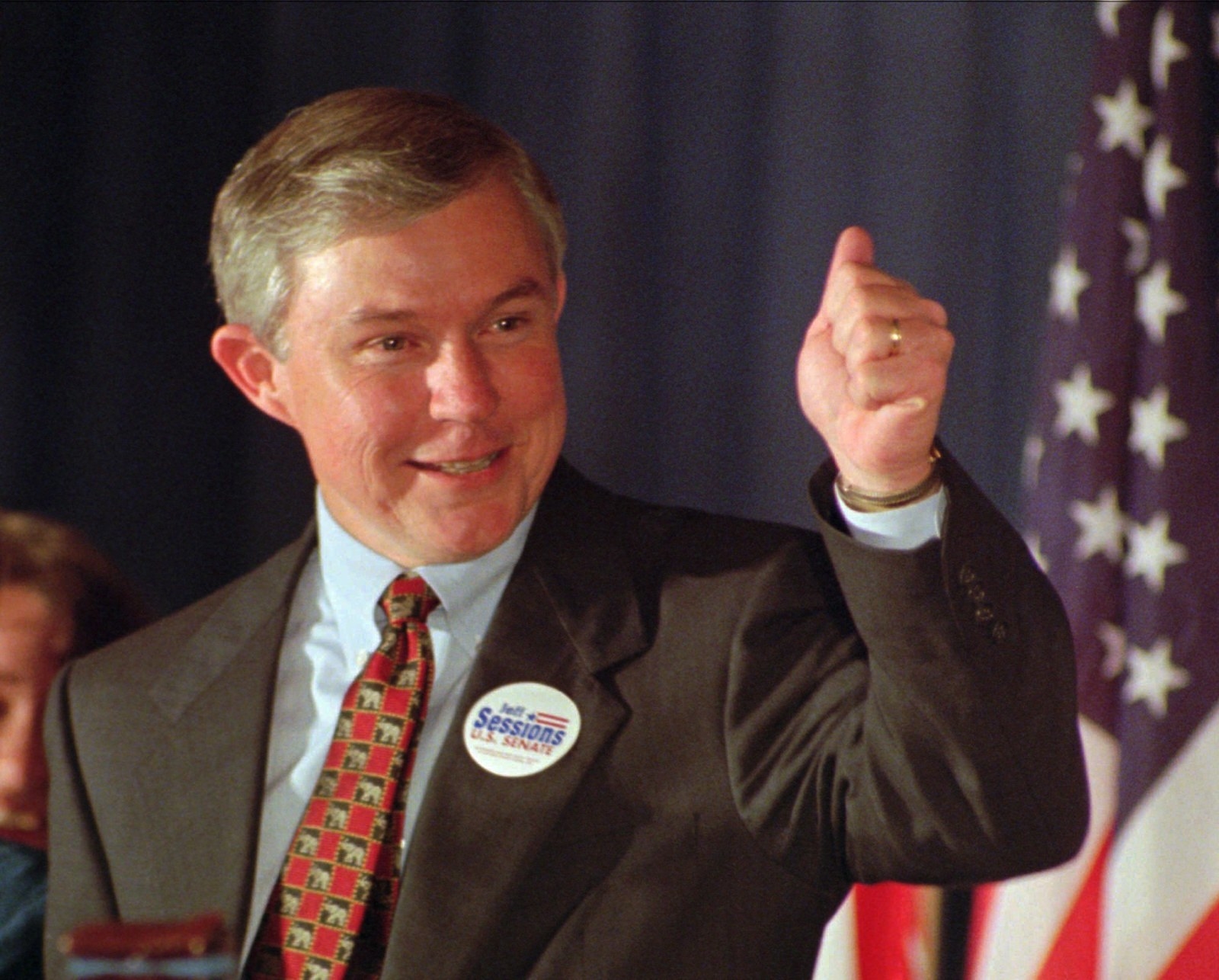 In a statement first obtained by BuzzFeed News, the Leadership Conference on Civil and Human Rights CEO Wade Henderson called Sessions' nomination "deeply troubling to Americans who care about equal protection under the law."

"Throughout his tenure in the Senate, Senator Sessions has been one of the chamber's leading antagonists of immigrants and the LGBT community, continuing his long record of obstructing civil rights that began in his tenure as U.S. Attorney for the Southern District of Alabama," Henderson added. "Either President-elect Trump should retract this announcement or the Senate should stand firm in rejecting another Sessions nomination."
Human Rights Watch Co-Director Maria McFarland Sanchez-Moreno said in a statement that Sessions has a "disturbing record of racist statements" and has adopted "extreme positions on torture, immigration, and the rights of women and LGBT people."
"With respect to disproportionately harsh sentencing laws, he has been a vociferous opponent of even the mildest bipartisan reforms proposed in Congress," Sanchez-Moreno added. "By appointing him attorney general, President-elect Trump is telling the most vulnerable Americans that, far from defending their rights, his new Justice Department will seek to undermine them."
Amnesty International also expressed concern over Sessions' new post, stating the senator has fought efforts to expand voting rights, implementation of criminal justice reform, and marriage equality.
"Jeff Sessions has been on the wrong side of a host of issues that reflect the United states' commitment to human rights and international law," Margaret Huang, executive director of the organization said.
Amnesty International, Huang said, would would press senators across the country to "question him vigorously" during his confirmation.
The National Council of La Raza, a national civil rights and Hispanic advocacy organization, also blasted Sessions' appointment, saying that when it came to civil rights and minorities, the senator from Alabama was a "bad hombre" - borrowing from one of Trump's earlier phrases.
"On every single issue under the purview of the Justice Department - civil rights, voting rights, criminal justice reform, and immigration most notably - he holds positions diametrically opposed to the Latino community, the civil rights community, and to the mainstream," NCLR President Janet Murguía said in a statement.
Murguía also called Trump's most recent appointments, including Sessions, "extremely disappointing" saying they don't unite the country, but instead are "at best indifferent, and at worst actively hostile to more than half the country."
The Southern Poverty Law Center, a nonprofit organization based in Montgomery, Alabama, that works to combat hate and intolerance through education and litigation, acknowledged the help they received from Sessions during the 1980s in which Michael Donald, a black man, was lynched by members of the Ku Klux Klan but said it "cannot support his nomination to be the country's next attorney general."
"Senator Sessions not only has been a leading opponent of sensible, comprehensive immigration reform, he has associated with anti-immigrant groups we consider to be deeply racist, including the Federation for American Immigration Reform and the Center for Security Policy," the organization said in a statement. "If our country is to move forward, we must put all forms of racism behind us."