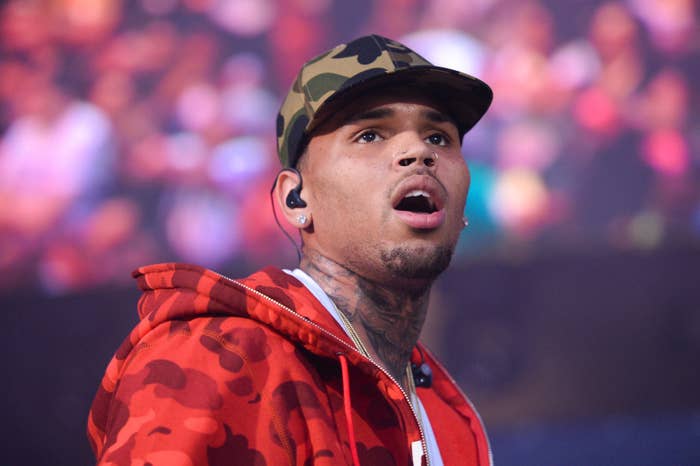 Chris Brown was arrested on suspicion of assault with a deadly weapon Tuesday after a woman accused him of pointing a gun at her head during an argument at his home in Los Angeles.
Officers responded at around 3 a.m. to the woman's 911 call, in which she said Brown had aimed a gun at her during an argument that had turned violent, the Los Angeles Times reported.
Late on Tuesday night, Brown's attorney Mark Geragos tweeted that Brown was "out" and the allegations against him were false. Jail records show that Brown was released on $250,000 bail and is expected to appear in court on September 20.
Police declined to provide details about what allegedly happened, but the woman — model Baylee Curran — told TMZ Brown pulled a gun on her after she touched a piece of jewelry that was up for sale. She said after the encounter a member of Brown's entourage tried to get her to sign a nondisclosure agreement, but she refused and fled.

After facing backlash online from Brown fans, she posted a video Tuesday on Instagram defending her actions. The video has since been deleted.
"You all honestly think I wanted this or I caused this?" she said. "If someone put a gun to your head, what would you do? Call the police!"
Detectives, meanwhile, served a search warrant at the house and had cleared out a half dozen people to take statements as Brown reportedly remained inside with Geragos.
Brown's managers did not immediately respond to BuzzFeed News' request for comment. However, the singer posted multiple videos on social media denying that he had barricaded himself inside his house and that he had committed any crime.

"I ain't do shit, I ain't gonna do shit . And it is always going to be 'Fuck the Police,' Black Lives Matter....And you gotta stop fucking with me like I am the villain going crazy. I'm not. You guys got me fucked up though, so good luck," Brown said to the camera.

"When you get the warrant or whatever you need to do, you are going to walk right up in here and you are going to see nothing, you idiots. I'm tired of fucking dealing with you all. You all the worst gang in the world – the police and I said it. Fuck you!"

He later deleted the videos but posted a video by singer Ray J who said he was "real upset" about what had happened. "I'm not happy with how people can take a false story and blow it up into way more than it should be," he said to the camera.
It is just the latest run-in with the law for Brown. In 2009, the singer was sentenced to five years of probation, one year of domestic violence counseling, and six months of community service for physically assaulting his former girlfriend Rihanna, who was hospitalized with injuries to her face.
The singer officially completed his probation in March 2015.
However in June, Brown's former manager, Michael Guirguis, filed a civil lawsuit claiming that the singer had punched him repeatedly in May. That case, in which Guirguis is seeking financial punitive damages, remains ongoing.
If convicted of the assualt charge, Brown could face up to four years in prison.