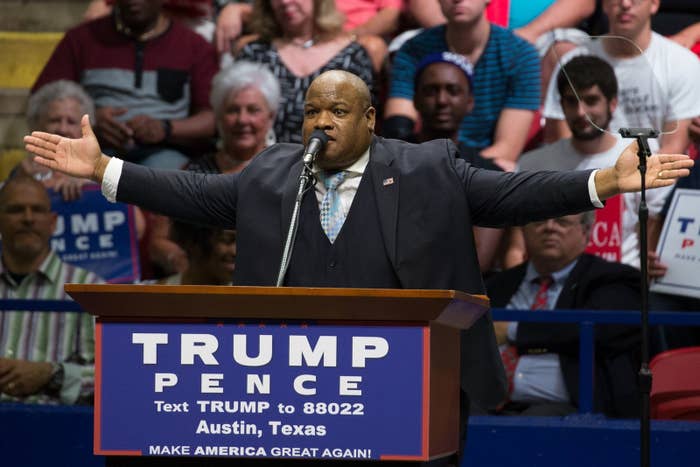 A prominent black pastor who spoke at the Republican National Convention in support of Donald Trump admitted Friday that he fabricated a number of his credentials listed on his church's website, after a CNN reporter confronted the religious leader.
Pastor Mark Burns of the Harvest Praise and Worship Center in Easley, South Carolina, falsely stated on the church's website that he earned a bachelor's degree, belonged to Kappa Alpha Psi Fraternity, Inc., and had served six years in the Army Reserve.
The page of site was live while he spoke at the Republican National Convention in July, but has since been taken down.

Confronted with the inaccuracies, Burns initially blamed hackers for the the biography, then attacked the media for investigating him, then ultimately admitted he had "overstated" elements of his biography.
In an interview with CNN's Victor Blackwell on Friday, which aired in full on Saturday morning, Burns said that he attended North Greenville University in South Carolina.
When Blackwell asked if Burns graduated from the university, Burns responded, "No, I didn't complete the degree at North Greenville University."
The university told CNN that Burns had only been enrolled for one semester.
"Again, the bio that's on your website claims that you earned a bachelor of science degree," Blackwell said. "Did you make that claim?"
After pausing for several seconds, Burns claimed that he had only agreed to an off-the-record interview.

Blackwell countered that he had not agree to go off the record and continued to press the pastor.
"We're still rolling, I'm still asking you questions on the record. Did you make that claim that you graduated from North Greenville University?" he asked.
Burns accused Blackwell of trying to discredit him.
"This is not what I agreed to," the pastor said. "I thought we were doing a profile and all of a sudden you're here to try to destroy my character."
He also suggested that the website had been hacked or photoshopped in some way.
"In reference to my website, if there's inaccurate information on there that can easily be manipulated by other people and it can be manipulated by hackers," he said.
Wix, the hosting company that supports the church's website, told CNN in a statement that "there is no evidence of a hack."
Blackwell also questioned Burns on another line in his bio that asserted he was a member of Kappa Alpha Psi Fraternity, Inc., a black organization.
"I did without question say that I had started the process of being a part of that organization, but that's the furthest I've gotten," Burns said.
Blackwell also questioned him about his claim that he served six years in the Army Reserve.
Burns had served in the South Carolina National Guard from 2001-2005. He was completely discharged in 2008, but "has no active Army or Army Reserve service time," according to an Army statement sent to CNN.
Burns abruptly ended the interview and quickly drove away, according to Blackwell.
The pastor issued a statement before the CNN interview aired, admitting that he "overstated several details" of his biography because he was worried that he "wouldn't be taken seriously as a new pastor."
He also said that the media had targeted him for being a black Trump supporter.

"It's a shame that the political insiders and the media chose to attack me because I'm not going to stay silent about Hillary Clinton's pandering to our community," he said.
Burns came under fire Aug. 29 when he tweeted an image of Clinton in blackface. He deleted the tweet and issued an apology, but stood by the message in his tweet.
Watch the full CNN interview below: