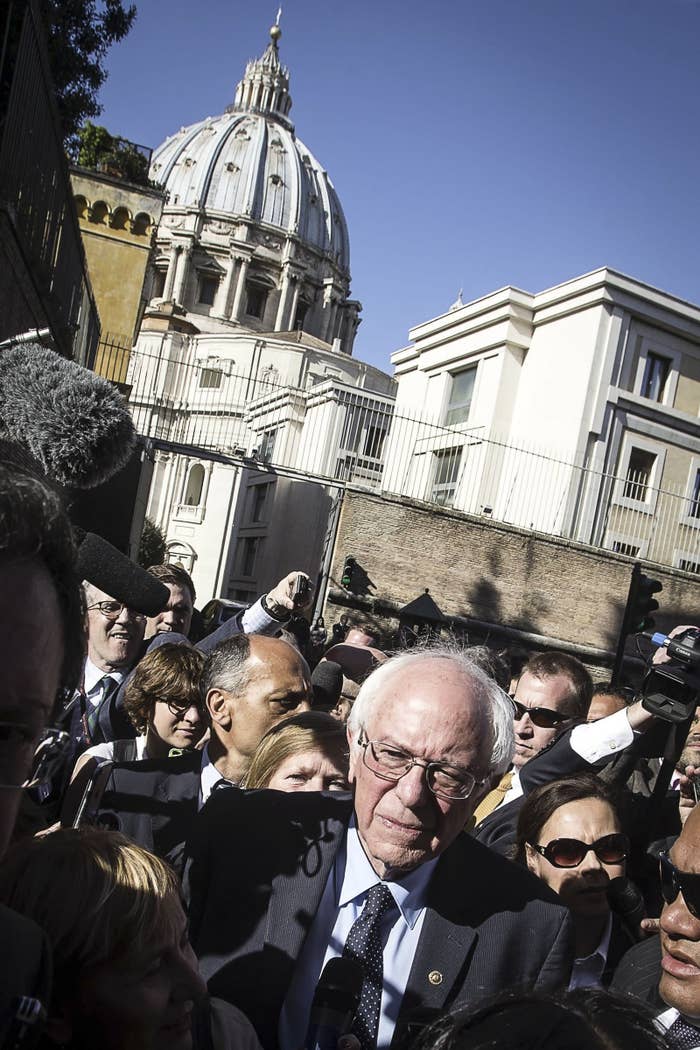 Democratic presidential candidate Bernie Sanders met with Pope Francis during a lightning visit to the Vatican on Saturday morning, but he said his visit to the Holy See did not signify a papal endorsement of his campaign.
"I conveyed to him my great admiration for the extraordinary work that he is doing all over the world in demanding that morality be part of our economy," Sanders told reporters on his flight back to New York , according to the New York Times.

Sanders arrived in Italy on Friday, having been invited to a conference on social justice and economic issues organized by the Pontifical Academy of Social Sciences and the Institute for Advanced Catholic Studies.
Prior to his leaving, questions had swirled over whether the Vermont senator would have the chance to meet the Pope, whom he has cited as a role model on matters of poverty and the environment.

On Friday, the pontiff had sent a handwritten note to those attending the conference, apologizing that he would not be able to meet with them due to a scheduling conflict involving his trip to the Greek island Lesbos.
But the two met at 6am at the Vatican City guesthouse, according to NBC News, along with Sanders' wife, Jane, and his campaign economic advisor, Jeffrey Sachs. No photos of the meeting were taken in accordance with the rules of the guesthouse, the New York Times reported.
"Today certainly was the highlight of the trip," Sanders told NBC, describing the pope as "one of the great leaders in this world."
The Pope later told reporters aboard the papal plane the meeting was not a political act.
"When I came down, I greeted him, I shook his hand and nothing more. This is called good manners and it is not getting involved in politics," he said. "If anyone thinks that greeting someone is getting involved in politics, I recommend that he look for a psychiatrist."

Sanders acknowledged that his decision to attend the conference would cut into time campaigning ahead of a crucial primary in New York on April 19, but believed the Vatican invitation to be a once-in-a-lifetime opportunity.
"I am a great admirer of Pope Francis and when I received this invitation, I believe that I would've kicked myself for the rest of my life if I did not attend a conference here in the Vatican to deal with issues that have been important to me for decades," he told NBC News.
He denied, however, that he was trying to seek a papal endorsement by attending the conference.
Also present at the conference was Evo Morales, the socialist leader of Bolivia, with whom Sanders was photographed sharing a warm handshake.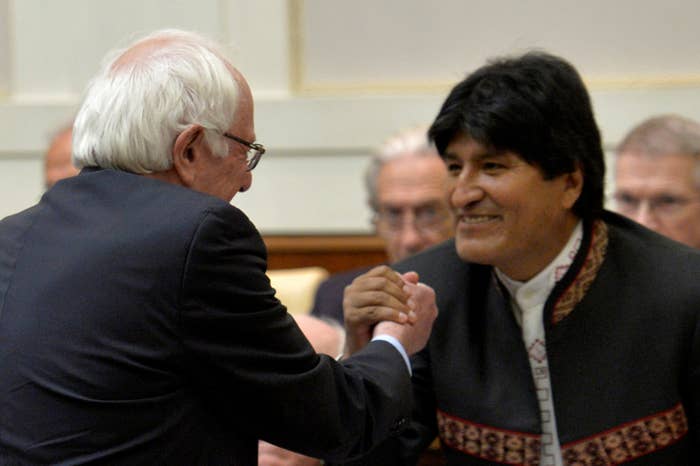 Sanders acknowledged that he did not agree with all of the Catholic Church's teachings on some social issues such as same-sex marriage, but lauded the Pope for his role in changing attitudes over others, like the environment.
He told reporters that Pope Francis' encyclical (a letter sent to all bishops in the church) on creation "played a profound role in turning many people's minds around about the urgency of the moment in terms of dealing with climate change," according to the Catholic News Service.
Shortly after his meeting with Sanders, Pope Francis flew to the Greek island of Lesbos to visit an immigration detention center. He then took three Syrian refugee families, a total of 12 people, back to the Vatican.