A massive bus crash in southwest Baltimore Tuesday morning has left at least six people dead and 10 more injured, police confirmed.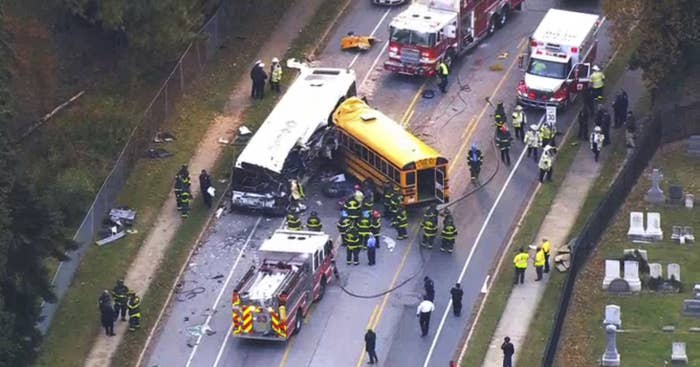 No children were involved in the accident.
The collision took place at 6:31 a.m., and involved a school bus and a Maryland Transit Authority (MTA) commuter bus, a Baltimore Police Department spokesperson told BuzzFeed News.
The school bus was heading down Frederick Avenue when it hit a Mustang, which then caused the bus to strike a pillar near a cemetery, according to Baltimore Police spokesman T.J. Smith.
After that, the school bus "went into oncoming traffic and struck the MTA bus on the driver side, and basically ripped the driver side off the vehicle," Smith said.

Police believe a total of 13 people were riding on the MTA bus at the time of the crash. Five people from that bus died, and the remaining eight have been transported to nearby hospitals, Smith said. Their injuries range from mild to critical.
Two people were in the school bus at the time: The driver, who died, and the bus's aide, who was also taken to a nearby hospital. The driver of the Mustang was also taken to the hospital.
None of the victim's identities have been released.
Baltimore detective Donny Moses said that authorities did not find any skid marks on the road, and determined that the school bus had been driving at a reasonable speed for that roadway.

"Something catastrophic took place," he said. "We're still trying to figure out how that would happen."
Images on social media show the demolished driver's side of the MTA bus and the crunched front of the school bus.
The Mustang hit by the school bus was also severely impacted.
Smith tweeted ahead of the press conference that the department had received reports of "significant injuries," and that the 3800 block of Frederick Ave. had been closed off.

The MTA did not immediately respond to several calls placed by BuzzFeed News.