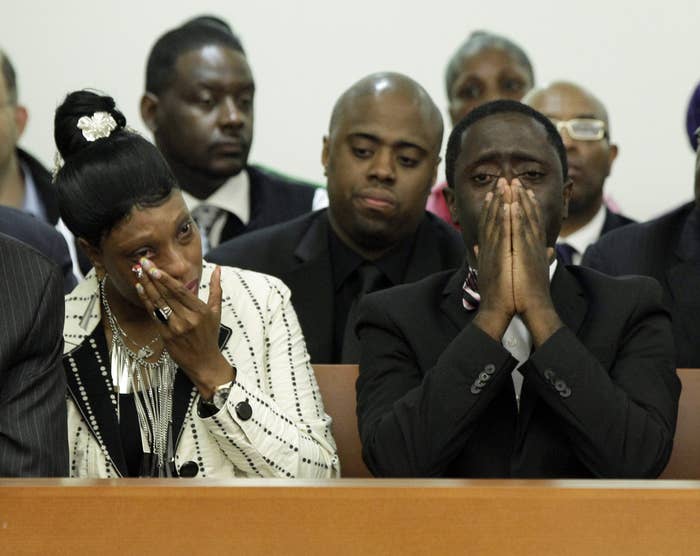 Civil rights activists are calling for the dismissal of a NYPD officer who fatally shot 18-year-old Ramarley Graham in 2012, despite the New York district attorney announcing Tuesday that he would not issue any federal criminal charges in the case.
Graham was killed on Feb. 2, 2012, when police pursued him to his apartment, suspecting he had a weapon, and fatally shot him inside a bathroom.
U.S. Attorney for the Southern District of New York Preet Bharara announced Tuesday that his office was unable to meet the high burden of proof to show that Officer Richard Haste willfully deprived Graham of his constitutional right to freedom from excessive force, and acted deliberately acted unlawfully.
"Neither accident, mistake, fear, negligence nor bad judgment is sufficient to establish a federal criminal civil rights violation," Bharara said in astatement.
Rev. Al Sharpton, who read the eulogy at Graham's funeral, said he was extremely disappointed by the decision.
"I...can see no logic in law or reason why the U.S. Attorney's office would not proceed with a grand jury in the case of an unarmed young man killed in the bathroom of his own house when there was absolutely no threat to officers," he said.
He added that he plans to join Graham's family in calling for the "immediate termination" of the officer involved in Graham's death.
In a Facebook post, Black Lives Matter NYC said they also supported the family's demands that Officer Haste be dismissed.
On Feb. 2, 2012, NYPD officers spotted Graham near a convenience store in the Bronx, and believed he had been carrying a firearm.
According to reports and video evidence, they followed Graham back to his apartment, and a chase ensued inside the building. Haste eventually followed Graham into the bathroom, where his grandmother, his 6-year-old brother, or any other officers were able to see what was occurring.
Haste said he believed that Graham at one point reached for something near his belt, which officers had previously and falsely identified as a firearm, and fatally shot him.
What Haste and other officers believed was a gun might have been a bag of marijuana, which was found in the toilet shortly after the incident.
Bharara ruled that Haste could not be charged, despite the misidentification of the object Graham had allegedly reached for.
"Neither accident, mistake, fear, negligence, nor bad judgment is sufficient to establish a federal criminal civil rights violation," his statement read.
"Although Officer Haste ultimately was proven to be mistaken in his belief, the determination as to the willfulness of his actions must be assessed in light of his knowledge at the time of the shooting," he said.
BuzzFeed News has reached out to Graham's family for comment.