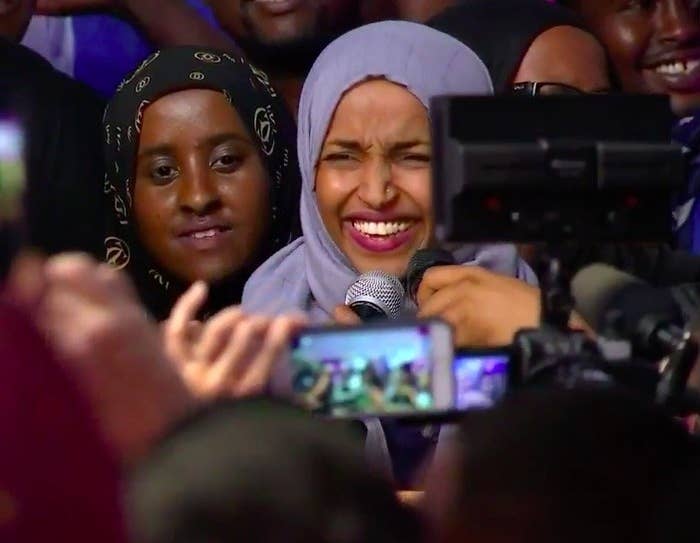 MINNEAPOLIS — The United States' first Somali American state lawmaker — elected on the same night Donald Trump became president in 2016 — may now become one of the first Muslim women to be sworn into Congress next January.

On Tuesday night, Ilhan Omar won a heated primary for Minnesota's 5th Congressional District seat, beating out six other candidates, including state Sen. Patricia Torres Ray and former state House Speaker Margaret Anderson Kelliher, who had been vying to fill the congressional seat currently held by Democratic Rep. Keith Ellison.
As soon as precincts began reporting, just after 8 p.m. Tuesday, Omar took a commanding lead. People began filing into the Somali restaurant where her campaign watch party was being held, many dressed in blue "Ilhan for Congress" shirts. A deafening roar erupted when the race was called shortly after, with the crowd breaking out into a spontaneous chant of "Go Ilhan."
"We did it. We won. Oh my god," Omar said when she finally took the stage, after supporters danced around her at the podium. "I have always said you get what you organize for. And today you all organized for this big victory."
With over 95% of precincts reporting Tuesday night, Omar had a nearly 20% lead over her closest opponent, Kelliher.

The win gives Omar a spot on the ballot in November, and in a district that has sent a Democrat to the US House of Representatives since the 1960s, nearly guarantees her a victory.
Omar will likely be joined in Congress by fellow Muslim Rashida Tlaib, a Palestinian American progressive who won a primary to fill former Rep. John Conyers Detroit seat last week. The two Democrats — who will become the first Muslim women elected to Congress, should they win this fall — are part of a wave of Muslim candidates running in local, state, and national elections around the country this year, in what many see as a reaction to the Trump administration's policies and rhetoric toward Muslims and immigrants.
Alexandria Ocasio-Cortez, whose upset win over a 10-term incumbent in New York's 14th Congressional District shook the Democratic Party establishment, endorsed Omar last Friday.
"America, if you don't already know about Ilhan Omar (@IlhanMN), it's time to know & support her," Ocasio-Cortez tweeted. "She's a modern day hero, champion for working families, & running for Congress in Minnesota."
Currently held by Ellison — the first Muslim to ever serve in the US House of Representatives — Minnesota's 5th Congressional District seat opened up suddenly in June, after Ellison decided at the last minute to run for state attorney general. His announcement set off a mad, eleventh-hour rush of Democratic candidates looking to fill the seat, which represents one of the most liberal districts in Minnesota.
An immigrant from Somalia, Omar and her family fled that country's civil war to the Utanga refugee camp outside Mombasa, Kenya, where they lived for four years before being granted refugee status in the US in 1995, when Omar was 12. They were among the 134,100 refugees who resettled in the US that year, one of the largest totals on record.
Since then, Omar has become a progressive community organizer and educator, with degrees in business administration, political science, and international studies. In 2016, she upset a 44-year Democratic incumbent who had been Minnesota's longest-serving state lawmaker for a seat in Minnesota's House of Representatives. She subsequently won the seat with 80% of the vote.
For 70-year-old Mark Suchy, who attended Omar's victory party Tuesday, the win was the next logical step in the young politician's career.
"Her being an immigrant really sends a message in these times," Suchy said, brushing off concerns about her lack of experience. "She'll learn fast. She's really smart, she's a rising star, and she's passionate."
Mike Hermanson, a field organizer for Minnesota's Democratic–Farmer–Labor Party, said Omar's youth — she is 35 — was a selling point.
"Your average age in Congress is what, 57?" Hermanson said. "We could use new blood."

In an interview with BuzzFeed News last year, shortly after President Trump signed his executive order barring travel and immigration from several Muslim-majority countries, including Somalia, Omar pledged to resist the administration's rhetoric and policies.
"We don't need to think of ourselves as people who will submit, or tune out, because all of this is painful," she said at the time. "We won't surrender, we won't hide, and we will continue to push forth."
Now it seems she may get a chance to take on Trump, not just rhetorically or at the local level, but from a seat in the US Congress.
"I am more than excited that we are gathered here again to make another history," Omar said during her victory speech Tuesday. "Because we're going to Washington, everyone!"