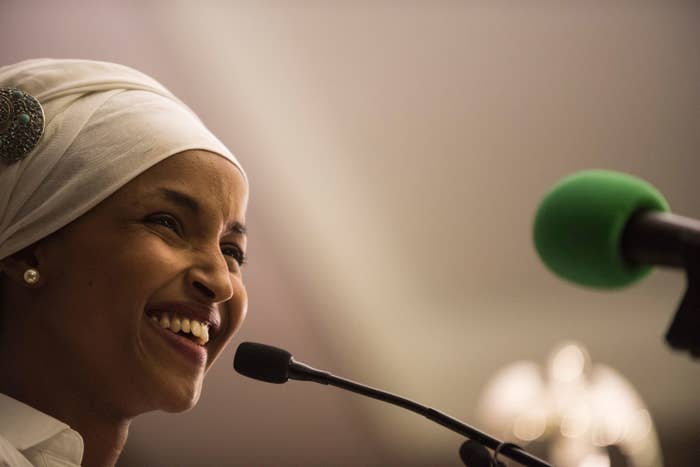 MINNEAPOLIS — On the night Donald Trump was elected president, Ilhan Omar became the United States' first Somali-American state lawmaker. It was a bittersweet win for the Minneapolis-based community activist — a Muslim American, a Somali, and a refugee.
"A lot of people are drowning in the despair of what that means," Omar said of President Trump's win from her office overlooking a block that has two bars, a halal grocery store, and Somalis walking among students from the University of Minnesota.
In late January, President Trump signed a controversial executive order that shut down the US refugee program entirely and halted immigration from seven Muslim-majority countries — setting off chaos at airports around the world.
The American Civil Liberties Union and attorneys general around the nation challenged the order in court, and it was eventually blocked by a federal appeals court. The administration has said it will issue a new order that officials believe will withstand legal scrutiny.
Omar says her role in pushing back against the immigration ban is focusing on her constituents. She constantly addresses the concerns of her constituents, many of them Somali-Americans residing in the Cedar-Riverside area of Minneapolis — a part of Omar's district that is sometimes referred to as "Little Mogadishu" for its high concentration of Somali residents.
"We don't need to think of ourselves as people who will submit, or tune out, because all of this is painful," Omar said of the president's rhetoric. "We won't surrender, we won't hide, and we will continue to push forth."
The road that led Omar to her victory — and, soon after, made her a symbol of resistance to the president's immigration ban — has stretched back over two decades.

Omar and her family fled Somalia's civil war. The Utanga refugee camp outside Mombasa, Kenya, became her home for four years. She, along with her family, was granted refugee status, arriving in the US in 1995 at the age of 12. That year saw 134,100 refugees resettled into the country, one of the highest on record.
At first, Omar was able to only speak Somali, but within a few years she was able to translate news in real time into English for her grandfather. Since then, Omar has become a mother of three, a community organizer, an educator, a graduate with a degree in business administration, political science, and international studies — and now a voice representing the Somali community and protesting the policies of the president of the United States.
In a primary held last August, Omar upset a 44-year incumbent — a Democrat who served 22 terms in Minnesota's legislature, the longest in state history. In November, she easily won her seat with 80% of the vote in her district.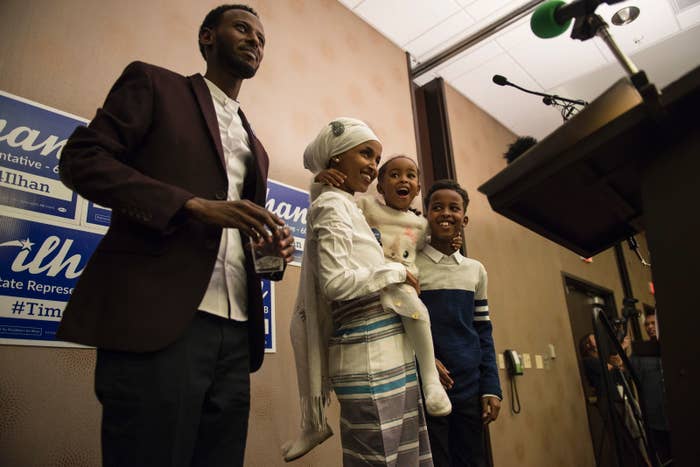 Omar wasn't surprised when Trump signed the order.

"I keep going back to Maya Angelou's quote, 'When someone shows you who they are, believe them,'" Omar said.
"I really believed that really was one of the first things that he would do," Omar said. "I was saddened, disheartened, and alarmed by it."
For Omar, the order hit home — Somalia was one of the Muslim-majority countries with a blanket travel ban — and also touched on her experience as a refugee.
"Most of us that have gone through the process of relocating as refugees to the United States know that there is extreme vetting already happening — that there are lots of regulations, that there is a lengthy, extremely lengthy, process for you to get here," she said.
At the ban's core, Omar believes it translates to a fundamental misunderstanding of who refugees are, and "what actually leads people to become a refugee," she said.
Since the executive order, Omar tries to constantly engage with the community by giving speeches and press conferences opposing the ban. She holds a monthly event — "Coffee and Kulan" (a Somali word for meeting) — to meet face-to-face with the people she represents. Her office recently sent detailed emails to her constituents with a resource guide on how to navigate the complex and complicated legal issues surrounding the ever-changing immigration and refugee landscape.
On Wednesday, Omar introduced a bill in the Minnesota House titled "Minnesota made a sanctuary state for immigration enforcement purposes." The proposed bill would restrict law enforcement officials from arresting or detaining an individual to investigate a suspected immigration violation, or to inquire about immigration or citizenship status. The bill would also, among many other provisions combating immigration-related executive orders, stop local law enforcement from essentially becoming deputized by federal agencies to perform immigration-related activities.
Minnesota became home to a large Somali population following the resettlement of Somali refugees after a prolonged civil war in the early 1990s. Census data shows up to 1 in 3 Somalis in the US live in Minnesota — especially in the Twin Cities, Minneapolis and St. Paul.

When Trump was campaigning in Minnesota, just days before the election, he spoke about the Somali immigrant community and a handful of terror-related activities as a pretense to advocate a Syrian ban.
"Here in Minnesota, you've seen firsthand the problems caused with faulty refugee vetting, with very large numbers of Somali refugees coming into your state without your knowledge, without your support or approval," Trump said at a rally in Minneapolis amid cheers.
"Everybody's reading about the disaster taking place in Minnesota," Trump said, adding that Minnesotans had "suffered enough."
"To just see that really ill-informed ignorance as part of his speech, that is geared to incite hate and fear in communities, is really sad because most Minnesotans know that there is an incredible contribution that the Somali community is making here," Omar said.
"We're not here as a menace to society," she continued, "We're here as equal contributors to the economy, to education, to health care. We are involved in every aspect of society."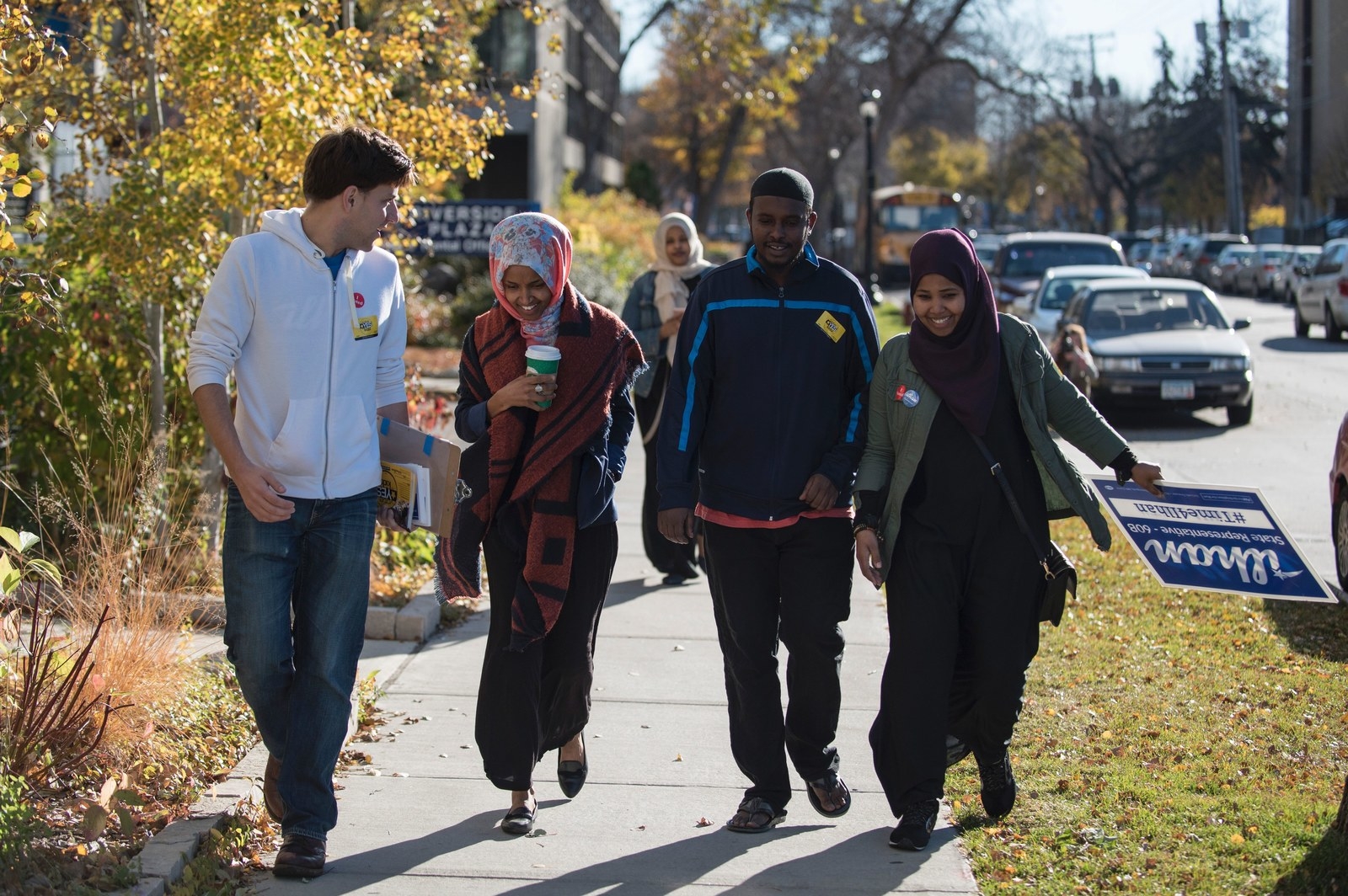 Drinking tea on an unusually warm Minnesotan day outside Omar's second-floor office, a group of 30 mainly non-Somali supporters who had recently marched against Trump's travel ban waited to meet Omar.

To say Omar — who has by virtue of existence become a role model for Somalis, for women, for minorities, and, in particular, for women of color — is cautious with her newfound position as a role model would be an understatement.
Omar said she just wants to live up to her abilities, and to make her dad and her children proud.
"If by the way I conduct myself, and the kind of example I set is inspiring, I'm honored by that, and I think it is overwhelming and disingenuous to people to live up to, or try to do things that are supposed to be appeasing to other people," Omar said of the posturing common of politicians.
"The best thing you can do in this world is be the best of you — by the way you lead, and the way that you live — I think that should be your legacy."