Sherell "Rell" Lewis, a 31-year-old black man, was struck by a truck while clearing hazardous debris from a highway in Leesville, Louisiana, on Tuesday.
Louisiana State Police said the good Samaritan had pulled his car over to clear wood from the highway when he was hit by a 2003 Chevrolet pickup driven by 18-year-old Matthew Martin.
Lewis died a short time later at the Byrd Regional Hospital. It was his birthday.
An investigation into the accident is pending, including routine toxicology tests. But it's what happened after the crash on Snapchat that has people especially outraged.
Screenshots of a Snapchat message have begun circulating online in which a man alleged to be Martin called Lewis "some nigger" and discussed the damage to his truck.
When someone asked how Martin's truck was, the user responded, "fucked it up pretty good lol."
While BuzzFeed News was unable to independently verify the screenshots, Chief Deputy Calvin Turner of the Vernon Parish Sheriff's Office told the Washington Post "all indications" suggest that Martin was part of the chat. (BuzzFeed News has reached out to the Vernon Parish Sheriff's Office.)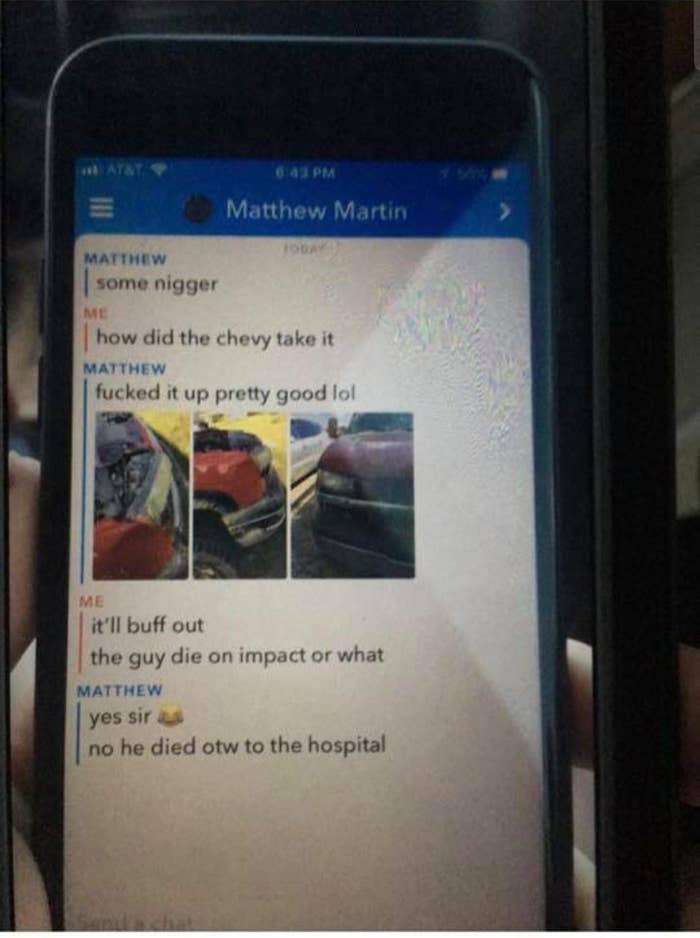 Efforts to contact Martin on Sunday for comment were not successful.

"I am appalled at the content of the social media messages that were posted after the incident," said Sheriff Sam Craft of the Vernon Parish Sheriff Department in a statement posted on Facebook. "This post is unacceptable and has no place in our society. The inflammatory words that were used were morally wrong."
He said Louisiana State Police would "thoroughly investigate" the incident.
Craft also said while he disapproved of the language in the messages, it did not violate any law or code in Louisiana.
Shotoya Lewis-Ayers, Lewis's older sister, told local TV station KPLC that her brother will be remembered for his positive attitude and smile.
"He would have helped anybody that needed, help no matter what. If you were feeling down, he would always make jokes, crack you up, keep you smiling," Lewis-Ayers said of her brother, who was a barber. (Lewis-Ayers did not immediately respond to BuzzFeed News' request for comment.)
The hashtag #JusticeForRell has been used on Twitter to bring attention to Lewis's death, and a GoFundMe page has been set up to help Lewis's family.