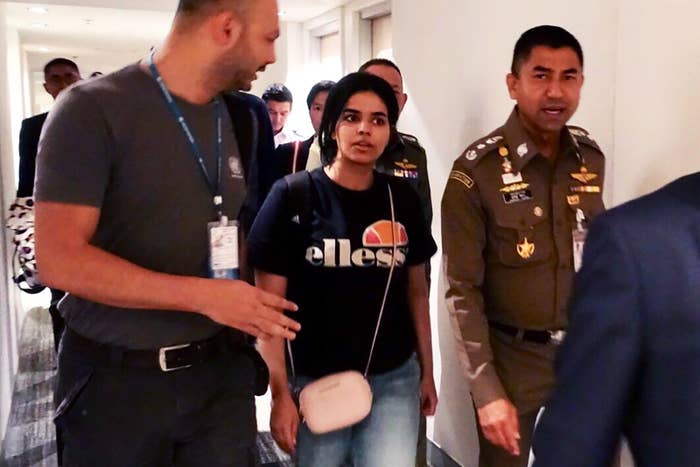 At first, Nourah wasn't sure what she was looking at when she received a Snapchat video from her friend Rahaf Mohammed al-Qunun.
The short clip showed a pair of jeans and a dirty tile floor, then panned at the very end to what appeared to be an airport corridor.
"The Saudi Embassy stopped me in Thailand. My family has reported me," a quiet woman's voice says.

Qunun, 18, from Saudi Arabia, told Nourah she was at Suvarnabhumi Airport in Bangkok, Thailand, and had been stopped by officials who said they would be sending her back to Kuwait, where her family had traveled for a trip.
At that moment, Nourah realized Qunun had done what she said she would do one day: flee from her relatives, who she said abused her, beat her, and threatened her with death. She said she'd recently renounced Islam and told Reuters, "My family threatens to kill me for the most trivial things."
Within 24 hours of seeing that Snapchat video, Qunun, Nourah, and two other friends — most of whom have never met in person but grew close over a private group chat about feminism on the messaging app Telegram — launched and ran a Twitter account that live-tweeted one woman's struggle to seek asylum. The posts captured the attention of the world, especially the government of Thailand and United Nations officials.
"I knew that she in a bad situation," Nourah said of Qunun's life in Saudi Arabia.
"She said that she was not happy because she was an ex-Muslim and was facing problems with her family," Nourah, who did not want her full name or photograph published, told BuzzFeed News in a phone call from Australia.
Nourah — who said she had escaped from Saudi Arabia three months ago and applied for asylum in Australia — said that Qunun hadn't detailed her escape plan beforehand.
Two hours later, Nourah had received a call on Snapchat from Qunun. "She called me and told me she was in a hotel room in the airport and they booked her on a flight back [to Kuwait] in two days," Nourah said. "Then I feel like I have to do something. We have two days. We need to make a difference in her life."
Nourah downloaded Qunun's video and posted it to her rarely used Twitter account. "Help her, I beg you! A Saudi girl stuck in Thailand," Nourah wrote.
Nourah also contacted two other Saudi women — one in Canada and one in Sweden — who had fled the country. "They are outside Saudi Arabia, because if I chose someone in Saudi Arabia, they are in danger for their lives," Nourah said.

Nourah, Qunun, and the other two women had never met in person. In the private Telegram group, Nourah said, more than 30 Saudi women, some still in the country and some abroad, talked to one another about their current and former lives in Saudi Arabia.
"It was a group for Saudi women, but feminist women," Nourah said. "They're talking about their problems, what they're facing every day. It's like a safe space for them to talk."
Now Qunun's three friends — in three different time zones — were determined to help her and bring attention to her situation.
The first thing, Nourah said, was to tell Qunun to begin tweeting.
Qunun laid out her situation in a barrage of posts, including a tweet of the Snapchat video Nourah posted hours earlier. "I am real, present, and still breathing," Qunun began her caption in her tweet, written in Arabic.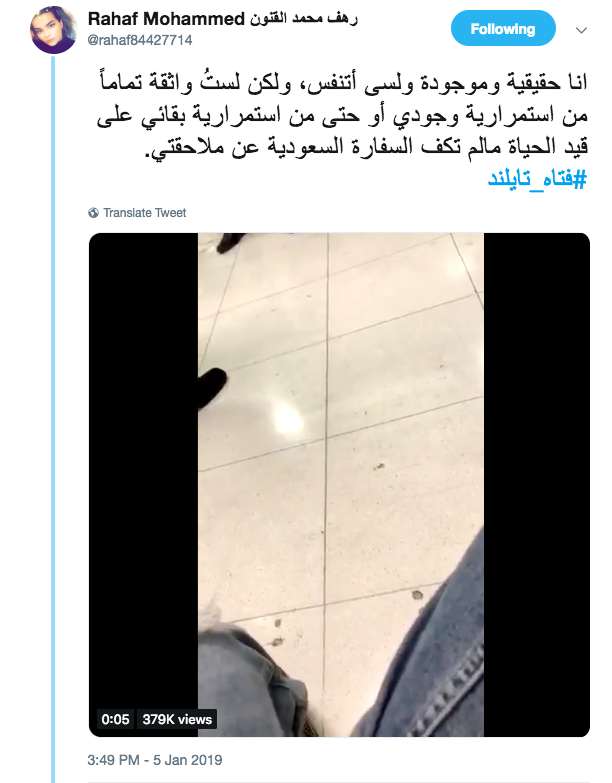 Her follower count rose into the tens of thousands in mere hours.

Then Qunun began tweeting other scenes: a walk to an airport hotel room, a video showing a portion of her plane ticket, and another that was indistinguishable, perhaps of a ceiling.

"She was trying to send casual videos without her face but I told her it's not going to be the same if people don't know your face. They can't identify you. We need to make people remember you by face, by name," Nourah — who proved to BuzzFeed News she had access to the account — said she told Qunun.
Nine hours after her first tweet, Qunun wrote in English: "Because I got nothing to lose I'm going now to share my real name and my all information."

In the next tweet was a photo of her, with the caption: "My name is Rahaf Mohammed Mutlaq Alqunun, and this is my picture."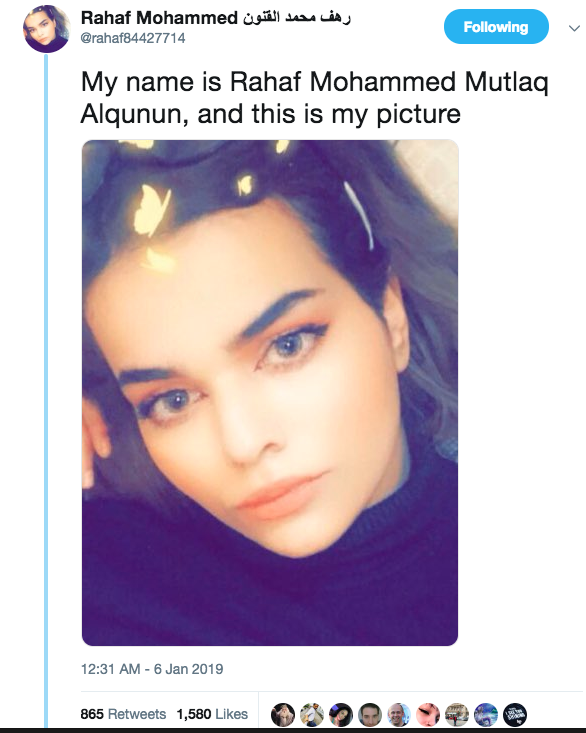 Noura and her two friends then organized how to run the feed as Qunun navigated international laws, barricaded herself in her hotel room, met with representatives from the UN's refugee agency, and discovered that her father, Mohammad al-Qunun, a senior government official, was reportedly in Bangkok. Qunun was last seen leaving the airport hotel with UN and Thai authorities.
"We are working shifts. Every two hours one of us go to sleep and two stay [awake] together and handle the account," Nourah said of the last 48 hours.

"It's my turn to sleep for two hours, then the other girl will sleep because we want to stay on the phone if anything happens. She [Qunun] might call and she will ask for help, because we don't know what's going to happen in Thailand," Nourah said.
Nourah logs into the account to retweet supportive messages and update people on Qunun's status. She said Qunun conveys developments to her when Qunun can't tweet herself or needs a break.
"I think it's very important to be around in next 48 hours because no one knows what's going to happen," Nourah said. She added that Qunun was at an undisclosed location with UN representatives and insisted that her friend was not safe until she leaves Thailand and is granted asylum.
"I'm safe now," Nourah said of her life in Australia, "and I hope Rahaf is safe, but I hope the world can remember the Saudi women inside Saudi Arabia."

"I know we saved Rahaf's life today but we can save millions in Saudi Arabia," Nourah said, before trying to get some sleep until her next shift.