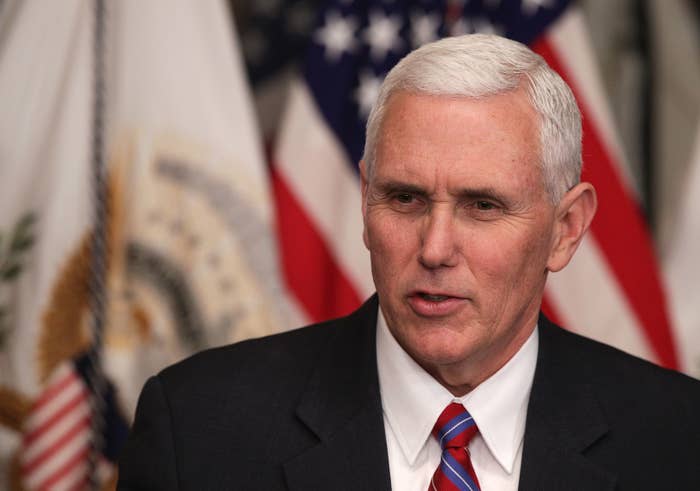 Back in the Bush years, Democrats and progressives fantasized about a president with the liberal gravitas of The West Wing's Josiah Bartlett.
The rolling crisis of the Trump presidency has dimmed those fantasies, and now a certain slice of influential liberals say that at this point, they'd just sleep easier under President Mike Pence.
Pence stands for everything the contemporary Democratic Party hates, a combination of assertive religious conservatism and anti-government zeal that's contrary to the core domestic policies of the Obama administration. His signature issue has long been opposition to abortion rights. His political career found the national spotlight when he pushed for religious exemptions to laws on LGBT rights. But he also represents total normalcy, as a second-tier heartland Republican who wound up in the second seat basically by process of elimination, and he is ultimately the president Democratic activists' chatter about impeachment would, in theory, install.
According to a new poll, 62% of Democrats now say they would prefer Mike Pence in the Oval Office. Not that this sentiment can be mistaken for enthusiasm.
The PredictWise and Pollfish survey received responses from 1,200 people on March 6 through online and in-app polling methods. Economist David Rothschild, from PredictWise, said he does not report margins of error because he does "not believe it can be accurately estimated." BuzzFeed News worked with PredictWise on designing the exclusive poll as part of a regular partnership.
On the shiny partisan floors of the Capitol Tuesday, no elected Democrat would concede on the record that there is any difference at all between Trump and Pence. "Both are terrible" was a standard response. But ask many members on background and you'll get an emphatic, "Yes, Pence would be 100% better."
"I'd sleep easier with almost any other human being as president than Donald Trump," the former Obama speechwriter Jon Favreau told BuzzFeed News. "I'm not as worried [Pence] would accidentally start a nuclear war because some Breitbart lunatic floated a conspiracy that got under his skin."
"I never thought I'd be in a world where I'd say this, but I'd much rather have Mike Pence in the Oval Office," said another former senior Obama administration official. "And the reason comes down to one word: crisis. All of the chaos of the last two months in the Trump White House has been self-inflicted."
"I think it's fair to say that every Democrat I know would prefer a President Mike Pence, without hesitation," said a third top Democratic aide. "He would pass some very bad laws, possibly more efficiently than Trump will. But we would not be worried about nuclear war, the end of NATO and an unholy alliance with Russia, the dissolution of basic democratic norms and principles, or the base-level stability and mental health of the world's most powerful person."
"I know Pence is a much more doctrinaire conservative, but he is not evil and he is not crazy," said one of Bill Clinton's former top White House staffers. "I know that's a pathetically low bar for the most powerful job on earth, but if that's the choice, it is an easy one."
The White House did not return requests for comment.
The sentiment is not limited, by any means, to the Beltway. Filmmaker and activist Joss Whedon said in an email that he would would prefer Pence for his sheer normalcy, though he could find few kind words for the former Indiana governor.
"Mike Pence is a loathsome swine who has every intention of stripping basic rights from most of the country. And he's blithely complicit in abetting Bannon's deliberate dissolution of our democracy," Whedon said in an email to BuzzFeed News. "Would I prefer he were president instead of the quivering, Tang-sweating, praise-eating, Putin-smooching, laser-pointer-chasing man-brat we have now? Yes."
"Pence is unethical, but he's quantifiable. He's opposable," he said. "Like a thumb."
(Whedon said the list of people he'd rather have as president than Trump — other than Hillary Clinton — includes Veruca Salt, Smaug, and four radishes in a bowl.)
And up in Silicon Valley, the investor Chris Sacca, a leading liberal voice, said that while he deplores Pence's policies, he would still prefer him to the incumbent.
"Pence's policies would likely be just as bad as Trump's when it comes to the impact on poor and working-class people and draconian toward women, people of color, and our LGBT Americans," he said. "But at least Pence has respect for our democratic institutions. He has no business conflicts of interest, respects the press, doesn't undermine our military and intelligence community leadership, doesn't praise foreign dictators, and is not hell-bent on destroying government agencies that protect our country and the people here."
For some activists on the left, Pence's fealty to a true conservative agenda — rather than Trump's expansive, unpredictable nationalism — is not necessarily preferable.
"Clearly on the 'oh shit am I going to die' every morning, Pence would provide a little bit of relief," said Angelo Carusone, president of liberal group Media Matters. But, he said, "what Pence represents is just as scary. It's a slower approach to the same sort of devastation that Trump is bringing us to."
RoseAnn DeMoro, the executive director of National Nurses United and a fierce Bernie Sanders backer in the 2016 primary, said a Pence administration would still push out policies her union opposes. "Impeachment in this administration is a short-time high," she said, "like going for a good morning jog and feeling great about improving your health and then you get hit by a truck."
One thing is clear: Democrats and their allies believe there's a better-than-usual chance that Trump will not fill out his term, something that feeds musings about the alternative.
"Fifty days or whatever it is, I'm good with not jumping ship from the Trump train yet," said the investor Mark Cuban, who has flirted with a run against Trump in 2020. But, he said, "I would say there is a greater-than-zero chance he won't last."
Adam B. Vary, Cora Lewis, Kate Nocera, and Mat Honan contributed to this report.
Outside Your Bubble is a BuzzFeed News effort to bring you a diversity of thought and opinion from around the internet. If you don't see your viewpoint represented, contact the curator at bubble@buzzfeed.com. Click here for more on Outside Your Bubble.