Back in May, Stranger Things made its much-anticipated return to our screens, after the COVID-19 pandemic seriously delayed production.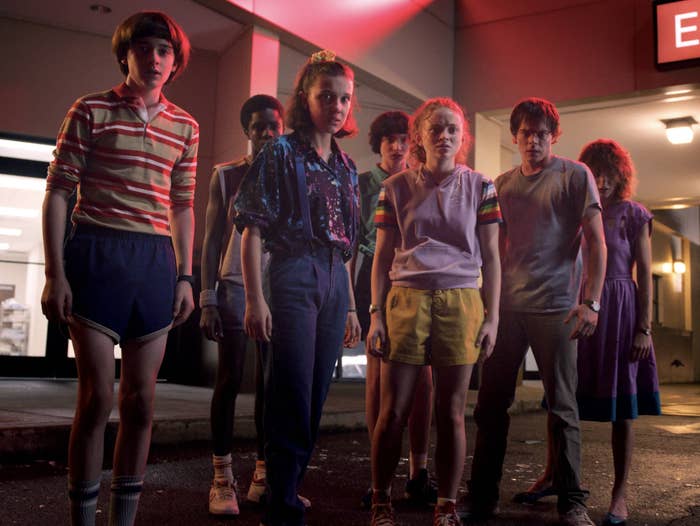 The fourth season of the hit Netflix show introduced us to a whole bunch of new characters, but none were as well received as Eddie Munson, played by British actor Joseph Quinn.
Nonconformist outsider Eddie captured viewers' hearts as he took some of the Stranger Things' kids under his wing when they joined high school.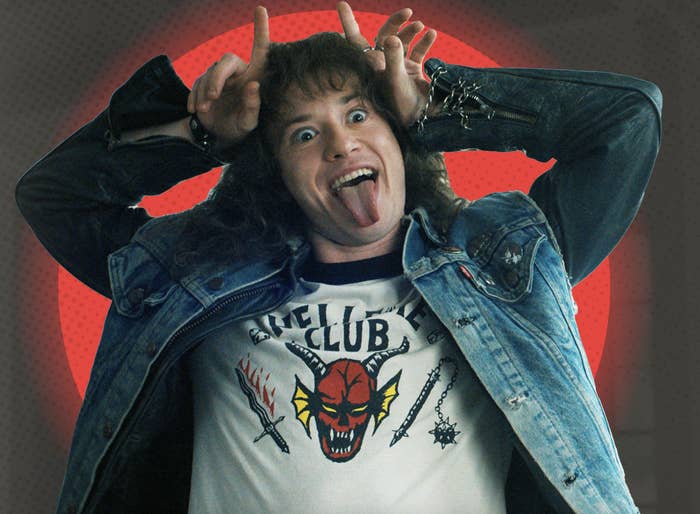 The lovable metalhead was at the center of many key scenes from the season and resonated with fans of the show as he quickly became one of the most-liked characters in its history.
So it's unsurprising that when Joseph signed up to appear at conventions this summer, he was in incredibly high demand for meet-and-greets.
In fact, it has been reported that Joseph was oversold by 400 tickets at London Film and Comic Con on Saturday, and staff at the event ended up "yelling at" the star for taking too long with the fans who'd paid to see him.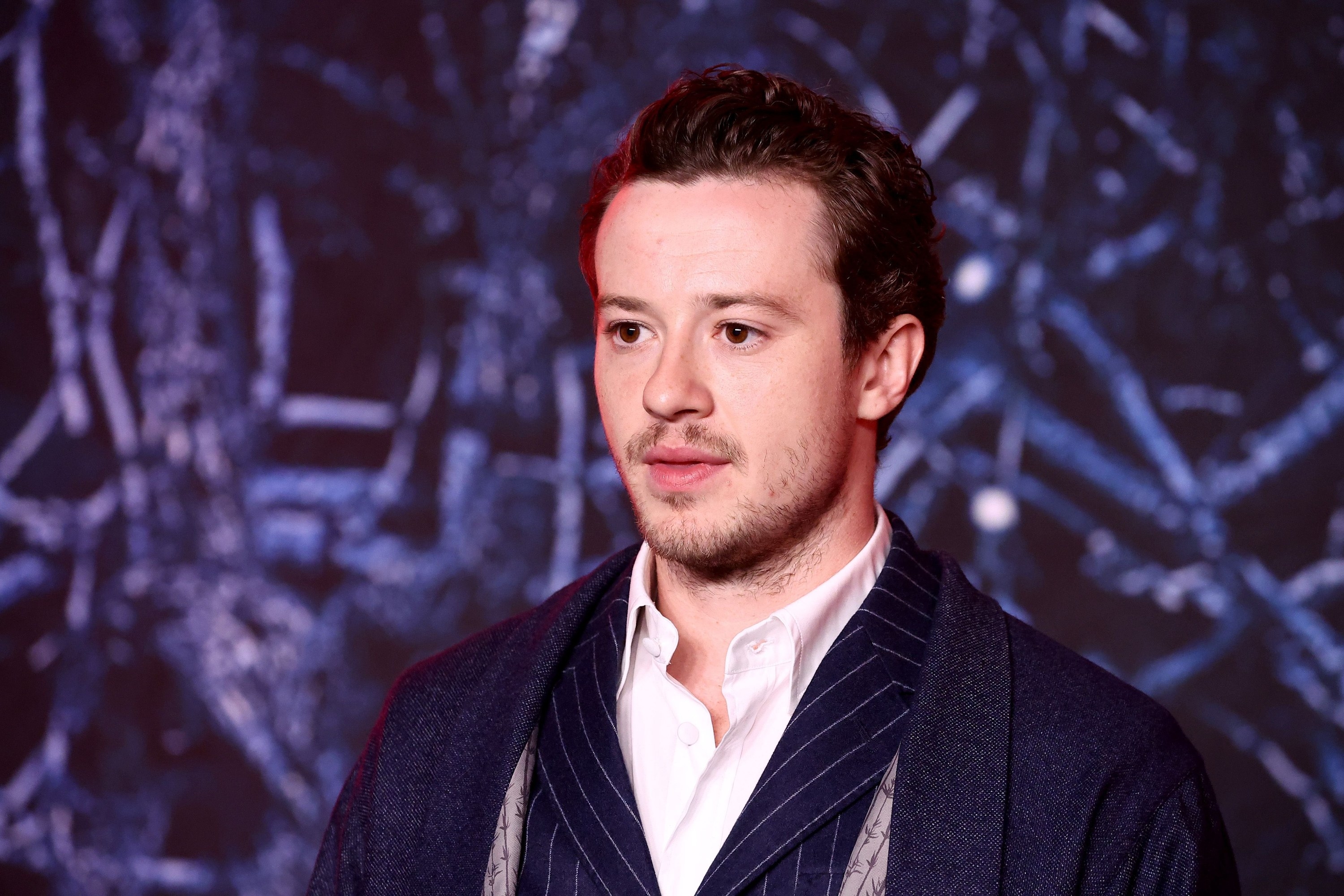 Meet-and-greet opportunities for Joseph ranged from £45 to £125, depending on the type of pass that attendees selected, and Joseph was seemingly keen to make sure that everybody got their money's worth.
"Wanna know how bad the access was at LFCC for Joseph Quinn's Upside Down photo shoot?" one patron tweeted. "With one of my other photoshoots, I was 43rd [in line]. with Joe's? 428th."
Another fan called out the way staff treated Joseph, as they tagged the convention's organizers, Showmasters, online. "I had such a good weekend at @Showmasters but I will say one thing," they wrote. "If you guys continue to treat your guests the way you treated Joseph Quinn you are going to lose out on a lot of your regulars with that outrageous behavior from your staff. It's disgusting how he was treated."
"The way Joseph Quinn was treated at LFCC is fucking disgusting," one more claimed. "Staff fully yelled at him to shut the fuck up and to just sign and not to interact with fans bc they over sold and couldn't get all people seen."
"I wouldn't be surprised if Joseph Quinn never attended another con after LFCC… The entire experience today was a shambles! He did his best to make everyone feel they had a moment despite the staff not even stopping the queue to let him have some water," someone else wrote.
"The way LFCC treated Joseph Quinn was horrendous, I feel so bad for him," another added. "Both Joe and the fans were treated like shit all for LFCC to make as much money as possible. LFCC really need to treat the guests with respect. And the 'staff' constantly shouting at you, WTF."
Among the chaos, fans consistently heaped praise on Joseph for remaining warm and friendly toward them, with one sharing her photo from the event and writing: "The organisation was a shambles and the staff were rude as hell. But Joseph Quinn was so genuine and friendly and gave me a hug even though the staff were yelling at him to hurry up."
And artist Kimberley Burrows, who attended the convention on Sunday, took it upon herself to speak on behalf of everybody as she publicly thanked Joseph for his time during a Q&A. Fan Samantha Langer was also in the audience and filmed the exchange in an Instagram video that has since gone viral.
"Mine's not really a question, it's more of an extension of gratitude, really," Kimberley stated after being selected to speak. "I'm sure a lot of us have heard what happened yesterday — whether it's true or not — about how you were treated."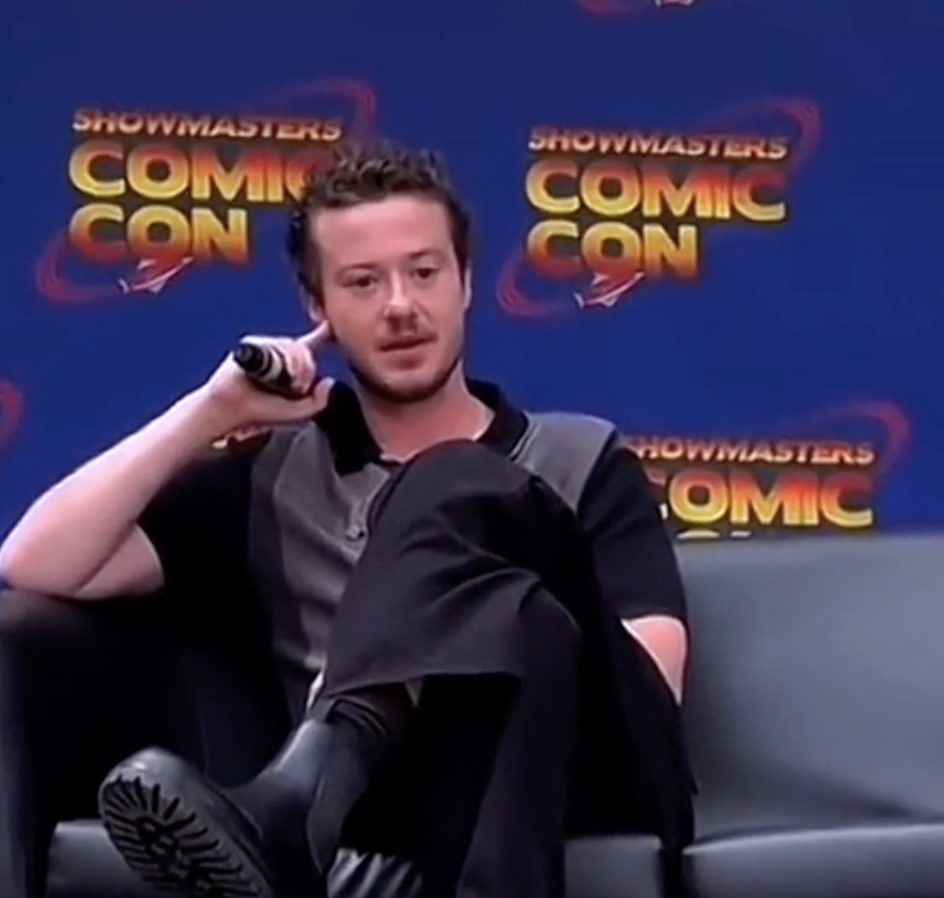 "I won't comment on it," she continued. "But I just wanted to say thank you from all of us, we're really grateful that you're sharing your time."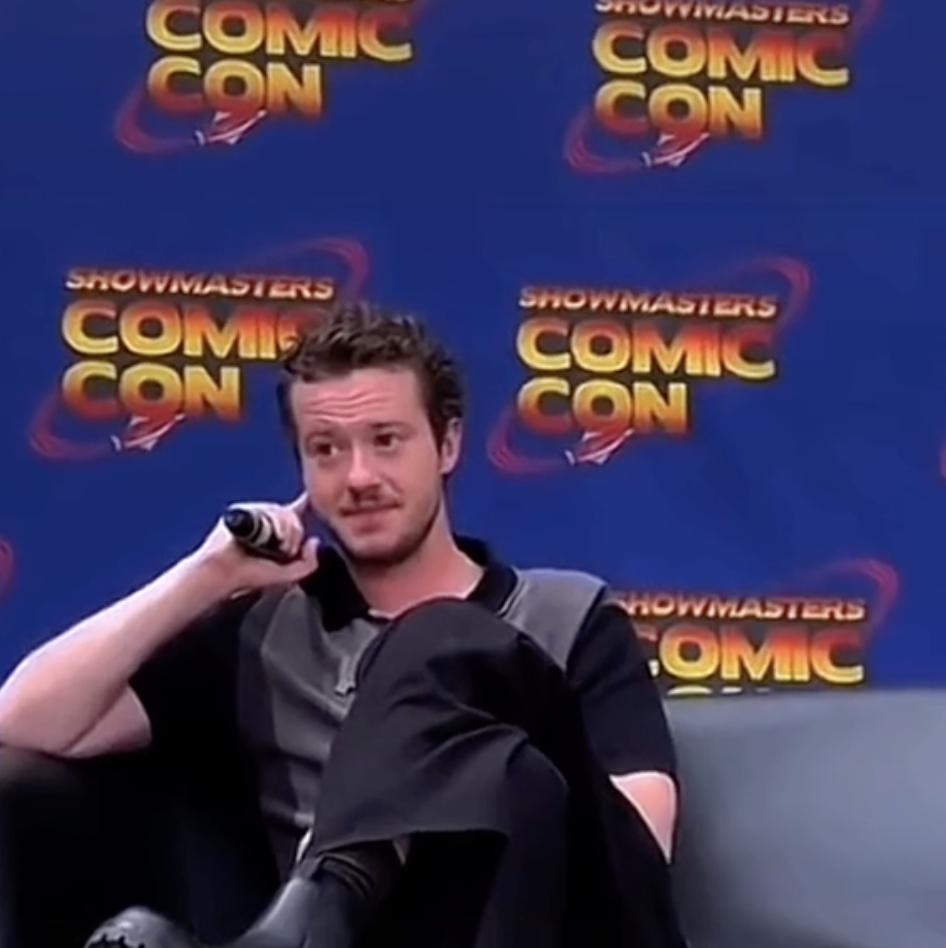 At this point, the crowd applauded, and Joseph looked visibly emotional as he seemingly choked back tears.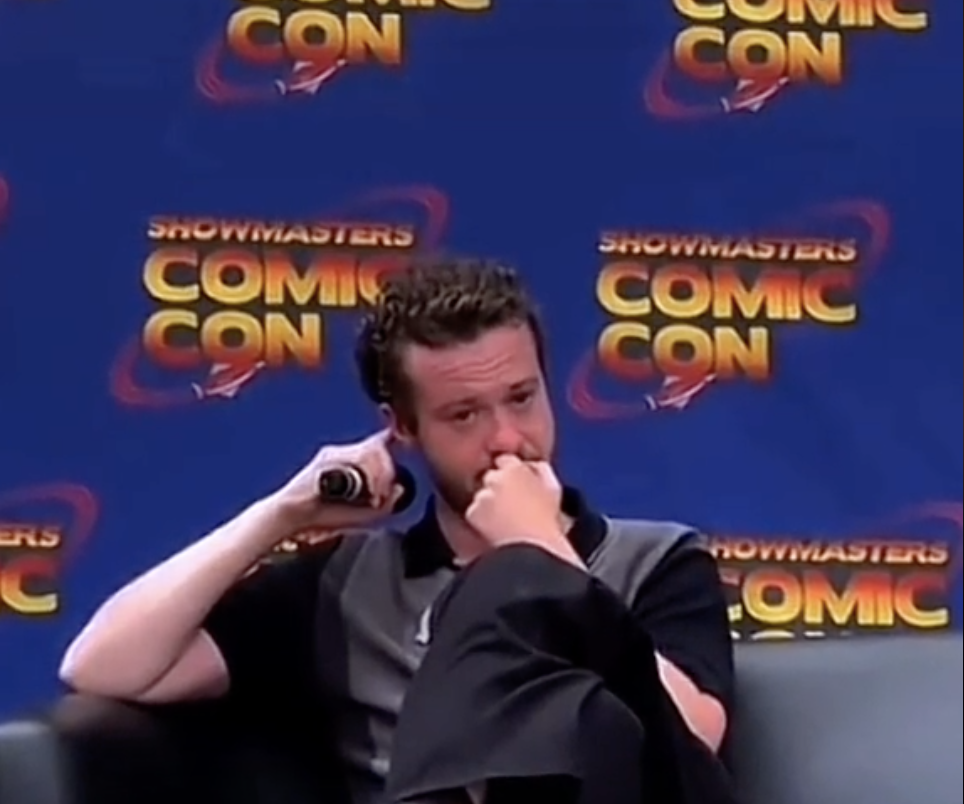 "Thank you for signing our things," Kimberley went on. "For spending time with us and making our summer. I think that we've all really connected with Eddie, for one reason or another — whether we liked his music taste, or that he's an outsider like you mentioned. I think all of us are part Eddie."
"We've traveled far because we all really connect with you as well, and you've really made our weekend. You've really made mine as well, you were so nice to me and my guide dog yesterday," Kimberley, who is blind, concluded. "However you were treated yesterday, we are so grateful — thank you."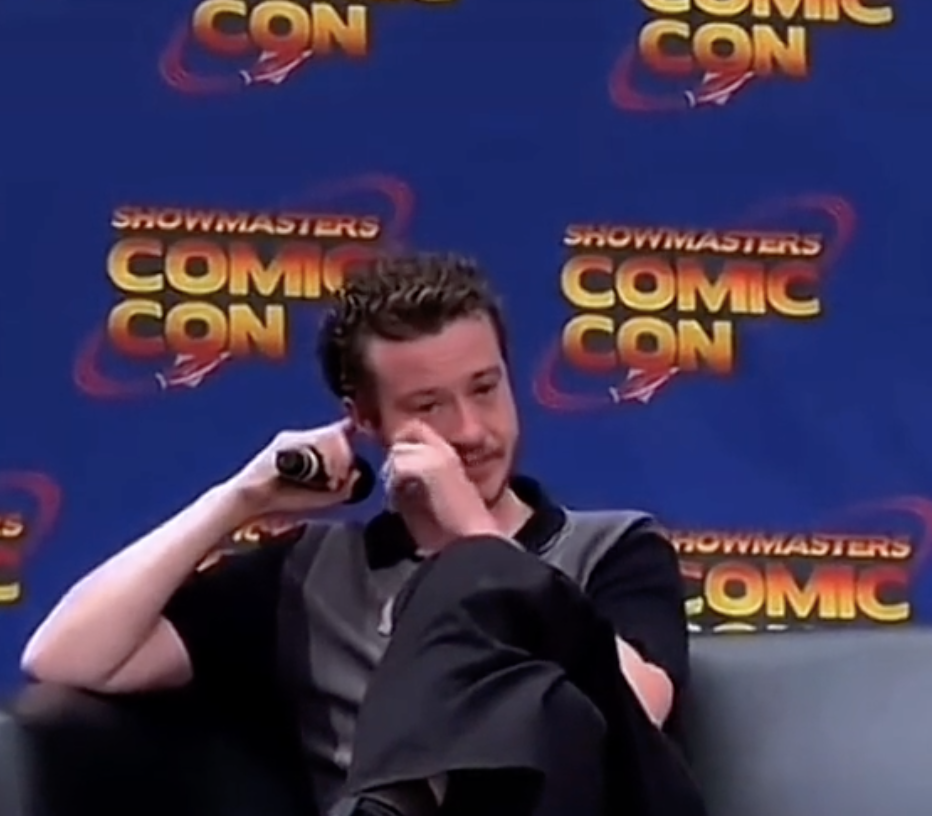 Joseph appeared to be completely taken aback by the heartfelt speech, and wiped both of his eyes as he started to cry while the crowd cheered and clapped.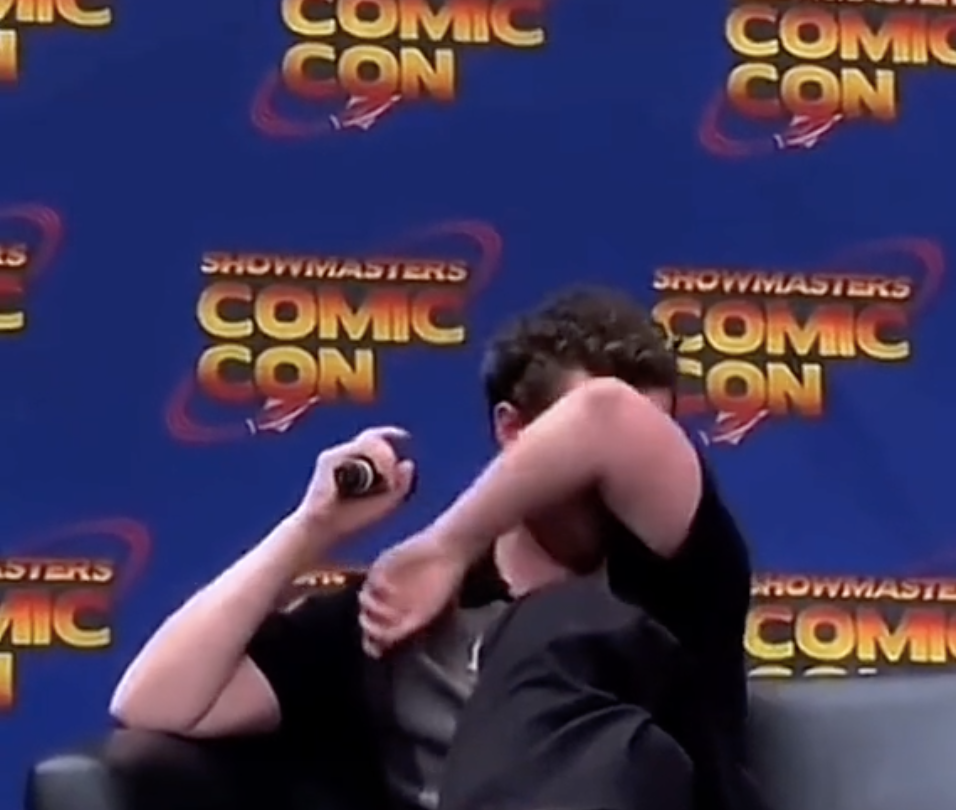 He took a moment to regain his composure and then playfully asked Kimberley, "Aww, why'd you do that?" as he dabbed at his eyes again. Clearly at a loss for words, Joseph then said: "Thank you for your kind words, thank you."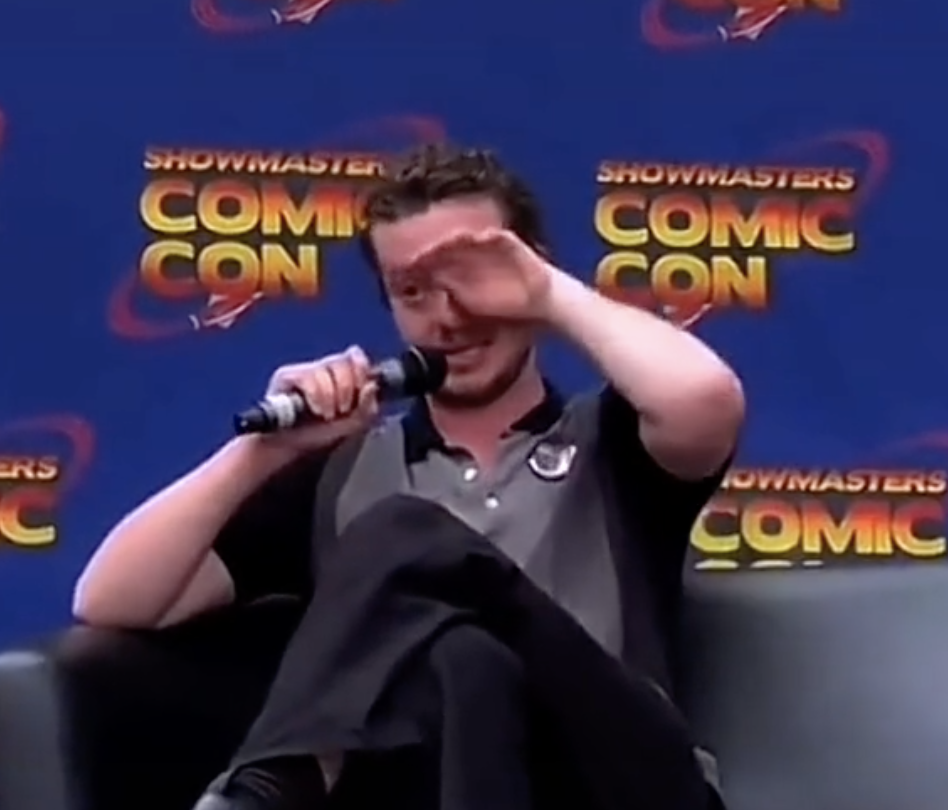 Someone who reposted the video confirmed in the comments: "She is talking about how Joe was yelled at by Con staff for taking too much time with fans, hugging them too long, etc because the con oversold him by over 400 tickets."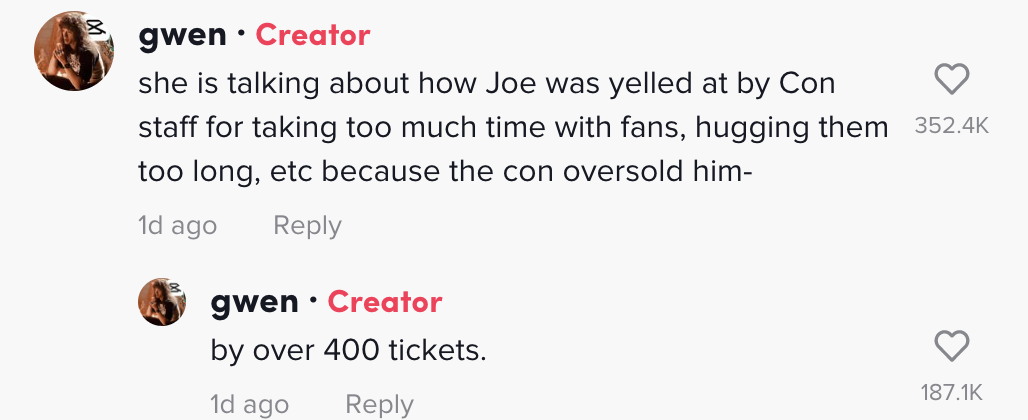 And Joseph's tears were enough to pull at the heartstrings of those who watched the clip, with another writing: "I'm so thankful for that girl saying this on behalf of everyone and him tearing up is making my heart somersault."
One more said: "I feel like he really needed to hear that, and that makes me feel just so happy and sad."

Another echoed: "NO STOP IM LITERALLY SOBBING RN the way he tried so hard to hold back his tears :("
BuzzFeed News has contacted Showmasters for comment.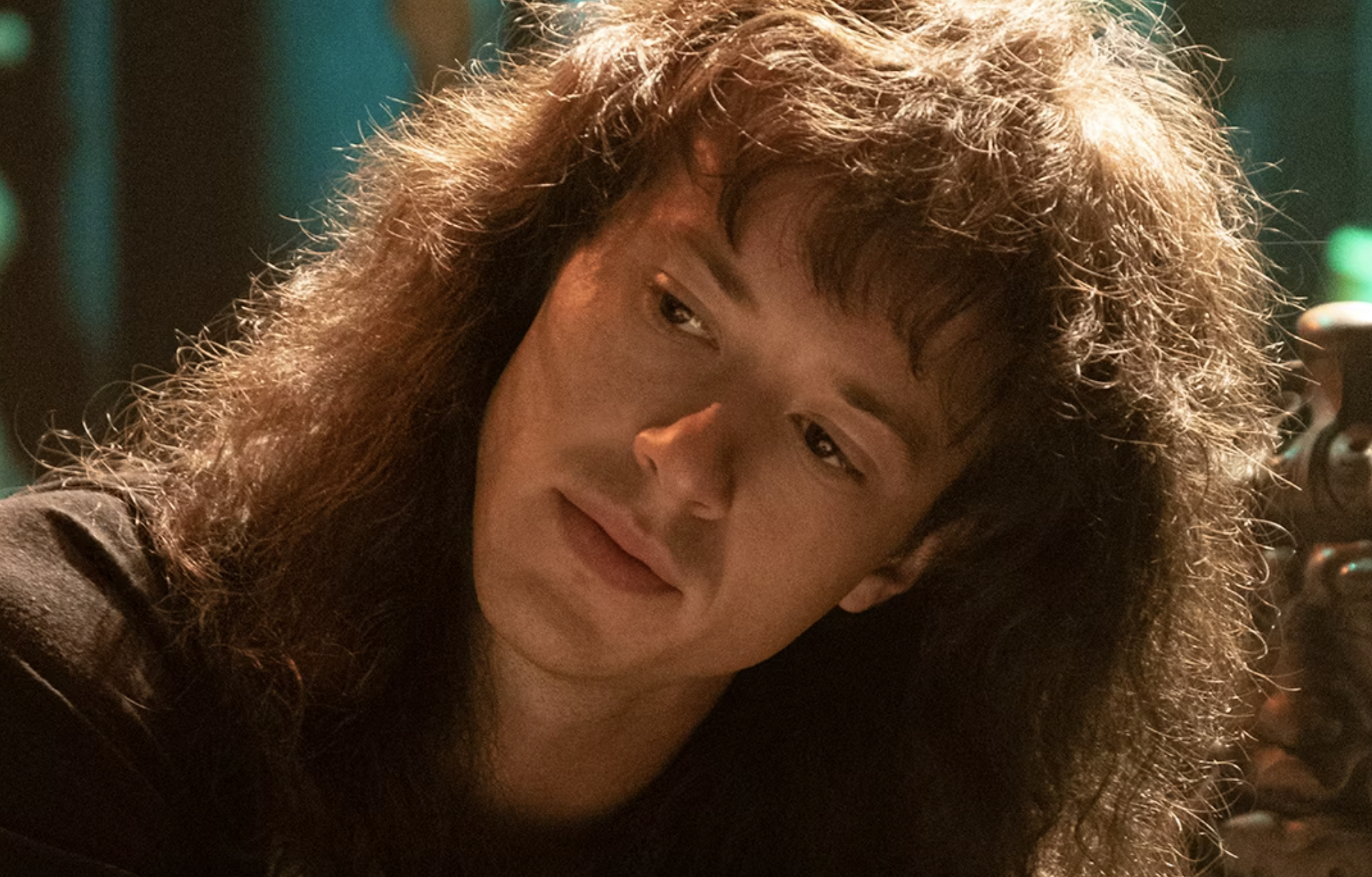 Although Joseph had many other acting credentials under his belt before he was cast in Stranger Things, the show catapulted him into superstardom almost overnight.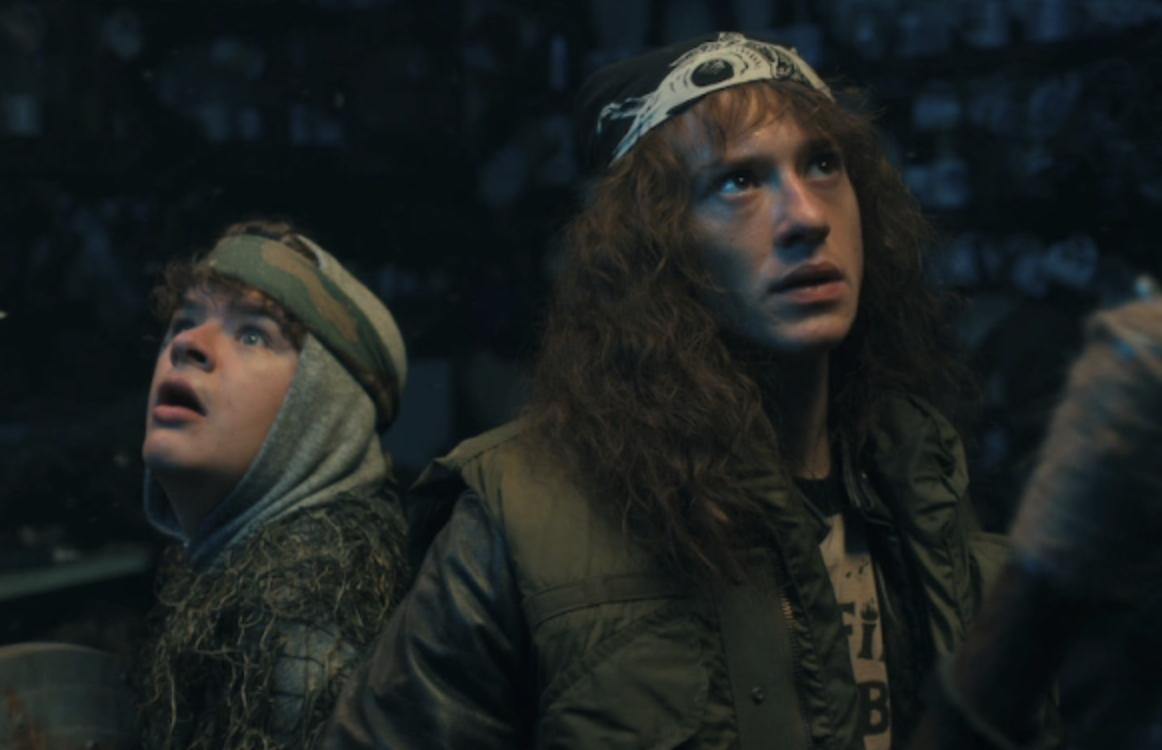 Despite this, he has kept a relatively low profile, and while he has an Instagram page he isn't very active on social media.
But this still isn't Joseph's first time making headlines, and the actor was actually the catalyst behind Doja Cat's very public attack on his costar Noah Schnapp last week.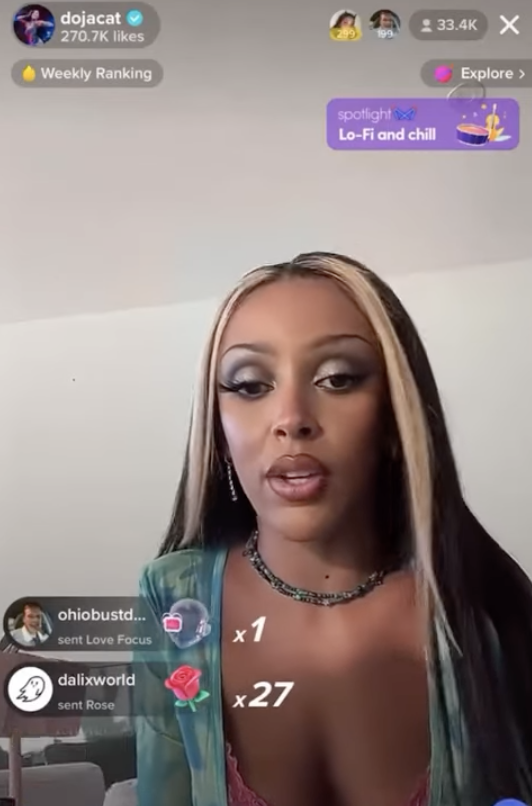 On Wednesday, 17-year-old Noah shared a screenshot of a private conversation that he'd had with the singer to his TikTok page in an apparent contribution to the discourse about how popular Joseph's character Eddie is.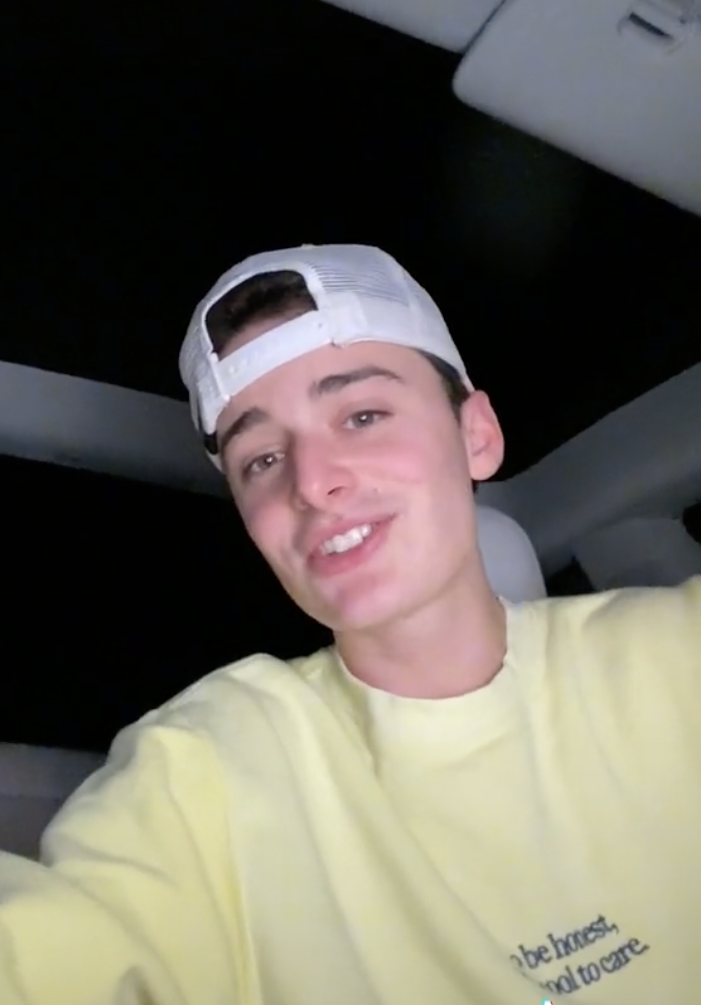 In the screenshot, 26-year-old Doja had messaged Noah to ask whether Joseph is single after being unable to find his social media page to ask him directly. "Noah, can you tell Joseph to hmu [hit me up]," she wrote in the private Instagram message. "wait no. does he have a gf?"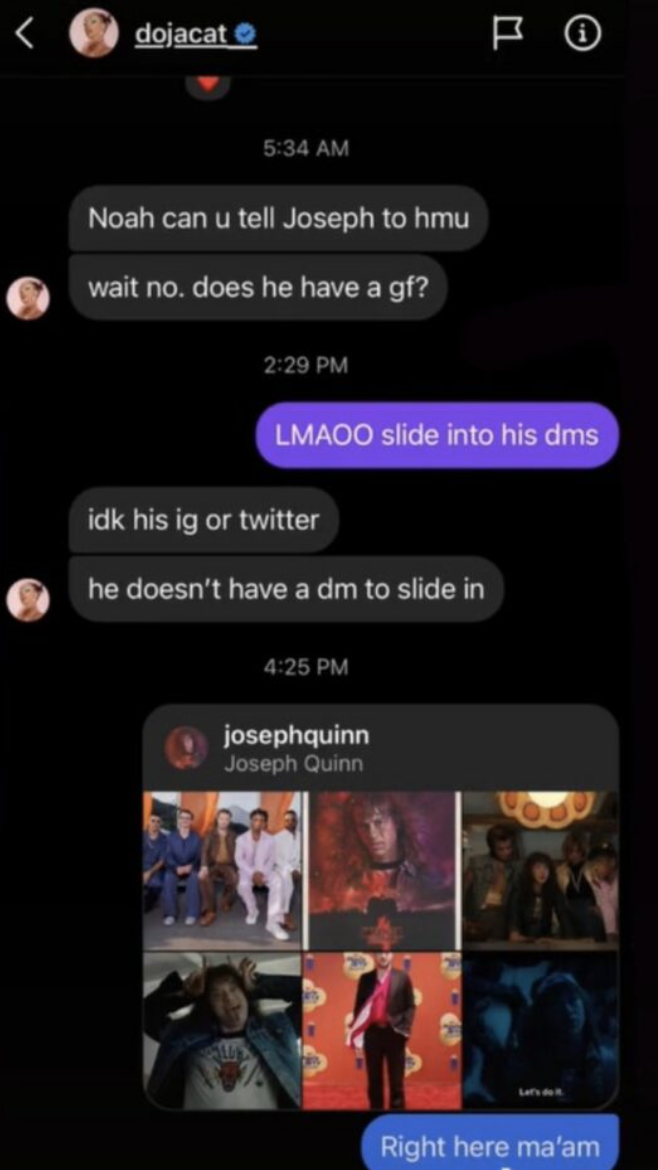 Noah then told her to slide into Joseph's DMs, to which Doja replied: "Idk his IG or Twitter, he doesn't have a DM to slide to," which is when Noah linked her to Joseph's profile.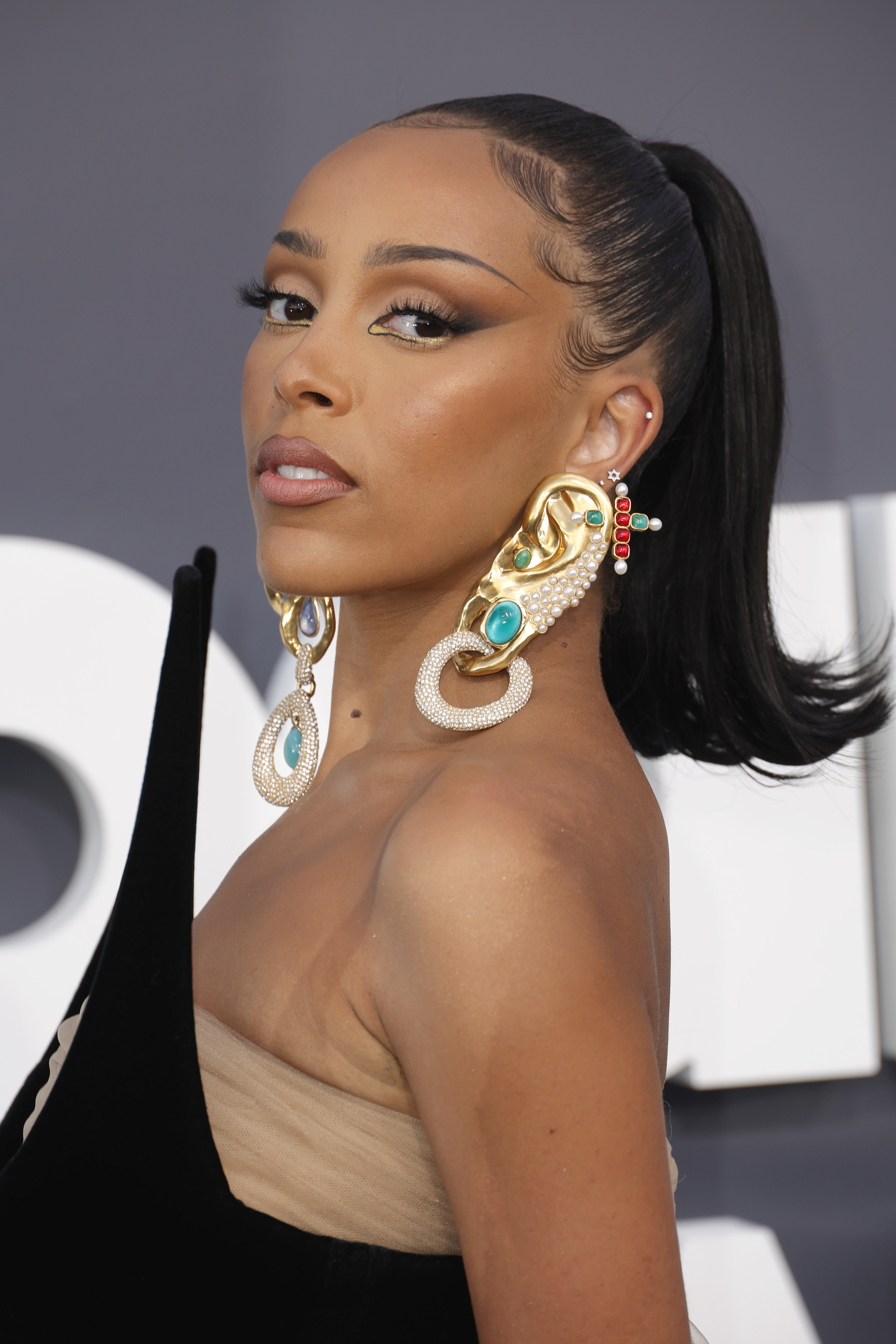 The actor, who plays Will Byers on the show, leaked the conversation in a now-deleted TikTok video, and the following day Doja put him on blast in an Instagram Live. She claimed that Noah's actions were "degrading" and "exploitative" of her as she questioned his motives for sharing it.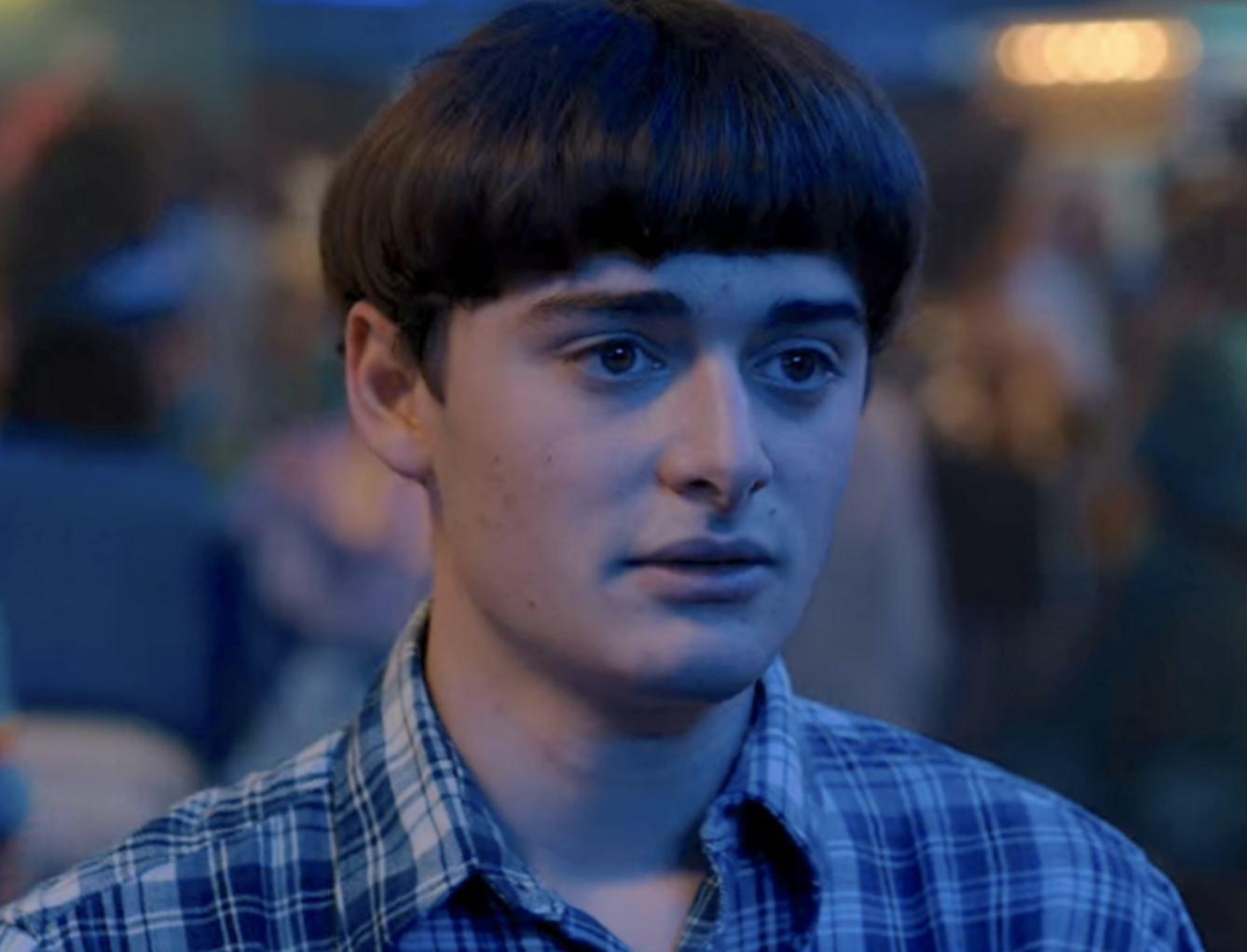 "Maybe he is, like, a whole snake. But I didn't see him that way," Doja said at the time. "I made an assumption that he was gonna be chill about it, and he went and shared information that I didn't feel comfortable with him sharing."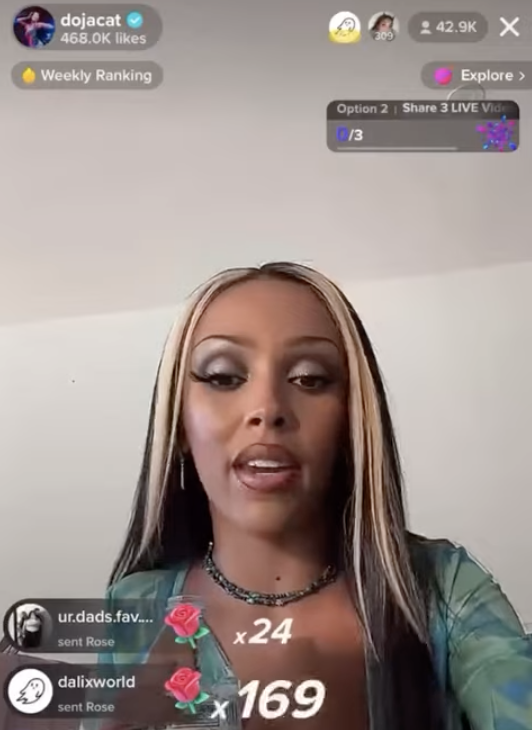 Noah has not yet responded to Doja's comments, and Joseph has not acknowledged any of the furore.
UPDATE
The creator of the video of this incident was Samantha Langer. An earlier version of this draft contained an embed from a user who was not the original creator.