Back in May, Hulu reality show The Kardashians sparked backlash when it aired a storyline that centered on Kris Jenner and her daughter Kylie Jenner going to a grocery store.
The outing came after Kylie told her mom that she wants to do "normal things," and they finished off the day by driving through a gas station car wash.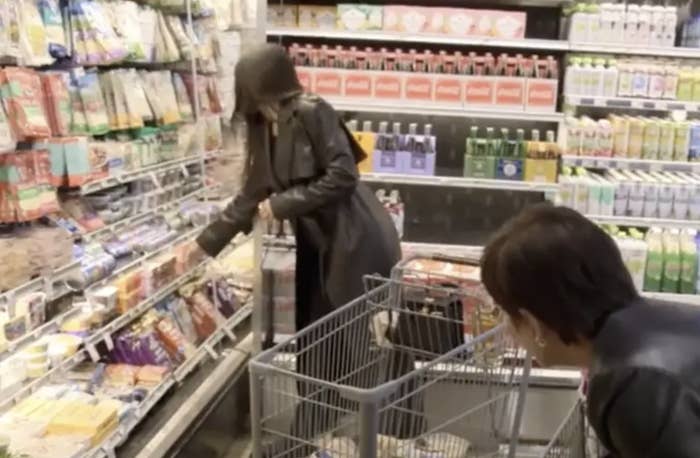 Both stars were filmed being visibly excited as they browsed the aisles of a high-end grocery store in Malibu, with Kris even enjoying the novelty of paying for her groceries at the checkout.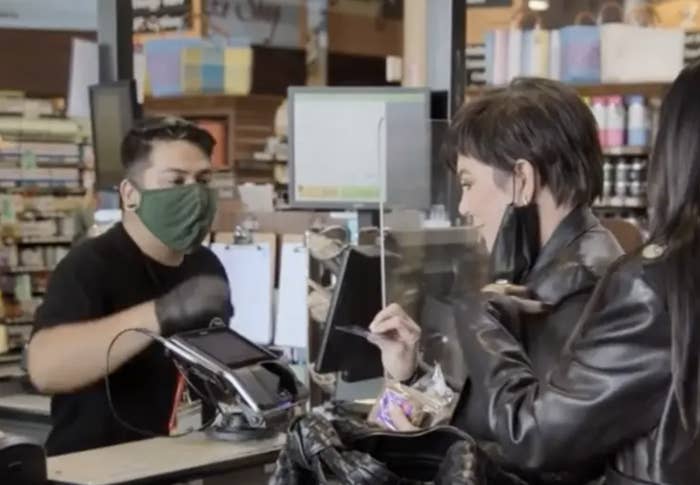 "I just need the experience of checking out," Kris said. "I've waited for this for years."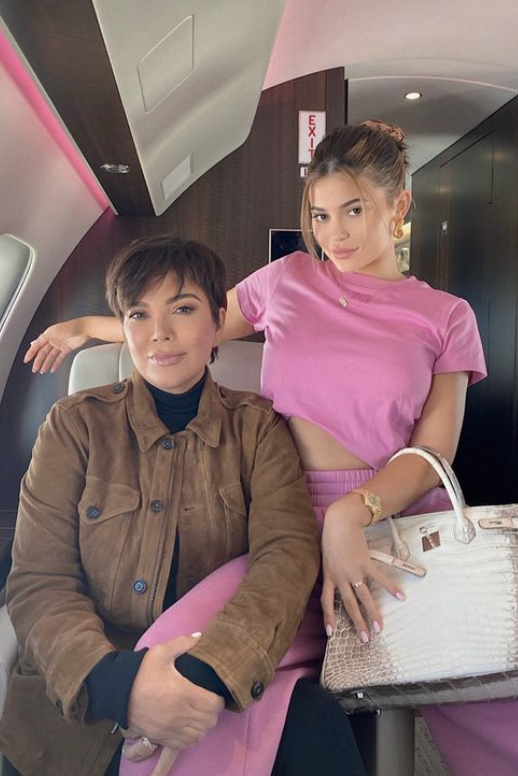 In an apparent representation of exactly how long it had been, the star struggled to work the card machine and had to be guided on what to do.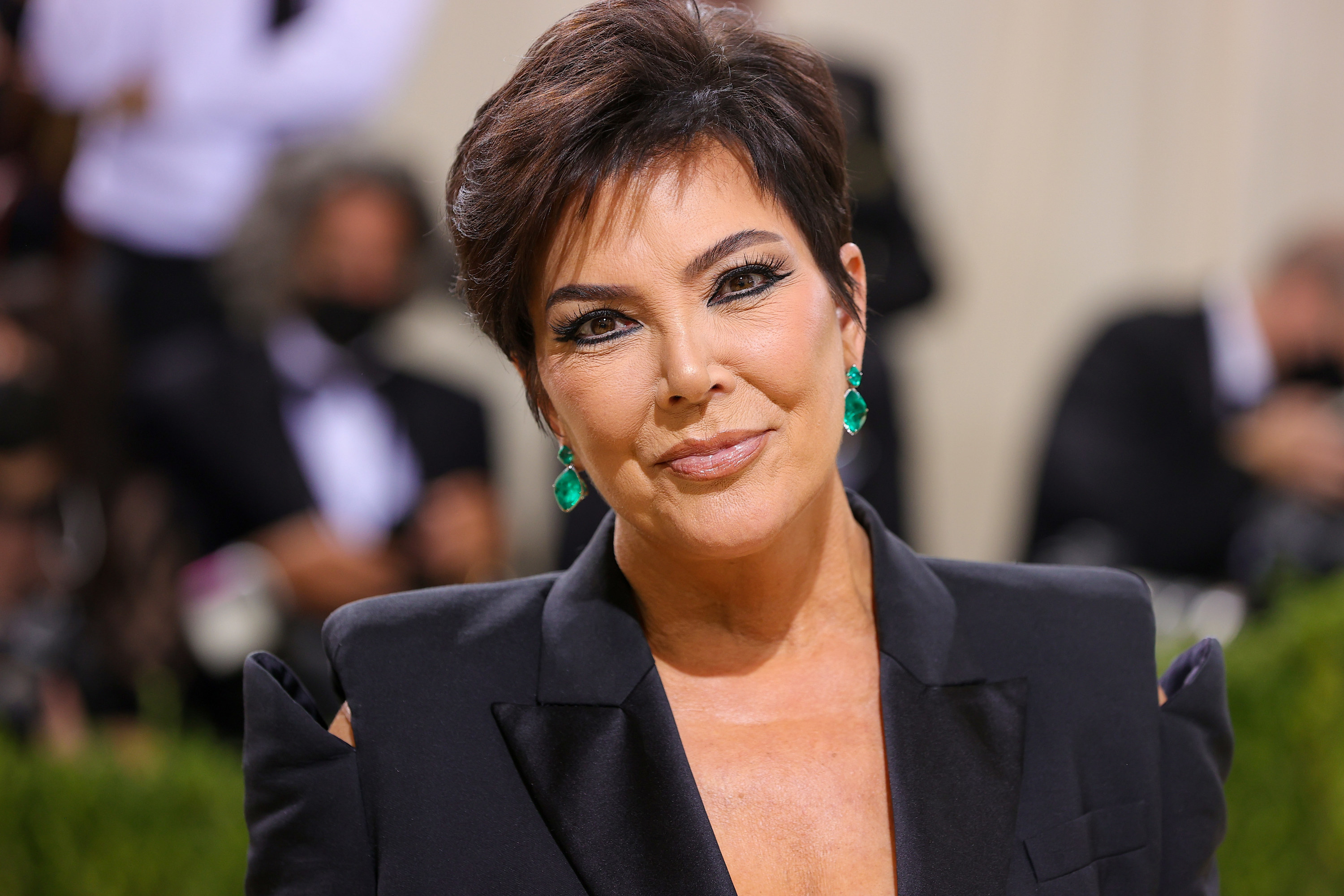 Kris then proudly heaped praise on Kylie for returning the cart after they'd loaded their groceries into the car by themselves.
"Go, Kylie, go! Kylie, you're doing amazing, sweetie — wow, look at her go! Great job!" Kris shouted at the time, and she went on to compare their car wash experience to Disneyland.
Viewers were left uncomfortable by the scenes, and Kris and Kylie were widely criticized for being "out of touch." They were also accused of exposing their privilege by finding such novelty in everyday activities.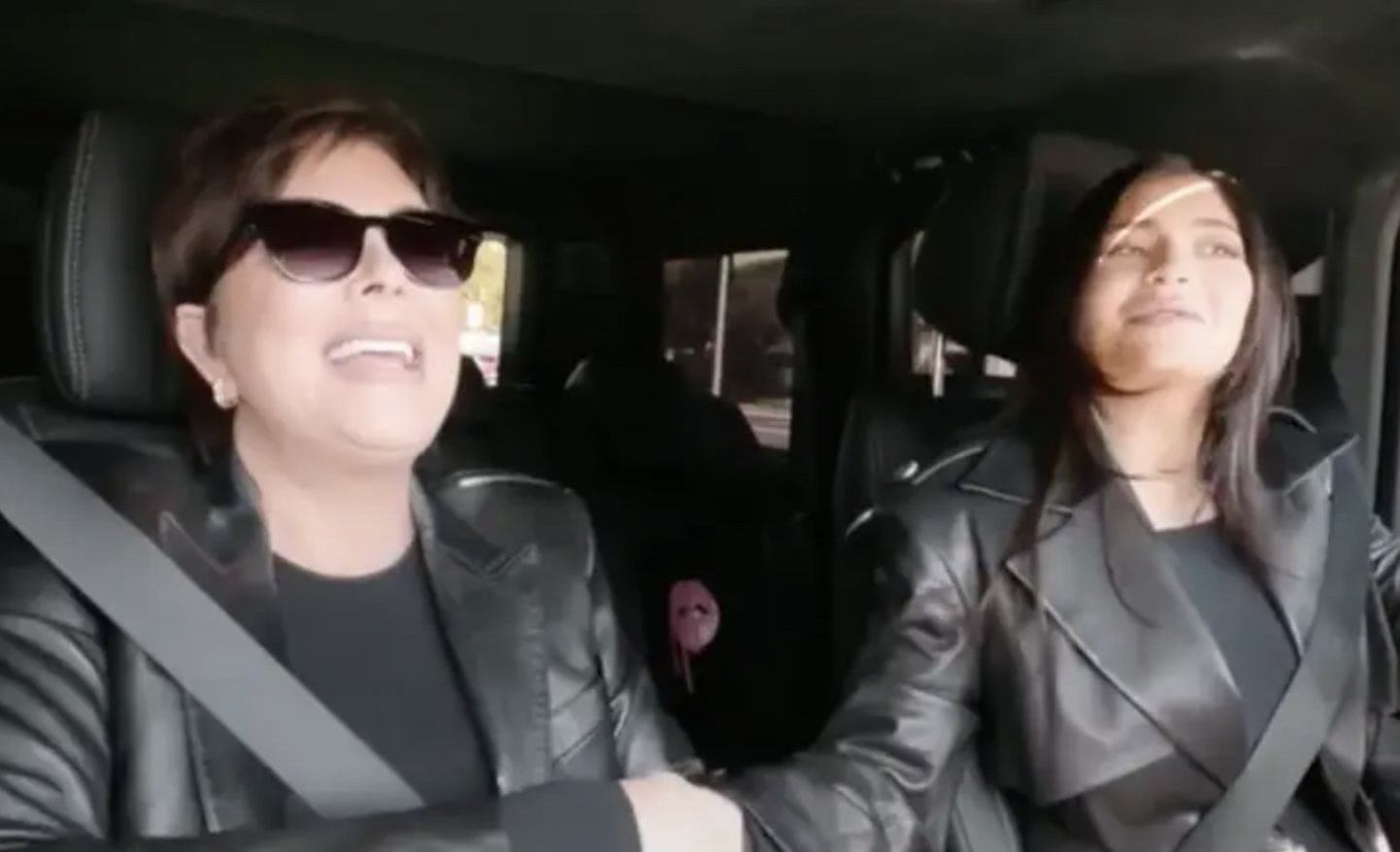 "Kylie and Kris calling going to the grocery store and checking out and filling their cart an experience is the most white rich privileged thing I've seen," one person tweeted at the time. Another said: "I'm losing it at the scene of Kris and Kylie going to the grocery store. Like this is the most out of touch thing I've ever seen in my life."
Another person wrote: "[I] thought the 'day of normal errands' with Kris and Kylie would be cute but it's SO GROSS. We know they're out of touch, we don't need to see just how out of touch. Kris didn't know how to use her credit card and was so excited to push the cart."
Neither star responded to the backlash, and it has now become apparent that their wider family seemingly didn't learn from their mistakes.
In fact, just three months later, Kris's oldest daughter, Kourtney Kardashian, has sparked near-identical backlash after she posted a series of pictures of herself and her husband, Travis Barker, posing in a truck stop store.
In the seven-photo carousel, Kourtney and Travis can be seen browsing the junk food aisle and examining other products for sale — including friendship bracelets.
In one photo, Kourtney is styling a high-vis jacket into a bandana, and another of the pics shows both Travis and Kourtney taking pictures of the moon, with lines of parked trucks visible in the parking lot.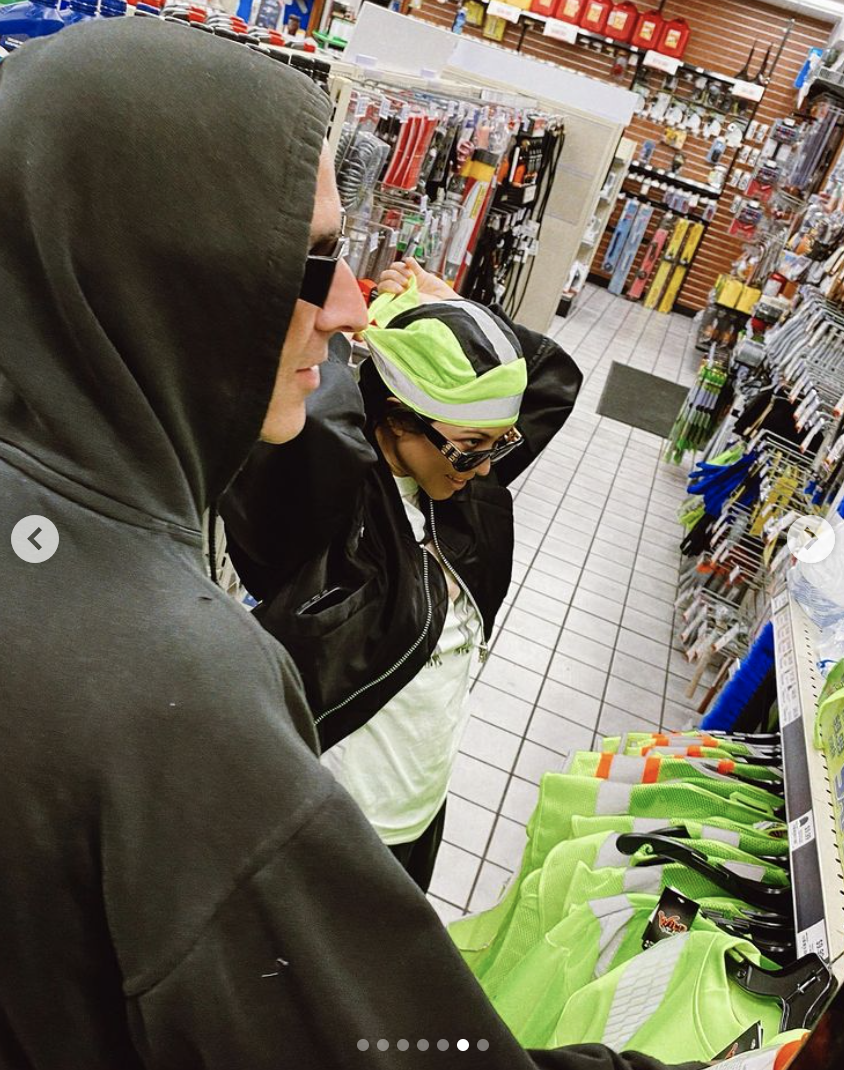 "Truck stop, huh?" Kourtney captioned the post, also tagging photographer Clemente Ruiz, who'd taken the pictures.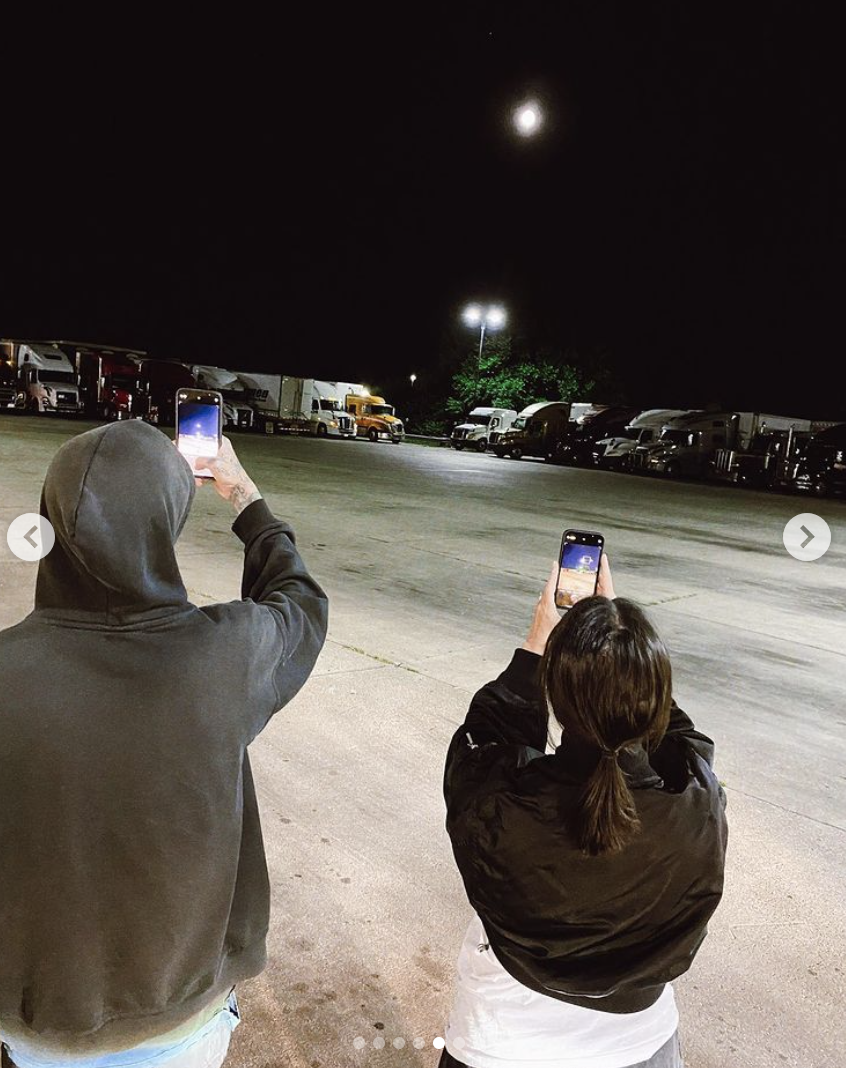 But while the photos had an impressive aesthetic, they probably didn't get the reaction that Kourtney was anticipating. People accused the couple of cosplaying as working class in the photo shoot. The concept was also branded disrespectful to real truckers and truck stop workers.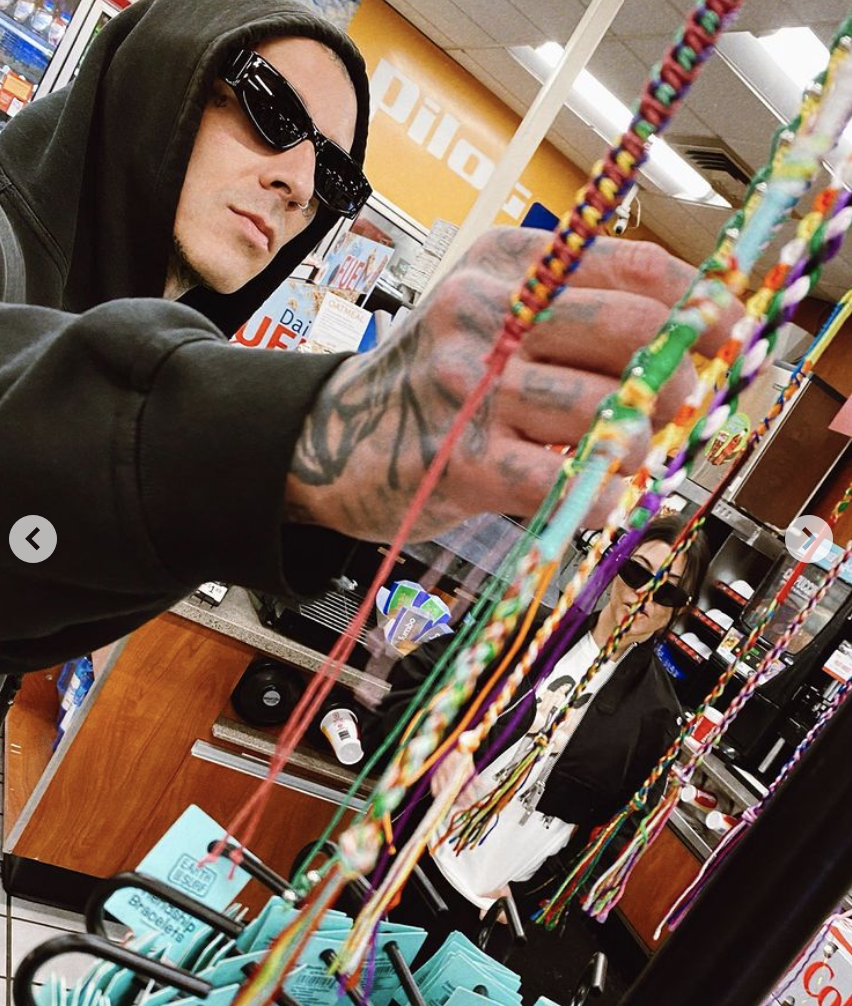 "This is where my father has to sleep in the back of his semi 6 nights a week and they're treating it like a zoo taking pictures of the trucks," one person wrote on a Reddit forum. "Sorry but this makes me angry."

"Imagine working at that truck stop and seeing these two come in for a full on photo shoot," a second added. Another replied: "In hour 8 of your soul-sucking 14 hour shift, listening to Kourtney say that this place is like literally so cute."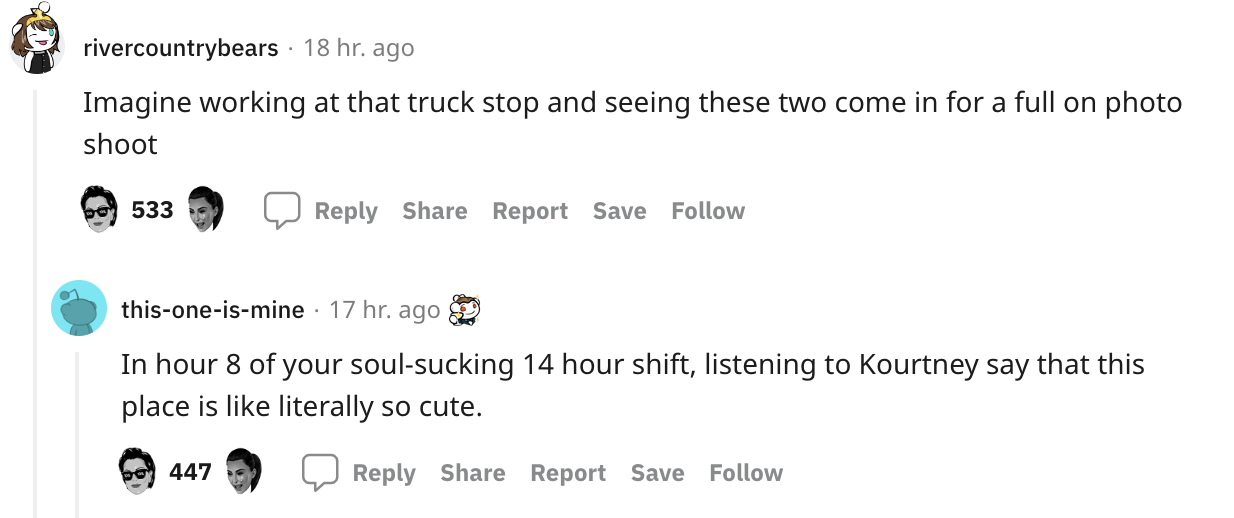 "Its always funny how groceries stores seems like a freaking attraction park for these people," someone else observed. Another person responded: "Because it's an aesthetic to them since they rarely go 💀🤧"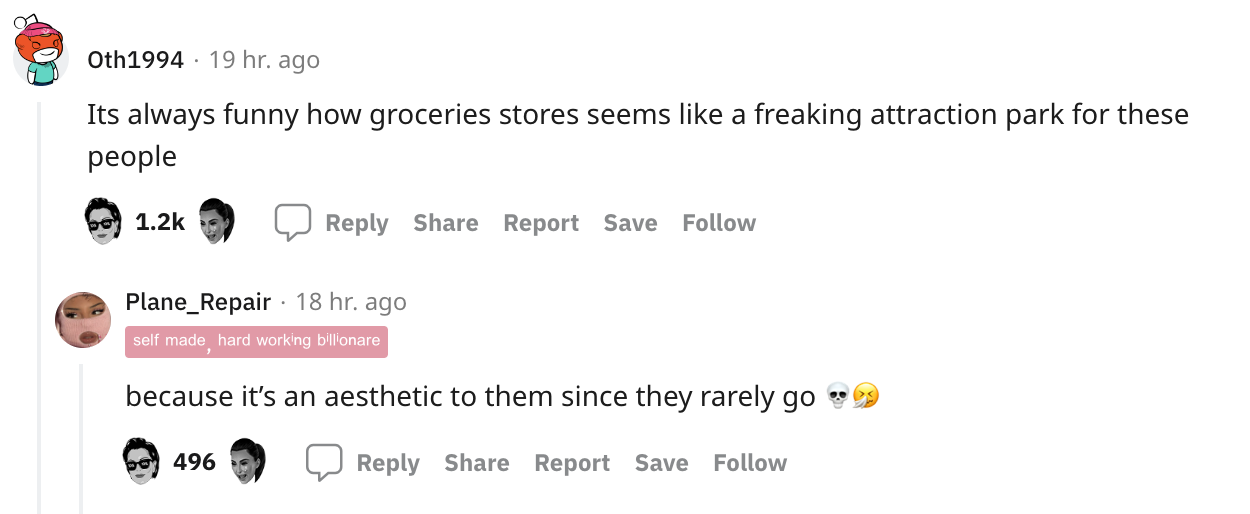 "We- the working class- are a sideshow to them," one user wrote. Another criticism read: "It kills me how they legit disrespect us so much by doing what [they] feel non celebrities do everyday and take pics to show how normal they can be."


One person shared an unimpressed gif of Steve Carell in The Office as they wrote: "Me just trying to get my Big Gulp after a long ass day at work and not be in Kravis's 'poor aesthetic' pics…"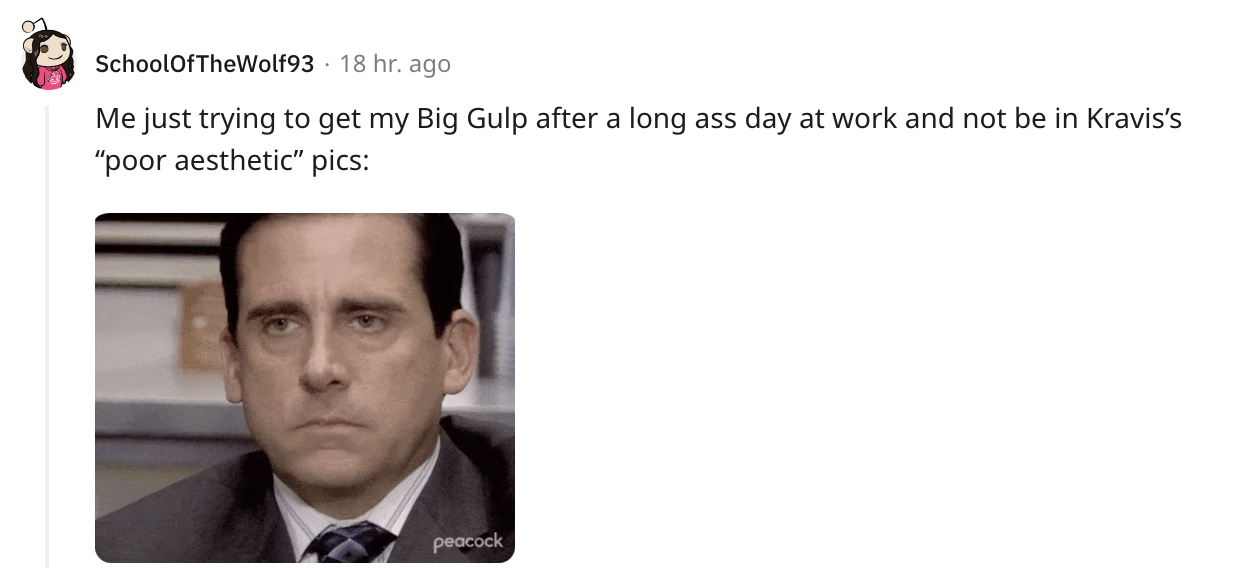 "'Look babe, we're just like poor people!'" another user mocked. Someone else wrote: "Rich people cosplaying regular people will never not be funny to me 🤣"


Kourtney is currently on the road with Travis while he tours the country, and although the photos received a negative reaction from the star's wider following, rocker Avril Lavigne gave them her seal of approval as she commented: "Yes gurl. We live for them truck stops on the road. 🤘🏻"

In addition to the grocery store discourse, Kylie also faced backlash last month when she was accused of trying to be "relatable" by sharing a TikTok of her trip to Target.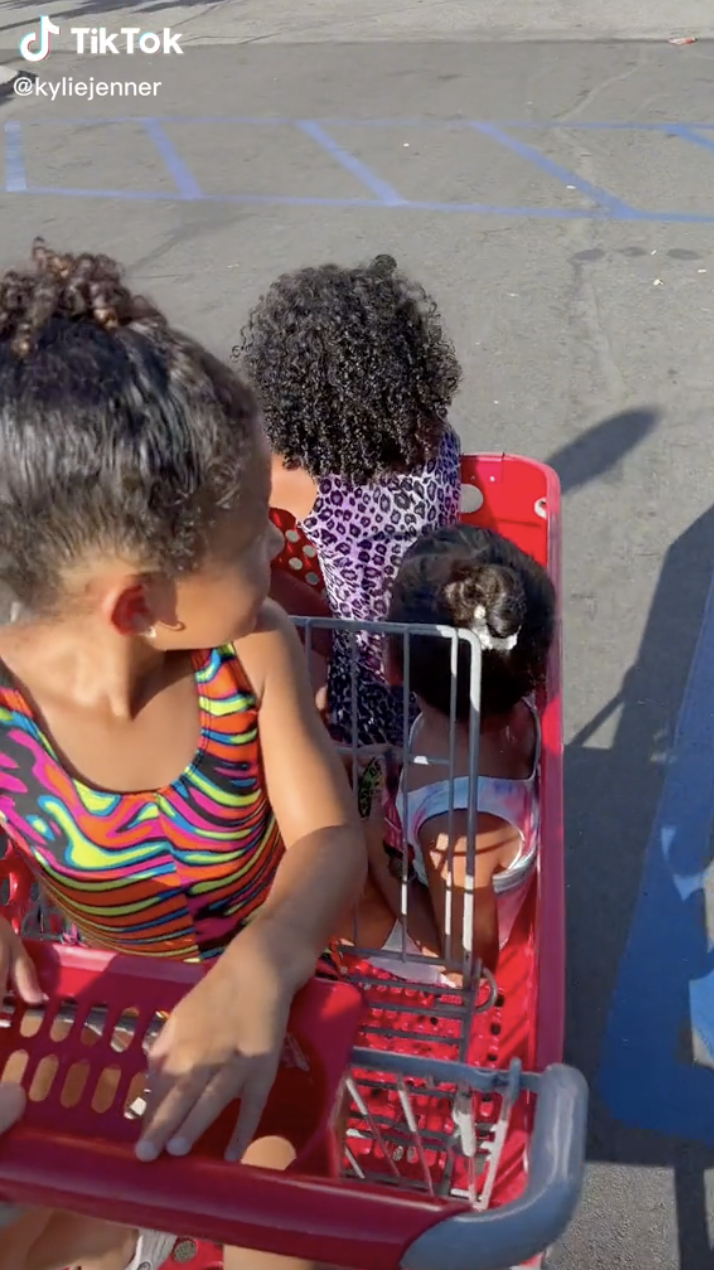 The timing of the post raised eyebrows at the time, as it came shortly after she was exposed for taking super-short flights in her $72.8 million private jet.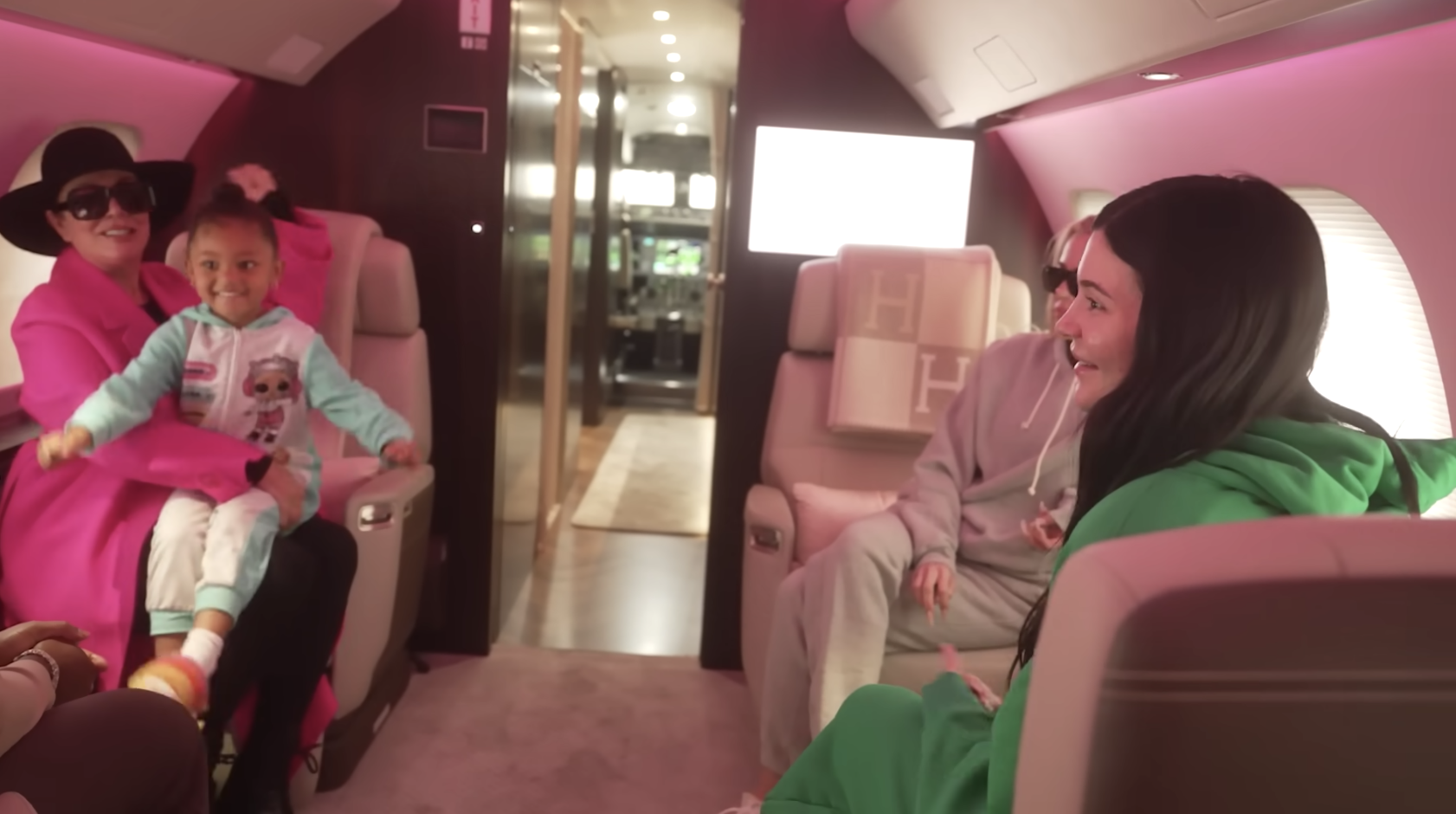 The billionaire's followers didn't believe that the shopping trip was authentic, and many pointed out that she had seemingly shut down the store for a private experience as it appeared to be completely empty in her video.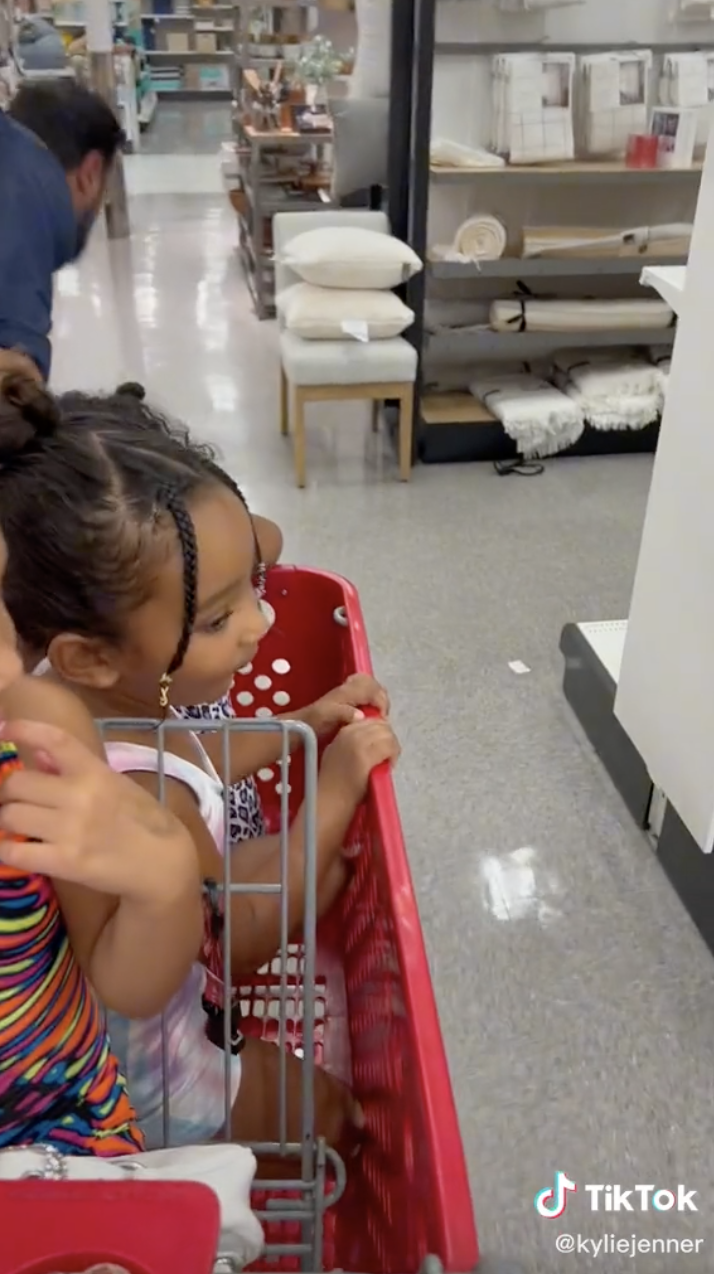 "Shop with a store full of normal people so I know it's real," one person commented at the time.