Ever since the Met Gala in May, Kim Kardashian has faced repeated backlash for her "obsession" with her image, with people calling the star a "horrible role model" and accusing her of pushing a "dangerous" message to her impressionable fans.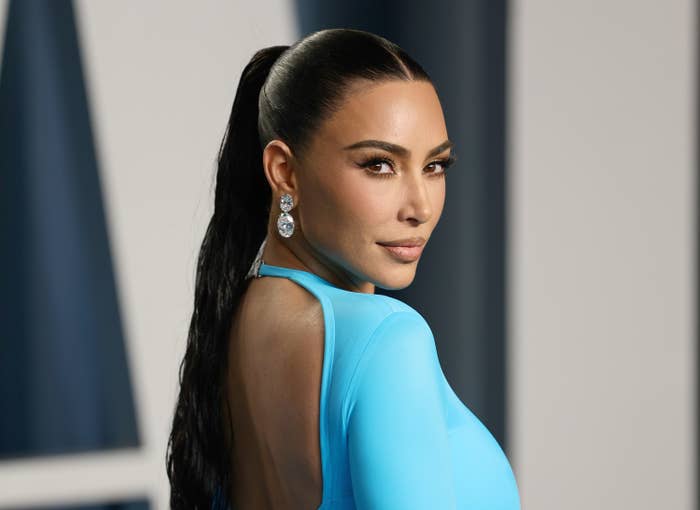 It all started when she revealed that she'd lost an extreme amount of weight in a short period of time so that she could fit into Marilyn Monroe's dress for the prestigious event.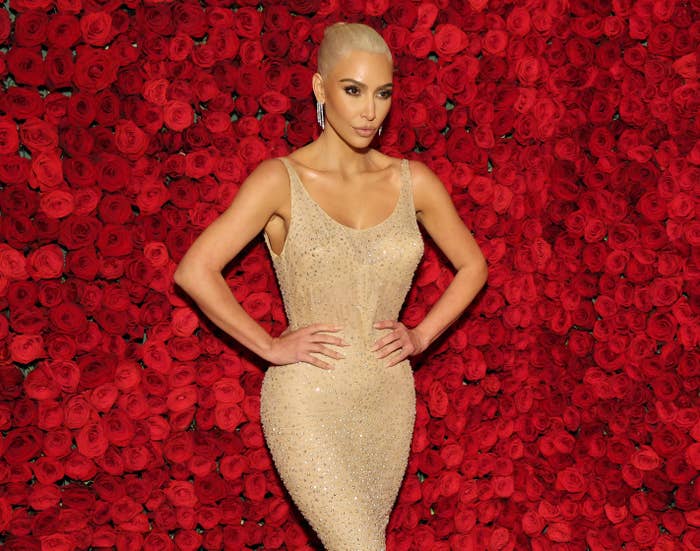 On the red carpet, Kim detailed exactly how many pounds she'd lost and the measures that she took to get there after severely restricting her diet for almost a month.
Registered dietitian Elaina Efird also spoke to BuzzFeed about Kim's drastic weight loss and told us that she was setting "a terrible example," and that her words are "perpetuating eating disorders."
During an appearance on the Today show in June, Kim again spoke openly about the extra weight she'd shifted since the gala, and insisted that it was a natural side effect from her continuing to eat "really healthy."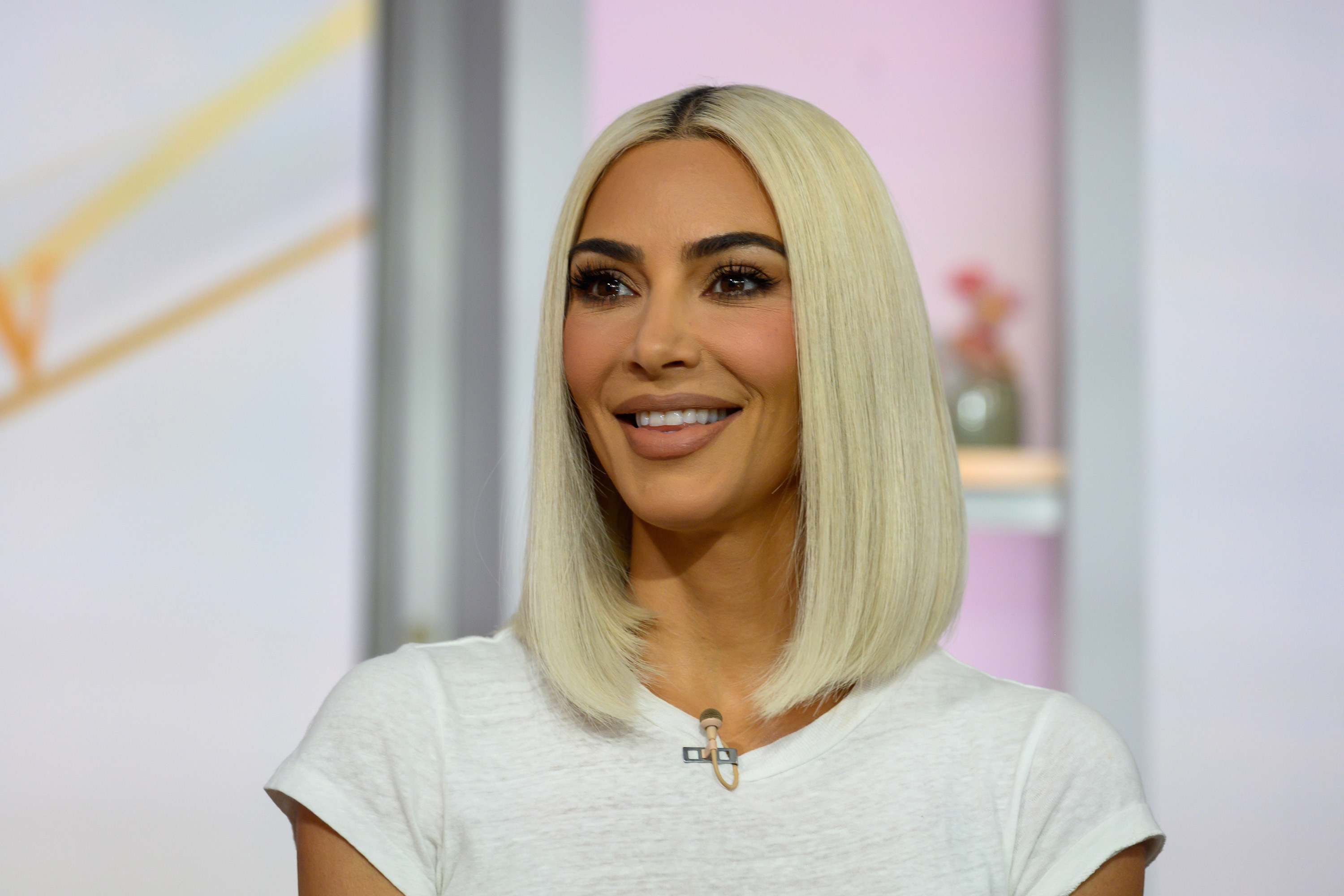 People were disappointed that Kim was still discussing her weight loss and "boasting" about getting slimmer despite being called out for how damaging that could be just weeks earlier.
On social media, many critics pointed out that even if she had lost weight, it is irresponsible for her to publicly talk about it at such length considering her large platform.
Shortly afterward, Kim admitted that she cared so much about her looks that she would "eat poop every single day" if it helped her defy aging.
She doubled down on her bold claim in another interview, telling Allure at the time: "I really, genuinely care about looking good. I probably care more than 90% of the people on this planet."
In the same chat, Kim sparked backlash when she insisted that her beauty standards are "attainable" for other people, without acknowledging her extreme wealth and privilege that gives her access to personal trainers, personal chefs, home gyms, and cosmetic procedures.
"If I'm doing it, it's attainable," she told the publication.
"Every time she tries to make herself seem relatable she just shows how completely delusional and out of touch she is. Fuck off already," one person tweeted in response.
And in July, Kim was heavily criticized for being "obsessed" with her young children's looks after she compared a heavily edited photo of her 4-year-old daughter, Chicago, with her supermodel sister, Kendall Jenner, 26.
"I saw this and was disgusted. Imagine your mother putting so much emphasis on your beauty as a TODDLER or young child," someone commented at the time. Another added: "Oh my god. These poor kids. Can you imagine your own mother face tuning you to look more to her standard?"


Someone else simply wrote: "The way Kim is obsessed with her children's looks."

But Kim's preoccupation with being perfect appeared to cross a line on Wednesday, when she posted to her Instagram story after undergoing a full scan that analyzed her body's health.
Sharing a photo of the van where the mobile checkup took place, Kim wrote: "Look who pulled up. They measure your bone density & body fat percentage & all the good stuff to make sure you are fit and healthy."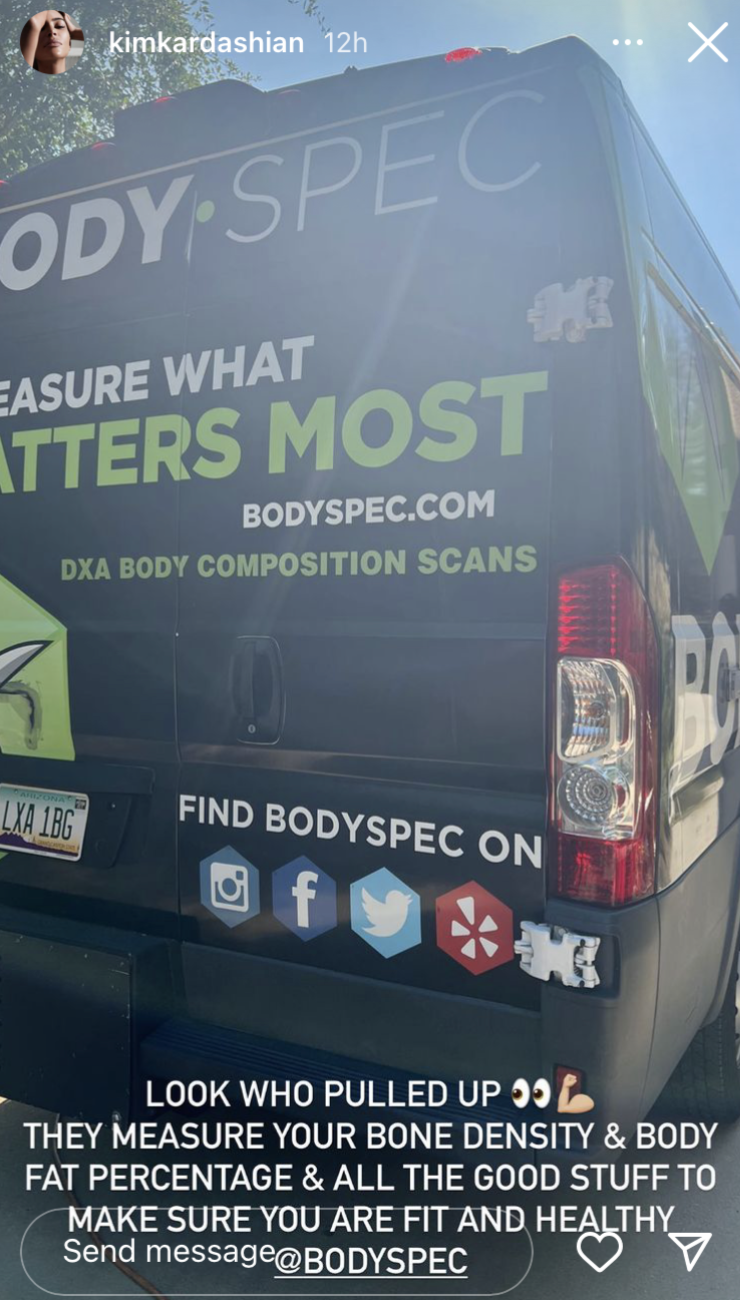 She then filmed the practitioner talking her through her results, and he said: "You have a 1.3 Z-score, you plug that into the table on the right hand side and that puts you in the 93 to 97 percentile."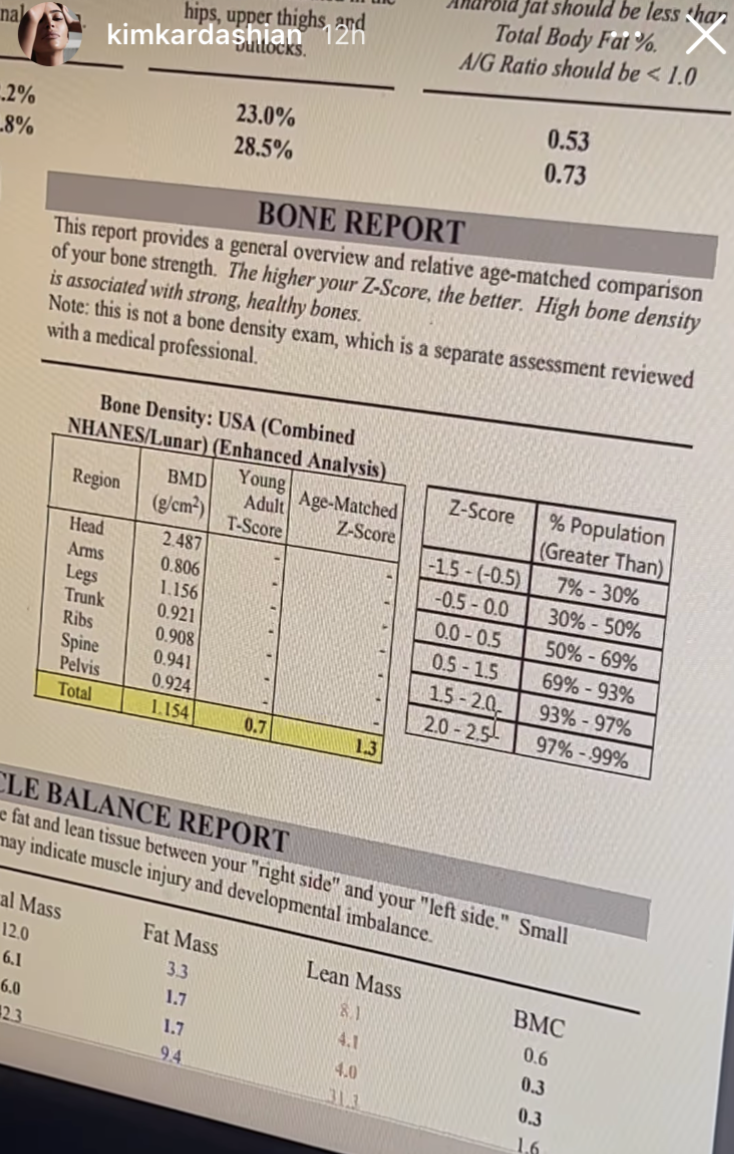 "So that means your bones are stronger than 93% of the population based on your age, gender, and ethnicity," he concluded.
But the practitioner appeared to misspeak, as the 1.3 Z-score is actually in the 69th to 93rd percentile according to the table. Seemingly oblivious to the blunder, Kim was clearly thrilled by what he said.
"You hear that?!?!!!!" she wrote alongside the clip. "My bones [are] stronger than 93-97% of people."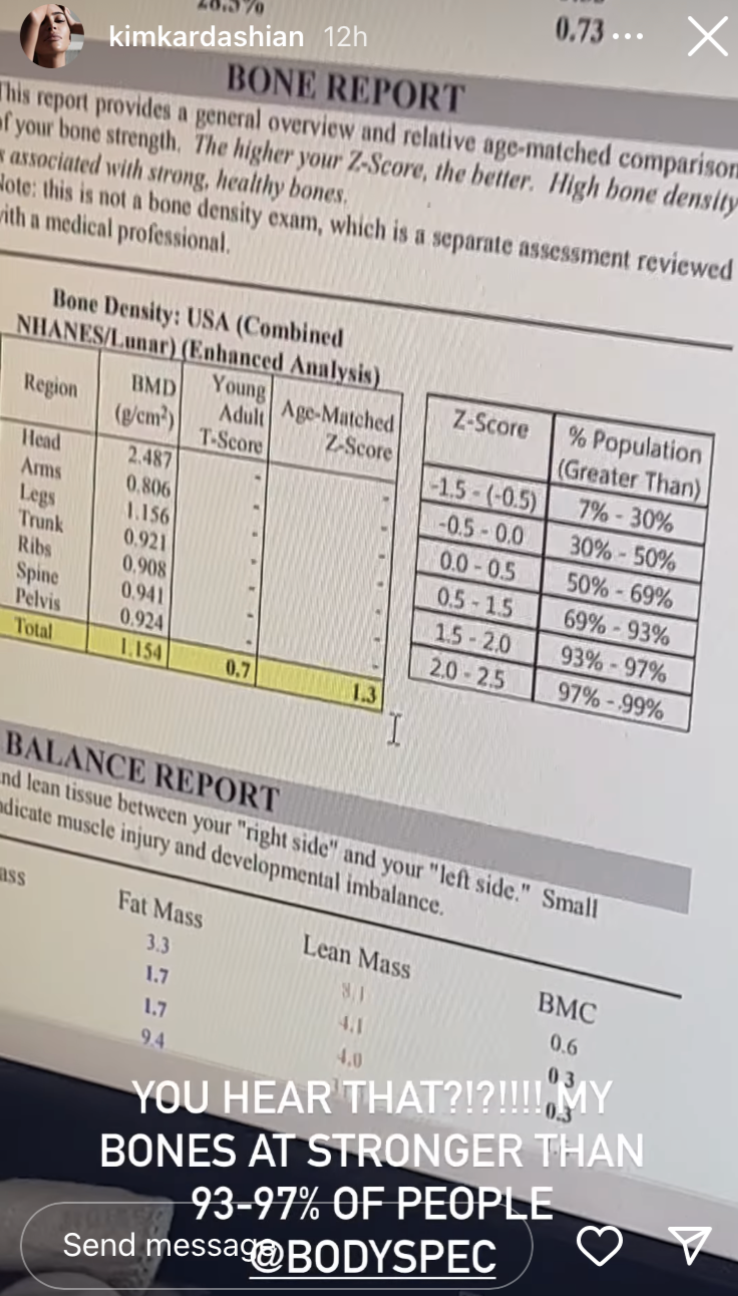 But rather than be impressed, people were baffled by Kim "bragging" about her bone density, and it didn't take long for them to start roasting her for her comments online.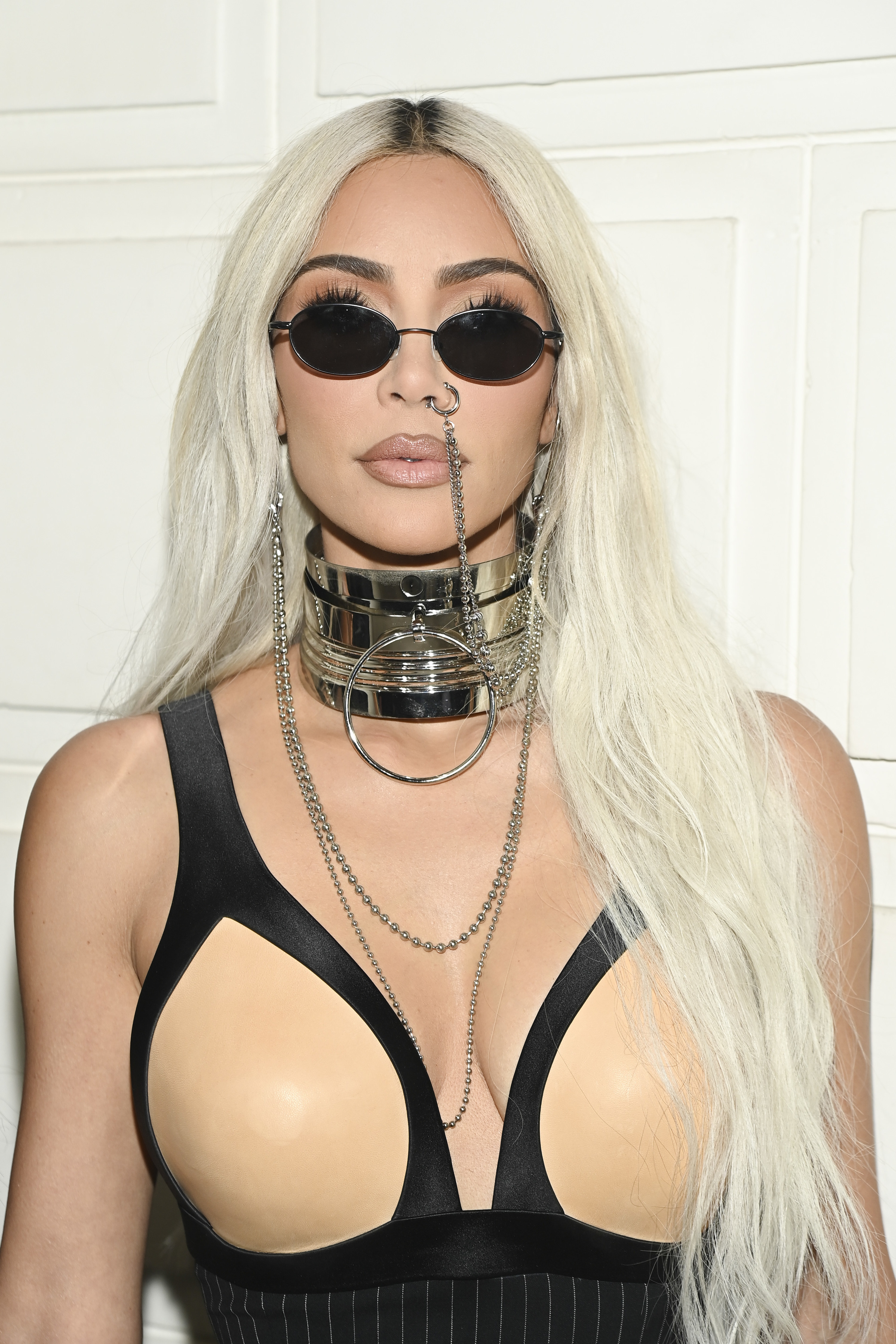 Discussing Kim's post on a Reddit forum, one person wrote: "Boasting about her bone density is something I didn't see coming even from Kim."

"In what world does someone feel the need to brag about their bone density?" another asked. One more echoed: "Literally bragging about having stronger bones than people! I'm a known Kim apologist, but this is too weird."


"So are we meant to be self conscious of .. bones now?" one user questioned. Someone else observed: "Bro she's in constant competition with the whole world 😂."


Some suggested that it was a sign that Kim is actually "insecure" and argued that it was her way of coping with getting older.
"Why is she always bragging ? She is the most insecure person alive because I literally do not give zero fucks if my bone density is better than 100% of people 🙄" a user wrote.

"It's her sad way of [coping] with aging and becoming irrelevant and out of touch," another replied. One more commented: "This is just so abnormal and sad."


Someone else mimicked: "Omg you guys my bones are better than everyone's bones like WHAT." While one person asked: "Is she ok??? What is all of this nonsense???"


In another video from the scan's results, Kim appeared to be pleased with herself as she told followers that she'd shed almost 7% from her total body fat percentage since last year's checkup, and the practitioner said that her new percentage puts her in the "athlete's category."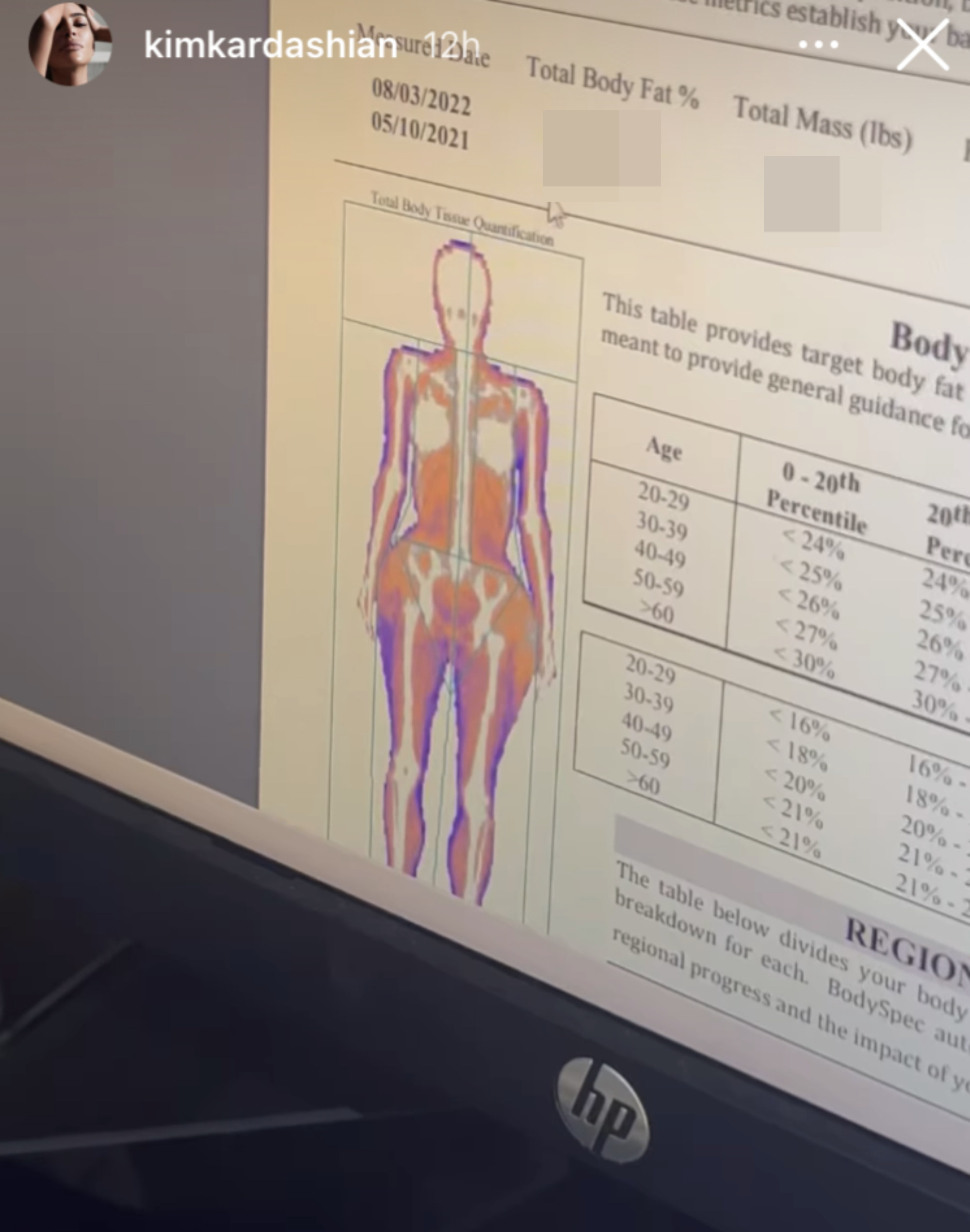 And after months of the star being called out for her "triggering" comments about weight loss, people were hugely disappointed to see her sharing exact details of her weight and body fat — which BuzzFeed News obscured — once again.
"She definitely only posted this to subtly flex her body fat percentage," one person wrote.
"Speaking as someone with an ED this is so triggering for some people.." another added. "Why would she include all her numbers like that?! yikes."

"The body checking is getting really out of hand," a third agreed.

And considering this is far from the first time that Kim has been called out for her behavior in recent months, I have a feeling that it is unlikely to stop any time soon.