On Saturday, Jonah Hill's ex girlfriend Sarah Brady accused the actor of "emotional abuse" as she shared several screenshots of their text exchanges during their relationship.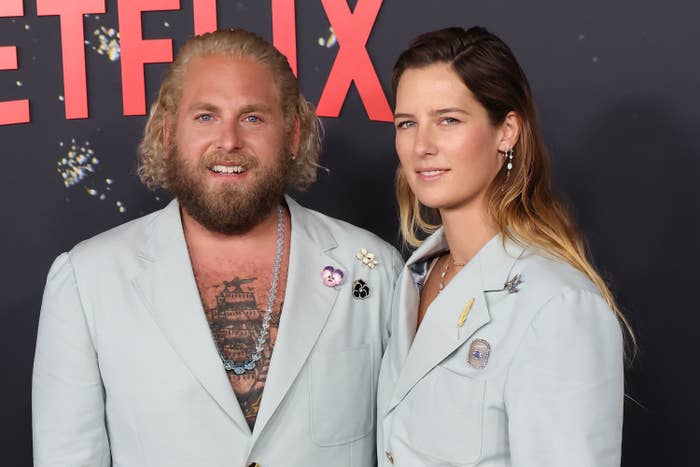 The former couple started dating in August 2021 and made their red carpet debut at the Don't Look Up premiere in December of that year, splitting in early 2022.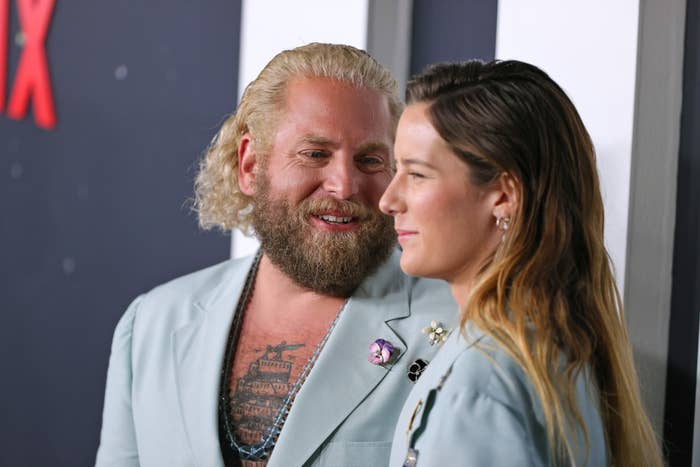 In the screenshots, which Sarah posted on her Instagram Story, a contact that is saved in her phone as "Jonah" can be seen making a list of demands of the semi-professional surfer.
These include her being expected to delete any photos and videos of herself in swimwear from her Instagram profile. The texts also detail the sender's "boundaries" if Sarah wants to remain in a "romantic partnership" with him.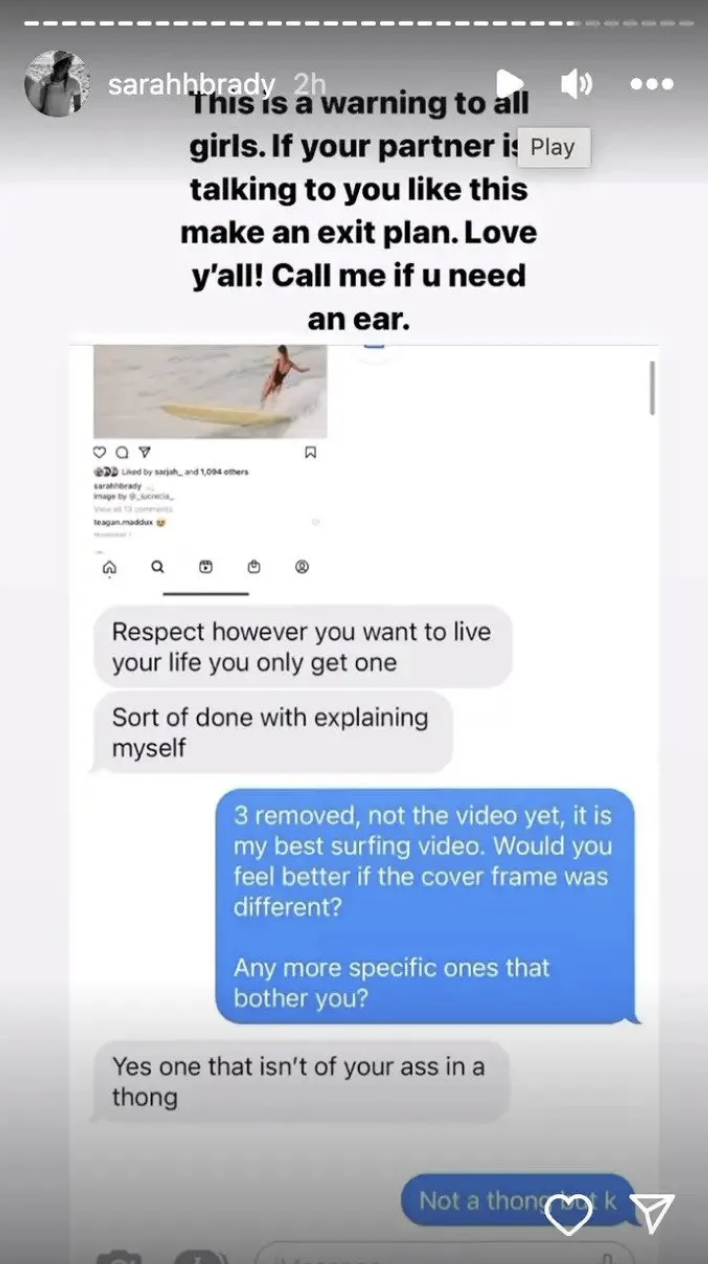 These "boundaries" included Sarah not surfing with men, not having "boundaryless inappropriate friendships with men," not modeling, and not having "friendships with women who are in unstable places" unless it's limited to "getting a lunch or coffee or something respectful."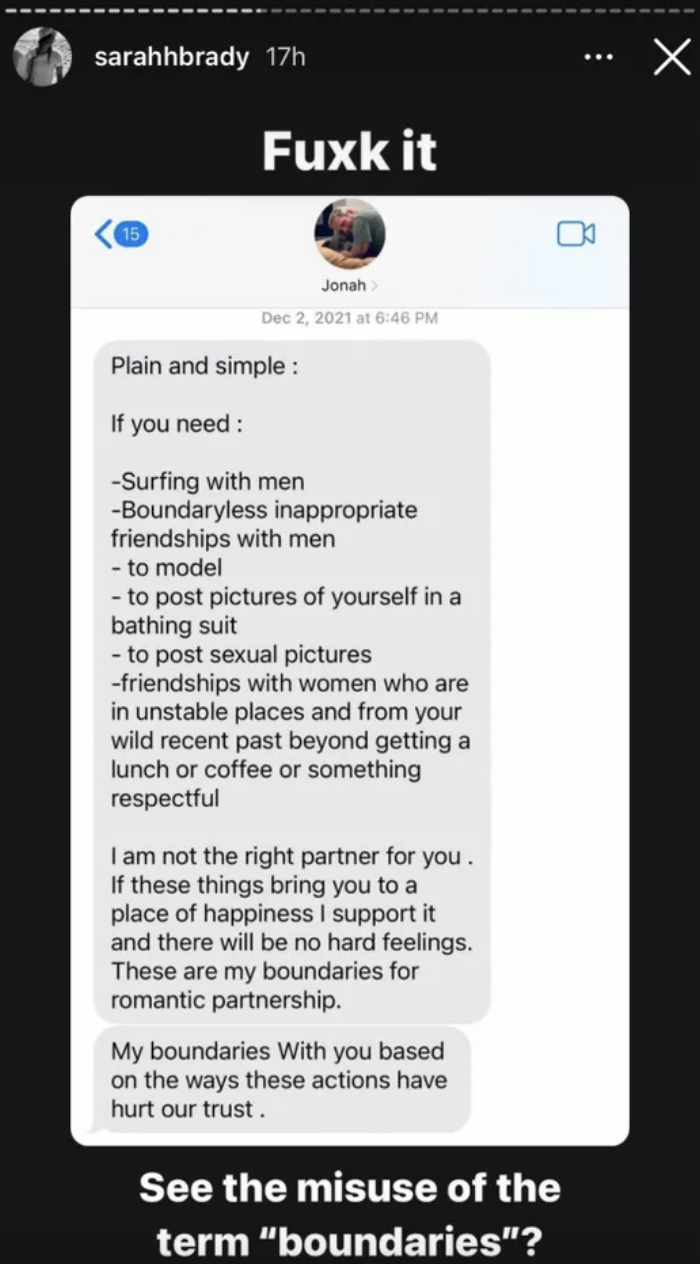 Before long, Sarah's shock exposé was being shared across social media as the language used in Jonah's apparent texts sparked an important conversation about weaponizing "therapy talk."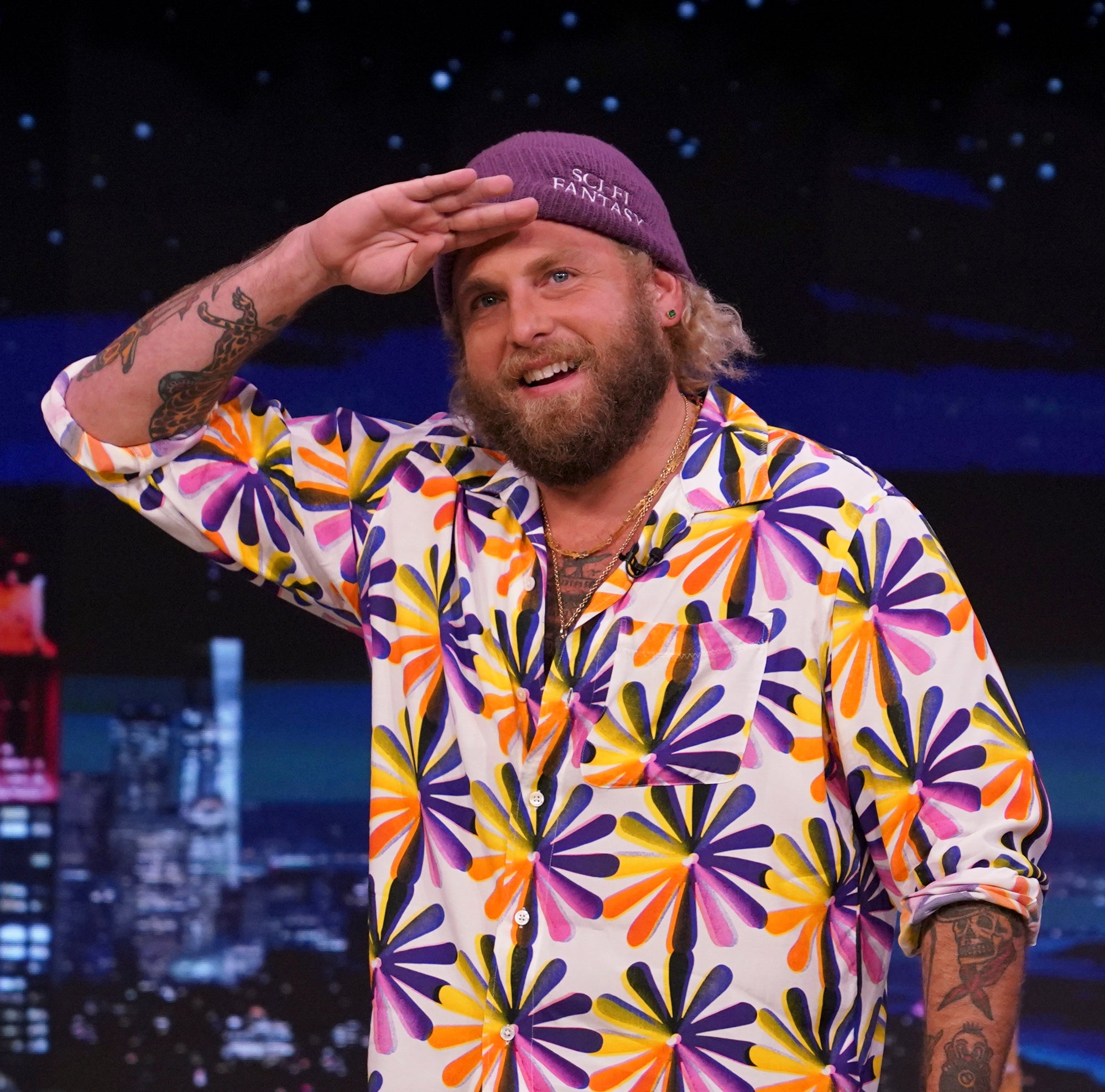 Explaining why she'd decided to share the texts on Instagram, Sarah said: "Keeping it to myself was causing more damage to my mental health than sharing it could ever do."
And on Monday, she returned to her social media page and specified that she'd purposefully waited until Jonah's girlfriend, Olivia Millar, had given birth to their baby so as not to cause undue stress while Olivia was pregnant.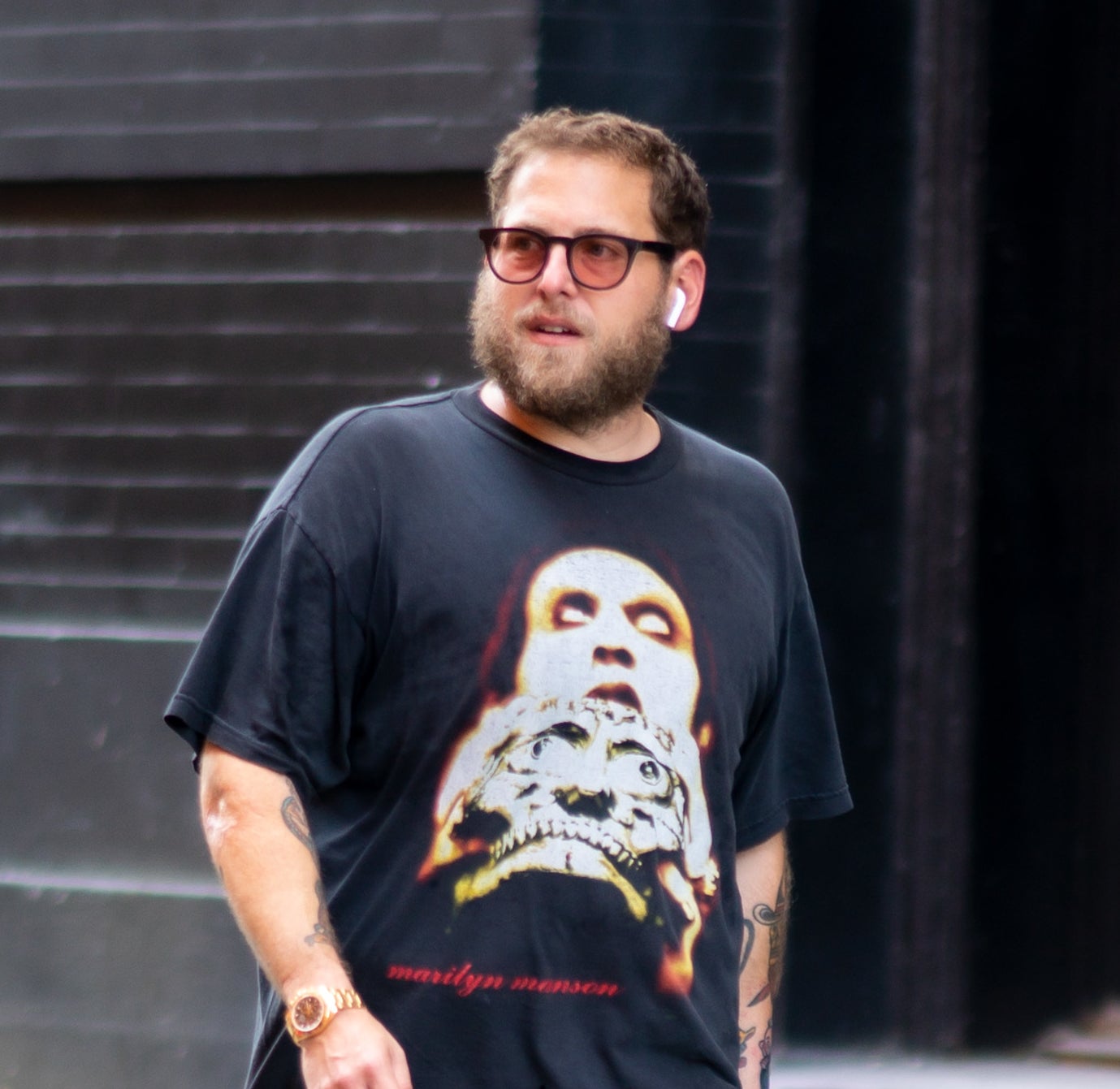 Sarah also shared some more screenshots that add extra context to the situation, including an insight into messages that she'd sent to her inner circle that suggest she had remained good friends with Jonah for six months after their split.
"He kept me on as a close emotional confidant after the break up was, Sexting me on July 13 2022, visited me at my apartment in my hometown early August 2022, and then waited till a week after I moved to Hawaii for law school to send me a text being like btw I'm in a new relationship," she added.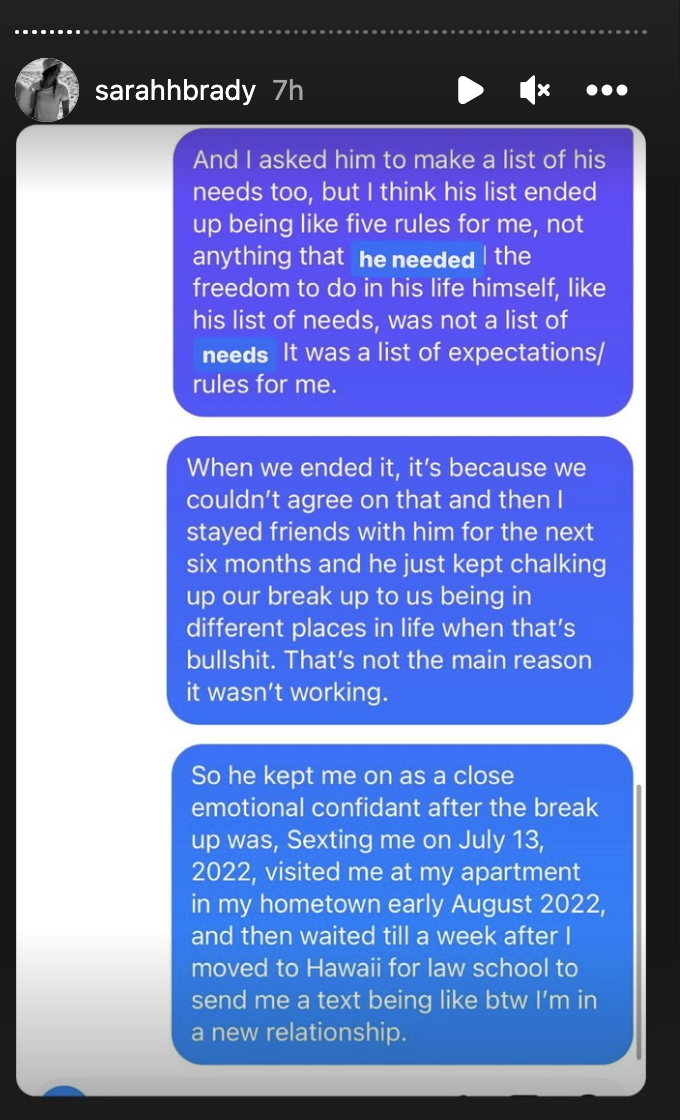 In an alleged exchange from less than a year ago, Jonah can be seen asking if Sarah is around for a catch up. A text that is dated Aug. 30, 2022 then reads: "I know I don't need to but in the spirit of pure respect to our friendship and appreciation for each other I did want to be transparent that I did start dating someone recently. I'm sorry if that is painful it just happened and I didn't want to not be transparent with you ever as I care about you."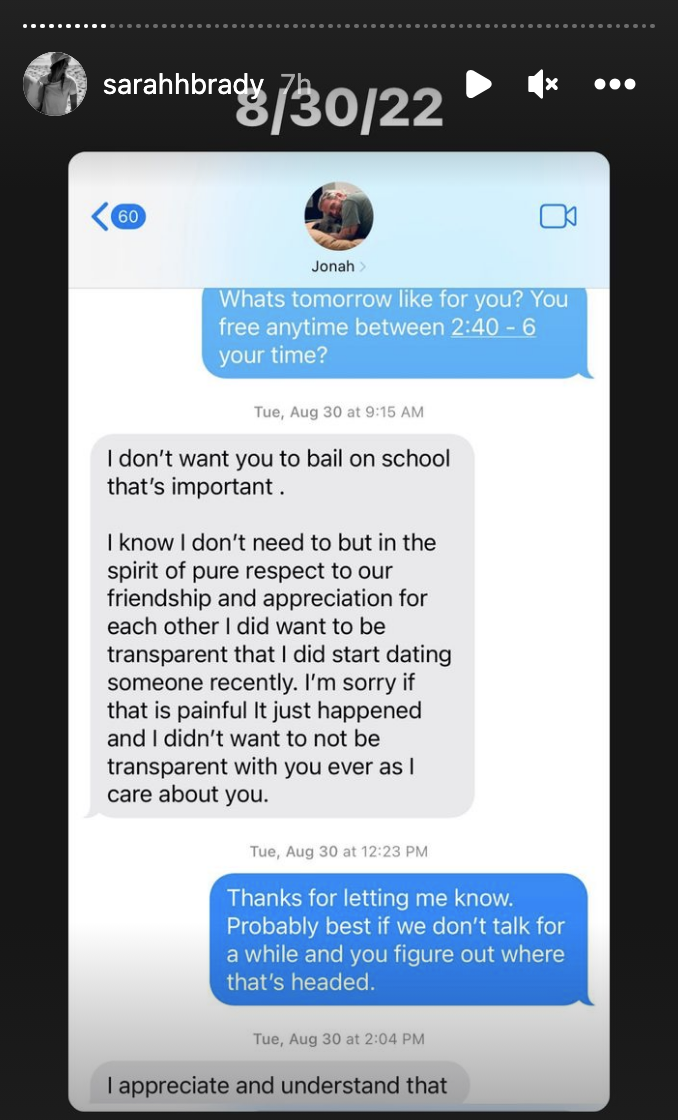 Later that same day, Sarah shared paparazzi photos of Jonah kissing Olivia on the beach — with Olivia being mistakenly identified as Sarah at the time. She said alongside the picture: "Impressive turnaround time btw" before asking Jonah to tell his publicist that it isn't her that he is kissing.
The following day, Aug. 31, 2022, Sarah text: "Not that it's really my business but out of my own personal chicks before dicks code if that's headed anywhere other than hookup or fling I'd appreciate if you make that woman aware of how recently you've been flirting with me, sexting me, and leaning on me for partner level emotional support."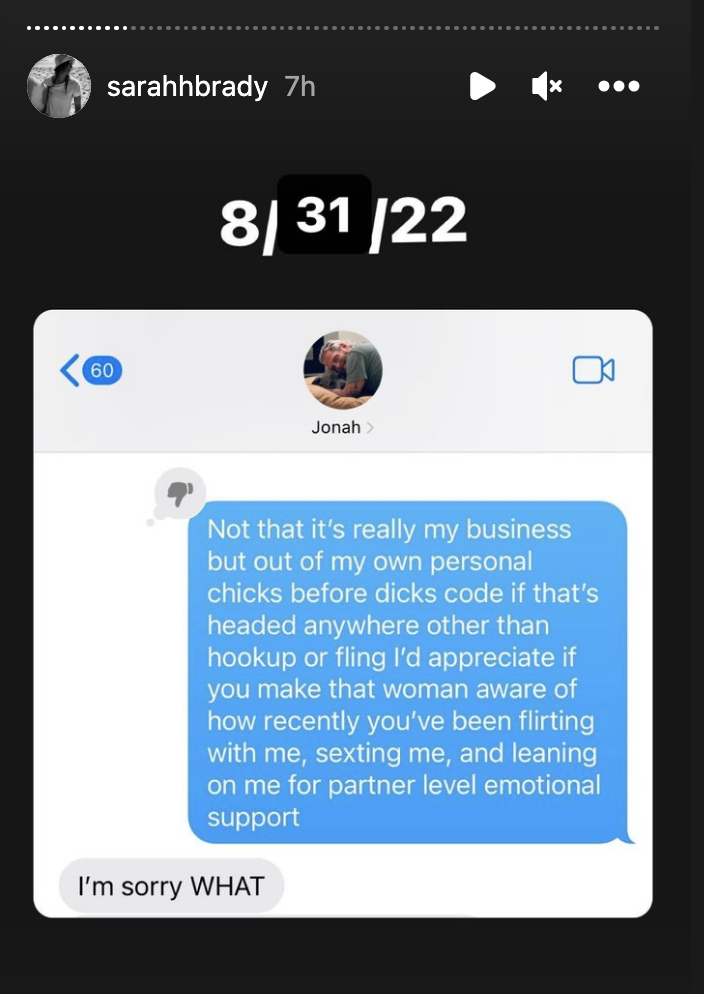 Jonah appeared to react to this message with a thumbs-down emoji before writing: "I'm sorry WHAT. I have been there for YOU as a friend which I have made very clear."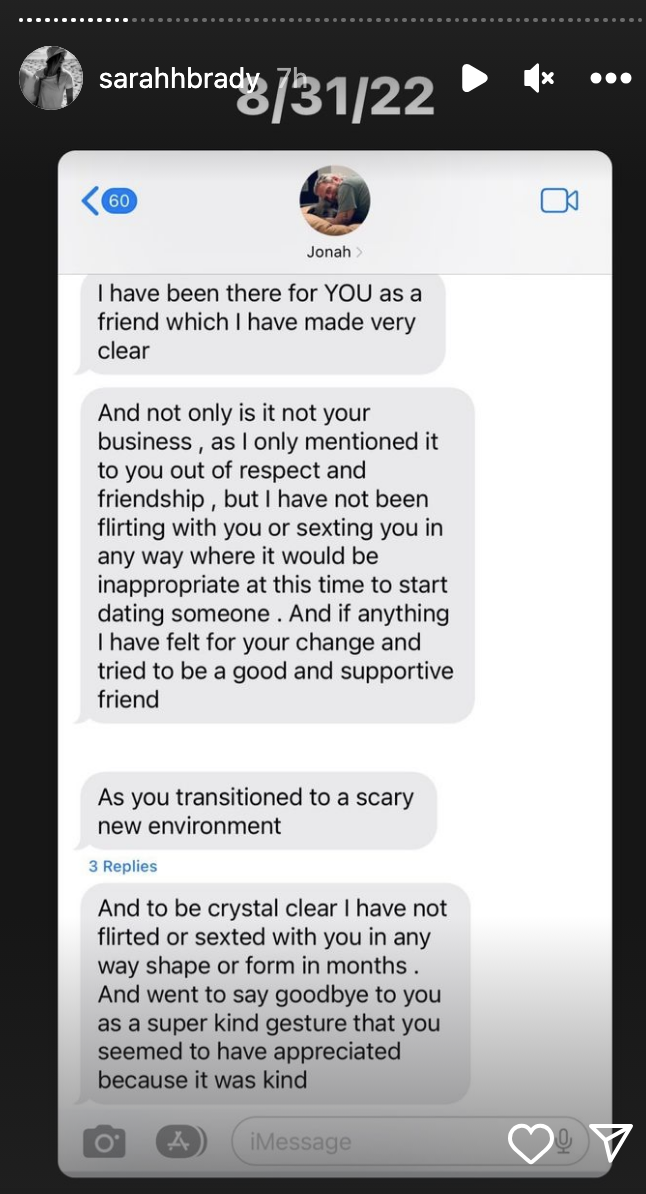 "And not only is it not your business, as I only mentioned it to you out of respect and friendship, but I have not been flirting with you or sexting you in any way where it would be inappropriate at this time to start dating someone," the messages go on. "And if anything I have felt for your change and tried to be a good and supportive friend."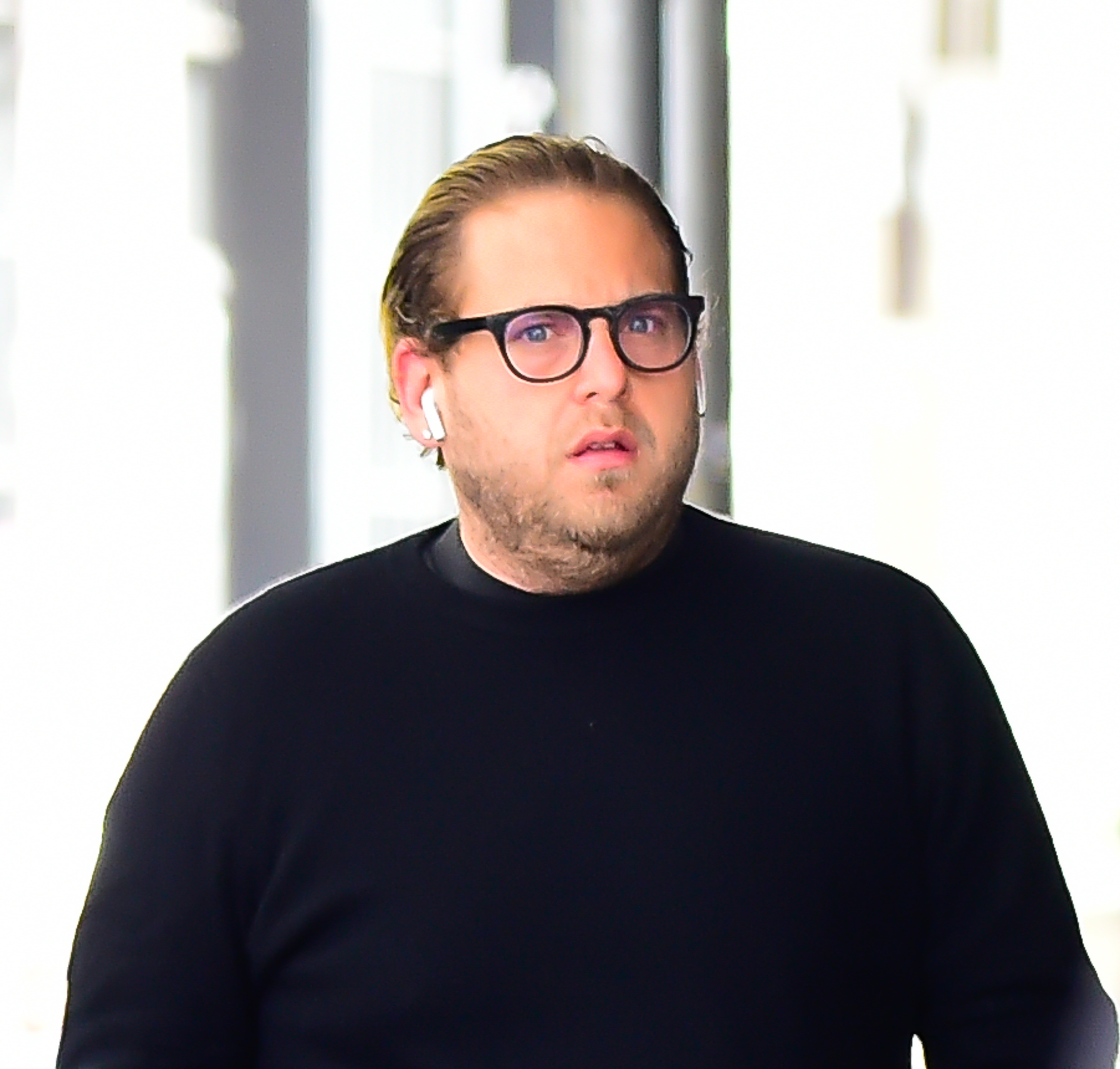 "And to be crystal clear I have not flirted or sexted with you in any way shape or form in months," another message reads. "And went to say goodbye to you as a super kind gesture that you seemed to have appreciated because it was kind."
Later texts tell Sarah "don't ruin all the kindness" and "you're better than that."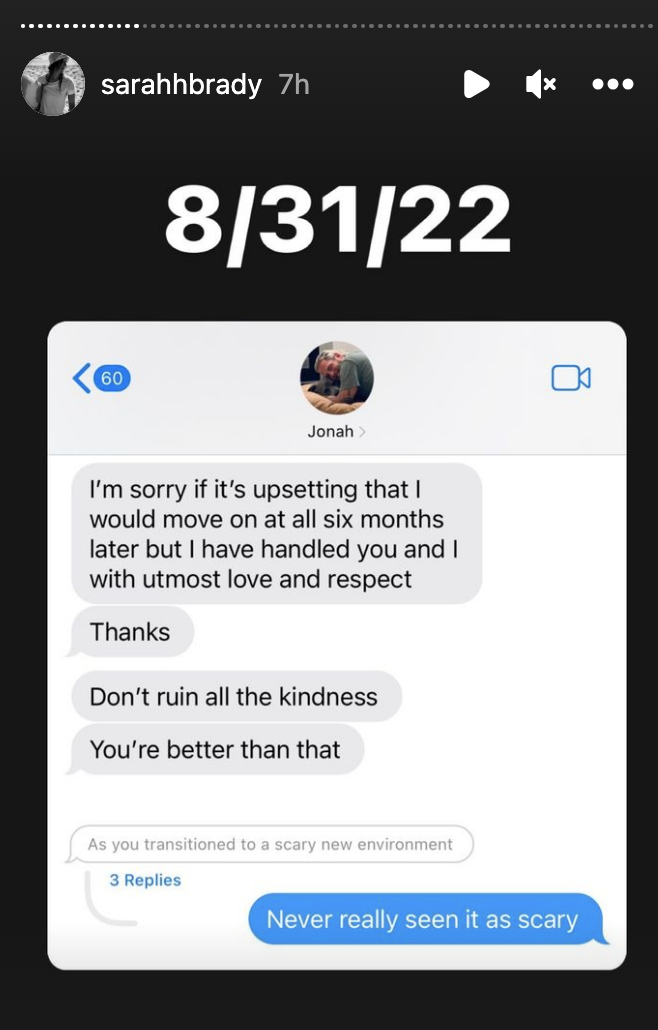 Sarah is then seen privately sharing a screenshot of a censored NSFW message that was seemingly sent by Jonah just weeks earlier, she has circled the date on the text which is Jul. 13, 2022.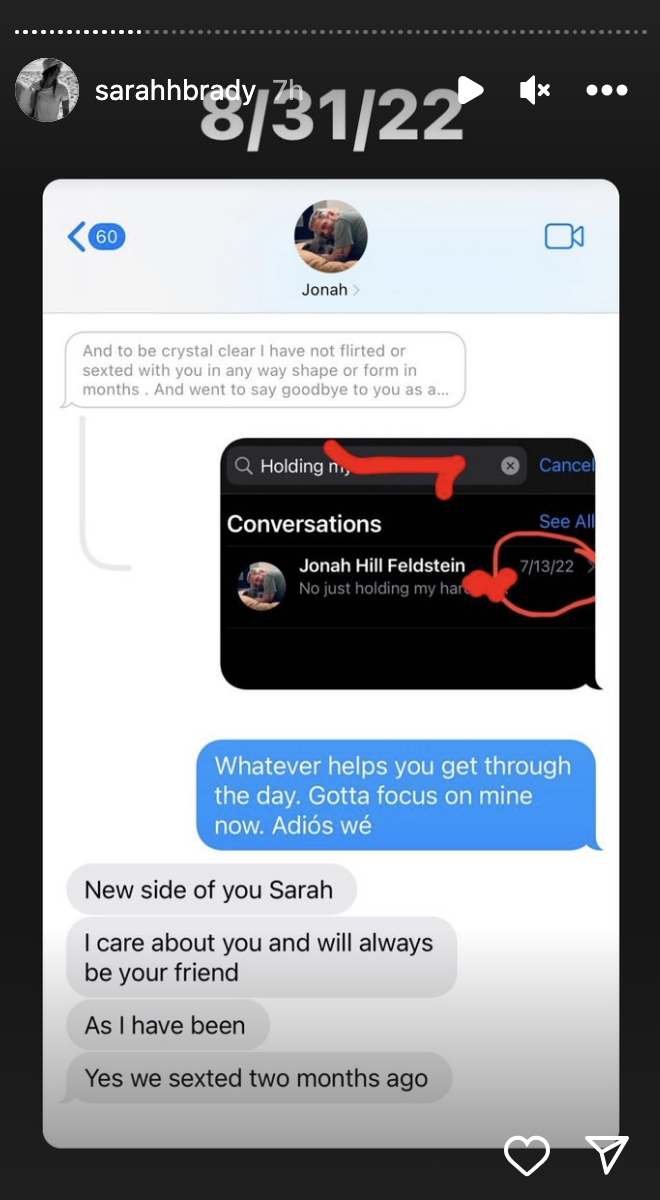 Jonah apparently responded by saying that her sending him a screenshot of one of his past texts was a "huge triggering violation" and "breach of trust."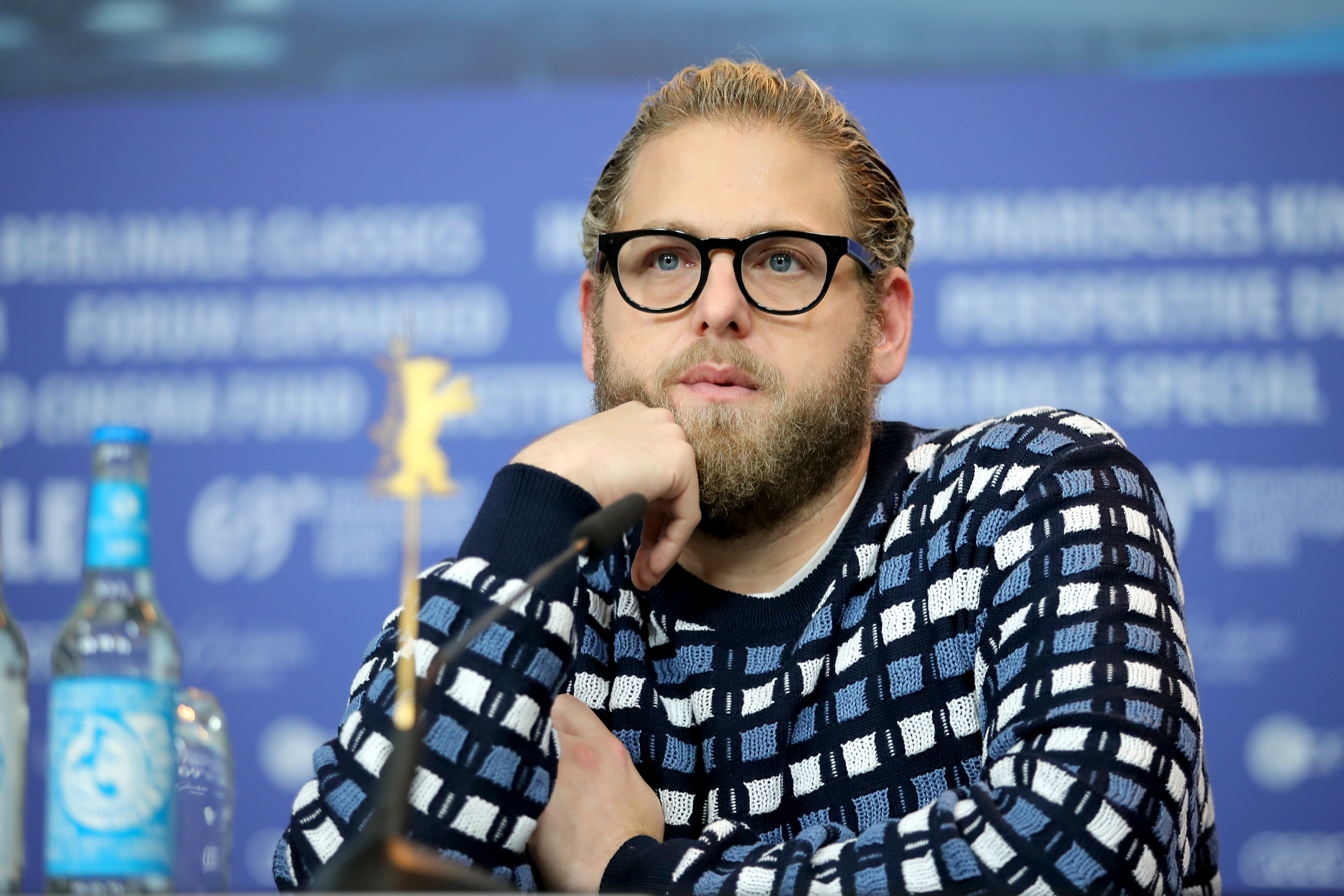 "Screenshotting intimate texts between us is a huge triggering violation for me and breach of trust as a friend as I have explained to you about breaches of trust I have had between trusted friends recently that have caused me trauma," his alleged message begins. "I am incredibly hurt and feel a lack of safety where I have always trusted you."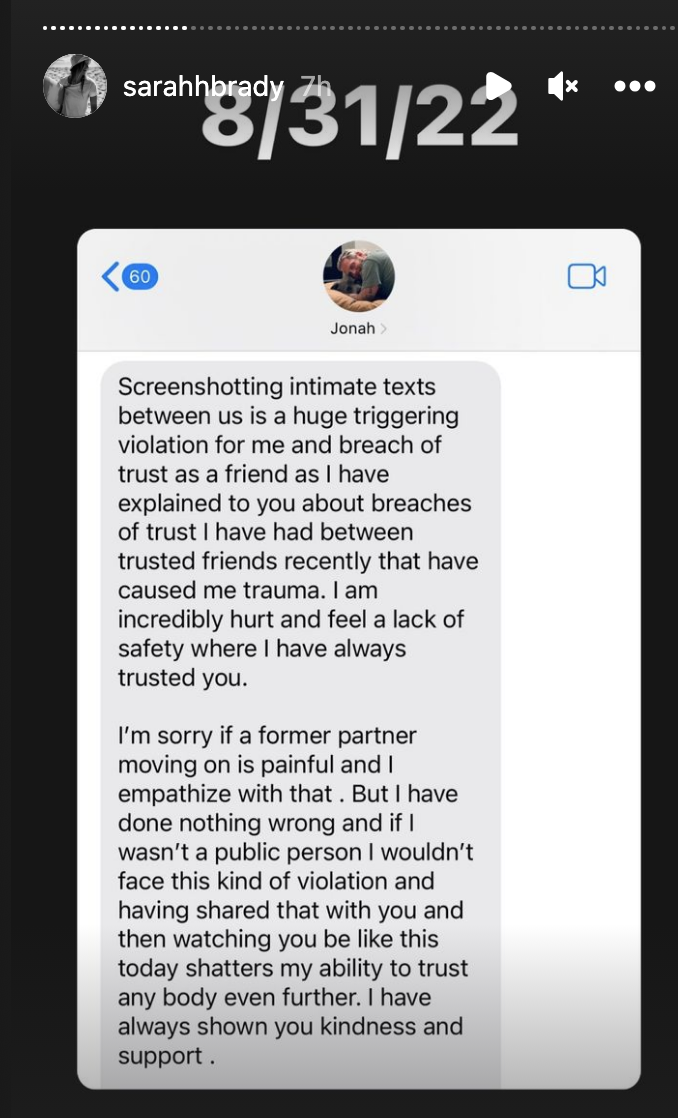 "I'm sorry if a former partner moving on is painful and I empathize with that. But I have done nothing wrong and if I wasn't a public person I wouldn't face this kind of violation and having shared that with you and then watching you be like this today shatters my ability to trust any body even further," the reply goes on. "I have always shown you kindness and support."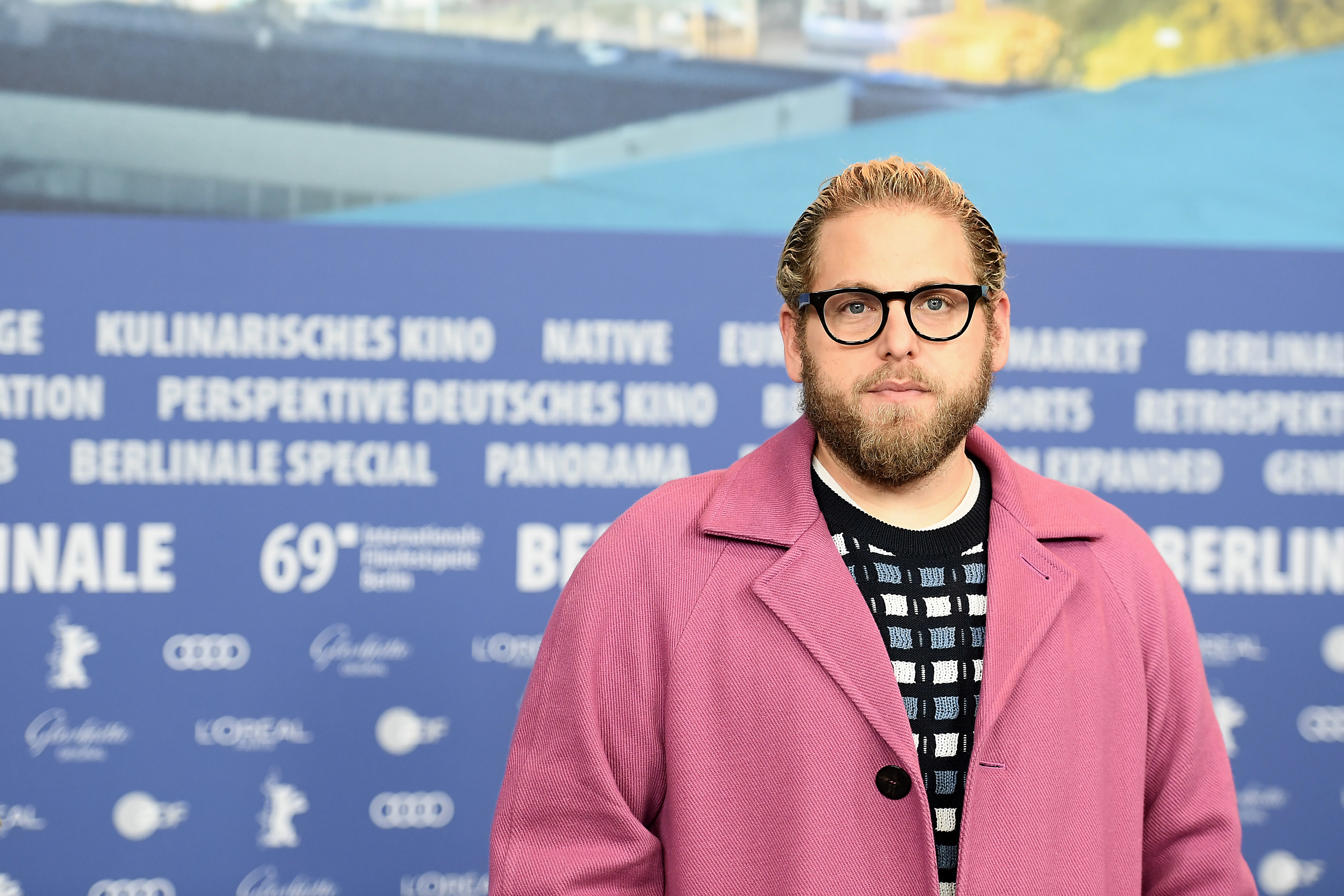 "This has really shattered my sense of faith in that you were a human I could trust. I thought we would always be friends Sarah," the stream continues. "I've done nothing wrong and I'm sorry if you're bummed but this line of texting today has really deeply let me down and broken my trust as a friend."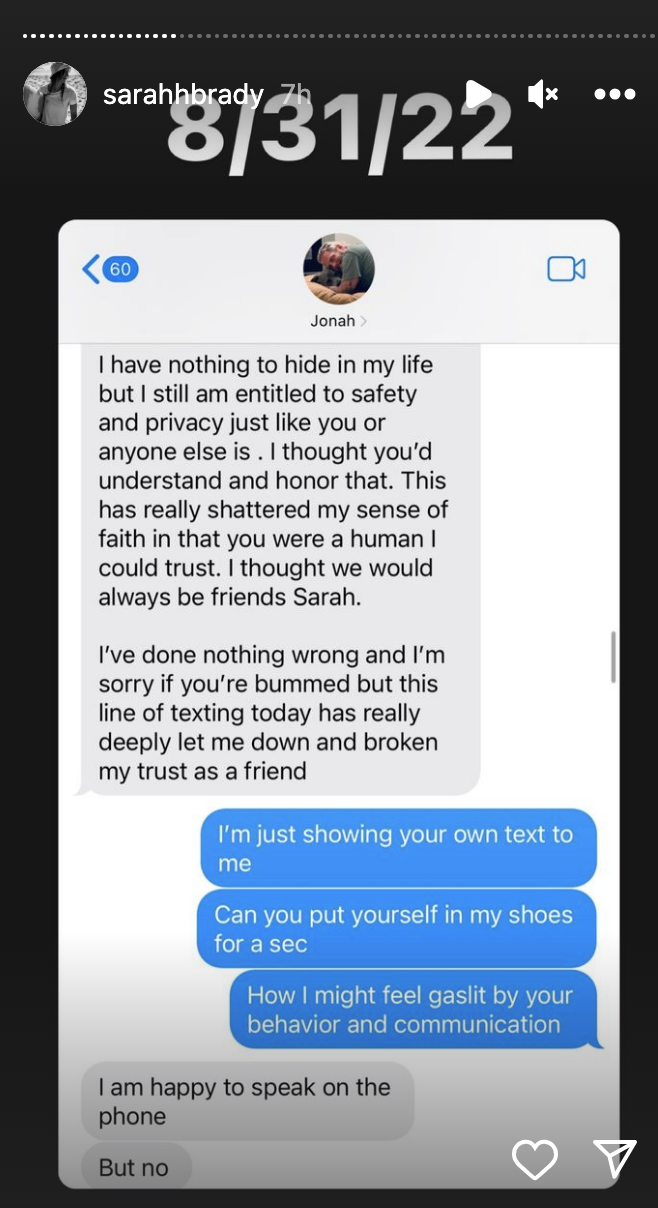 "I'm just showing your own text to me," Sarah replies. "Can you put yourself in my shoes for a sec How I might feel gaslit by your behavior and communication."
Jonah appears to respond by saying that it is "absurd" for her to "feel gaslit" when he was "being nice." The messages continue: "You are hurt that I kissed someone and am beginning to date. Fair. You have not been gaslit. You have been treated in fact incredibly both emotionally and financially."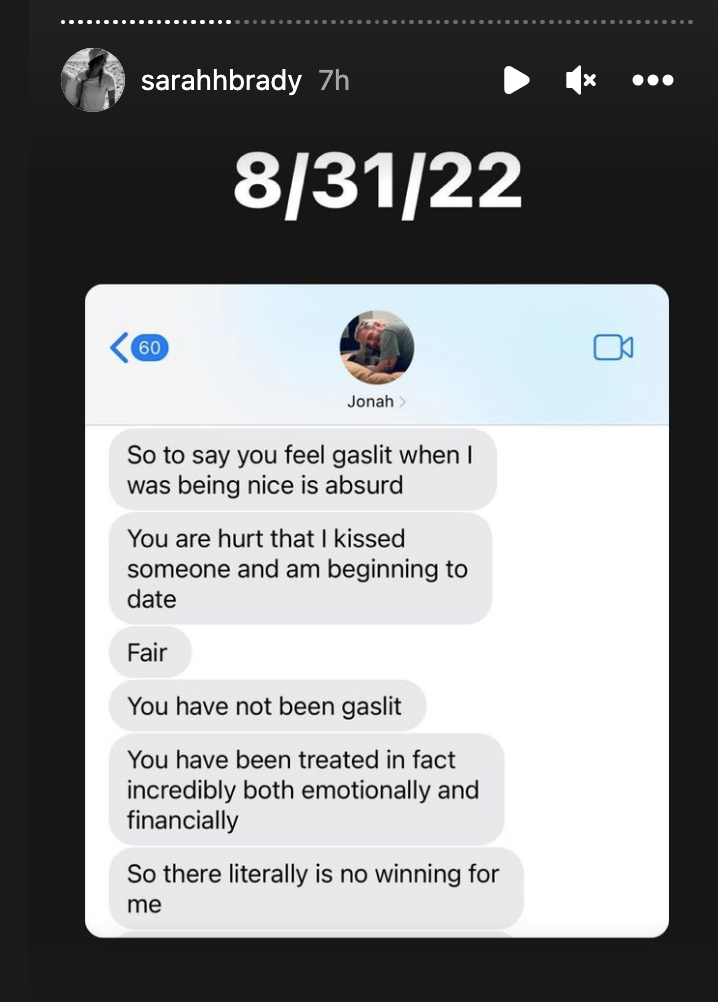 "I have treated you beautifully I'm sorry you are hurt I have been hurt by certain things you have done," another text reads. With one more adding: "As someone who claims to care about me I would think you would have seen my effort and not go and immediately victimize yourself. It sucks to see that. I wish you didn't have to."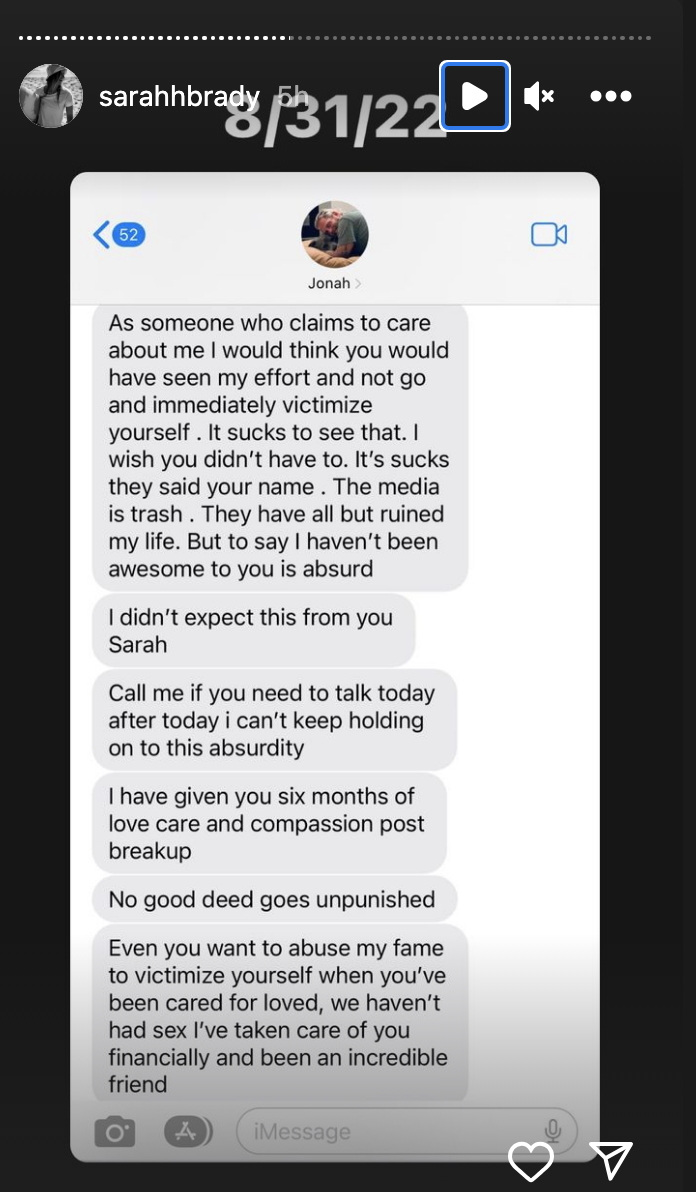 "To say I haven't been awesome to you is absurd," the messages go on. "I didn't expect this from you Sarah no good deed goes unpunished."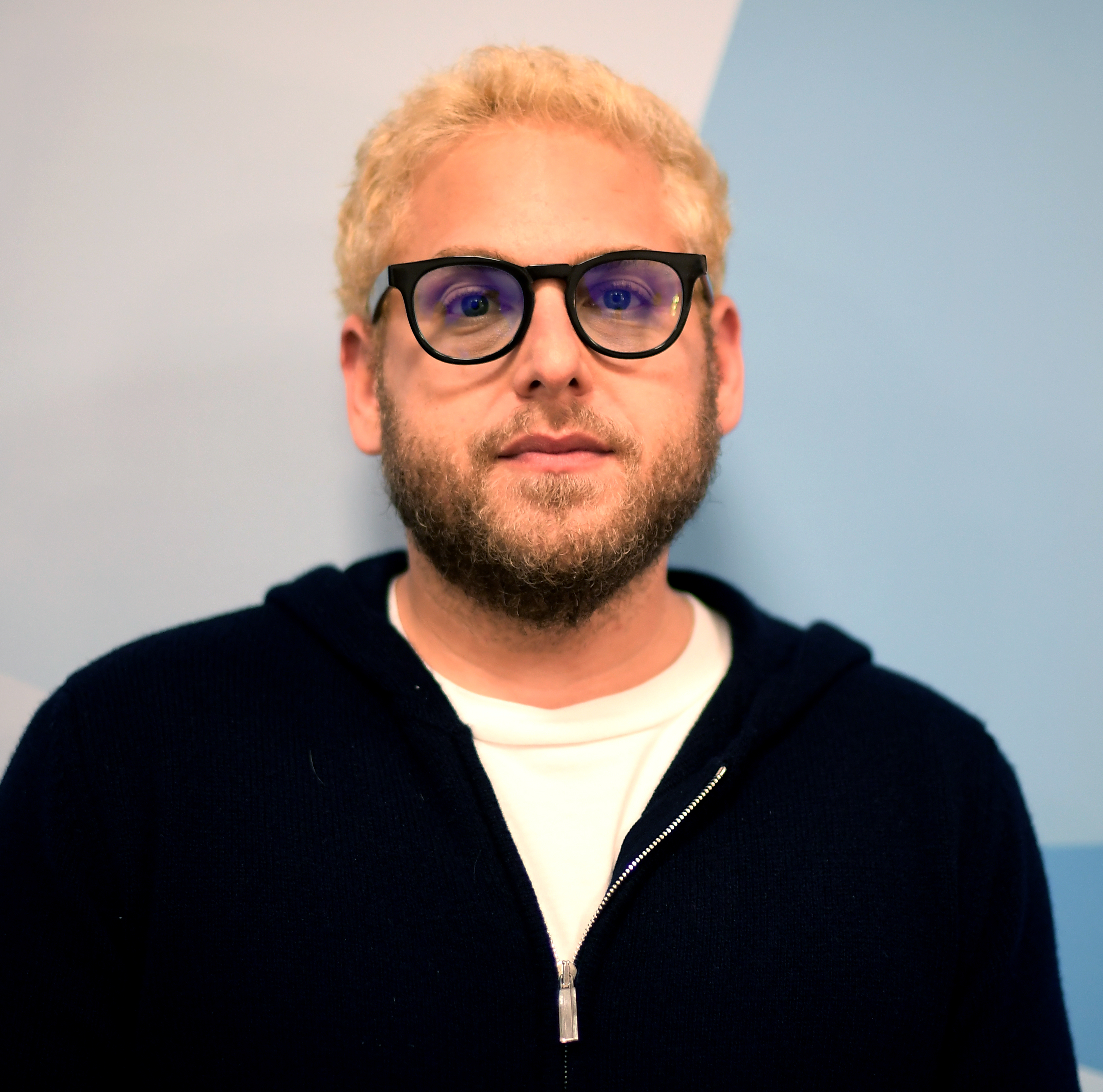 In her responses, Sarah claims that Jonah made "financial promises" to her because of the work opportunities that she'd turned down at his request.
She also says: "Sad to hear you feel used by me. I feel used by you too. I feel like an idiot for believing that the future we were planning was real, and for adjusting my life in ways that accommodated your insecurities and jealousy and codependent anxious avoidant attachment style and which left me in a less financially independent and less mentally well position than I would've been if I had never met you."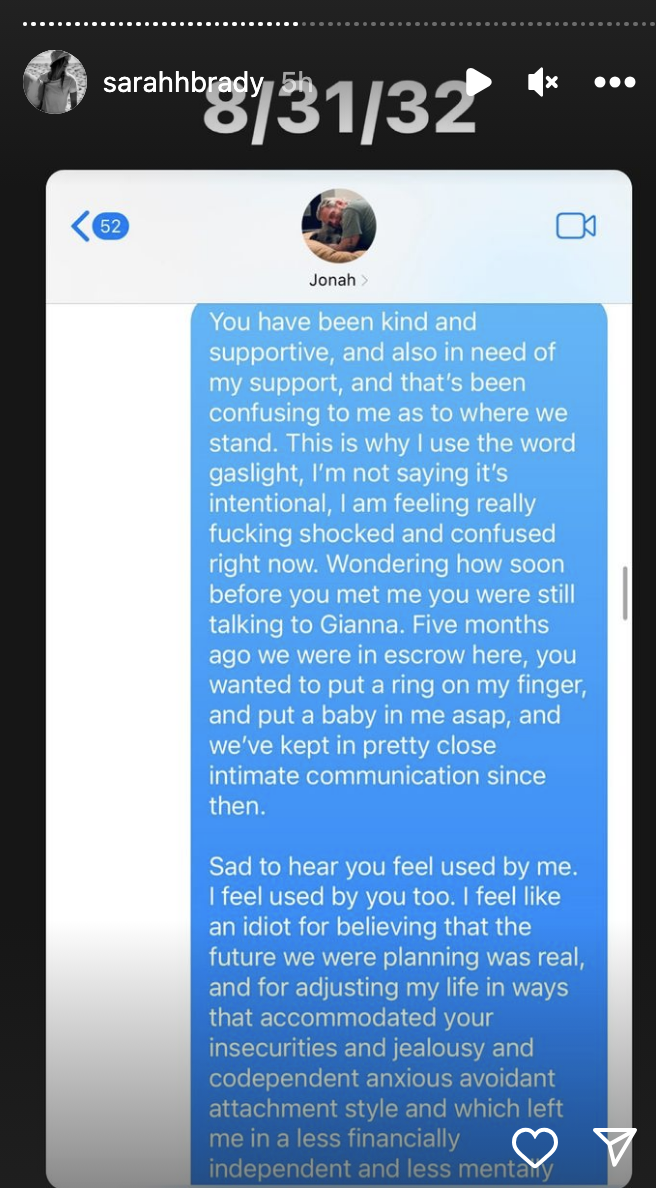 Elsewhere, Sarah writes that just five months earlier Jonah "wanted to put a ring" on her finger and get her pregnant. She adds: "We've kept in pretty close intimate communication since then."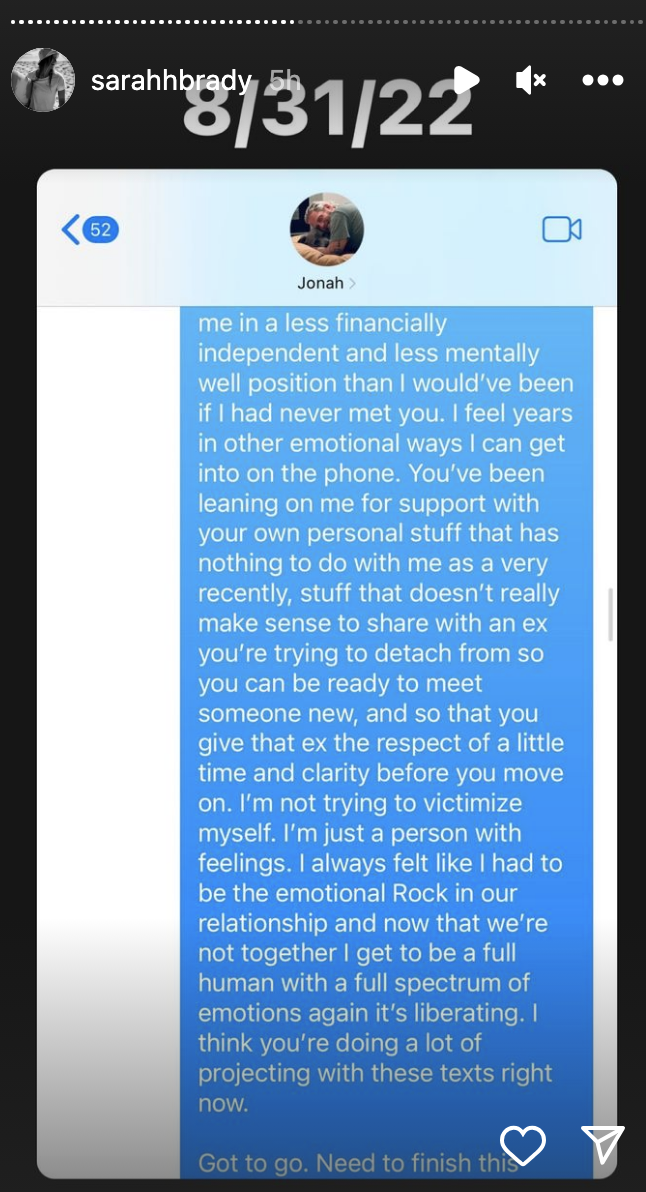 Sarah goes on to say that Jonah was "leaning" on her for support as he dealt with "personal stuff," and explains that this made her think that there "was still hope" for them as a couple and that she was "saving room" in her heart for him.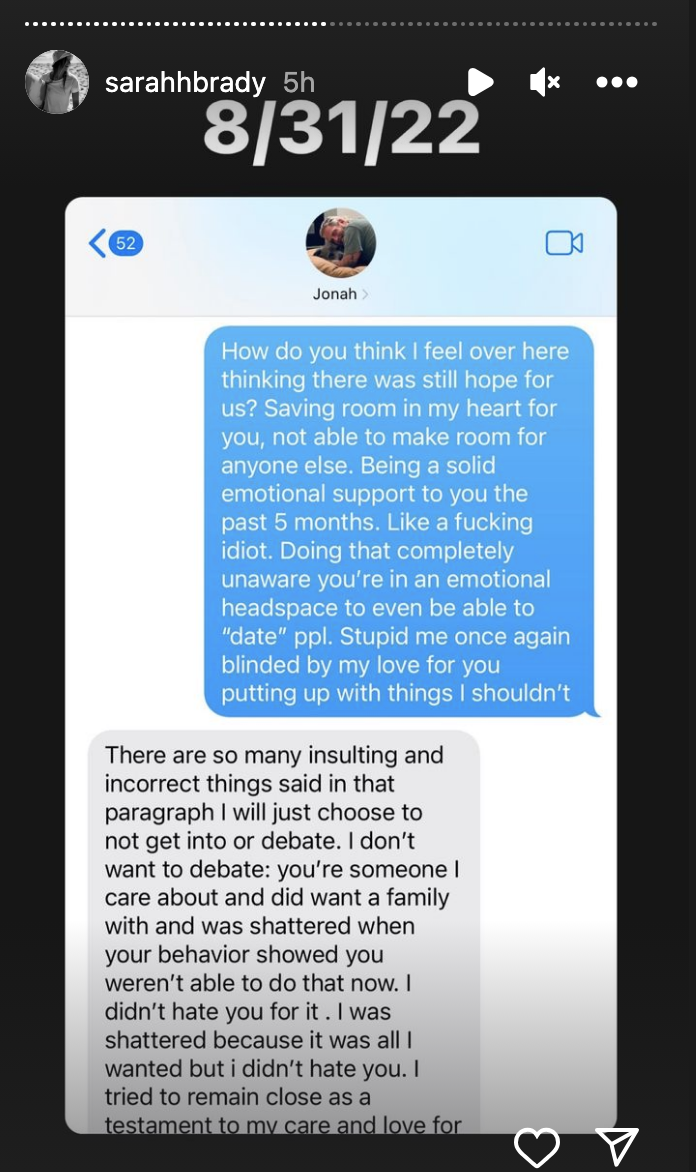 "Being a solid emotional support to you the past 5 months. Like a fucking idiot. Doing that completely unaware you're in an emotional headspace to even be able to 'date' ppl. Stupid me once again blinded by my love for you putting up with things I shouldn't," she writes.
"There are so many insulting and incorrect things said in that paragraph I will just choose to not get into a debate," Jonah's alleged reply reads. "You're someone I care about and did want a family with and was shattered when your behavior showed you weren't able to do that now. I didn't hate you for it. I was shattered because it was all I wanted but I didn't hate you."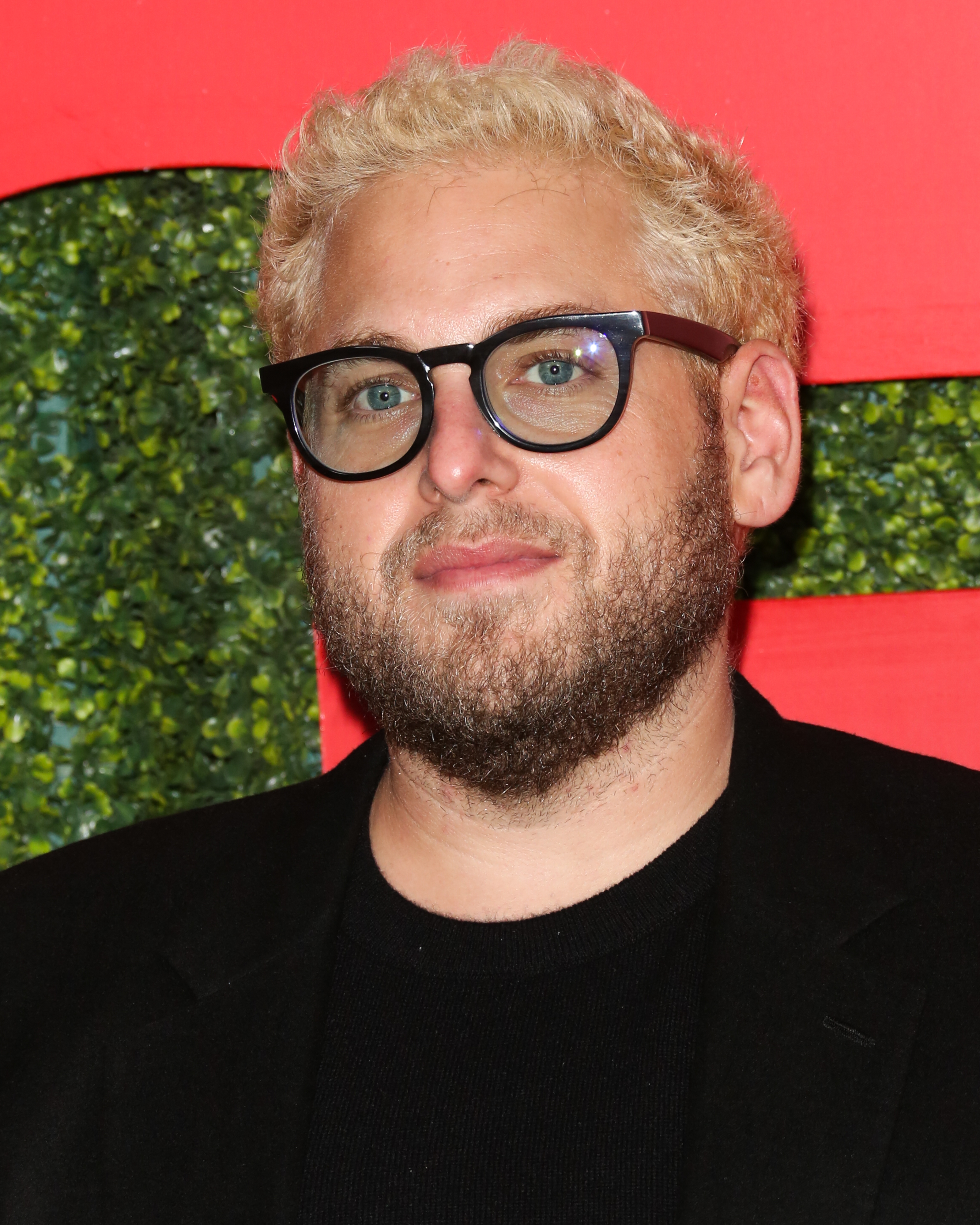 In another exchange, a message that was seemingly sent from Jonah reads: "I've given this some thought and I really understand that you are hurt and upset by your former partner moving on and dating and having your name a part of that. That must suck," to which Sarah replies: "OMG I love when you tell me how I feel instead of allowing me to express my own feelings."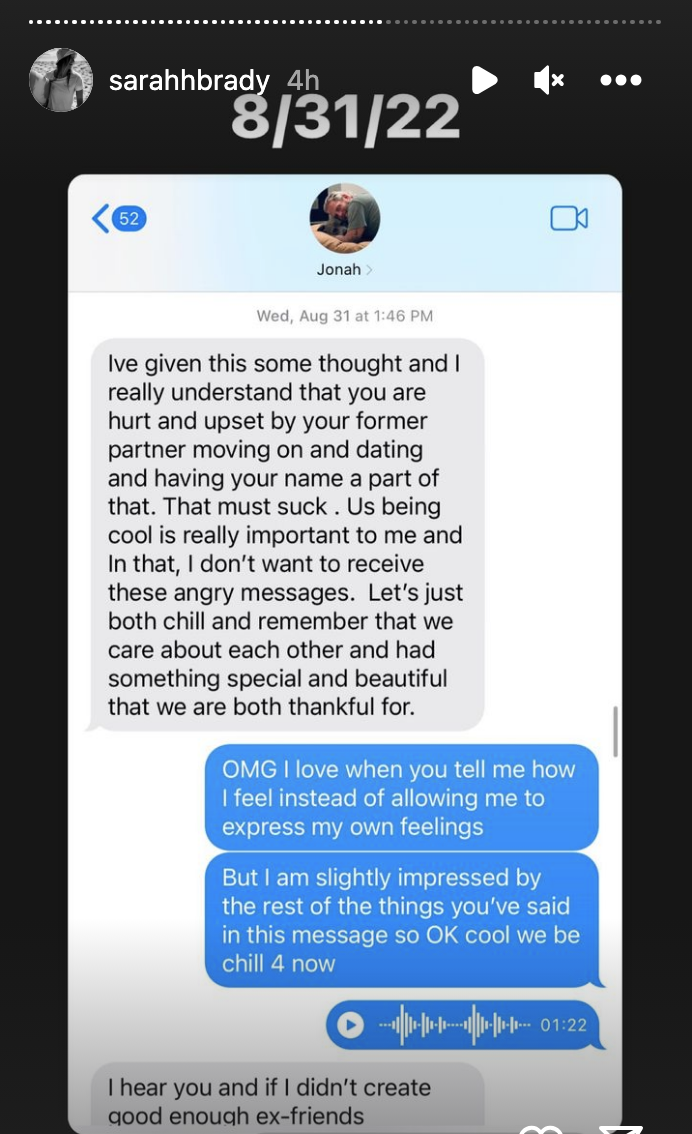 After sharing the entire Aug. 31 conversation, Sarah admitted that she didn't actually want to post the whole thing but did so because she feared being accused of taking her ex's messages out of context if she was more selective.
"I didn't want to crop any parts out just because they could make me look bad because I got upset," she explained. "There were parts of that conversation I felt I really wanted out there, but I didn't want to risk being accused of taking the texts out of context."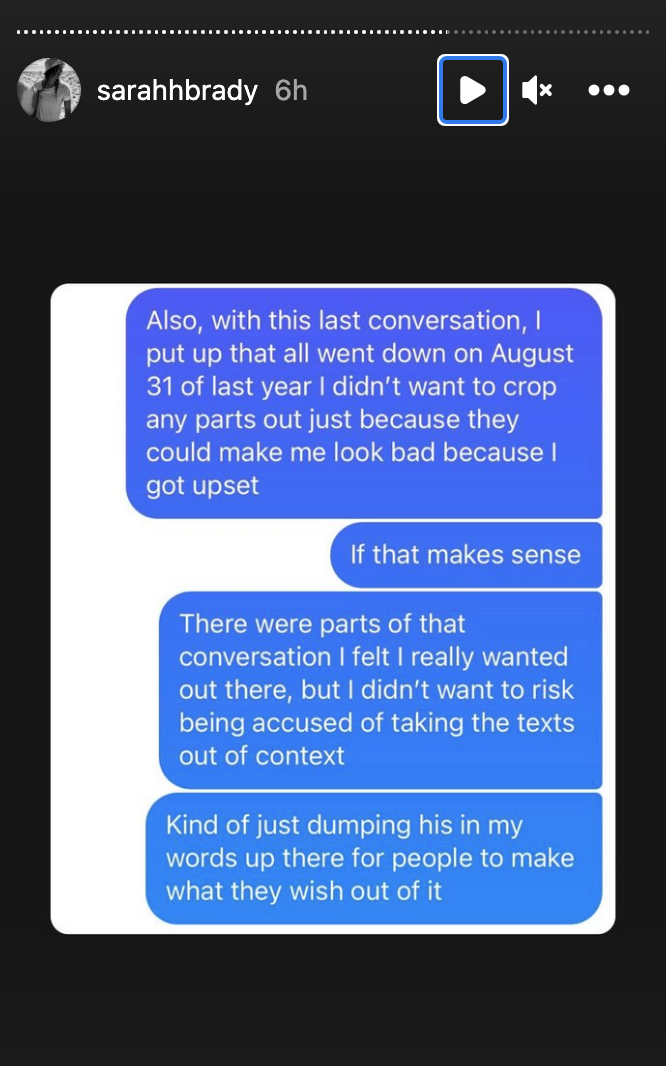 Elsewhere, she told followers: "It may seem as if I am sharing a lot, but you all have no idea how much more there is which I am choosing not to share out of consideration for him and his family."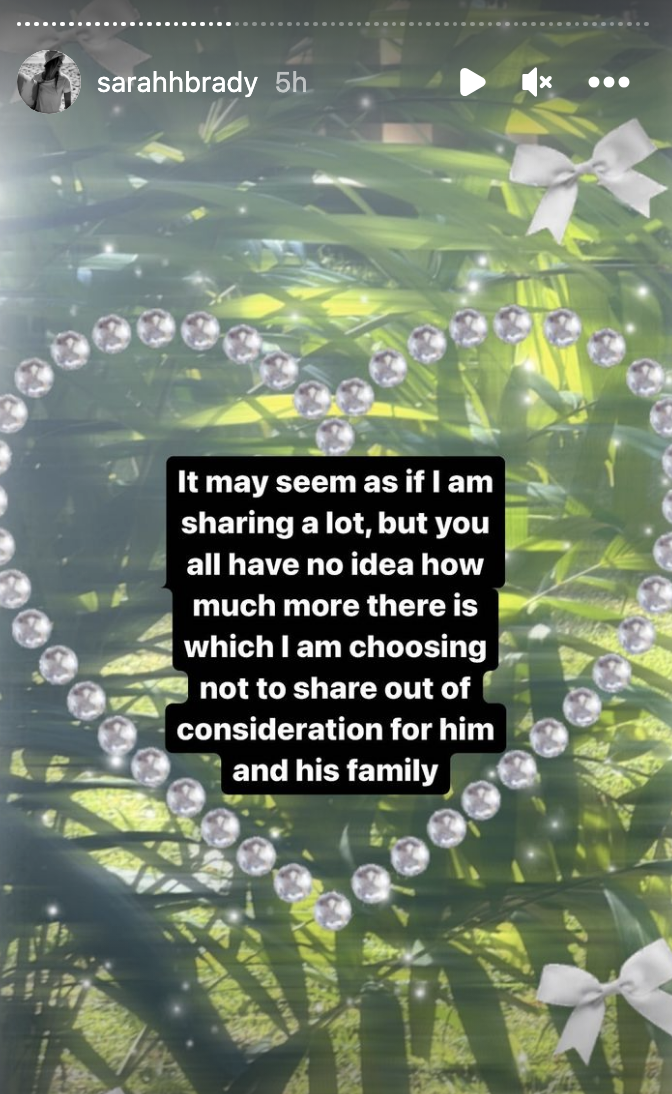 Jonah has not yet publicly addressed Sarah's allegations and his representatives did not immediately respond to BuzzFeed's request for comment.