In September 2021, Harry Styles kicked off his epic 167-date world tour in Las Vegas, and Love on Tour is scheduled to run for eight legs and 22 months in support of his second and third studio albums.
This tour has already made history thanks to Harry's record-breaking 15-night run at New York's Madison Square Garden, and it will come to an end in July 2023.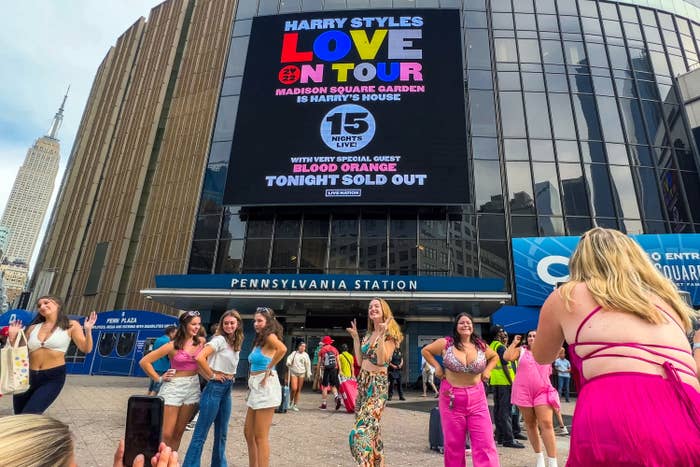 But earlier this month, Harry couldn't hide his disappointment when he was forced to push back three of his dates at the Forum in LA after coming down with the flu.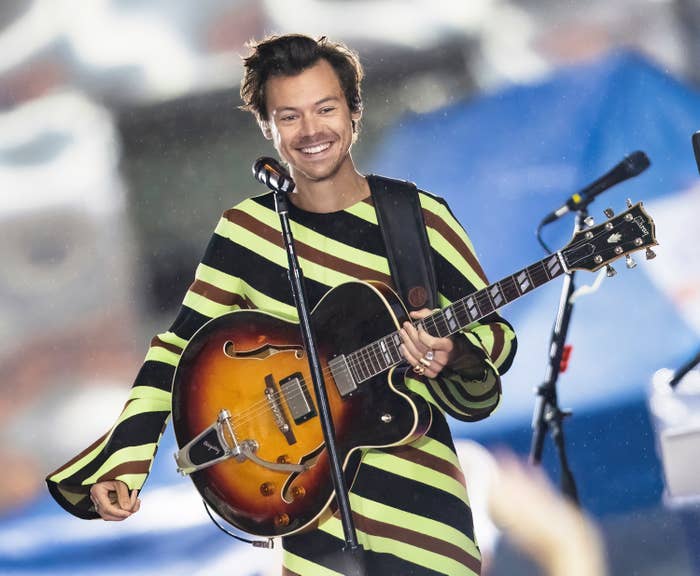 He'd initially rescheduled his Nov. 4 show to Nov. 6 after a member of the band fell ill, but soon afterward Harry revealed that he was also sick.
On his Instagram story shortly before his gig on Nov. 5 was due to start, Harry told fans: "Towards the end of the show on Wednesday, I started feeling ill, and I've been in bed with the flu ever since. I've been doing everything I can to be able to sing tonight, but I'm leaving the doctor now, and I'm devastated that it's just not possible."
"Until very recently I haven't had to postpone a show due to illness in the 12 years I've been touring," he went on. "I'm so sorry to do it, and if there was anyway I could do the show I would."
"I'm sorry this news is coming so close to show time, but it was my sincerest hope to be able to play for you tonight," Harry continued. "I know several of you have planned trips to LA to see the show, and it means the absolute world to me."
Harry's shows that were originally scheduled for Nov. 5, 6, and 7 were postponed until January, and Harry returned to the stage on Wednesday.
But less than a week after his comeback, Harry appears to have been injured after a concertgoer threw what looks like Skittles onto the stage.
The star's fans have been left outraged by the incident, which happened toward the end of Monday's show.
A video of the moment was shared on Twitter, and the footage shows multiple pieces of candy zooming across the stage before a piece hits Harry directly in his left eye.
In the clip, Harry immediately winces and holds his hand up to his eye while bowing his head toward the floor. As he returns to the camera's view, he is visibly squinting.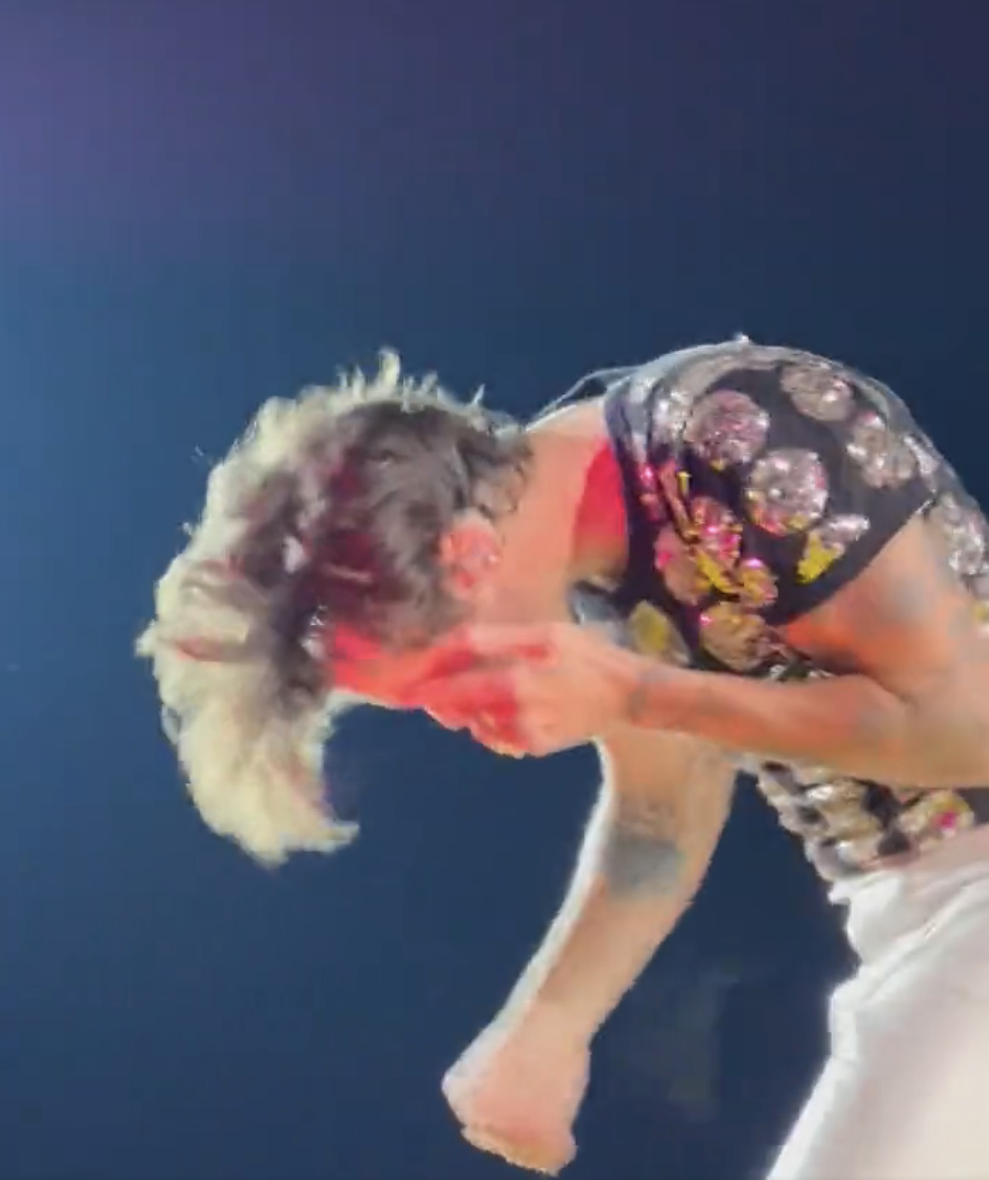 The fan who posted the video also revealed that Harry couldn't open his eye for the rest of the show, and it "ruined" his encore performance of "Kiwi."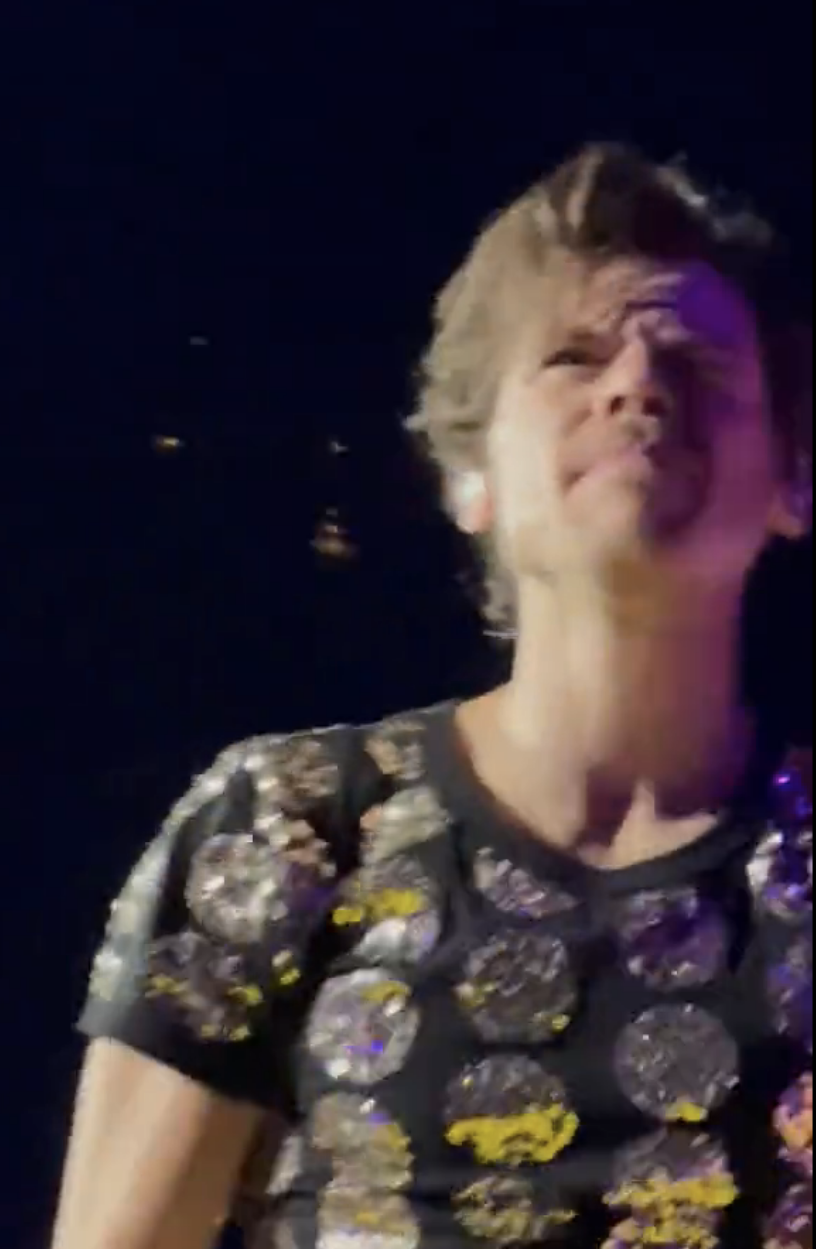 "Whoever the fuck threw a solid object at his eye, u literally ruined kiwi bc he wouldn't open his eye for the whole song," they wrote.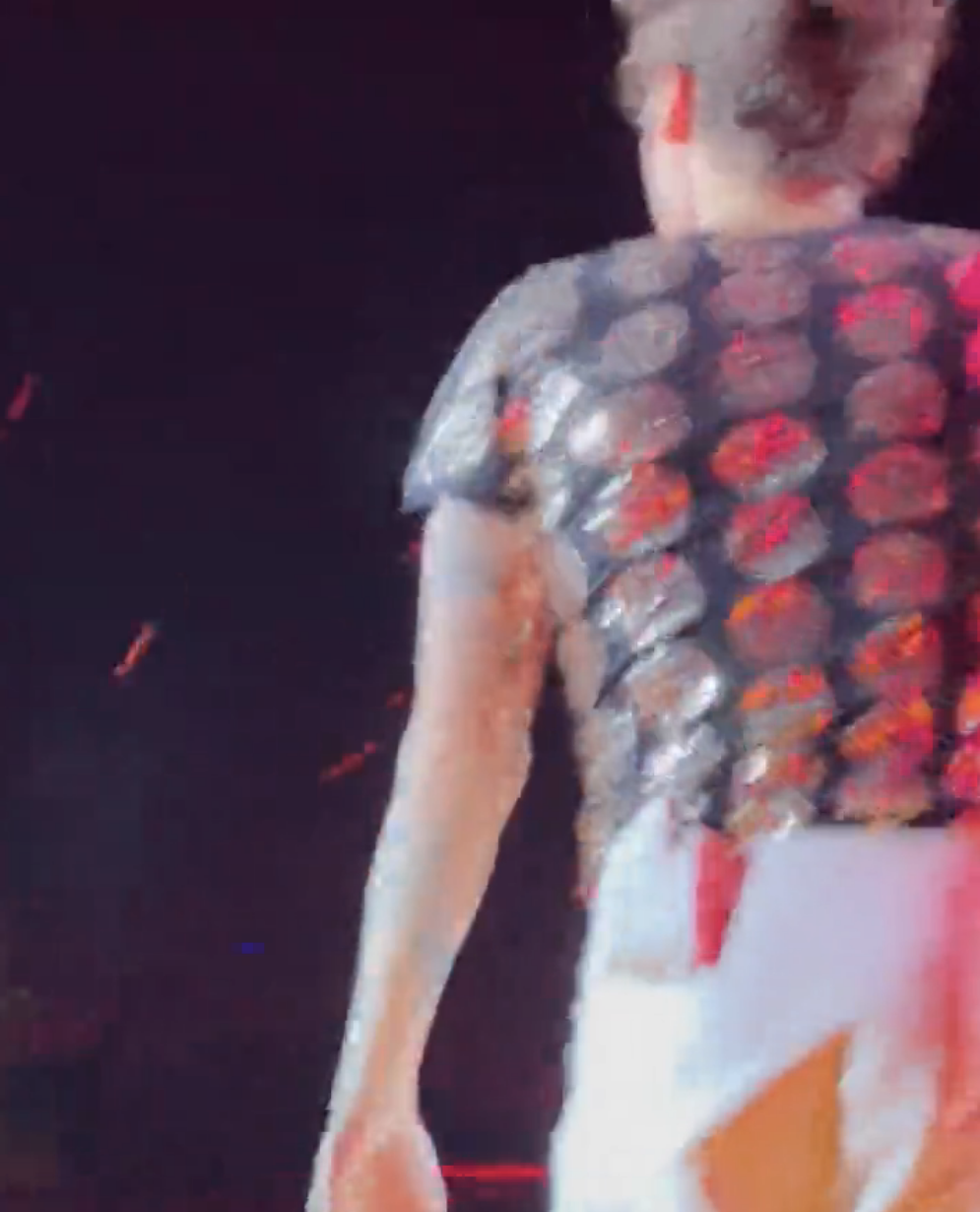 And others were quick to share their anger over the situation as they pointed out how dangerous it is to throw anything onstage, let alone something solid.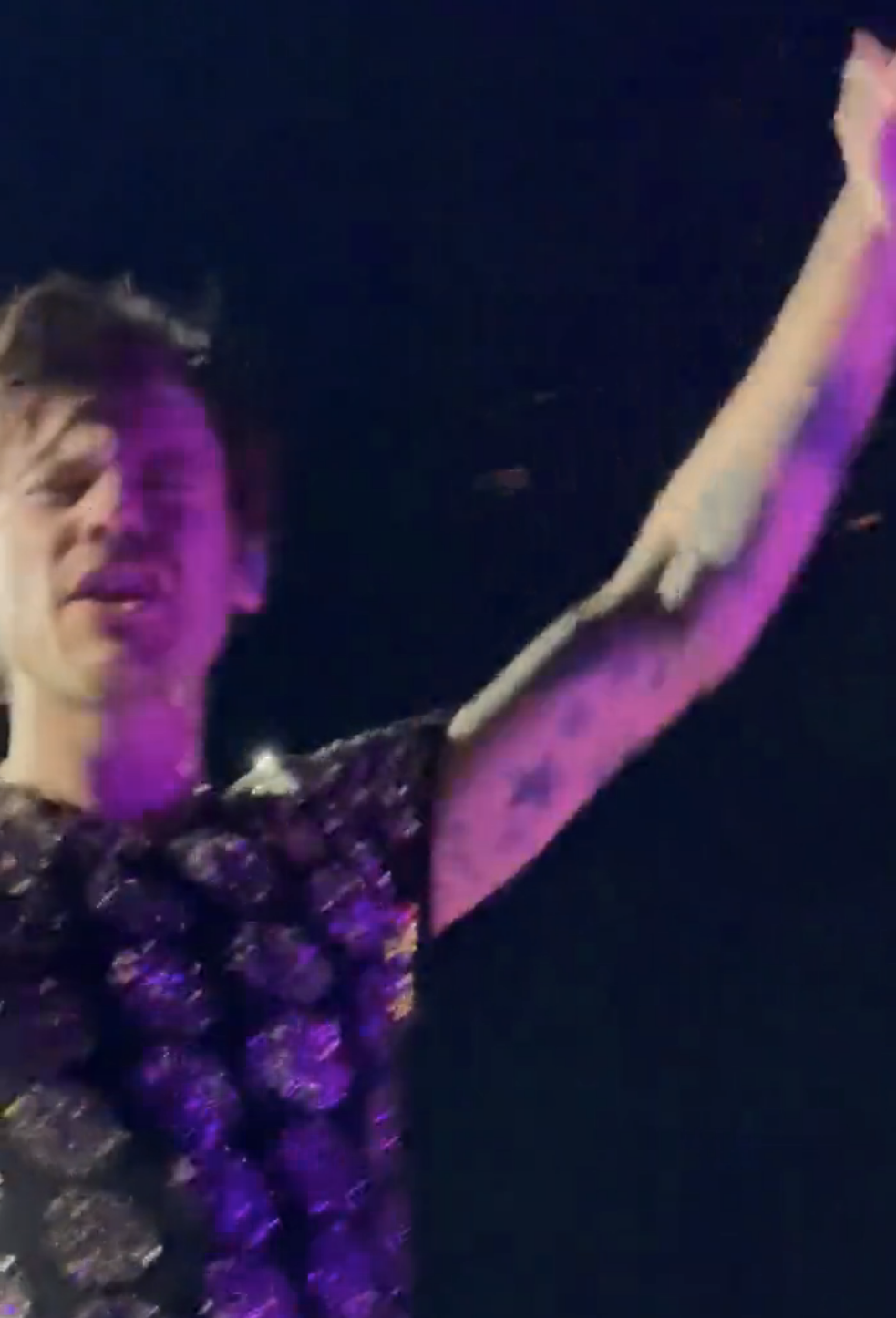 "i just saw the video of harry getting hit in the eye by skittles someone threw on stage and it's making me furious what the fuck is wrong with people why would you throw a solid object that could potentially and did hurt him some people have no fucking respect istg," one person tweeted.
Another wrote: "Whoever threw those skittles i hope you're embarrassed and crying and are never allowed into a harry concert again."
Someone else echoed: "The fact that someone had the audacity to throw a handful of skittles at Harry Styles' face hitting him in the eye at his concert absolutely baffles me."
One more said: "I cannot even explain to you how LIVID i am that someone would throw anything at harry while he's performing, let alone a handful of skittles?!?? that is the most demeaning thing you can do to someone!! and you call yourself a fan?? i am so damn angry rn."
Another tweet read: "Who in their right mind thought it was a good idea to throw skittles at harry?? like what was the goal there."
Harry was later filmed driving himself home from the venue, where he appeared to be rubbing his injured eye.
Reacting to the clip, one person tweeted: "He is STILL rubbing his eye I am so so so mad!!!"
Another fan wrote: "Still holding his eye while he's trying to drive!!! I hope whoever threw the skittles understands they could have just caused major damage to H." One more said: "His eye still hurts? I wanna fight whoever did that."

Fans throwing things onstage is far from a new issue at Harry's shows, and it's not just limited to him either.
In fact, just last month musician Steve Lacy cut his New Orleans gig short after a fan threw a disposable camera at him.
"Don't throw shit on my fucking stage, please!" he said in response, before destroying the camera and leaving the stage.
And earlier this year, Harry's fellow One Direction alum Louis Tomlinson reacted after a chicken nugget hit him on the head during a show in New York.
"Who has hit me in the head with a fucking chicken nugget? You're taking the piss now, have it back!" Louis said as he threw the nugget back into the crowd.
And considering how much damage any object can do when thrown at someone who isn't expecting it, it's probably about time that everybody just straight-up stopped chucking things at celebs during their concerts.