Before she entered treatment for anorexia in October 2013, Hannah Coombs spent hours diving down what felt like a "rabbit hole" on Instagram: bony torsos and skeletal limbs, all punctuated by comments from girls encouraging each other to stop eating, and easily findable thanks to popular hashtags like #anorexia, #ana, and #thinspiration.
Then, Coombs recalls, the number of hashtags seemingly exploded overnight, this time misspelled in subtle yet purposeful ways. "Thinspiration" morphed into "thynsperation"; "ana" into "annaa." Coombs was witnessing the fallout of a policy implemented in April 2012, in which Instagram rendered key hashtags unsearchable, added content advisory warnings over others, and disabled accounts that promoted eating disorders and other acts of self-harm. Instagram had previously faced criticism for its perceived hands-off attitude to this community, as had Tumblr — which, a month prior, had also announced that it would take down and moderate pro–eating disorder blogs.
But as well-intentioned as it may have been, Instagram's approach backfired. "You could still find things just as easily, unfortunately," Coombs, who lives near London and is now recovering at age 17, told BuzzFeed News. "In hindsight, it almost made the problem worse because there are hundreds of hashtags, instead of just, like, a couple."
No act on the part of any social media company is going to cure eating disorders, much less erase them from the internet. But new research underscores just how hard it is for platforms to take even basic steps to limit harm-inspiring posts. Last month, a team led by a Georgia Institute of Technology researcher published a study showing exactly how pro–eating disorder hashtags — and engagement on them — multiplied after Instagram changed its policy. The same researcher also found a wealth of pro-anorexia content in a 2015 study of Tumblr.
Four years after these platforms adopted official approaches to pro–eating disorder content, the landscape is as complicated as ever. Tumblr and Instagram representatives told BuzzFeed News that they are committed to making problematic posts harder to find and see, and to steering people to outside health resources. There are also some signs that people are indeed seeing or being directed to more body-positive content and health information resources, whether by the platforms themselves or fellow users. Still, the companies could do much more to reach vulnerable people, the researchers insist, and many of their efforts wind up failing to fully fix the problems at hand. Should they be trying at all?
It's "a whack-a-mole game," said C.J. Pascoe, a sociologist at the University of Oregon who studies social psychology, gender, and new media, and was not involved with the Georgia Institute of Technology research. "The problem is so much larger than a platform."
Words and photos that glorify eating disorders have always lived online. But in the era of MySpace, Geocities, and AOL Instant Messenger, hashtags didn't exist to let strangers quickly find and form like-minded groups. "By having that support in a 'secret' community, it makes them feel like they're in a family, and what they're doing is acceptable and is the right thing," said Ashleigh Ponder, a 16-year-old in eastern England who's been Instagramming her recovery from anorexia for three years.

So variations on hashtags become a secret language for people who want to hide their thoughts from the public — not just people who struggle with eating disorders, but also those who self-mutilate, as another study of Instagram found earlier this year.
In 2011, Instagram's number of users skyrocketed to 15 million from 1 million. But by April 2012, when Facebook bought it, its burgeoning pro-anorexia community was spurring critical press coverage. "This lesser-known mecca of extreme dieting could be the next site to go under fire for allowing its users to promote self-harming practices," the Huffington Post wrote in March 2012.
Eleven days after the $1 billion acquisition was announced, Instagram rolled out new guidelines. Not only did it make certain hashtags unsearchable, it honed in on hashtags that were associated with, but didn't necessarily promote, self-harm. Instagram layered a content advisory warning over posts that contained the latter, along with a link to the National Eating Disorders Association's website. (Instagram rolled out these features on mobile first and is still in the process of doing so for the desktop version.)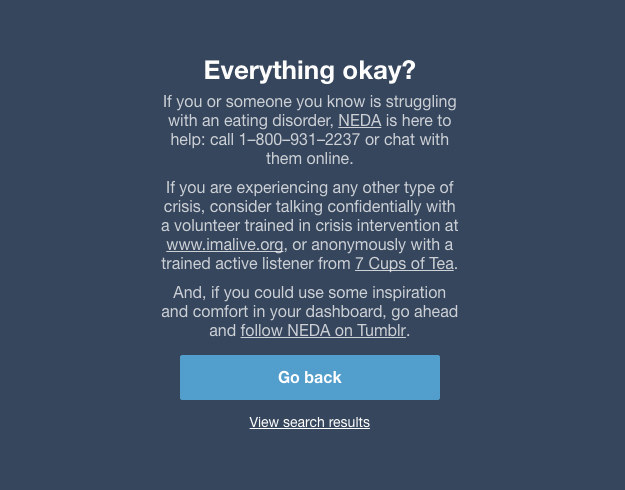 The Georgia Tech team wanted to see what had happened from that point forward. After studying 2.5 million posts between 2011 and 2014, and 17 hashtags that were banned or slapped with a content advisory, the researchers found that each hashtag had spawned an average of almost 40 spin-offs. There were 99 variations of #anorexia (#anorexic, #anorexique, #anorexica), and 107 new ways to say #thighgap (#thygap, #thighgapss, #thigh_gap).
And these derivatives had 15% more comments and 30% more likes than the original tags — though the researchers stopped short of directly attributing the uptick to Instagram's policy shift. Overall, Instagram has been "mostly ineffective" at combating the proliferation of pro–eating disorder expression, the researchers concluded in peer-reviewed findings presented at a conference last month.
What the scientists couldn't explain is why the posts and comments with the spin-off tags seemed to focus more on themes of loneliness and self-harm. "The nature of the content that is being shared in these variant tag-containing posts tends to be more triggering," said Munmun De Choudhury, the computational social scientist who co-authored the study.
De Choudhury has also examined pro–eating disorder communities on Tumblr. In March 2012, more than a year before it sold to Yahoo for $1.1 billion, Tumblr announced that it would remove blogs that did "active promotion or glorification of self-harm." It wouldn't make tags unsearchable, but rather show public service announcement language, similar to Instagram's, when a person searched for tags like "bulimia." In her study, De Choudhury found that pro–eating disorder Tumblrs outnumbered pro-recovery ones by a multiple of five.
The image-heavy nature of Instagram and, to a lesser extent, Tumblr make them an obvious home for eating disorders, which are highly visual conditions, De Choudhury said. Based on her research, she thinks Instagram should stop banning hashtags from being searchable; one consequence, she notes, is that it's harder for a network to identify who needs help when they're constantly inventing new hashtags. Instead, De Choudhury recommends switching entirely to public service announcements with links, putting pro-recovery-oriented content in people's feeds based on their search histories, and being on alert for emerging pro–eating disorder tags.
Tumblr, on the other hand, could make searches for eating disorder–related hashtags redirect to websites like the National Eating Disorders Association's, De Choudhury suggested. Tumblr could also interject with a pop-up message when a user appears to be creating a pro-anorexia post, based on their language, and privately message such users about contacting a crisis intervention center.
"There's a potential for tailoring them in a way that would get more of their attention and basically help them think more deeply that 'this is an attitude that is harmful for my health,'" De Choudhury said. A Tumblr spokesperson said the company is "constantly looking at ways to best serve and support this community," but didn't comment on the researchers' specific recommendations.

That said, personalized, algorithm-driven interventions run the risk of scaring people away from posting altogether — an outcome social media networks might prefer to avoid.

Instagram, Tumblr, and the like are under pressure to preserve some sense of safety. But they must also accept that these efforts might ultimately be futile, said Pascoe, the sociologist. "If you're talking about (changing) society so that women don't feel like they don't need to change their bodies to conform to a societal standard, I don't think there's any one thing any particular social media platform can do," she said. "That takes a much larger societal shift. Which is tough to say, because it'd be a much easier solution to just use the user agreement to say 'You can't hashtag ana.'"
In an interview with BuzzFeed News, Claire Mysko, CEO of the National Eating Disorders Association, acknowledged the challenges. "All of these companies I've dealt with, who are trying to address this, have a genuine interest in helping people. It's just a really, really complicated problem."
Still, there are signs that users are embracing platforms' efforts. As director of Tumblr's trust and safety team, Nicole Blumenfeld oversees a group of nine who review and remove content violations. One big breakthrough came less than two years ago, when Tumblr started letting people flag posts. "We were able to be more effective in getting content that was harmful off the site," she told BuzzFeed News. Another promising sign: Most people who see an advisory warning before a post actually stop there and don't click through to the post, said Blumenfeld, citing the most recent data available.
In May 2015, Tumblr also launched a campaign, Post It Forward, that invited users to share advice and positive messages. Celebrities like Joe Biden and Elizabeth Banks chimed in, and Tumblr partnered with the nonprofit Crisis Text Line to recruit Tumblr volunteers to act as crisis counselors via text.
Instagram lets users flag posts, emails information about getting help to people who post about self-harm, and has a community operations team that provides support. Of the Georgia Tech study, a spokesperson said in a statement, "We regularly review research and employ large teams that analyze hashtag trends to respond to new patterns or behaviors, and to provide a supportive experience for the community. In this case, we are encouraged that the research supports some of our longstanding practices."
In the end, the real change may come not from the platforms, but from users — like Instagrammers who flood the site with posts and comments that celebrate food, exercise, friends, and self-esteem. Coombs, the British teen who started using Instagram in the early days of her anorexia, now posts at @recovering_dreamer. She's also started an online business with personalized spoons that encourage people to overcome mental health issues. "People will post and say how it's helped them," Coombs said. She was referring to her shop's Instagram, @hello.recovery, where she likes to cite a few hashtags of her own: #recovery, #positive, #fighter.