There's no shortage of companies that you can pay to test your DNA. But now there's a twist — some companies will pay you for your DNA.

Genos, which officially opened its portal today, and DNAsimple, which started in November 2015, are building businesses based on the premise that scientists will pay to access large databases of genetic data. That data will be supplied by their customers who, in return, will make money when their samples are used in research.
Until now, the DNA-testing business has been a one-way street, financially speaking. Genetics researchers often turn to biobanks, which store troves of biological samples from people who are never compensated. Some companies like 23andMe, which charges people $199 to analyze their DNA, sell access to their information to academics and pharmaceutical companies.
But patient advocacy groups such as Global Genes and the Genetic Alliance say this setup financially benefits everyone involved in making scientific discoveries or therapies — except DNA donors. Companies like Genos and DNAsimple, they say, could give patients the control and cash they deserve for helping boost research, provided that enough patients want in, and enough scientists are willing to foot the bill.
The cash-for-DNA approach underscores a shift in the way science is conducted and health care administered: Aided by the internet to research medical treatments (and find people who share their ailments), some patients are demanding that doctors and scientists treat them as full participants in their treatment.
The shift comes as pharmaceutical companies and scientists are entering an era of "precision medicine," where treatments are tailored to individual medical and genetic profiles, rather than one-size-fits-all.
"It's basically validating that the genomics revolution is here in a big way where the general public is now getting engaged," Nicole Boice, CEO of Global Genes, an advocacy group for patients with rare diseases, told BuzzFeed News.
Genos, a San Francisco startup, is launching its research portal after being in beta mode since the summer. Customers pay $499 to send in a spit tube and have their "exomes" sequenced. That is the part of the genome that contains most of the genes already linked to diseases. Researchers will use Genos to acquire DNA samples for their studies, and they and customers can reach out to each other to see if they'd be a good match. If a customer gets accepted, they'll get paid — right now, $50 to $200, depending on the study — for participating and answering questions about themselves.
"Our fundamental belief is you own and control your data," Mark Blumling, cofounder and CEO of Genos, told BuzzFeed News. "You choose where your data should be used. If there is an economic benefit coming back, which there is, you should get part of that benefit. It's just part of our general ethos."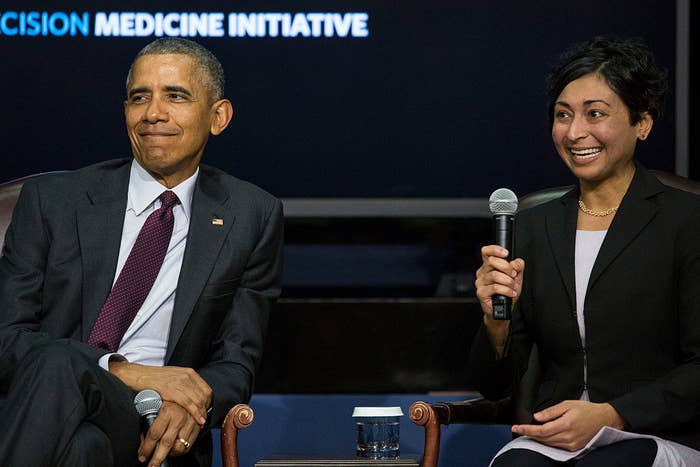 At the outset, researchers will use Genos for five studies: lymphoma, breast cancer, a type of skin cancer, neurological and psychiatric disorders, and a rare type of neurodegenerative disorder known as prion disease.

After Sonia Vallabh learned in 2011 that she had inherited a genetic mutation that causes prion disease, for example, she and her husband, Eric Minikel, changed their careers to scientists and dedicated themselves to finding a cure.
Now researchers at the Broad Institute in Cambridge, Massachusetts and founders of a nonprofit called the Prion Alliance, they hope Genos will help them find a special type of subject — people who naturally produce less of the deadly protein that Vallabh has, and could therefore serve as a model for therapies.
To make genetic discoveries, scientists traditionally find people with a disease, then look for DNA differences associated with that disease. But the people whom Vallabh and Minikel want to find might be healthy, not sick.
"The genomics revolution is here in a big way where the general public is now getting engaged."
So these patients wouldn't necessarily be sitting in a hospital — but if scientists knew their genetic information from the outset, they might find each other more easily. "The only way to discover it is to first look at people's DNA and then go back and ask about their health," Minikel said.
Advisers to Genos include some big names, such as geneticists George Church and Dietrich Stephan, Nobel Prize-winning economist Alan Roth, former StubHub president Chris Tsakalakis, and former Uber executive Mina Radhakrishnan. The firm has raised $6 million from NantOmics, a biotech company founded by billionaire doctor Patrick Soon-Shiong.
DNAsimple, based in Philadelphia, launched a little more than a year ago with a similar model. The difference is that customers do not pay, but receive a flat $50 fee for every sample they provide. More than 5,000 donors have signed up and a dozen researchers use the platform, the company says.
Hank Greely, director of Stanford Law School's Center for Law and the Biosciences, said the biggest challenge he foresees for these companies is whether they will draw enough participants on all sides.
"I'm not sure how many individuals are actually going to be interested in trying to sell their own DNA data," he said. "On the flip side, I'm not sure how many people are going to be interested in paying money for people's DNA sequences."
One way to drum up interest, Greely suggested, would be to tell people health or other information about themselves, based on their DNA. 23andMe, for example, tells customers about their ancestry and risks for some inherited diseases. But to provide health information without going through a medical professional, 23andMe spent more than a year getting FDA approval.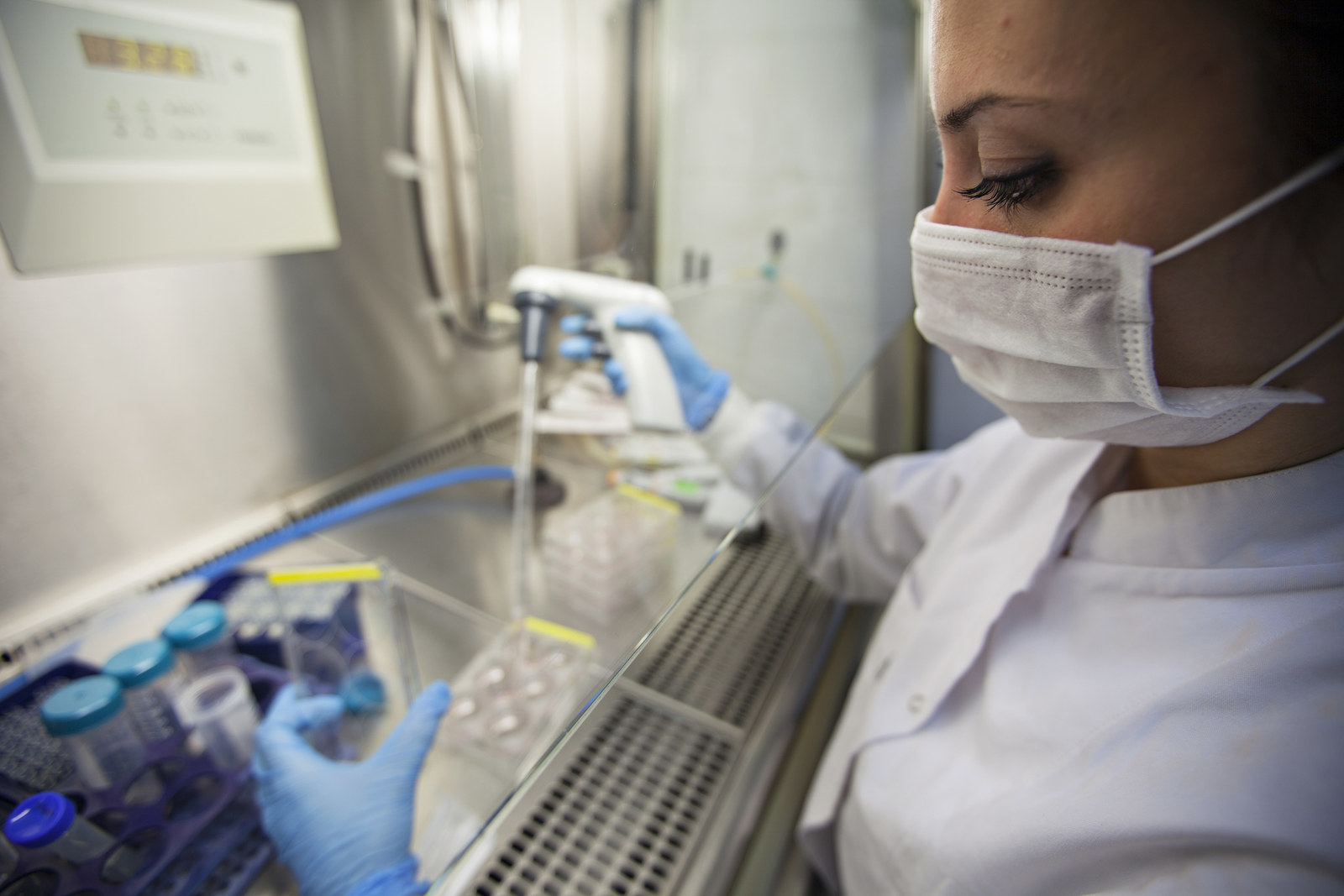 Neither Genos nor DNAsimple provides that type of interpretation. Genos users get a visualization of where their DNA overlaps with a database of genetic variations. They also get their data in a raw file, and access to genetic counselors who can help them make sense of it.
As for signing up researchers, Genos tries to even the playing field by charging Big Pharma firms more than academics and nonprofits. DNAsimple charges scientists $155 for every match, $50 of which goes to the customer, fees that the company says may change.
Olivier Noel, DNAsimple's CEO, stressed that the compensation aspect of the service is secondary to the question: "How do we advance scientific research when we have all the tools we need, but we're unable to get the participants we need because they're far away?" He added, "The idea was to solve that problem, and not make money off people donating."
But if this business model does take off and become mainstream — a huge if, given how new these companies are — it could fundamentally change the economics of science. A federal law outlaws the sale of human organs for transplantation — but not the sale of information about human bodies.
"If all research subjects started charging for their participation, research would get more expensive," Greely said. "Less of it would be done. Arguably that'd be a detriment to public health and public welfare. It would certainly be a detriment to researchers trying to get published and the [National Institutes of Health] budget."
Lori Andrews, who directs the Institute for Science, Law and Technology at Illinois Institute of Technology, argues that researchers have already often "abused" their privileges by, for example, patenting genes found in patients' tissues and preventing other researchers and doctors from studying them.
"Giving patients a greater property interest in their tissue (whether through payment or allowing them to determine which researchers should be able to do what with their gene sequences) is important to redress this imbalance and breathe life into the legal requirement of informed consent to research," Andrews wrote in an email.
Sharon Terry, CEO of the Genetic Alliance, said that while money may motivate some people to participate in research, most are in it for more altruistic reasons: They want to see results for themselves, their loved ones, or society at large.
"Some people might think it's bad to put any kind of commerce in health at all, but it's already in there," she said. "We just don't have any part of it, we patients. Everyone else makes a lot of money."