These Earbuds Could Change The Way You Hear Live Music
Beef up the bass, add some echo: Meet the high-tech earbuds backed by Quincy Jones, Mark Ronson, and Hans Zimmer.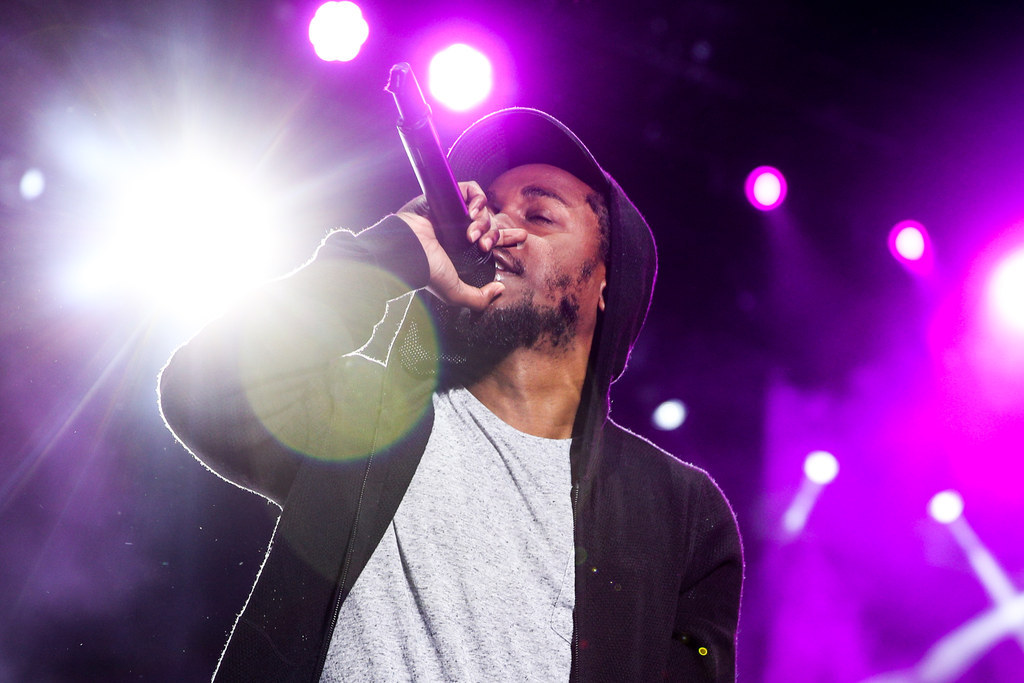 As First Aid Kit strummed through their set at Outside Lands in August, I stood at a distance with earbuds wedged into my head. I wasn't trying to muffle the Swedish duo's performance or listen to Spotify instead. Quite the opposite: I was listening to the show intently — with the bass turned up, and then the treble; I made the show quieter, and then louder; I listened to it live with reverb and without.
I could make those adjustments because my earbuds were designed to enhance sounds via a wirelessly connected smartphone app. Made by Doppler Labs, a San Francisco startup, these earbuds aim to be a new kind of wearable device that promises to augment and personalize the world around us.
As wearable technology extends beyond the wrist and basic health and activity tracking, one of its next frontiers is audio. Some of these devices provide a high-tech twist on old-fashioned hearing aids by amplifying sound for people with hearing loss (Halo from Starkey Hearing Technologies, for example, syncs up to Apple and Android devices and Pebble smartwatches). In contrast, Doppler Lab's Here Active Listening System is a consumer device meant to enhance our everyday experience of sound, augmenting it and giving us a modicum of control over it.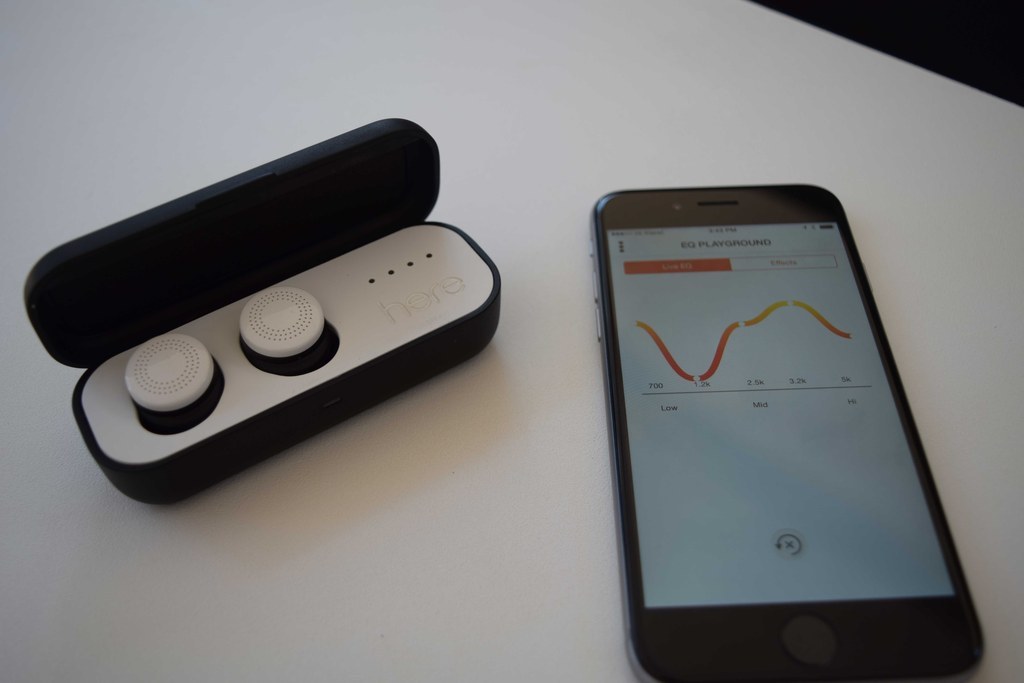 Noah Kraft, the CEO and co-founder of Doppler Labs, is a die-hard concertgoer (and film producer and composer on the side) who found himself yearning for a way to crank up the bass at live shows. "We're big believers in the future of wearable tech being something that is really immersive," he told BuzzFeed News.
Founded in late 2013, Doppler Labs started out building earplugs that filter out specific frequencies to protect ears at loud shows while letting through quality sound. In June, it raised more than $600,000 on Kickstarter to support the development of its wireless earbuds. The following month, it announced a $17 million round of funding from investors that included music industry giants like Live Nation Entertainment, Universal Music Group, and the talent agency William Morris Endeavor. Other investors are bold-faced music moguls Quincy Jones, Mark Ronson, and Hans Zimmer, who's also an advisor.
The Here Active Listening System earbuds, which Doppler sold for $199 during the crowdfunding campaign, won't ship to backers until December. The company is targeting a niche audience — people who care deeply about live music. After December, Doppler will continue to sell the device, but at a higher price of $249 — and only to members of an invitation-only influencer program.
The pair of Here earbuds I tested at Outside Lands was a very early prototype, so while it generally worked as intended, I wasn't allowed to take it up to the speakers because I was told it had difficulty manipulating very loud sounds. The device's volume and equalizer controls, and effects — like fuzz, echo, and noise mask — seemed to work at a half-mile from the Outside Lands stage.
I'm not a frequent concertgoer or audiophile, so toying with Here's settings was not as intuitive for me as it might be for others. It took some time for me to find the proper levels for various effects, and as I searched for them, the music I was listening to was transformed in sometimes unexpected ways. Too much reverb made things sound heavy and distorted, for example. Some of the effects, like flange and echo, felt more novel than natural to me, and I couldn't imagine using them much at live shows like Outside Lands. That said, using Here to boost the bass made the music deeper and more vibrant, and it was nice to be able to adjust the volume of the concert I was listening to.
"If you go to a show right now, you have two options: hear it exactly as it is or walk out," Kraft said. "We just think you should have more dynamic control over it."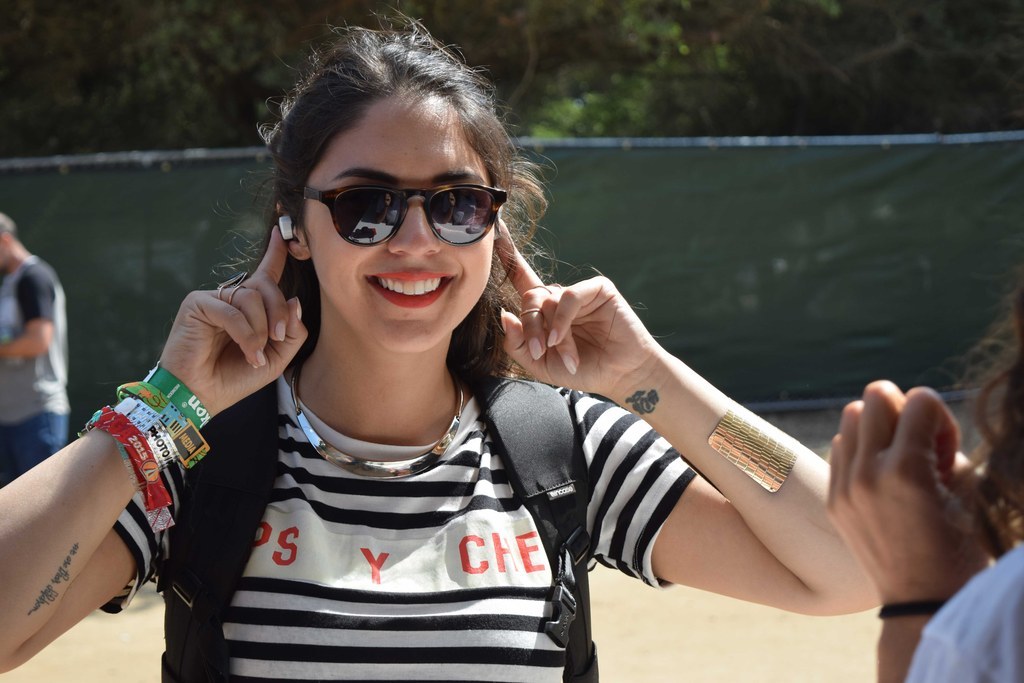 Doppler's technology isn't meant for music alone, Kraft explained. The company also plans to offer a range of Here presets that lower the volume of a baby's wails or mute the roar of an airplane or the din of traffic. "What that means is you can turn volume on your world down and get it exactly to the level you want," Kraft said.
Kraft envisions a future in which everyone hears only what they want to hear, where location data collected by your smartphone will automatically mute the sounds of the crowd around you as you stroll through the airport, or pulls up your preferred equalizer settings for a concert at Madison Square Garden. A bit further out: a future in which your earbuds translate a foreign language in real-time during a conversation. "It's obviously a very sci-fi future," Kraft said. "But it's not as far as off as I think people think."
That remains to be seen. And while Doppler Labs' Kickstarter has proven that some live music fans care enough to invest in personalizable earbuds, the larger question is whether the general population sees any value in personalizing the sounds of everyday life.