The Apple Watch Has Gotten Simpler, But That's OK
The watch won't measure blood oxygen or stress levels, but it could still make you healthier. It also keeps the FDA out of Apple's hair.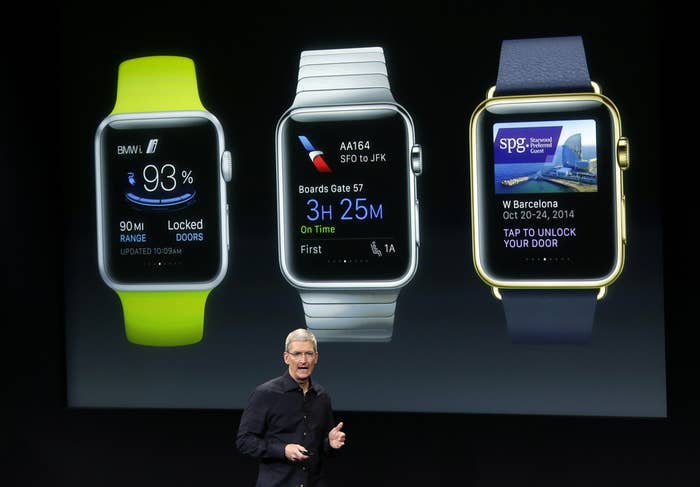 The Apple Watch may not have all the health-tracking bells and whistles originally envisioned by its maker. But it could still be a successful, useful, and mainstream piece of health technology for consumers, Apple, and digital health companies at large.
With a screen that pings users with constant reminders, and a growing ecosystem of apps that collect huge sets of health data, the smartwatch can still be a crucial device that helps consumers adopt healthy behaviors, experts say — even without the advanced biosensing features that Apple has reportedly killed.
"Health will be a component, but it's not going to be everything" on the Apple Watch, Malay Gandhi, managing director of Rock Health, which funds early-stage digital health companies, told BuzzFeed News. "It would never be a mass-market device if it was just about health."
The dropped features were intended to measure blood pressure, heart activity, stress levels, and blood oxygen levels, according to the Wall Street Journal. That means the new Apple Watch is more like a device from Jawbone or Fitbit, with features that measure users' total body movement and steps, calculate burned calories, and detect heart rate during workouts.
But when linked to the suite of health apps designed for Apple's platform, the watch could use those basic features to give users real-time, continuous suggestions to breathe during a workout, take 500 steps, or stand and stretch — and reminders will be hard to ignore on a screen fixed to the wrist, compared to a tucked-away phone. "It's a truly wearable interface on your body," Gandhi said, "and it's going to be with you at all times."
Apple's decision to simplify the watch speaks to a larger issue facing makers of wearables: Advanced biotracking sensors would have made the Apple Watch less of a multipurpose consumer device and more of a medical device used to diagnose diseases or track chronic conditions — which could have opened the watch up to regulation by the U.S. Food and Drug Administration.
"I don't think Apple wants to be a health-monitoring device maker," said Harry Wang, director of health and mobile product research at Parks Associates. "They do want to leverage their popularity on the iPhone as a device platform, integrating all health data that can be collected for different devices."
That information is being gathered through Apple's new Health app, a dashboard of users' health data, and HealthKit, a developer tool that lets wellness apps share data. The watch could be populated with messages from external devices and services that track specialized health information.
"The Apple Watch may not collect glucose levels or blood pressures, but people through HealthKit will see their blood pressure reading on Apple Watch, and maybe it'll alert them to take blood pressure medications or maybe take blood pressure drugs," Wang said.
Still, Apple's decision to forgo sophisticated biosensors is indicative of just how hard it is for all wristband trackers to monitor the body constantly, accurately, and meaningfully. The decision also speaks to Apple's famously perfectionist approach to quality. "You can only measure a set amount of skin under the watch," Gandhi said, "and there are fundamental limits to what you can measure accurately from a single place on a person's wrist."
On the other hand, the Apple Watch is only in its first generation, and its health-tracking capabilities could become powerful in the next few years, said Geoff Blaber, vice president of research in the Americas for CCS Insight.
"The iPhone has been phenomenally successful for Apple and when that launched, the very first iPhone didn't have 3G, didn't have the App Store, didn't have GPS," he said. "The smartwatch and wearables category more generally have to go through the same pain points."