What Happened When I Let A Computer Cook Me Dinner (Kind Of)
Who's better at imagining recipes: a computer system or a human?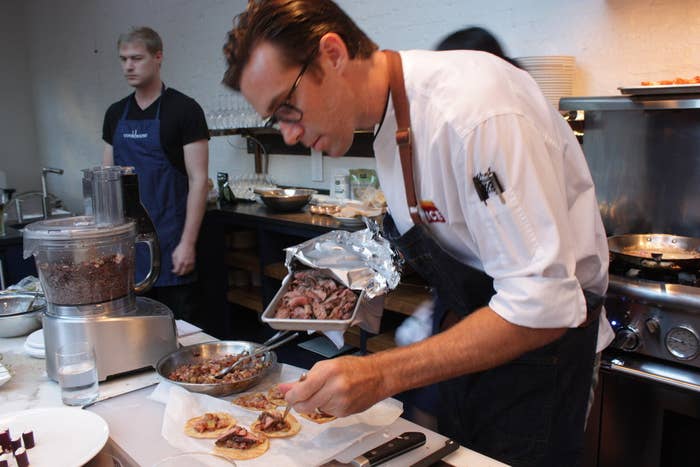 As the dinner hour began, we sipped shimmering glasses of prosecco spiked with cardamom, thyme, and lime leaf. In a cozy dining nook overlooking San Francisco, waiters circled through with beets that'd been pureed, poured into a tray, dehydrated, and sliced, Fruit Roll-Ups–style, into loops that were then stuffed with goat cheese, black truffle, and almond powder. Everything tasted almost familiar, but with twists of spice or tang or sweetness that made it uncategorizable. It made no sense; it was addictive.
Our chef, James Briscione, had been at work in the kitchen for hours, mixing and grilling and marinating dishes that, in one sense, were right at home in San Francisco's experimental food scene. But Briscione was really just the sous-chef — the combinations had been dreamed up by someone, or something, else: IBM's artificial intelligence machine, Watson.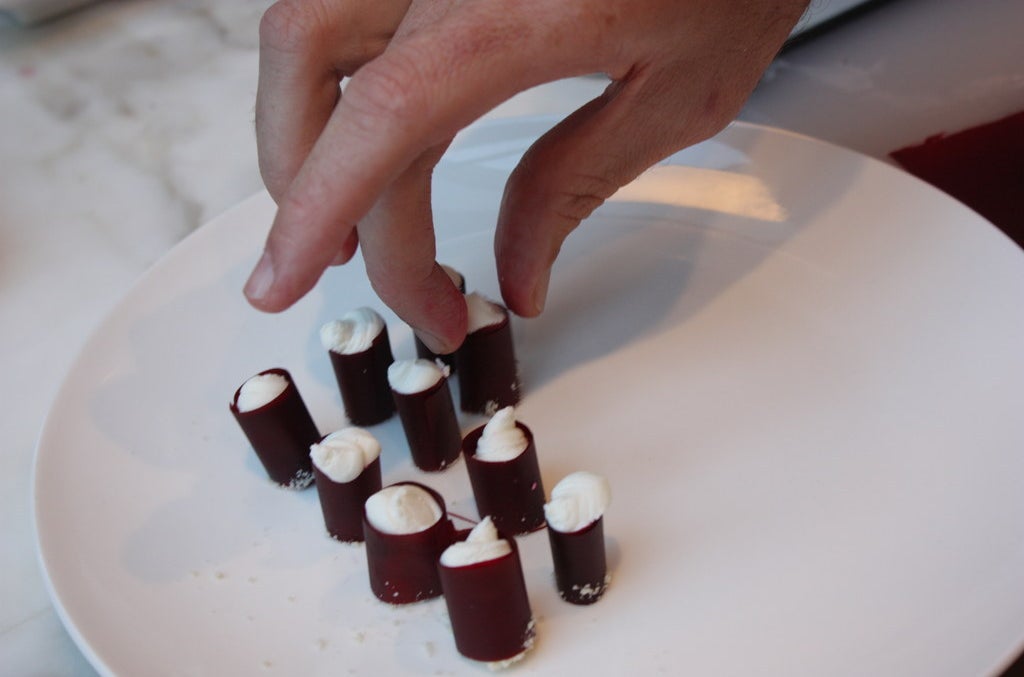 You may remember Watson from Jeopardy!. In 2011, the computer cleaned up against former champions Brad Rutter and Ken Jennings in a stunning, visible triumph of machine over human. But in just the few years since, much of the novelty of straightforward information retrieval has worn off. Between Amazon recommendations, Google searches, Facebook face recognition, and SwiftKey word predictions, we're living in a world where even the most banal-seeming technologies are working toward telling us what we want to know, before we even know we want to know it.
So when facts can now be found in an instant, IBM is hustling to show that Watson can do much, much more. It's teamed up with more than 100 outside companies that are tweaking Watson to their own devices: to build fantasy football teams; to help manage chronic diseases; to create personalized training regimens for athletes; to analyze students' personalities.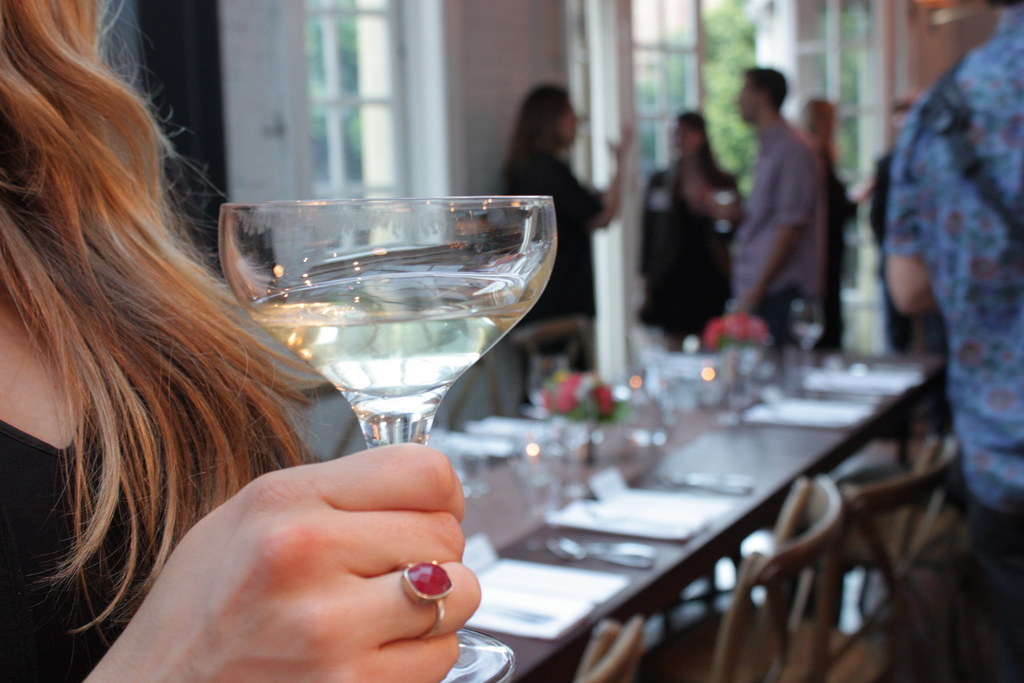 All these processes can sound a little abstract if you're not directly involved. So a week after IBM announced that its second Watson headquarters would be built in San Francisco, IBM invited me and a handful of other reporters to a rented-out venue in North Beach, the San Francisco neighborhood home to famous Italian restaurants like Tosca Cafe. The company has been working on the inspiration behind the night's menu, Chef Watson, for almost four years in an attempt to demonstrate the fun, artistic side of artificial intelligence. Watson has analyzed 10,000 recipes from Bon Appétit magazine, deduced which ingredients routinely went together, and suggested pairings with other ingredients with overlapping flavor or aromatic compounds (along with recipes). The suggested ingredient combinations literally number into the quintillions (that's 18 zeros). A few dozen of them appear in a cookbook published in April, and consumers also can explore combinations online.
"I just like the fact that you can create new dishes endlessly," Florian Pinel, the lead engineer on Chef Watson who's also been a chef on the side, told me as I chomped on a tiny beef taco seasoned with fig, sesame, and coffee. "My favorite dish is the one that hasn't been made yet."
The appetizer — a salad of shrimp, tomato, and celery dressed in coconut and vanilla — was a delightful mix of savory and sweet. Then came the main course, chicken-and-mushroom burgers topped with brie and strawberry ketchup. Even as my dining companions and I chatted about how bizarre these dishes sounded on paper, we gobbled them up (the strategically paired wines didn't hurt).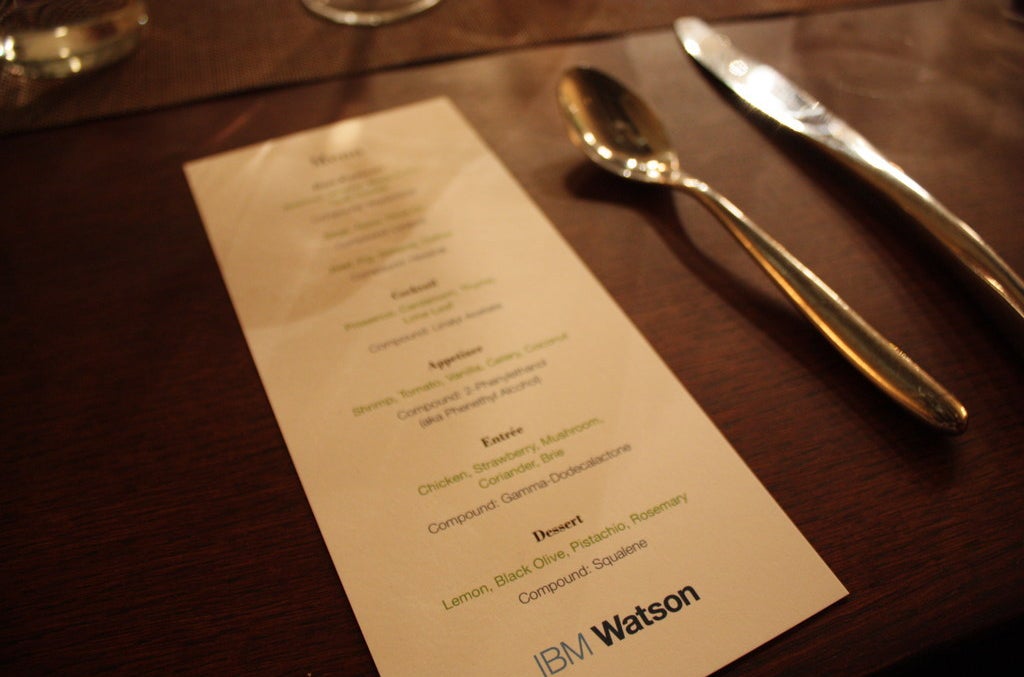 If robots are going to shape the future of food, I'll take quirky recipes over highly automated restaurants with no human employees in sight. But was this meal a mark against old-fashioned — human — culinary experimentation? Isn't there value in trying out stuff and deciding for yourself what works and occasionally making something disgusting? Briscione, the director of culinary development of the Institute of Culinary Education in New York City (and an IBM collaborator), reassured us that Watson isn't a replacement for human creativity, but rather a tool, one that lays out the facts and allows a chef to play around with portioning and preparing. "While Watson is helping us select ingredients and find really wonderful new combinations of food, it doesn't really tell us what to do with them," he told us. "It just says, 'These things are going to taste good together, you guys figure out the rest.'"
But a chef's intuition isn't so different from Watson's emotionless rationality. Creativity — as many authors, writers, scientists, and other thinkers have argued — happens when seemingly unrelated ideas cross-pollinate and fuse together in unexpected ways. Watson can be seen in that sense as the ultimate creative force, programmed to scrutinize an infinite number of existing facts and make connections between them that humans might never make themselves. That may sound unnerving. I personally am a little frightened at the thought of how much more energy I once poured, pre-internet, into the act of researching and remembering, extra energy I no longer spend. But time and again, we've embraced the ease artificial intelligence has added to our lives, and we've shown no willingness to give up that convenience.
Dinner drew to a close over a dessert of lemon curd made with olive oil instead of butter, layered with Greek yogurt panna cotta infused with chamomile and lemon peel, balls of tapioca powder mixed with olive oil, and a crunchy mix of dehydrated olives, fried rosemary, and pistachio. Once again it had a familiar mouthfeel, similar to bread pudding, but it went down unexpectedly light and smooth. Our bowls were empty in no time, and the waiters came to pour the last drops of wine. "Thank you, James!" we shouted, clapping. The chef raised his glass back at us. "To Watson."
UPDATE
IBM and James Briscione/the Institute of Culinary Education are collaborators on Chef Watson. A previous version of this story did not state the nature of their relationship.